Table of contents:

Video: Ketonal DUO - Instructions For Use Of Capsules 150 Mg, Price, Reviews
Ketonal DUO
Ketonal DUO: instructions for use and reviews
1. Release form and composition
2. Pharmacological properties
3. Indications for use
4. Contraindications
5. Method of application and dosage
6. Side effects
7. Overdose
8. Special instructions
9. Application during pregnancy and lactation
10. Use in childhood
11. In case of impaired renal function
12. For violations of liver function
13. Drug interactions
14. Analogs
15. Terms and conditions of storage
16. Terms of dispensing from pharmacies
17. Reviews
18. Price in pharmacies
Latin name: Ketonal DUO
ATX code: M01AE03
Active ingredient: ketoprofen (Ketoprophenum)
Manufacturer: Lek (Slovenia)
Description and photo update: 2018-22-10
Prices in pharmacies: from 199 rubles.
Buy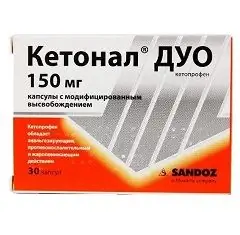 Ketonal DUO is a drug with analgesic, anti-inflammatory and antipyretic effects.
Release form and composition
Dosage form of release of Ketonal DUO - capsules with modified release: size No. 1; case - transparent, lid - blue; the capsules contain yellow and white pellets (10 pcs. in blisters, in a cardboard box 1-3 blisters).
Composition of 1 capsule:
active substance: ketoprofen - 150 mg;
auxiliary components: lactose monohydrate - 20 mg; croscarmellose sodium - 10 mg; povidone - 5 mg; microcrystalline cellulose - 34 mg; polysorbate-80 - 1 mg;
capsule shell: titanium dioxide (E 171) - 0.9%; indigo carmine (E 132) - 0.4%; gelatin - up to 100%;
pellet shell: colloidal silicon dioxide - 0.2 mg; talc - 0.2 and 1.760 mg; eudragit RL 30 D [copolymer of methyl methacrylate, ethyl acrylate and trimethylammonioethyl methacrylate (2: 1: 0.2)] - 4.908 mg; eudragit RS 30 D [copolymer of methyl methacrylate, ethyl acrylate and trimethylammonioethyl methacrylate (2: 1: 0.1)] - 4.908 mg; iron oxide (III) yellow (E 172) - 0.08 mg; triethyl citrate - 0.88 mg; polysorbate-80 - 0.008 mg.
Pharmacological properties
Pharmacodynamics
Ketonal DUO is a non-steroidal anti-inflammatory drug (NSAID). It has analgesic, antipyretic and anti-inflammatory effects.
Due to the inhibition of COX-1 and COX-2 (cyclooxygenase) and (partially) lipoxygenase, ketoprofen stabilizes lysosomal membranes and inhibits the synthesis of bradykinin and prostaglandins.
Ketoprofen does not have a negative effect on the articular cartilage.
Pharmacokinetics
Ketonal DUO is presented in a new dosage form, which differs from conventional capsules in a special release of the active substance. The capsules contain 2 types of pellets: about 60% of the total amount are white, the rest are yellow (coated). The active substance is released quickly from white pellets, and slowly from yellow ones. This provides a combination of prolonged and fast action.
After oral administration, Ketonal DUO is well absorbed.
Bioavailability of the substance in the form of conventional capsules / capsules with modified release is 90%.
Food intake has no effect on the total bioavailability (AUC) of ketoprofen, but the rate of absorption decreases. After oral administration of 150 mg of Ketonal DUO, Cmax (maximum concentration of the substance) in the blood plasma is achieved in 1.76 hours and is 9036.64 ng / ml.
99% of ketoprofen binds to plasma proteins (mainly albumin). The volume of distribution is 0.1–0.2 l / kg. The substance penetrates well into the synovial fluid and reaches 30% of the plasma concentration. Significant concentrations in the synovial fluid remain stable for up to 30 hours, as a result of which joint stiffness and pain syndrome decrease for a long time.
Ketoprofen, with the participation of microsomal liver enzymes, undergoes intensive metabolism. Binding occurs with glucuronic acid, excreted in the form of glucuronide. Ketoprofen has no active metabolites. The half-life is less than 2 hours.
Approximately 80% of ketoprofen is excreted in the urine, mainly (more than 90%) in the form of ketoprofen glucuronide, about 10% is excreted through the intestines.
The plasma concentration of ketoprofen in liver failure doubles (this is probably due to hypoalbuminemia and the associated high level of unbound active ketoprofen). For this group of patients, the drug should be prescribed in the minimum therapeutic dose.
In renal failure, ketoprofen clearance decreases, and dose adjustment is required.
Indications for use
Ketonal DUO 150 mg capsules are prescribed for the symptomatic treatment of inflammatory / painful processes of various etiologies, including:
diseases of the musculoskeletal system of inflammatory and degenerative etiology: rheumatoid arthritis, gout, pseudogout, seronegative arthritis (including psoriatic arthritis, ankylosing spondylitis, reactive arthritis), osteoarthritis;
pain syndrome: headache, algomenorrhea, neuralgia, tendinitis, myalgia, bursitis, sciatica, post-traumatic and postoperative pain, pain syndrome in cancer.
Contraindications
Absolute:
exacerbation of gastric ulcer and duodenal ulcer;
a history of rhinitis, bronchial asthma, urticaria associated with the intake of acetylsalicylic acid and other NSAIDs;
nonspecific ulcerative colitis,
exacerbation of inflammatory bowel disease;
exacerbation of Crohn's disease;
severe hepatic and (or) renal failure;
hemophilia and other blood clotting disorders;
decompensated heart failure;
progressive kidney disease;
postoperative period after coronary artery bypass grafting;
chronic dyspepsia;
cerebrovascular, gastrointestinal and other bleeding (including the presence of suspicion of them);
age up to 15 years;
III trimester of pregnancy and breastfeeding period;
individual intolerance to the components of the drug, as well as salicylates or other NSAIDs.
Relative (diseases / conditions in the presence of which the appointment of Ketonal DUO requires caution):
a history of peptic ulcer disease, gastrointestinal ulceration and bronchial asthma;
clinically significant cerebrovascular and cardiovascular diseases;
peripheral arterial disease;
progressive liver disease;
dyslipidemia;
hyperbilirubinemia;
chronic heart failure;
renal failure;
arterial hypertension;
diabetes;
blood diseases;
dehydration;
alcoholism;
smoking;
long-term use of NSAIDs;
concomitant use with the following drugs: anticoagulants (warfarin), antiplatelet agents (acetylsalicylic acid), oral glucocorticosteroids (prednisolone), selective serotonin reuptake inhibitors (sertraline, citalopram);
I – II trimesters of pregnancy.
Instructions for the use of Ketonal DUO: method and dosage
Capsules Ketonal DUO 150 mg are taken orally with water or milk (at least 100 ml), preferably during or after meals.
The standard dose is 1 capsule per day.
The maximum daily dose of ketoprofen is 200 mg.
Side effects
Possible adverse reactions (> 10% - very common;> 1% and 0.1% and 0.01% and <0.1% - rarely; <0.01% - very rare):
urinary system: rarely - impaired renal function, nephrotic syndrome, interstitial nephritis, hematuria (more often appears in patients taking diuretics and NSAIDs for a long time);
cardiovascular system: infrequently - peripheral edema, arterial hypertension, tachycardia;
central nervous system: often - nightmares, sleep disturbances, dizziness, headache, nervousness, fatigue; rarely - peripheral polyneuropathy, migraine; very rarely - speech disorder, disorientation, hallucinations;
digestive system: often - dyspepsia (in the form of nausea, diarrhea or constipation, flatulence, vomiting, decreased or increased appetite), stomatitis, abdominal pain, dry mouth; infrequently (with prolonged intake of high doses) - ulceration of the mucous membrane of the gastrointestinal tract, impaired hepatic function; rarely - perforation of the gastrointestinal tract, gastrointestinal bleeding, melena, transient increase in the level of liver enzymes, exacerbation of Crohn's disease;
hematopoietic system: reduced platelet aggregation; rarely - thrombocytopenia, anemia, purpura, agranulocytosis;
allergic reactions: often - skin reactions (in the form of itching, urticaria); infrequently - anaphylactoid reactions, shortness of breath, rhinitis, angioedema, bronchospasm;
sense organs: rarely - conjunctivitis, change in taste, tinnitus, blurred visual perception;
others: rarely - menometrorrhagia, hemoptysis.
Overdose
The main symptoms are vomiting (including blood), seizures, respiratory depression, nausea, abdominal pain, melena, impaired consciousness, impaired renal function and renal failure.
Therapy: gastric lavage, intake of activated carbon; symptomatic treatment. The effect on the gastrointestinal tract can be mitigated by the use of prostaglandins, proton pump inhibitors, and histamine H2 receptor blockers.
special instructions
With prolonged therapy, monitoring of the state of the blood, as well as of the renal / hepatic function is required, especially in elderly patients.
Against the background of arterial hypertension and cardiovascular diseases, which can lead to fluid retention in the body, taking Ketonal DUO requires caution and more frequent blood pressure monitoring.
It must be taken into account that the drug can mask the signs of infectious diseases.
Influence on the ability to drive vehicles and complex mechanisms
When driving motor vehicles, it is necessary to take into account the patient's individual response to the therapy.
Application during pregnancy and lactation
III trimester of pregnancy, lactation period - taking Ketonal DUO is contraindicated;
I – II trimesters of pregnancy - therapy can be carried out with caution in cases where the expected benefit is greater than the potential harm.
Pediatric use
According to the instructions, Ketonal DUO is not assigned to children under 15 years of age.
With impaired renal function
Contraindication to taking Ketonal DUO is severe renal failure.
For violations of liver function
Contraindication to taking Ketonal DUO is severe hepatic failure.
Drug interactions
Possible interactions:
diuretics and antihypertensive drugs: weakening their action;
other NSAIDs, salicylates, glucocorticosteroids, ethanol: an increase in the likelihood of adverse events from the digestive system;
oral hypoglycemic and some anticonvulsants (phenytoin): increasing their action;
mifepristone: decrease in its effectiveness (you should not start taking Ketonal DUO earlier than 8-12 days after discontinuation of mifepristone);
anticoagulants, thrombolytics, antiplatelet agents: an increase in the likelihood of bleeding;
cardiac glycosides, blockers of slow calcium channels, lithium preparations, cyclosporine, methotrexate: an increase in their plasma concentration;
diuretics or angiotensin-converting enzyme inhibitors: increased risk of impaired renal function.
Analogs
Analogs of Ketonal DUO are Arketal Rompharm, Fastum gel, Valusal, Bystrumgel, Flamax, Bystrumcaps, Artrozilen, Ketonal, OKI, Artrum, Febrofid, Pentalgin, Flexen, Ketoprofen, etc.
Terms and conditions of storage
Store in a place protected from light at temperatures up to 25 ° C. Keep out of the reach of children.
Shelf life is 2 years.
Terms of dispensing from pharmacies
Dispensed by prescription.
Reviews about Ketonal DUO
According to reviews, Ketonal DUO is an effective drug with a long-term analgesic effect. Of the shortcomings, they most often indicate the development of pronounced side effects and high cost. There are also reviews that note the lack of a therapeutic effect.
Price for Ketonal DUO in pharmacies
The approximate price for Ketonal DUO (20 or 30 pieces per pack) is 90–240 or 210–255 rubles.
Ketonal DUO: prices in online pharmacies
Drug name
Price
Pharmacy
Ketonal DUO 150 mg modified release capsules 30 pcs.
199 RUB
Buy
Ketonal DUO capsules with modif. release 150mg 30 pcs. Lek
RUB 218
Buy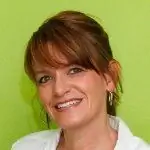 Maria Kulkes Medical journalist About the author
Education: First Moscow State Medical University named after I. M. Sechenov, specialty "General Medicine".
Information about the drug is generalized, provided for informational purposes only and does not replace the official instructions. Self-medication is hazardous to health!
Recommended: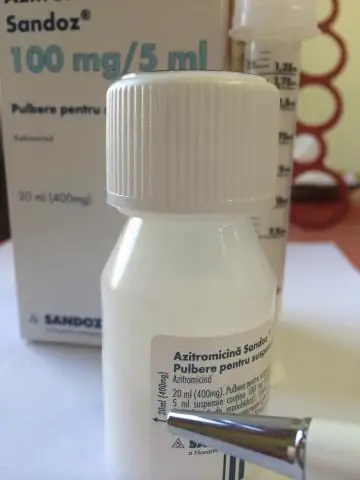 Instructions for use Azitrox suspension and capsules. Information on dosing for children, contraindications, reviews, analogues and the price of the drug in pharmacies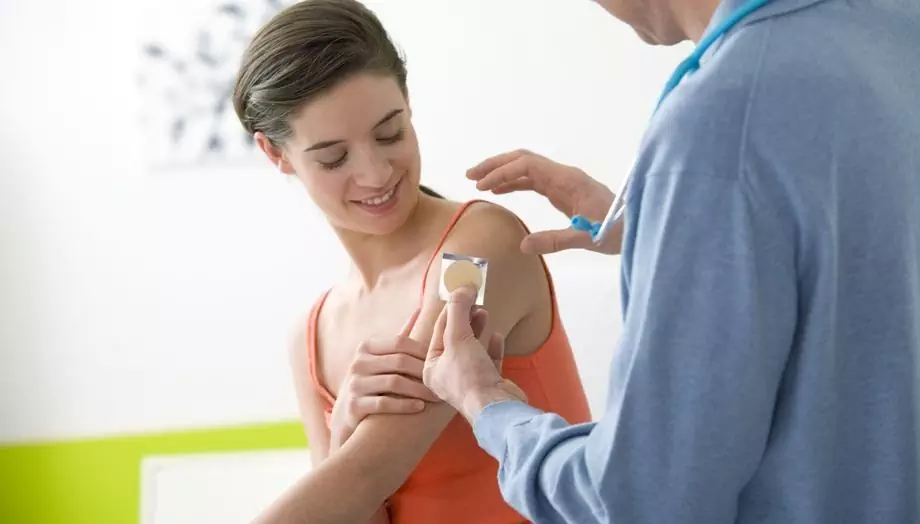 Nicotine patch is an effective remedy for weaning from nicotine addiction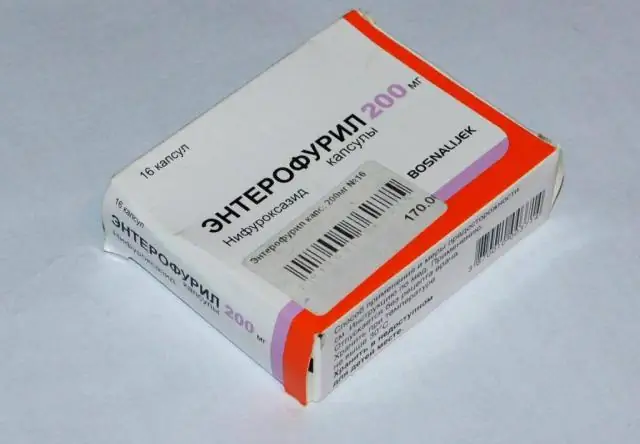 Instructions for use Mirofuril suspension and capsules. Information on the dosage for children, contraindications, reviews, analogues and the price of the drug in pharmacies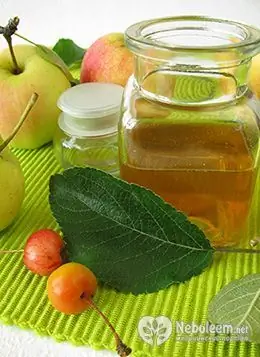 Apple cider vinegar for weight loss is most effective when combined with a diet. Before use, it is diluted in water with the addition of honey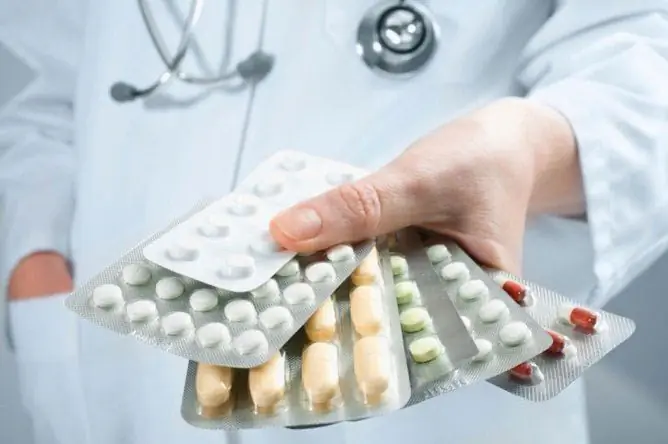 Antibiotics for pneumonia are prescribed after confirmation of the diagnosis based on the severity of the course of the disease, the causative agent, age and the presence of concomitant diseases