Table of contents: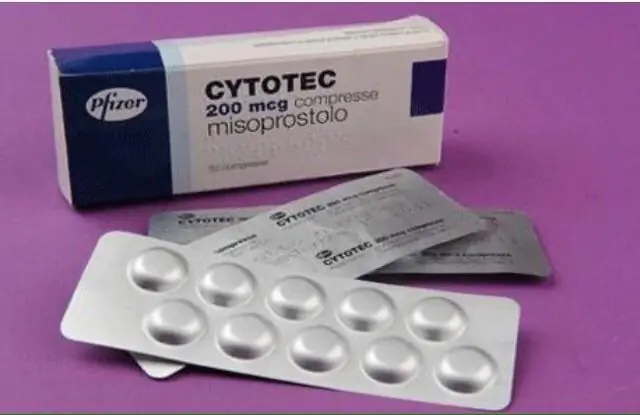 Video: Misoprostol - Instructions For Use, Price, Reviews, Tablet Analogues
Misoprostol
Misoprostol: instructions for use and reviews
1. Release form and composition
2. Pharmacological properties
3. Indications for use
4. Contraindications
5. Method of application and dosage
6. Side effects
7. Overdose
8. Special instructions
9. Application during pregnancy and lactation
10. In case of impaired renal function
11. For violations of liver function
12. Drug interactions
13. Analogs
14. Terms and conditions of storage
15. Terms of dispensing from pharmacies
16. Reviews
17. Price in pharmacies
Latin name: Mizoprostol
ATX code: A02BB01
Active ingredient: misoprostol (Misoprostol)
Manufacturer: China Resources Zizhu Pharmaceutical Co. Ltd. (China Resources Zizhu Pharmaceutical, Co. Ltd) (China)
Description and photo update: 2019-09-09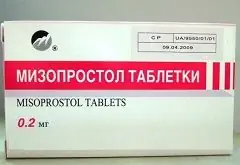 Misoprostol is a drug used for medical abortion.
Release form and composition
The drug is produced in the form of tablets: round, white (3 pcs. In aluminum blisters with an aluminum coating, 1 blister in a cardboard box and instructions for the use of Misoprostol).
The composition of 1 tablet contains the active substance - powder misoprostol HPMC (hydroxypropyl methyl cellulose) in a ratio of 1:99:
Misoprostol 0.2 mg
Hypromellose - 19.8 mg
Auxiliary components: sodium carboxymethyl starch, microcrystalline cellulose, castor oil, colloidal silicon dioxide.
Pharmacological properties
Pharmacodynamics
Misoprostol is a synthetic derivative of prostaglandin E 1.
The substance induces contraction of smooth muscle fibers of the myometrium and expansion of the cervix. Due to the ability to stimulate uterine contractions, it is easier to open its cervix and remove the contents of the uterine cavity.
Misoprostol after taking mifepristone can induce or increase the strength and frequency of spontaneous uterine contractions.
The drug has a weak stimulating effect on the smooth muscles of the gastrointestinal tract. When used in large doses, the secretion of gastric juice is inhibited.
Pharmacokinetics
After oral administration, misoprostol is rapidly absorbed, completely absorbed after 1.5 hours. The maximum concentration of misoprostolic acid (active metabolite) in the blood plasma when taking a dose of 200 mg averages 0.309 μg / L and is reached in 15 minutes.
Misoprostolic acid is mainly eliminated from the body by the kidneys, with a half-life ranging from 36 to 40 minutes.
Indications for use
Misoprostol is prescribed for early termination of pregnancy (up to 42 days of amenorrhea) in combination with mifepristone.
Contraindications
Diseases of the cardiovascular system;
Endocrinopathies and diseases of the endocrine system, including adrenal dysfunction and diabetes mellitus;
Diseases of the kidneys and liver;
Diseases associated with prostaglandin dependence, as well as contraindications to the use of prostaglandins, including bronchial asthma, glaucoma, arterial hypertension;
Anemia;
Hormone-dependent tumors;
The use of intrauterine contraceptives (taking the drug is possible after their removal);
Suspected ectopic pregnancy;
Lactation period;
Hypersensitivity to drug components.
Misoprostol, instructions for use: method and dosage
Misoprostol tablets are taken orally 2 pcs. (0.4 mg) 36-48 hours after taking 3 mifepristone tablets.
In order to terminate pregnancy, the drug should be used in institutions with personnel trained for the procedure.
Side effects
When using Misoprostol in early pregnancy, nausea, vomiting, lethargy, dizziness, and pain in the lower abdomen may develop.
In extremely rare cases, there may be: flushing of the face, itching, fever, allergic reactions.
Overdose
Misoprostol has not been shown to be toxic in humans.
The main symptoms of an overdose are: abdominal pain, drowsiness, increased heart rate, convulsions, tremors, fever, bradycardia or hypotension.
special instructions
Misoprostol tablets for early termination of pregnancy should be used concomitantly with mifepristone. The procedure can be carried out only in specialized medical institutions that have the ability to provide emergency surgical blood transfusion and gynecological care.
Before taking the drug, the patient's condition should be monitored for 4-6 hours. After using Misoprostol, in cases of massive bleeding or other complications, qualified medical care should be provided.
About 80% of women will have miscarriage within 6 hours after taking Misoprostol, and 10% within 7 days.
After 8-15 days after using the drug in the same medical institution, you should undergo a second examination. If necessary, an ultrasound scan is performed or the level of chorionic gonadotropin in the blood serum is determined. If you suspect continued pregnancy or incomplete abortion, a comprehensive medical examination should be carried out in a timely manner. If the diagnosis is confirmed 10-14 days after taking Misoprostol, it is necessary to carry out vacuum aspiration followed by histological examination of the aspirate in order to assess the effect of the drug on the formation of congenital malformations in the fetus.
Influence on the ability to drive vehicles and complex mechanisms
Since dizziness and other side effects may occur after taking the drug, which adversely affect the concentration of attention and the speed of psychomotor reactions, care should be taken when driving.
Application during pregnancy and lactation
During pregnancy, misoprostol can only be used to interrupt it, otherwise the drug is categorically contraindicated, since it has a teratogenic effect. In women taking this remedy, when pregnancy is established, therapy should be discontinued.
If there is a suspicion of an ectopic pregnancy, the drug is contraindicated.
Breastfeeding should be discontinued for 7 days from the date of administration of mifepristone in the method of medical abortion (5 days from the date of administration of Misoprostol).
With impaired renal function
In case of kidney disease, taking the drug is contraindicated.
For violations of liver function
In case of liver diseases, taking the drug is contraindicated.
Drug interactions
Long-term use of antidepressants, isoniazid, rifampicin, anticonvulsants, cimetidine, acetylsalicylic acid, barbiturates, indomethacin, as well as smoking more than 10 cigarettes per day, reduces the level of misoprostol in the blood serum (due to an increase in its metabolism).
It is recommended to stop using aspirin and other non-steroidal anti-inflammatory drugs for 7 days after taking Misoprostol.
Analogs
Misoprostol analogs are: Mirolyut, Saitotek, Misoprostol-HPMC.
Terms and conditions of storage
Store in a dark, dry place out of reach of children at temperatures up to 25 ° C.
Shelf life is 2 years.
Terms of dispensing from pharmacies
Dispensed by prescription.
Reviews of Misoprostol
Reviews of Misoprostol in most cases indicate its effectiveness, while almost all women indicate the development of side effects, the severity of which has wide variability. There are responses that it was not possible to terminate the pregnancy with a drug method.
The price of Misoprostol in pharmacies
The approximate price for Misoprostol (3 tablets per pack) is 30 rubles.
Anna Kozlova Medical journalist About the author
Education: Rostov State Medical University, specialty "General Medicine".
Information about the drug is generalized, provided for informational purposes only and does not replace the official instructions. Self-medication is hazardous to health!
Popular by topic