Table of contents: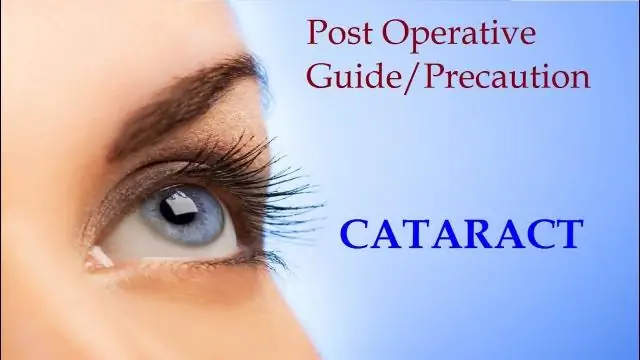 Video: Midriacil - Instructions For The Use Of Eye Drops, Analogs, Price
Midriacil
Midriacil: instructions for use and reviews
1. Release form and composition
2. Pharmacodynamics and pharmacokinetics
3. Indications for use
4. Contraindications
5. Method of application and dosage
6. Side effects
7. Overdose
8. Special instructions
9. Pregnancy and lactation
10. Application in children
11. Drug interactions
12. Analogs
13. Terms and conditions of storage
14. Terms of dispensing from pharmacies
15. Reviews
16. Price in pharmacies
Latin name: Mydriacyl
ATX code: S01FA06
Active ingredient: Tropicamide (Tropicamide)
Producer: ALCON-COUVREUR (Belgium)
Description and photo update: 2019-05-08
Prices in pharmacies: from 366 rubles.
Buy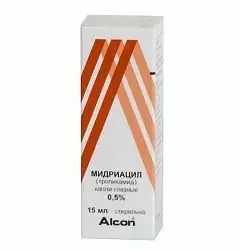 Midriacil is an anticholinergic agent that blocks M-cholinergic receptors.
Release form and composition
Dosage form of Midriacil - eye drops 0.5% and 1%: transparent colorless solution (15 ml in dropper bottles "Droptainer ™ " made of low density polyethylene, 1 bottle in a cardboard box).
Active substance: tropicamide, 1 ml of solution contains 0.005 or 0.01 g.
Excipients: benzalkonium chloride, concentrated hydrochloric acid and / or sodium hydroxide, disodium edetate, sodium chloride, purified water.
Pharmacodynamics and pharmacokinetics
Midriacil inhibits m-cholinergic receptors contained in the iris and sphincter of the ciliary muscle, which leads to mydriasis and accommodation paralysis. The effect of using the drug is achieved quickly, but its duration is short. The increase in intraocular pressure is much less pronounced than with the use of atropine.
After instillation, pupil dilation can be expected after 8-10 minutes. The maximum effect of the eye drops is achieved after 25–45 minutes and lasts approximately 2 hours. The pupils return to their original size after 5 hours.
Most of tropicamide is absorbed rather quickly, so that during therapy, side effects due to systemic action may appear.
Indications for use
Complex therapy of inflammatory eye diseases;
Prevention of the development of synechia in the postoperative period;
Dilation of the pupil before surgical (cataract extraction, vitreous and retinal surgery) and laser (retinal laser coagulation) operations;
Pupil dilatation during diagnostic ophthalmoscopy and refraction determination.
Contraindications
Absolute:
Glaucoma, especially closed-angle and mixed primary;
Children under 6 years of age (for 1% solution);
Hypersensitivity to drug components.
Relative:
Inflammatory ophthalmic diseases;
Increased intraocular pressure;
Shallow anterior chamber of the eye;
Prostatitis.
There is no data on the safety of using the drug during pregnancy and lactation, so it can only be used as directed by the attending physician if the expected effect outweighs the possible risks.
Instructions for the use of Midriacil: method and dosage
Eye drops Midriacil are applied topically.
For diagnostic dilation of the pupil, 1-2 drops of a 0.5% solution are instilled 15-20 minutes before the examination. With strong pigmentation of the iris, the dose may be increased.
To determine refraction, 1-2 drops of a 1% solution are instilled 2 times with a 5-minute interval. To prolong the effect, you can make another instillation.
Side effects
Local: short-term burning after instillation, decreased visual acuity, photophobia, increased intraocular pressure, accommodation disturbances, hyperemia and edema of the conjunctiva, allergic reactions;
Systemic (more often in children and the elderly): dry mouth, heart palpitations, arrhythmias, tachycardia, dry skin, vertigo, headache, decreased tone and motility of the gastrointestinal tract (leading to constipation), dysuria, psychotic reactions, rash, bloating, hallucinations, impaired coordination, fever, behavioral changes, convulsions, cardiopulmonary collapse.
Overdose
If too much of the drug gets into the eyes, rinse them with warm water. When applied topically, manifestations of general toxicity are possible, especially in pediatric patients. Symptoms of this condition: loss of neuromuscular coordination, hallucinations, seizures, blurred vision, fever, rapid and irregular heart rate, tachycardia, and bloating in newborns.
In case of an overdose, supportive and symptomatic treatment is prescribed. In young children, it is recommended to moisturize the surface of the skin. In case of accidental oral administration, it is necessary to induce vomiting and gastric lavage, and in severe cases, physostigmine is prescribed.
special instructions
According to the instructions, Midriacil is not intended for injection.
To prevent systemic absorption of tropicamide and reduce the risk of developing systemic effects, it is recommended to squeeze the lacrimal sac at the inner corner of the eye after instillation of the drug for 1-2 minutes.
Patients wearing contact lenses should remove them before instillation and put them on no earlier than 15 minutes.
Due to changes in the width of the pupil and accommodation, Midriacil can reduce visual acuity, therefore, during the use of the drug, one should refrain from driving vehicles and performing work that requires clarity of visual perception.
Pregnancy and lactation
Clinical studies of the safety and efficacy of Midriacil in the treatment of pregnant women have practically not been conducted, therefore, due to the lack of necessary data, it is recommended to use it with extreme caution. The effect of the drug on fertility has not been proven.
At present, there is no reliable information about whether tropicamide passes into breast milk, but the likelihood of developing complications in an infant cannot be ruled out. Eye drops Midriacil are used in nursing mothers only if the potential benefit from its use significantly outweighs the risk of negative effects of the drug on the child's body.
Application in children
In children under 6 years of age, only a 0.5% solution of the drug is used.
Drug interactions
Antihistamines, phenothiazine derivatives, quinidine, alpha and beta adrenomimetics: the risk of systemic reactions of tropicamide increases;
Nitrates, glucocorticoids: there is a dangerous increase in intraocular pressure;
Antidepressants: there is a mutual potentiation of the action of drugs;
M-anticholinergics: their effects are enhanced;
M-cholinomimetics: the effect of tropicamide is weakened.
Analogs
Analogues of Midriacil are: Tropicamide, Unitropic, Tropicamide-Farmak, Midriaticum-Shtuln PU.
Terms and conditions of storage
Keep out of the reach of children at temperatures from 8 to 30 ºС.
The shelf life is 3 years. After the first opening of the bottle, drops can be stored for 4 weeks.
Terms of dispensing from pharmacies
Dispensed by prescription.
Reviews of Midriacil
According to reviews, Midriacil is a highly effective drug when used strictly according to indications. Some patients find the drug price unreasonably high.
Price for Midriacil in pharmacies
The price of Midriacil 0.5% (15 ml pack) averages 330-340 rubles. You can buy a similar package of the drug 1% (a package of the same volume) in pharmacies for 350–380 rubles.
Midriacil: prices in online pharmacies
Drug name
Price
Pharmacy
Midriacil 1% eye drops 15 ml 1 pc.
366 r
Buy
Midriacil 0.5% eye drops 15 ml 1 pc.
375 RUB
Buy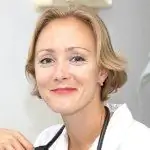 Anna Kozlova Medical journalist About the author
Education: Rostov State Medical University, specialty "General Medicine".
Information about the drug is generalized, provided for informational purposes only and does not replace the official instructions. Self-medication is hazardous to health!
Recommended: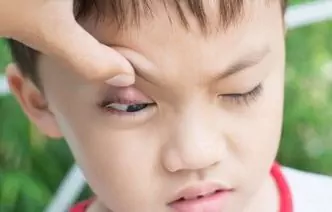 Many people have encountered such a nuisance as barley on the eye. This disease is a consequence of infection of the mucous membranes with pathogenic bacteria, in most cases - Staphylococcus aureus. Painful symptoms (redness, pain, swelling, and itching) usually develop very quickly. Then, within two to three days, a small abscess, located on the inner or outer surface of the eyelid, matures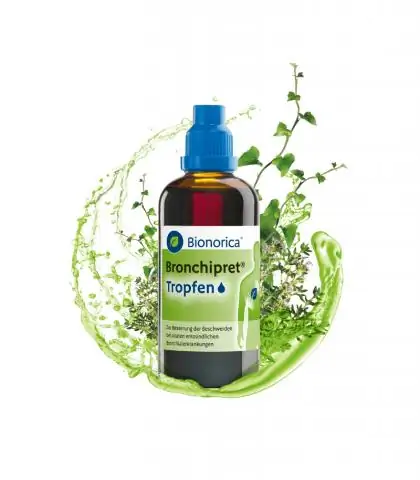 Instructions for use Bronchipret drops and syrup. Information on dosing for children, contraindications, reviews, analogues and the price of the drug in pharmacies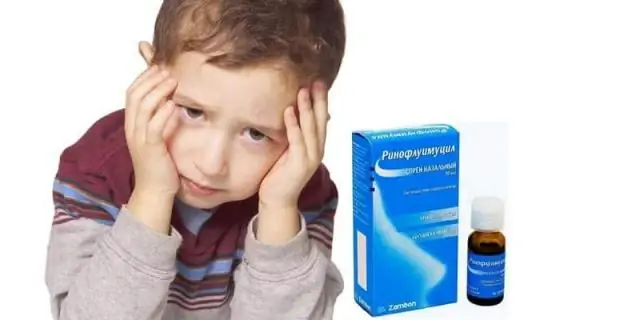 Instructions for use Rinostop Extra spray and drops. Information on the appointment for children, contraindications, reviews, analogues and the price of the drug in pharmacies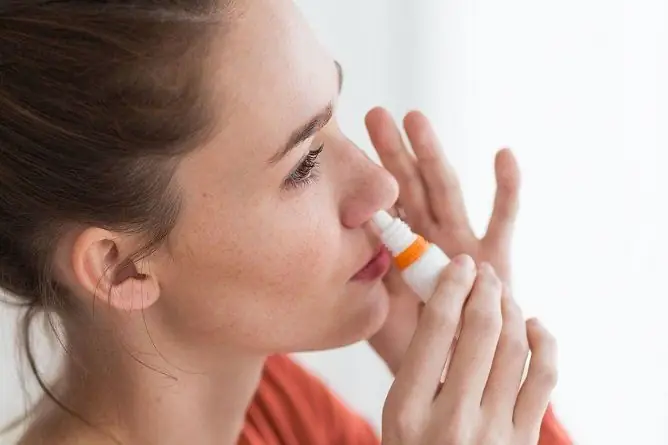 Drops from sinusitis are used as part of a combination treatment. Their action is aimed at reducing swelling of the nasal mucosa and facilitating nasal breathing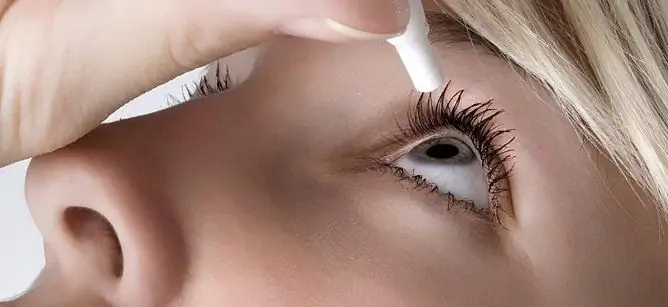 Drops from eye pressure reduce it, affecting the production of moisture in the chambers of the eye, reducing its amount or increasing excretion