Table of contents: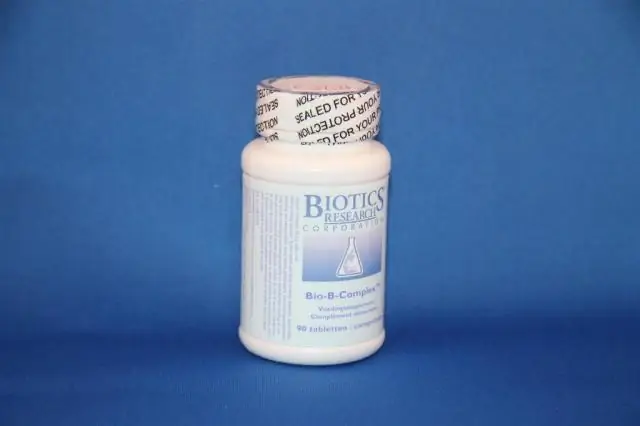 Video: Cocarboxylase - Instructions For The Use Of Injections, Price, Reviews, Analogues
Cocarboxylase
Cocarboxylase: instructions for use and reviews
1. Release form and composition
2. Pharmacological properties
3. Indications for use
4. Contraindications
5. Method of application and dosage
6. Side effects
7. Overdose
8. Special instructions
9. Use in childhood
10. Drug interactions
11. Analogs
12. Terms and conditions of storage
13. Terms of dispensing from pharmacies
14. Reviews
15. Price in pharmacies
Latin name: Cocarboxylase
ATX code: A11DA01
Active ingredient: cocarboxylase (cocarboxylase)
Manufacturer: Jelfa SA (Poland), Moskhimpharmpreparaty them. N. A. Semashko, NPO FSUE "Microgen" (Russia)
Description and photo update: 2019-16-08
Prices in pharmacies: from 89 rubles.
Buy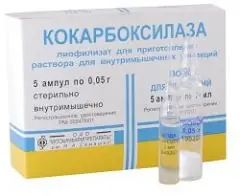 Cocarboxylase is a metabolic agent that improves energy supply and tissue metabolism.
Release form and composition
The drug is available in the form of a lyophilisate for the preparation of a solution for intravenous (iv) and intramuscular (i / m) administration (25 mg or 50 mg in ampoules complete with solvent ampoules, in a cardboard box 20, 10 or 5 sets; 25 mg or 50 mg in ampoules, in a cardboard box of 10 ampoules).
The active ingredient is cocarboxylase hydrochloride, in 1 ampoule - 25 mg or 50 mg.
Solvent: water for injection.
Pharmacological properties
Pharmacodynamics
Cocarboxylase is a coenzyme of thiamine (vitamin B 1). In the body, it participates in phosphorylation processes, as a result of which mono-, di- and triphosphoric esters are formed. The compound is also included in the enzymes that catalyze the carboxylation and decarboxylation of pyruvic acid and alpha-keto acids. Cocarboxylase is a stimulant of the formation of acetyl coenzyme A, which regulates carbohydrate metabolism.
Cocarboxylase of endogenous origin is formed in the body from exogenous thiamine through phosphorylation, but the properties of the substance do not completely coincide with those of thiamine. For this reason, the drug cannot be used for the prevention and treatment of B 1 hypo- and avitaminosis.
Cocarboxylase normalizes the functions of the cardiovascular system and improves trophic processes in the central nervous system, and also activates glucose uptake. The drug reduces the concentration of pyruvic and lactic acids in the blood (an increase in their level can lead to the development of acidosis and acidotic coma).
Pharmacokinetics
When administered parenterally, cocarboxylase is rapidly and well absorbed (almost 100%) in the duodenum and small intestine and does not accumulate in the body. The substance is excreted through the kidneys. Cocarboxylase clearance takes approximately 11 hours. The active component of the drug penetrates into almost all body tissues, but its maximum concentration is determined in the heart, liver, kidneys and brain.
Indications for use
As a vitamin preparation, the use of Cocarboxylase is indicated in the combination therapy of the following diseases:
Acidosis in the presence of hyperglycemic coma, metabolic acidosis, acidosis in pulmonary and cardiac and respiratory failure;
Myocardial infarction, coronary heart disease, chronic heart failure, unstable angina pectoris, postinfarction cardiosclerosis;
Renal failure;
Poisoning, intoxication with barbiturates or cardiac glycosides;
Alcoholism in acute or chronic form;
Liver failure;
Typhoid fever, scarlet fever, diphtheria, paratyphoid fever and other infectious diseases;
Multiple sclerosis, neuralgia, peripheral neuritis.
For children, the drug is prescribed during the neonatal period with perinatal hypoxic encephalopathy, pneumonia, respiratory failure, hypoxia, sepsis, acidosis.
Contraindications
According to the instructions, Cocarboxylase is contraindicated in hypersensitivity.
Instructions for the use of Cocarboxylase: method and dosage
The ready-made solution is used for intramuscular, intravenous jet or drip and sublingual (for newborns) administration.
The dose of Cocarboxylase injections and the period of treatment are determined by the doctor based on clinical indications.
The recommended dosage for adults: 50-200 mg per day, for patients with diabetes mellitus (coma, acidosis), the dose can range from 100 to 1000 mg.
The daily dosage for children has age restrictions:
Infants up to 3 months - 25 mg;
Children from 4 months to 7 years old - 25-50 mg;
Teenagers from 8 to 18 years old - 50-100 mg.
The duration of therapy is 3-15 days.
Side effects
The use of the drug can cause side effects:
Allergic reactions: pruritus, urticaria;
Others: IM injections of Cocarboxylase can cause itching, hyperemia, edema at the injection site.
Overdose
When using the drug in very high doses, the following symptoms of overdose may occur: shortness of breath, tachycardia, dysfunction of the cardiovascular system, intense sweating, nausea, vomiting, allergic reactions, headache, muscle cramps, fatigue, weakness. In this case, the drug is canceled and symptomatic therapy is prescribed.
special instructions
Application in childhood is possible only in accordance with the dosage regimen.
Influence on the ability to drive vehicles and complex mechanisms
The effect of Cocarboxylase on the ability to drive vehicles and perform potentially hazardous types of work that require a high concentration of attention and quick psychomotor reactions has not been studied.
Pediatric use
In children, the use of the drug is possible according to a specific dosage regimen.
Drug interactions
With simultaneous use, it increases the cardiotonic effect of cardiac glycosides and improves their tolerance.
Analogs
Cocarboxylase analogs are: Cocarboxylase-Ellara, Cocarboxylase hydrochloride, Cocarboxylase-Ferein, Cocarboxylase-Improv.
Terms and conditions of storage
Store at room temperature, out of the reach of children, in a dry place.
The shelf life is 3 years.
Terms of dispensing from pharmacies
Dispensed by prescription.
Reviews about Cocarboxylase
On the Internet, there are often reviews about Cocarboxylase from both doctors and patients who took it. Some experts argue that the drug, when administered intravenously, has sufficient efficacy in the treatment of patients with heart failure. In their opinion, almost 99% of patients experience significant relief after the 2-3rd injection, and unpleasant symptoms almost completely disappear.
Some patients were prescribed Cocarboxylase during pregnancy, and they did not immediately notice significant improvements in their condition, however, tests done shortly after the start of treatment showed the effectiveness of the drug. There are practically no neutral or negative reviews about the drug.
The price of Cocarboxylase in pharmacies
The approximate price for Cocarboxylase with a dosage of 50 mg is 110‒183 rubles (the package includes 5 ampoules).
Cocarboxylase: prices in online pharmacies
Drug name
Price
Pharmacy
Cocarboxylase 50 mg lyophilisate for preparation of a solution for intravenous and intramuscular administration complete with solvent 5 pcs.
89 RUB
Buy
Cocarboxylase 50 mg lyophilisate for preparation of a solution for intravenous and intramuscular administration complete with solvent 5 pcs.
93 rbl.
Buy
Cocarboxylase powder for prig solution for injection 50mg 5 pcs. (complete with r-lem)
112 RUB
Buy
Cocarboxylase lyoph. for prig of solution for intravenous and intramuscular injection. 50mg amp. 5 pieces. (complete with solution water for in. amp. 2ml 5 pcs.)
115 RUB
Buy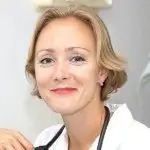 Anna Kozlova Medical journalist About the author
Education: Rostov State Medical University, specialty "General Medicine".
Information about the drug is generalized, provided for informational purposes only and does not replace the official instructions. Self-medication is hazardous to health!
Popular by topic