Table of contents: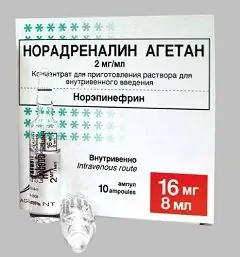 Video: Norepinephrine Agetan - Instructions For Use, Indications, Doses, Analogues
Norepinephrine Agetan
Instructions for use:
1. Release form and composition
2. Indications for use
3. Contraindications
4. Method of application and dosage
5. Side effects
6. Special instructions
7. Drug interactions
8. Analogs
9. Terms and conditions of storage
10. Terms of dispensing from pharmacies
Prices in online pharmacies:
from 1095 rub.
Buy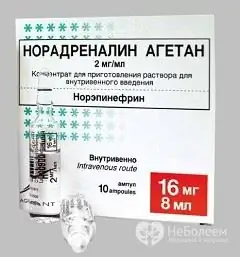 Norepinephrine Agetan is a drug used for acute hypotension, accompanied by cardiovascular shock and collapse.
Release form and composition
Norepinephrine Agetan is produced in the form of a concentrate for the preparation of a solution for intravenous administration: a colorless transparent liquid (in ampoules of 4 and 8 ml, 5 ampoules in plastic contour packs, 2 packs in a cardboard box).
The composition of 1 ml of concentrate includes:
Active ingredient: norepinephrine tartrate (in the form of monohydrate) - 2 mg;
Auxiliary components: sodium chloride, sodium hydroxide or hydrochloric acid (pH 3.0-4.5), water for injection.
Indications for use
Acute arterial hypotension associated with injuries, overdose of ganglion blockers and other antihypertensive drugs, surgical interventions and poisoning, accompanied by inhibition of the vasomotor centers;
Conditions after removal of pheochromocytoma (to stabilize blood pressure during operations on the sympathetic nervous system).
Contraindications
Arterial hypotension due to hypovolemia. The drug, as an exception, is used if it is necessary to maintain blood flow in the coronary arteries of the brain and heart until the end of treatment aimed at restoring the volume of circulating blood;
Thrombosis of peripheral and mesenteric vessels, associated with the risk of an increase in the infarction zone and aggravation of ischemia;
Severe hypercapnia and hypoxia;
Conducting cyclopropane and fluorothane general anesthesia (due to the risk of fibrillation and ventricular tachycardia);
Hypersensitivity to drug components.
Norepinephrine Agetan should be used with caution in the following diseases / conditions:
Acute heart failure, severe left ventricular failure, recent myocardial infarction;
Development of signs of cardiac arrhythmia (it is necessary to reduce the dose of the drug). With the development of volleys of extrasystoles or polymorphic extrasystoles, the dose must be significantly reduced or canceled;
Simultaneous administration of monoamine oxidase inhibitors (MAO) of the triptyline and imipramine series (due to the risk of developing a prolonged and pronounced increase in blood pressure).
If it is necessary to simultaneously use the drug with plasma or blood transfusion, it must be administered separately.
Method of administration and dosage
Norepinephrine Agetan is administered intravenously, preferably into the vein of the elbow.
The drug must be diluted in a solution of 5% glucose or 0.9% sodium chloride. Do not mix with other drugs. Once diluted, the solution can be used within 12 hours.
When using the drug, you need to constantly monitor blood pressure and heart rate.
The applied dose is set depending on the clinical condition of the patient. The recommended initial dose and rate of administration is 0.1-0.3 μg / kg per minute, maximum 3-5 μg / kg per minute (in the treatment of hemorrhagic and septic shock)
Side effects
During therapy, the following symptoms may develop:
Ischemic disorders caused by hypoxia and vasoconstriction of tissues, as well as caused by extravasation (up to necrosis);
Reflex bradycardia;
Arrhythmia;
Difficulty breathing
Anxiety;
Transient headache;
Tremor;
Chest pain or pharyngeal pain;
Vegetative reactions: increased sweating, pallor, tachycardia, vomiting. In particularly sensitive patients, an increase in blood pressure may be accompanied by photophobia, headache, pallor of the skin, stabbing chest pain, vomiting, and increased sweating.
With prolonged use of the drug, it is necessary to adjust the dose, this will avoid recurrent hypotension when it is canceled.
special instructions
It is not recommended to use Norepinephrine Agetan for pregnant women, this is due to the danger of fetal hypoxia (administration of the drug is possible only for health reasons, including myocardial infarction, collapse).
When using norepinephrine in elderly patients, as well as in patients with arterial hypertension and atherosclerosis, blood pressure should be carefully monitored.
In hemorrhagic and cardiogenic shock with severe arterial hypotension, administration of the drug is not recommended, since this can lead to an even greater deterioration in the blood supply to the tissues.
To avoid tissue necrosis, do not use the drug for conductive anesthesia of the toes and hands.
With arterial hypertension, severe atherosclerosis and thyrotoxicosis, the administration of Noradrenaline Agetan is possible only for health reasons (including myocardial infarction, collapse).
In cases where shock is caused by a large loss of plasma, the use of the drug does not replace the introduction of blood substitutes or blood transfusion, since it only causes an increase in vascular tone.
With extravasation, skin necrosis may develop.
Drug interactions
With the simultaneous use of Norepinephrine Agetan with certain drugs, undesirable effects may occur:
MAO inhibitors - synergistic enhancement of the drug's pressor effects;
Tricyclic antidepressants (including desipramine, amitriptyline, imipramine) - it is possible to increase the effect of the drug on the cardiovascular system and increase the risk of developing tachycardia, cardiac arrhythmias, severe arterial hypertension;
Guanethidine, bretilium - enhancement of the pressor effects of the drug;
Means for inhalation anesthesia - a high probability of developing cardiac arrhythmias;
Lithium carbonate - a decrease in the effectiveness of Norepinephrine Agetan is possible;
Reserpine - enhance the effects of the drug.
Analogs
Analogues of Norepinephrine Agetan are: Norepinephrine, Norepinephrine, Norexadrin, Norartrinal, Levofed, Levarterenol, Norepinephrine.
Terms and conditions of storage
Store in a dark, dry place out of reach of children at temperatures up to 30 ° C.
Shelf life is 2 years.
Terms of dispensing from pharmacies
Dispensed by prescription.
Norepinephrine Agetan: prices in online pharmacies
Drug name
Price
Pharmacy
Norepinephrine Agetan 2 mg / ml concentrate for the preparation of solution for intravenous administration 4 ml 10 pcs.
1095 RUB
Buy
Norepinephrine Agetan 2 mg / ml concentrate for preparation of solution for intravenous administration 8 ml 10 pcs.
1399 RUB
Buy
Information about the drug is generalized, provided for informational purposes only and does not replace the official instructions. Self-medication is hazardous to health!
Popular by topic