Table of contents: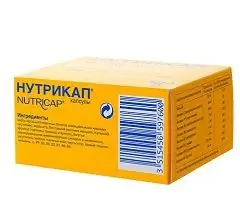 Video: Nutrikap - Instructions, Use Of Vitamins For Hair, Reviews, Price
Nutrikap
Instructions for use:
1. Release form and composition
2. Pharmacological action
3. Indications for use
4. Contraindications
5. Method of application and dosage
6. Side effects
7. Overdose
8. Special instructions
9. Pregnancy and lactation
10. Drug interactions
11. Analogs
12. Terms and conditions of storage
13. Terms of dispensing from pharmacies
14. Reviews
15. Price in pharmacies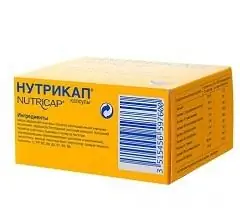 Nutrikap is a drug that replenishes the deficiency of amino acids and vitamins, improves blood circulation to the skin, prevents brittle nails and hair, prevents the accumulation of toxins in the hair follicle, and normalizes the activity of the sebaceous glands.
Release form and composition
Dosage form - capsules (40 pcs. Per package).
Composition of the preparation:
Vitamins B1, B2, B5, B6, B8 and C;
Wheat germ extract;
Walnut oil;
Amino acids (methionine and cystine);
Minerals and oligoelements: zinc, sulfur, silicon, calcium;
Yellow beeswax;
Soy lecithin (emulsifier).
pharmachologic effect
Nutrikap is a dietary supplement that replenishes the deficiency of vitamins, amino acids and trace elements in the body. Its components have the following useful properties:
unsaturated fatty acids contained in walnut oil: strengthening hair follicles, stimulating hair growth, activating metabolism;
methionine and cystine: are the starting compounds for the synthesis of keratin;
vitamin B 2: reducing hair fragility;
vitamins B 5 (pantothenic acid) and B 8 (biotin): increased growth of nail plates and hair;
vitamin B 9 (folic acid): the formation of new cells;
vitamin B 6: increasing the rate of hair and nail growth;
vitamin C: strengthening of peripheral vessels, better absorption of minerals and vitamins, improving blood supply to the skin, preventing the accumulation of toxins and waste products in the hair follicles;
zinc, sulfur, silicon: prevention of brittle hair and nails, ensuring their regeneration and normalization of the activity of the sebaceous glands.
Indications for use
The supplement is recommended as a means that:
Nourishes damaged nails and hair, restores their structure, enhances growth;
Prevents hair loss;
Gives hair shine and softness.
Contraindications
Nutrikap is contraindicated in case of hypersensitivity to any of its components.
The drug is not used in pediatrics.
Instructions for the use of Nutrikap: method and dosage
The capsules should be taken orally with meals.
The recommended dose for adults is 2 capsules per day. Duration of admission is 2 months.
3-4 courses are recommended per year.
Side effects
Allergic reactions are possible.
Overdose
Overdose cases have not been registered at the moment.
special instructions
Consult your doctor before using Nutrikap vitamins for hair and nails.
Pregnancy and lactation
You can take the drug during pregnancy and during breastfeeding only after consulting your doctor.
Drug interactions
There are no data on the pharmacological interaction of Nutrikap with other drugs.
Analogs
Nutrikap analogs are: Evonia Keratin, BioSil, HairBurst, Laval, Aurita, Fitoval, Baksin Beauty, Vitasharm, Evalar hair expert.
Terms and conditions of storage
Store at a temperature not exceeding 18 ° C in a place protected from moisture.
The shelf life is 3 years.
Terms of dispensing from pharmacies
Available without a prescription.
Reviews about Nutrikap
There are numerous positive reviews about Nutricap for Hair and Nails. Many patients note that dietary supplements have helped them get rid of brittleness, dullness and dryness of hair and nails, as well as increased sensitivity of the scalp. Also, the regular use of dietary supplements, according to some patients, improves appetite and sleep, improves tone, eliminates irritability and fatigue. The results of treatment usually become visible in the second or third week after the start of treatment.
Price for Nutrikap in pharmacies
The price of Nutrikap is currently unknown as it is not available over the counter in pharmacies.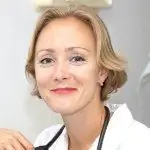 Anna Kozlova Medical journalist About the author
Education: Rostov State Medical University, specialty "General Medicine".
Information about the drug is generalized, provided for informational purposes only and does not replace the official instructions. Self-medication is hazardous to health!
Popular by topic