Table of contents: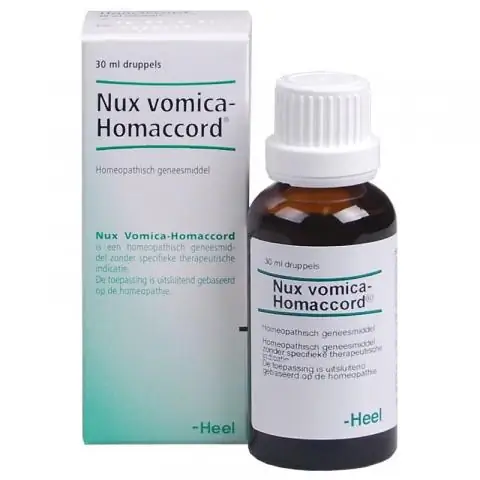 Video: Nux Vomica-gomaccord - Instructions For Use, Reviews, Price, Analogues
Nux Vomica-Homaccord
Nux vomica-gomaccord: instructions for use and reviews
1. Release form and composition
2. Indications for use
3. Contraindications
4. Method of application and dosage
5. Side effects
6. Overdose
7. Special instructions
8. Application during pregnancy and lactation
9. Use in childhood
10. Drug interactions
11. Analogs
12. Terms and conditions of storage
13. Terms of dispensing from pharmacies
14. Reviews
15. Price in pharmacies
Latin name: Nux vomica-Homaccord
ATX code: A03
Active ingredient: complex effect
Producer: Biologische Heilmittel Heel GmbH (Germany)
Description and photo update: 2018-17-05
Prices in pharmacies: from 530 rubles.
Buy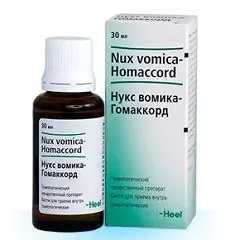 Nux vomica-Homaccord is a complex homeopathic remedy for antispasmodic action.
Release form and composition
The drug is produced in the form of drops for oral administration of homeopathic ones: a transparent colorless solution with the smell of ethanol (30 ml in a dark glass bottle equipped with a dropper, 1 bottle in a cardboard box).
The active substances contained in 1 g of the drug:
Citrullus colocynthis (citrullus colocyntis) D3, D10, D30 and D200 - 0.003 g each;
Lycopodium clavatum (lycopodium clavatum) D3, D10, D30, D200 and D1000 - 0.003 g each;
Strychnos nux-vomica (Nux vomica) [strychnos nux-vomica (nux vomica)] D2, D10, D15, D30, D200 and D1000 - 0.002 g each;
Bryonia (bryony) D2, D6, D10, D15, D30, D200 and D1000 - 0.002 g each.
Additional component: ethanol - about 35 vol.%.
Indications for use
The drug is recommended for use in spastic colitis in combination therapy.
Contraindications
age up to 18 years;
hypersensitivity to any of the constituents of the drug.
Instructions for use Nux vomica-Gomaccord: method and dosage
Nux vomica-Gomaccord is taken orally in 10 drops (diluted in 100 ml of water) 3 times a day 0.5 hours before or 1 hour after meals.
In the presence of acute symptoms at the beginning of therapy, 10 drops should be taken every 15 minutes for 2 hours. The course of treatment on average can vary from 2 to 5 weeks; the duration of the drug can be increased only after consulting a specialist.
Side effects
During the period of drug therapy, the appearance of allergic reactions may occur.
Overdose
No data.
special instructions
While taking homeopathic medicines, there may be a temporary exacerbation of the existing symptoms (primary worsening). In this case, it is required to interrupt the treatment with the drug and consult a doctor.
If you cannot achieve the desired therapeutic effect, as well as in the event of adverse reactions, you should consult a specialist.
A long course of therapy (over several months) should be carried out only under medical supervision.
It should be borne in mind that in the composition of the drug the volume fraction of ethyl alcohol is 35%.
Application during pregnancy and lactation
Pregnant and breastfeeding women are recommended to use the drug only as directed by the attending physician.
Pediatric use
According to the instructions, Nux vomica-Homaccord is not used in pediatric practice due to the lack of clinical data confirming the safety and effectiveness of its administration in patients under 18 years of age.
Drug interactions
The use of complex homeopathic remedies does not exclude the use of other drugs recommended for the treatment of this disease.
Analogs
No analogues of Nux vomica-Homaccord are known.
Terms and conditions of storage
Store in a place protected from moisture and light, out of reach of children, at a temperature of 15-25 ° C.
The shelf life is 5 years.
Terms of dispensing from pharmacies
Available without a prescription.
Reviews about Nux Vomica-Homaccord
Most of the reviews about Nux vomica-Homaccord are positive. Patients who took the drug note its natural composition, effectiveness in relieving intestinal colic, as well as other symptoms of gastrointestinal dysfunction. According to reviews, the drug quickly reduces acetone, helps with toxicosis, and improves general condition.
The main disadvantage of a homeopathic remedy is considered its high cost, there are practically no messages about the development of adverse reactions.
The price of Nux vomica-Homaccord in pharmacies
The price of Nux vomica-Gomaccord can be approximately in the range of 450-600 rubles.
Nux Vomica-Gomaccord: prices in online pharmacies
Drug name
Price
Pharmacy
Nux vomica-Homaccord homeopathic drops for oral administration 30 ml 1 pc.
RUB 530
Buy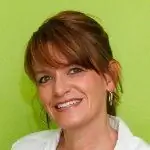 Maria Kulkes Medical journalist About the author
Education: First Moscow State Medical University named after I. M. Sechenov, specialty "General Medicine".
Information about the drug is generalized, provided for informational purposes only and does not replace the official instructions. Self-medication is hazardous to health!
Popular by topic