Table of contents: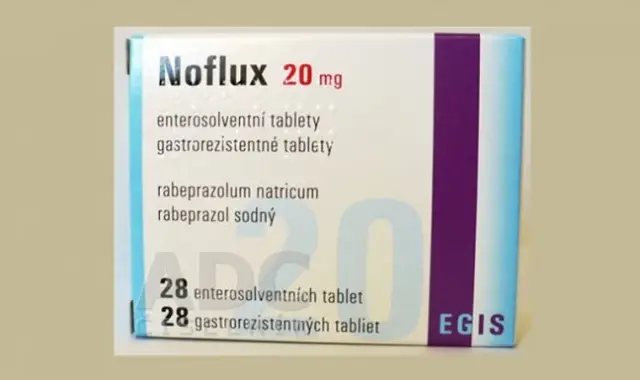 Video: Noflux - Instructions For The Use Of Tablets, Price, Analogs, Reviews
Noflux
Noflux: instructions for use and reviews
1. Release form and composition
2. Pharmacological properties
3. Indications for use
4. Contraindications
5. Method of application and dosage
6. Side effects
7. Overdose
8. Special instructions
9. Application during pregnancy and lactation
10. Use in childhood
11. In case of impaired renal function
12. For violations of liver function
13. Use in the elderly
14. Drug interactions
15. Analogs
16. Terms and conditions of storage
17. Terms of dispensing from pharmacies
18. Reviews
19. Price in pharmacies
Latin name: Noflux
ATX code: A02BC04
Active ingredient: rabeprazole (rabeprazole)
Producer: EGIS Pharmaceuticals PLC (Hungary)
Description and photo update: 2018-23-10
Noflux is an antiulcer agent that lowers the secretion of stomach glands; proton pump inhibitor.
Release form and composition
Noflux is produced in the form of enteric-coated tablets: biconvex, round, pink (10 mg) or yellow (20 mg); the cross-section shows a white core (7 pieces in a blister, in a cardboard box 2 or 4 blisters).
1 tablet contains:
active ingredient: sodium rabeprazole - 10 or 20 mg;
additional components: magnesium oxide, mannitol, low-substituted hyprolose, magnesium stearate, hyprolose;
inner shell: magnesium oxide, ethyl cellulose;
enteric coating: talc, dibutylsebacate, hypromellose phthalate, titanium dioxide, iron dye yellow oxide (20 mg), iron dye red oxide (10 mg).
Pharmacological properties
Pharmacodynamics
Rabeprazole sodium - the active component of Noflux, belongs to the class of antisecretory substances from the group of benzimidazole derivatives. The agent inhibits the secretion of gastric juice by specifically inhibiting the enzyme H + / K + -ATPase (hydrogen-potassium adenosine triphosphatase) on the secretory surface of the gastric parietal cells. H + / K +Β-ATPase is a protein complex that functions as a proton pump; therefore, rabeprazole sodium is a proton pump inhibitor (PPI) in the stomach and inhibits the final stage of acid production. This action of rabeprazole sodium is dose-dependent and provides inhibition of basal and stimulated acid production, regardless of the type of stimulus. The agent does not show anticholinergic properties.
After oral administration of rabeprazole sodium at a dose of 20 mg, the antisecretory effect is manifested within 1 hour. The suppression of the basal and stimulated production of hydrochloric acid 23 hours after taking the first dose of the drug is 69% and 82%, respectively, and is noted up to 48 hours. This duration of pharmacodynamic action is significantly greater than that expected based on the half-life (T ½) of approximately 1 hour. This effect can be explained by the long stage of binding of rabeprazole sodium to H + / K +-ATPase of gastric parietal cells. The value of the inhibitory effect of the substance on the production of hydrochloric acid reaches a plateau after 3 days of its use. Upon termination of drug therapy, restoration of secretory activity occurs within 1–2 days.
According to the results of clinical studies, during which patients took the drug for up to 43 months daily at a dose of 10 or 20 mg, the plasma level of gastrin in the first 2-8 weeks was increased, which indicates an inhibitory effect on acid secretion. Gastrin levels returned to baseline, usually within 1–2 weeks after the end of the antiulcer drug.
During the study of biopsy samples of the human stomach from the antrum and fundus of the stomach of 500 patients who took Noflux or the reference drug for 8 weeks, no stable changes were found in the morphological structure of enterochromaffin-like cells, the frequency of atrophic gastritis, the severity of gastritis, the spread of Helicobacter pylori infection or intestinal metaplasia.
In a study involving over 400 patients who took rabeprazole sodium in a daily dose of 10 or 20 mg for up to 1 year, the incidence of hyperplasia was low and comparable to that for omeprazole at a dose of 20 mg / kg. There were no recorded cases of carcinoid tumors or adenomatous changes in rats.
The systemic effect of sodium rabeprazole on the central nervous system (CNS), respiratory and cardiovascular systems has not yet been identified. It was found that when taken orally for 2 weeks at a dose of 20 mg, the drug does not affect carbohydrate metabolism, the activity of the thyroid gland, the level of parathyroid hormone in the blood, as well as the concentration of hormones such as testosterone, estrogens, cortisol, luteinizing aldosterone hormone (LH), follicle-stimulating hormone (FSH), glucagon, prolactin, renin and growth hormone.
Pharmacokinetics
The drug is rapidly absorbed from the intestine and its peak plasma concentrations (C max) are observed approximately 3.5 hours after taking a dose of 20 mg. The change in C max and the area under the concentration-time curve (AUC) of rabeprazole at doses of 10–40 mg are linear. After oral administration of 20 mg of the drug, the absolute bioavailability when compared with intravenous administration is approximately 52%, and it does not change with repeated administration. The absorption of rabeprazole does not depend on the time of its administration during the day, as well as on the combination with antacids. Simultaneous intake of Noflux with fatty foods slows down its absorption by 4 hours or more, while C max and the degree of absorption do not change. The degree of binding to plasma proteins is approximately 97%.
After oral administration in a single dose of 20 mg of 14 C-labeled sodium rabeprazole, unchanged drug was not detected in urine. Approximately 90% of the substance is excreted in the urine, mainly in the form of metabolites such as the conjugate of carboxylic acid (M6) and mercapturic acid (M5), as well as two unknown metabolites found in toxicological analysis. The remainder of the initial dose of rabeprazole sodium is excreted in the feces. The total excretion is 99.8%, which indicates an insignificant excretion of the metabolites of the drug from the body with bile. The main metabolite is thioether (M1), the only active metabolite is desmethyl (M3), but it was observed in only one of the study participants at a low concentration after taking the active substance at a dose of 80 mg.
In healthy volunteers, the T ½ of Noflux from plasma can be approximately within 0.7–1.5 hours, the total clearance is 3.8 ml / min / kg.
Against the background of renal failure in the terminal stage, if necessary, maintenance hemodialysis [creatinine clearance (CC) <5 ml / min / 1.73 m2], the excretion of rabeprazole is similar to that in healthy volunteers. In patients of this category, C max and AUC were approximately 35% less than in healthy volunteers. In the latter, T ½ of the substance averaged 0.82 hours, in patients during a hemodialysis session - 0.95 hours, and after hemodialysis - 3.6 hours. The clearance of rabeprazole in patients with renal lesions requiring hemodialysis was approximately 2 times higher than in healthy volunteers. Also, in comparison with healthy volunteers, the AUC was doubled in patients with chronic liver diseases, and T ½ from plasma was increased by 2–3 times.
In patients with chronic compensated liver cirrhosis, good tolerance of Noflux at a dose of 20 mg 1 time per day was observed, despite the fact that C max and AUC were increased by 2 times when compared with these indicators recorded in healthy volunteers of the corresponding sex.
In elderly patients, there was a slightly slower elimination of rabeprazole. After a week of taking the drug in a daily dose of 20 mg in the elderly, C max was increased by 60%, and the AUC was approximately 2 times higher compared with young healthy volunteers. But at the same time, there were no signs of cumulation of the drug.
In the presence of a slow metabolism of CYP2C19, after a week of using the drug in a daily dose of 20 mg, an increase in C max was observed by 40%, T ½ - 1.6 times, and AUC - 1.9 times when compared with the corresponding parameters in fast metabolizers.
Indications for use
10 mg tablets
Noflux is indicated for the treatment of symptoms of dyspepsia caused by hyperacidity of gastric juice, including the treatment of symptoms of gastroesophageal reflux disease (GERD), such as sour belching, heartburn.
Tablets 20 mg
duodenal ulcer (exacerbation phase);
gastric ulcer (exacerbation phase) and anastomotic ulcer;
ulcerative and erosive GERD or reflux esophagitis;
GERD (supportive care);
Zollinger-Ellison syndrome and other conditions characterized by pathological hypersecretion;
non-erosive gastroesophageal reflux disease (NERD);
Helicobacter pylori in patients with peptic ulcer disease (in combination with appropriate antibacterial treatment for eradication).
Contraindications
Absolute:
age under 18 - 10 mg tablets, up to 12 years - 20 mg tablets;
pregnancy and the period of breastfeeding;
hypersensitivity to any of the constituents of the drug, as well as substituted benzimidazoles.
Relative (take Noflux with caution):
severe renal failure;
adolescence over 12 years old - 20 mg tablets.
Instructions for the use of Noflux: method and dosage
Noflux is taken orally. The tablets should be swallowed whole without breaking or chewing. Food intake and time of day do not affect the effectiveness of the drug.
10 mg tablets
It is recommended to take Noflux tablets at 10 mg (1 tablet) 1 time per day. It is advisable to take the drug in the morning before meals, as this will contribute to better adherence to the therapy regimen. If there is no effect during the first 3 days of the course, you need to contact a specialist. Without a doctor's prescription, the course of treatment should not exceed 14 days.
Tablets 20 mg
The recommended dosage regimen of Noflux, taking into account the indications:
peptic ulcer of the duodenum (exacerbation period): 1 time per day, 20 mg, course - 2-4 weeks, and if the effect is insufficient, it can be extended for another 4 weeks;
peptic ulcer (exacerbation period) and anastomotic ulcer: once a day, 20 mg, as a rule, the duration of therapy is 6 weeks, but in some cases it can be increased by another 6 weeks;
erosive GERD or reflux esophagitis (including maintenance therapy for GERD): 1 time per day, 20 mg, duration of treatment - 4-8 weeks, if necessary, it is possible to increase the course by another 8 weeks; the duration of maintenance therapy is determined depending on the patient's condition;
Zollinger-Ellison syndrome and other conditions occurring with pathological hypersecretion: the dose is set individually; the initial daily dose is 60 mg, then it is increased to 1 time per day at 100 mg or up to 2 times per day at 60 mg, in some cases, fractional dosing is more preferable; the duration of drug use depends on the clinical need and can be up to 1 year;
NERD without esophagitis: once a day, 20 mg, if after 4 weeks of treatment it is not possible to relieve symptoms of the disease, additional examination is required to clarify the diagnosis; after relief of symptoms in order to prevent their subsequent appearance, the drug is recommended to be taken once a day in the same dose on demand;
Helicobacter pylori: 2 times a day, 20 mg in combination with antibacterial agents according to a specific scheme established by a doctor, the course is 7 days.
The efficacy and safety of rabeprazole sodium, taken in a dose of 20 mg for up to 8 weeks in the treatment of GERD in adolescents aged 12 years and older, has been confirmed by the results of well-controlled and adequate studies. The recommended daily dose for patients of this age category is 20 mg 1 time per day with a maximum course of no more than 8 weeks.
The efficacy and safety of Noflux for the treatment of GERD in children under 12 years of age, as well as for other indications for pediatric patients, have not been established.
Side effects
According to the results of clinical studies, Noflux is well tolerated in most cases. Adverse reactions are generally transient and mild or moderate. In the course of clinical trials and during the observation period in the post-registration period, there were reports of the following side effects of the drug:
hematopoietic system: rarely - leukopenia, neutropenia, thrombocytopenia;
nervous system: dizziness, headache;
immune system: rarely - acute systemic allergic reactions;
metabolism and nutrition: rarely - hypomagnesemia;
hepatobiliary system: increased activity of liver enzymes; rarely - jaundice, hepatitis, in patients with liver cirrhosis - hepatic encephalopathy;
digestive tract: flatulence, diarrhea, abdominal pain, dry mouth, constipation;
urinary system: extremely rare - interstitial nephritis;
reproductive system and mammary gland: extremely rare - gynecomastia;
musculoskeletal system: rarely - arthralgia, myalgia;
skin and subcutaneous tissue: rash; rarely - urticaria, bullous eruptions; extremely rare - toxic epidermal necrolysis, erythema multiforme, Stevens-Johnson syndrome;
others: peripheral edema.
Based on the data of post-marketing observations, when prescribing PPIs, the threat of fractures may worsen.
Overdose
There is very little information on rabeprazole overdose. Cases of severe drug overdose have not been registered. If this condition is suspected, supportive and symptomatic treatment is carried out. There is no specific antidote, dialysis is ineffective, since rabeprazole is characterized by good binding to plasma proteins and, as a result, is excreted in small quantities during dialysis.
special instructions
Before you start taking Noflux, you must exclude the possible presence of malignant tumors of the stomach.
During PPI therapy, rare cases of asymptomatic or symptomatic hypomagnesemia have been reported for at least 3 months. Such reports were received mainly one year after the completion of treatment. Arrhythmias, seizures, and tetany were serious disorders. The majority of patients required hypomagnesemia therapy, including magnesium replacement and discontinuation of PPI use. Therefore, in patients who have to undergo long-term treatment or are prescribed the combined use of PPIs with digoxin or drugs that can lead to hypomagnesemia (including diuretics), it is necessary to monitor the concentration of magnesium in the blood before starting the PPI course and during it.
Should not be combined with drugs Noflyuksa reception capacity with reduced gastric acidity, for example, blockers of H 2 receptors or other PPIs.
Observational studies have shown that PPI therapy may increase the risk of osteoporotic fractures of the wrist, hip, or spine. The likelihood of these complications increases with prolonged use of PPIs (a year or more) in high doses.
Against the background of drug treatment, it is possible to increase the risk of developing gastrointestinal infections, including those caused by Clostridium difficile.
Patients using Noflux for short-term treatment of symptoms of NERD and GERD (for example, heartburn) without a prescription should seek medical advice in the following cases:
taking the drug for four or more weeks;
the emergence of new symptoms of the disease or a change previously noted in patients older than 55 years;
unintentional decrease in body weight, the development of pain when swallowing, dysphagia, persistent vomiting, bleeding in the gastrointestinal tract, vomiting with epigastric and blood contents, anemia;
a history of stomach surgery or gastric ulcer, renal and / or liver dysfunction (including jaundice), etc.
Patients who have had heartburn for a long time or who have recurring symptoms of indigestion need to be regularly examined by a specialist.
People aged 55 and older who are taking daily over-the-counter medications for relieving heartburn and symptoms of indigestion should inform their healthcare professional.
If you are on therapy with other drugs, you should consult your pharmacist or doctor before you start taking Noflux 10 mg over-the-counter tablets.
If a urea breath test is required, you should stop taking Noflux before performing it.
When prescribing an endoscopic examination, the attending physician must be informed before using the drug without a prescription.
Influence on the ability to drive vehicles and complex mechanisms
Taking into account the peculiarities of the pharmacodynamics of Noflux and its side effect profile, the negative effect of the drug on the ability to work with complex equipment and drive vehicles is unlikely. However, with the possible development of drowsiness and dizziness during therapy, it is recommended to avoid these types of activities.
Application during pregnancy and lactation
There is no data confirming the safety of taking Noflux by pregnant women.
According to the results of studies carried out on rabbits and rats, fetal defects and signs of impaired fertility caused by the action of rabeprazole were not identified. At the same time, it was found that in rats a small amount of the drug penetrates the placental barrier. An antiulcer is not recommended during pregnancy, unless the intended effect of therapy on the mother significantly outweighs the potential threat to the fetus.
Whether rabeprazole is excreted in breast milk is unknown. In lactating women, appropriate adequate studies have not been carried out, however, rabeprazole has been identified in the milk of lactating rats.
According to the instructions, Noflux is contraindicated during lactation.
Pediatric use
Taking Noflux 10 mg tablets is contraindicated in patients under the age of 18, since the safety profile of rabeprazole sodium in this category of patients has not been studied.
Taking Noflux 20 mg tablets is contraindicated in patients under 12 years of age.
With impaired renal function
In the presence of renal failure, dose changes are not required. Patients with severe renal failure should take Noflux with extreme caution.
For violations of liver function
In the presence of liver failure, there is no need to change the dose. Patients with severe hepatic impairment need to exercise caution when taking Noflux.
Use in the elderly
Elderly patients do not need to change the dose of Noflux.
Drug interactions
Studies on healthy volunteers demonstrated the absence of clinically significant or pharmacokinetic interactions of rabeprazole sodium with substances metabolized by the cytochrome P 450 system, which include theophylline, phenytoin, warfarin, diazepam (regardless of the weak or increased course of diazepam metabolism).
When conducting studies of the combined use of rabeprazole at a dose of 20 mg with antibacterial drugs, such as clarithromycin at a dose of 500 mg or amoxicillin at a dose of 1000 mg, or a combination of these three drugs, the C max and AUC values for these antibiotics in combination therapy were similar to those in implementation of monotherapy. For rabeprazole, C max and AUC increased by 34% and 11%, respectively, and for the active metabolite of clarithromycin (14-hydroxyclarithromycin), C max and AUC increased in comparison with monotherapy by 46% and 42%, respectively. This increase in exposure scores for rabeprazole and clarithromycin was not considered clinically significant.
Rabeprazole leads to long-term and sustained suppression of gastric acid production. When combined with rabeprazole, the absorption of digoxin increases by 22%, and of ketoconazole, it decreases by 30%. As a result, with the simultaneous use of Noflux with these agents or other drugs in which absorption depends on the pH value of gastric juice, it may be necessary to prescribe a dose adjustment.
In studies involving healthy volunteers with the combined use of ritonavir at a dose of 100 mg or atazanavir at a dose of 300 mg with omeprazole (1 time / day 40 mg), or with a combination of atazanavir at a dose of 400 mg with lansoprazole (1 time / day 60 mg), there was a significant decrease in the effect of atazanavir. The interaction of the latter with rabeprazole has not been studied, but since its absorption is associated with gastric pH, similar research results are expected for other PPIs. It is not recommended to use Noflux with atazanavir at the same time.
There was no clinically significant interaction of rabeprazole sodium with magnesium hydroxide or aluminum hydroxide gel.
In vitro experiments using microsomes from human liver have shown that rabeprazole inhibits the metabolism of cyclosporine with an IC 50 of 62 μmol - at a concentration that is 50 times higher than the C max for healthy volunteers after daily intake of 20 mg of rabeprazole for 20 days. There is a similar degree of inhibition with that of omeprazole at equivalent concentrations.
Based on data on the development of adverse events, retrospective analysis and ongoing pharmacokinetic studies, it can be assumed that the combined use of PPIs with methotrexate (especially in high doses) may increase the level of methotrexate and / or its metabolite (hydroxymethotrexate) and increase T ½. This effect may contribute to the exacerbation of the toxicity of methotrexate, so that when it is used in high doses, temporary withdrawal from PPI treatment may be necessary.
Analogs
Noflux analogs are: Razo, Bereta, Ontime, Rabelok, Zulbeks, Rabeprazol-SZ, Pariet, Khairabezol, Rabiet.
Terms and conditions of storage
Store at temperatures up to 25 ° C out of the reach of children.
The shelf life is 3 years.
Terms of dispensing from pharmacies
10 mg tablets are available without a prescription, 20 mg tablets are available with a prescription.
Reviews about Noflux
The few reviews about Noflux are mostly positive. Users note a good result of treatment with the drug for exacerbations of gastric ulcer and duodenal ulcer, reflux esophagitis and GERD. According to most reviews, the drug quickly and effectively relieves the symptoms of NERD and GERD.
The most common adverse reactions that develop during the period of taking the drug include abdominal pain, vomiting, nausea, and dizziness. However, most users note that the disorders caused by the drug are usually mild and transient.
Price for Noflux in pharmacies
The price for Noflux can be within:
tablets 10 mg: 14 pcs. in the package - from 510 to 580 rubles; 28 pcs. - from 820 to 1100 rubles;
tablets 20 mg: 14 pcs. in the package - from 830 to 960 rubles; 28 pcs. - from 970 to 1300 rubles.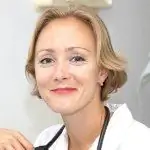 Anna Kozlova Medical journalist About the author
Education: Rostov State Medical University, specialty "General Medicine".
Information about the drug is generalized, provided for informational purposes only and does not replace the official instructions. Self-medication is hazardous to health!
Popular by topic