Table of contents: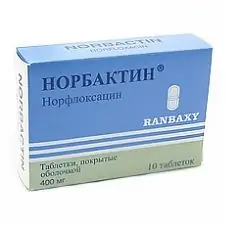 Video: Norbactin - Instructions For Use, Indications, Doses, Analogues
Norbactin
Instructions for use:
1. Release form and composition
2. Indications for use
3. Contraindications
4. Method of application and dosage
5. Side effects
6. Special instructions
7. Drug interactions
8. Analogs
9. Terms and conditions of storage
10. Terms of dispensing from pharmacies
Prices in online pharmacies:
from 120 rubles.
Buy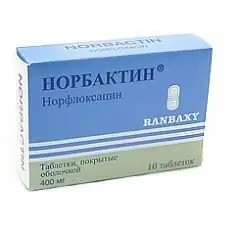 Norbactin is a broad-spectrum antimicrobial drug.
Release form and composition
Dosage form - tablets, film-coated or film-coated: oval, with beveled edges, white or almost white, on one side - a risk, on the other - an extruded rectangle, in the middle of which the inscription "NBT 400" is engraved (10 pcs. Per strips or blisters, in a cardboard box 1, 2 or 3 strips / blisters).
Active ingredient: norfloxacin, content in 1 tablet - 400 mg.
Additional components: croscarmellose sodium, corn starch, microcrystalline cellulose, magnesium stearate, colloidal silicon dioxide, sodium lauryl sulfate, purified talc.
Shell composition: macrogol 400, hypromellose, titanium dioxide, purified talc, purified water.
Indications for use
Norbactin is a drug intended for the treatment of infectious diseases caused by microorganisms sensitive to norfloxacin:
Traveler's diarrhea;
Uncomplicated gonococcal infection;
Urinary tract infections;
Genital infections;
Gastrointestinal tract infections.
Also, the drug is used to prevent sepsis in patients with neutropenia.
Contraindications
Severe renal failure (creatinine clearance less than 10 ml / minute);
Liver failure;
Deficiency of glucose-6-phosphate dehydrogenase;
Cerebral circulation disorders;
Atherosclerosis of the vessels of the brain;
Epilepsy, convulsive syndrome;
Age under 18;
Pregnancy and lactation period;
Hypersensitivity to the components of Norbactin or other drugs of the fluoroquinolone group.
Carefully:
Myasthenia gravis;
Central nervous system disorders;
Impaired renal / liver function.
Method of administration and dosage
Norbactin is a drug for oral administration: the tablets must be swallowed whole and washed down with plenty of liquid. It is possible to achieve the maximum therapeutic effect by taking the drug on an empty stomach - 1 hour before or 2 hours after eating.
Doses and duration of treatment in each case are determined by the doctor depending on the indications and the severity of the disease.
Average recommended doses:
Acute uncomplicated cystitis: 200-400 mg 2 times a day for 3-5 days;
Other acute infections of the urinary system: 400 mg 2 times a day for 7-10 days;
Recurrent and chronic recurrent infectious diseases of the urinary system: 400 mg 2 times a day for 4 weeks. In case of relapse - 400 mg 1 time per day for up to 12 weeks;
Genital infections: 400-600 mg 2 times a day for 7 days;
Acute uncomplicated gonococcal infection: 800 mg once;
Infectious diseases of the gastrointestinal tract: 400 mg 2-3 times a day for a course of 3-5 days;
Prevention of travelers' diarrhea in epidemically unfavorable areas: 400 mg once a day, duration of therapy - as needed, but not more than 21 days;
Prevention of sepsis in patients with neutropenia: 400 mg 3 times a day for 8 weeks.
Patients with impaired renal function (creatinine clearance less than 20 ml / minute or serum creatinine level more than 5 mg / 100 ml) and patients undergoing blood purification (hemodialysis) should be prescribed 1 full dose 1 time per day or ½ the therapeutic dose 2 times a day.
Side effects
Allergic reactions: edema, urticaria, pruritus, Stevens-Johnson syndrome;
From the digestive system: bitterness in the mouth, anorexia, diarrhea, nausea, vomiting, pain in the abdominal cavity, increased activity of hepatic transaminases; with prolonged use - pseudomembranous enterocolitis;
From the urinary system: crystalluria, dysuria, albuminuria, polyuria, glomerulonephritis, hypercreatininemia, urethral bleeding;
From the nervous system: headache, dizziness, insomnia, hallucinations;
From the side of the cardiovascular system: arrhythmias, tachycardia, vasculitis, fainting, decreased blood pressure;
From the side of the musculoskeletal system: tendonitis, arthralgia, tendon ruptures;
On the part of the hematopoietic organs: an increase in the level of eosinophilic blood cells, a decrease in the number of leukocytes per unit of blood volume, a decrease in hematocrit;
Others: candidiasis.
special instructions
To prevent the development of crystalluria during treatment, it is recommended to drink plenty of fluids (under the control of diuresis).
It should be borne in mind that norfloxacin increases the prothrombin index. Patients should warn the doctor about taking Norbactin if surgery is necessary, since the blood coagulation system must be monitored during surgery.
During treatment, it is necessary to avoid exposure to direct sunlight, due to the likelihood of developing dizziness - be careful when driving a car and performing potentially hazardous types of work that require increased attention and high reaction speed.
When the first signs of inflammation of the muscle tendon (tendovaginitis) or pain in the tendons appear, discontinue the drug and consult a doctor for examination.
Drug interactions
When combined with drugs that can lower blood pressure, barbiturates or anesthetics, it is necessary to monitor the heart rate, blood pressure and electrocardiogram indicators.
With the simultaneous use of warfarin, coagulation indicators should be constantly monitored.
Norfloxacin reduces the clearance of theophylline by 25% (a decrease in its dose is required), increases plasma concentrations of cyclosporine and indirect anticoagulants.
Antacids containing magnesium or aluminum hydroxide, as well as preparations containing sucralfate, zinc or iron, reduce the absorption of norfloxacin, therefore, intervals of at least 4 hours should be observed between taking these agents.
The simultaneous use of drugs that can lower the seizure threshold is fraught with the development of epileptiform seizures.
Norfloxacin, used during treatment with nitrofurans, reduces their effect.
Analogs
Analogues of Norbactin are: Nolitsin, Norfloxacin, Normaks, Loxon-400.
Terms and conditions of storage
Store in a dry place out of reach of children at temperatures up to 25 ºС.
The shelf life is 3 years.
Terms of dispensing from pharmacies
Dispensed by prescription.
Norbaktin: prices in online pharmacies
Drug name
Price
Pharmacy
Norbactin 400 mg film-coated tablets 10 pcs.
120 RUB
Buy
Norbactin tablets p.p. 400mg 10 pcs.
213 r
Buy
Norbactin 400 mg film-coated tablets 20 pcs.
270 RUB
Buy
Norbactin tablets p.p. 400mg 20 pcs.
301 RUB
Buy
Information about the drug is generalized, provided for informational purposes only and does not replace the official instructions. Self-medication is hazardous to health!
Popular by topic