Table of contents: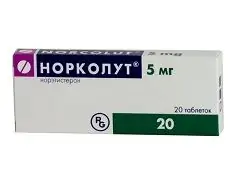 Video: Norkolut - Instructions, Reviews, Application
Norkolut
Instructions for use:
1. Composition and form of release
2. Pharmacological action
3. Indications for use
4. Method of application and dosage
5. Contraindications to use
6. Side effects
7. Application during pregnancy and lactation
8. Storage conditions and shelf life
Prices in online pharmacies:
from 113 rub.
Buy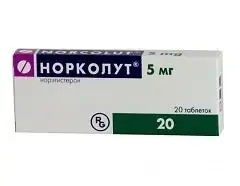 Norkolut is a gestagen.
Norkolut composition and release form
The drug is available in the form of white round tablets. One tablet contains:
active ingredient - norethisterone 5 mg;
auxiliary components: lactose monohydrate, corn starch, gelatin, potato starch, talc, magnesium stearate, colloidal silicon dioxide.
pharmachologic effect
Norethisterone, the active ingredient of the drug, belongs to gestagens, and also has the properties of estrogens and androgens to a lesser extent.
Reception of Norkolut causes the transformation of the uterine lining into the secretory phase from the proliferation phase, prevents the onset of ovulation and follicle maturation, blocking the secretion of gonadotropin in the pituitary gland.
Indications for use of Norkolut
According to the instructions, Norkolut is indicated for:
endometriosis;
premenstrual syndrome;
mastodynia;
diagnostic progesterone test;
endometrial hyperplasia;
dysmenorrhea;
anovulatory metrorrhagia;
uterine myoma.
Norkolut is also used according to the instructions for the prevention and termination of lactation.
Method of application of Norkolut and dosage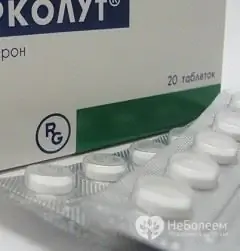 According to the instructions, Norkolut is taken orally.
Reception of Norkolut with mastodynia and PMS is carried out in the period from 16 to 25 days of the menstrual cycle, 1-2 tablets per day. The use of Norkolut in combination with estrogen is allowed.
With uterine myoma, take 1-2 tablets per day from 5 to 25 days of the cycle. The duration of taking Norkolut is no longer than six months.
With endometriosis, take 1 tablet of Norkolut per day from 5 to 25 cycles for six months.
With anovulatory metrorrhagia and endometrial hyperplasia, take 1-2 tablets per day for 6 to 12 days. After achieving a therapeutic effect, taking Norkolut is carried out in 1-2 tablets between 16 and 25 days of the cycle, usually in combination with estrogen, in order to avoid relapse.
For a diagnostic progesterone test, according to the instructions, Norkolut is prescribed in a dosage of 2 tablets per day for 10 days. Normally, in 3-7 days after the end of taking Norkolut, bloody discharge should appear and last 3-4 days.
To stop lactation appoint: 4 tablets per day from 1 to 3 days, 3 tablets - from 4 to 7 days, 2 tablets - from 8 to 10 days.
Contraindications to the use of Norkolut
According to the instructions, Norkolut is contraindicated for:
bleeding from the genital tract of unexplained etiology;
herpes;
malignant tumors of the female genital organs;
hyperbilirubinemia;
jaundice;
bleeding from the urinary tract of unknown etiology;
obesity;
breast cancer;
acute thrombophlebitis or thromboembolism;
acute liver disease;
tendency to thrombosis;
impaired renal or liver function;
pregnancy;
hypersensitivity to the components of the drug.
According to reviews, Norkolut should be prescribed with caution when:
diabetes mellitus;
bronchial asthma;
epilepsy;
arterial hypertension;
renal failure;
a history of thrombophlebitis;
dysfunction of the central nervous system;
chronic heart failure;
hyperlipidemia;
history of thromboembolism;
liver diseases;
migraine.
Side effects
According to reviews, Norkolut causes the following side effects:
vomiting, nausea;
increased fatigue;
acyclic bleeding from the vagina;
allergic reactions;
headache;
increase in body weight;
tension of the mammary glands;
paresthesia.
Norkolut, according to patient reviews, with prolonged use, can cause thromboembolism, thrombosis.
The use of Norkolut during pregnancy and lactation
Taking Norkolut is contraindicated during pregnancy.
In the early period of pregnancy, the accidental use of Norkolut, according to reviews, does not have a teratogenic effect, as well as developmental disorders of the limbs and heart.
During lactation, you should not take Norkolut, as it reduces milk secretion and affects its quality indicators.
Storage conditions for Norkolut and shelf life
The drug Norkolut is stored in a dry place out of the reach of children, at a temperature not exceeding 30 ° C. The shelf life is five years.
Norkolut: prices in online pharmacies
Drug name
Price
Pharmacy
Norkolut 5 mg tablets 20 pcs.
113 RUB
Buy
Information about the drug is generalized, provided for informational purposes only and does not replace the official instructions. Self-medication is hazardous to health!
Popular by topic