Table of contents: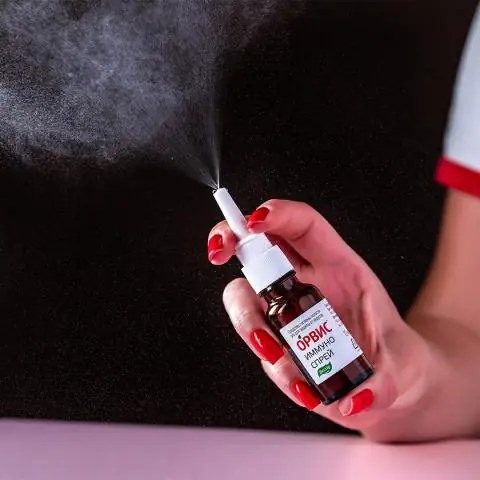 Video: Orvis Immuno Evalar - Instructions For Use, Price, Reviews, Analogues
Orvis Immuno
Orvis Immuno: instructions for use and reviews
1. Release form and composition
2. Pharmacological properties
3. Indications for use
4. Contraindications
5. Method of application and dosage
6. Side effects
7. Overdose
8. Special instructions
9. Application during pregnancy and lactation
10. Use in childhood
11. Drug interactions
12. Analogs
13. Terms and conditions of storage
14. Terms of dispensing from pharmacies
15. Reviews
16. Price in pharmacies
Latin name: Orvis Immuno
ATX code: J05AX
Active ingredient: tilorone (Tilorone)
Manufacturer: CJSC "Evalar" (Russia)
Description and photo update: 2019-08-07
Prices in pharmacies: from 517 rubles.
Buy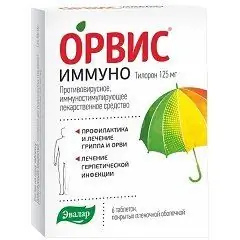 Orvis Immuno is an antiviral and immunostimulating agent.
Release form and composition
Dosage form - film-coated tablets: round, biconvex, orange; the cross section shows an orange core interspersed with orange and white (in a cardboard box 1–3 cell contour packs of 6, 10 or 20 tablets and instructions for use of Orvis Immuno).
Composition of 1 tablet:
active substance: tilorone (tilorone dihydrochloride) - 125 mg;
auxiliary components: povidone K-30, stearic acid, magnesium stearate, calcium hydrogen phosphate (disubstituted anhydrous calcium phosphate), croscarmellose sodium, microcrystalline cellulose;
film shell: polysorbate 80, macrogol 4000 (polyethylene glycol 4000), titanium dioxide, hypromellose (hydroxypropyl methylcellulose), sunset yellow dye.
Pharmacological properties
Pharmacodynamics
Tilorone is a low molecular weight synthetic interferon inducer. It has immunomodulatory and antiviral effects. Stimulates the formation of all types of interferons in the body (alpha, beta, gamma and lambda). The main producers of interferon in response to taking the drug are intestinal epithelial cells, neutrophils, T-lymphocytes, granulocytes and hepatocytes.
After oral administration of tilorone, the maximum production of interferon is determined after 4-24 hours in the following sequence: intestines, liver, blood.
In human leukocytes, the drug promotes the synthesis of interferon. It stimulates bone marrow stem cells, has a dose-dependent increase in the formation of antibodies, reduces the degree of immunosuppression, restores the ratio of T-suppressors and T-helpers.
Tiloron is active against various viral infections, including herpes viruses, hepatitis, influenza and other acute respiratory viral infections (ARVI).
The mechanism of antiviral action is due to inhibition of translation of virus-specific proteins in infected cells, which causes suppression of viral reproduction.
Pharmacokinetics
Tilorone is rapidly absorbed from the gastrointestinal tract after oral administration. Its bioavailability is 60%. Approximately 80% of the dose received binds to plasma proteins.
The drug is not metabolized. Does not accumulate in the body. It is excreted mainly unchanged: 70% - through the intestines, 9% - by the kidneys. The half-life is 48 hours.
Indications for use
Complex therapy:
flu and other acute respiratory viral infections;
herpes infection.
Prevention:
Contraindications
age up to 18 years;
pregnancy;
lactation period;
known hypersensitivity to any component of Orvis Immuno.
Orvis Immuno, instructions for use: method and dosage
Orvis Immuno tablets should be taken orally, after meals.
Recommended dosage regimens of the drug for adults:
treatment of influenza and acute respiratory viral infections: the first 2 days - 1 tablet once a day, then - 1 tablet every other day. The general course of therapy is 6 tablets;
prevention of influenza and ARVI: 1 tablet once a week for 6 weeks;
treatment of herpes infection: the first 2 days - 1 tablet once a day, then - 1 tablet every other day. The general course of therapy is 10–20 tablets.
Side effects
Orvis Immuno is generally well tolerated. In rare cases, dyspeptic disorders, short-term chills, and allergic reactions are noted.
Overdose
To date, no cases of overdose have been reported.
special instructions
In the event of any side effects not described in the instructions, or the aggravation of any of the above reactions, you should inform your doctor.
If during the treatment of influenza and ARVI symptoms of the disease persist after 4 days, you should consult a doctor.
Influence on the ability to drive vehicles and complex mechanisms
Orvis Immuno does not adversely affect the speed of reactions and the ability to concentrate, therefore it can be used by individuals regardless of their area of professional employment.
Application during pregnancy and lactation
The drug is contraindicated for use during pregnancy and lactation.
If the course of therapy is indicated for lactating women, it is recommended to stop breastfeeding.
Pediatric use
Orvis Immuno is not intended for the treatment of children and adolescents under 18 years of age.
Drug interactions
Orvis Immuno can be taken together with antibacterial and other medicines that are traditionally prescribed for viral and bacterial diseases.
There were no clinically significant interactions with the simultaneous intake of alcohol.
Analogs
Orvis Immuno analogs are: Allokin-Alpha, Amizon, Amiksin, Nobazit, Poludan, Tilaxin, Tiloron, Cycloferon, etc.
Terms and conditions of storage
Store at a temperature not exceeding 25 ºС out of reach of children.
The shelf life is 3 years.
Terms of dispensing from pharmacies
Available without a prescription.
Reviews about Orvis Immuno
Most often, there are messages from patients who take the drug in order to prevent influenza and various acute respiratory viral infections. They leave positive reviews about Orvis Immuno, noting the ease of administration (once a week), acceptable cost, good tolerance and high prophylactic efficacy.
Price for Orvis Immuno in pharmacies
Depending on the region of sale and the pharmacy network, the price of Orvis Immuno for a pack of 6 tablets of 125 mg each can be 455-560 rubles.
Orvis Immuno: prices in online pharmacies
Drug name
Price
Pharmacy
Orvis Immuno 125 mg film-coated tablets 6 pcs.
RUB 517
Buy
Orvis immuno oral spray bottle 10ml
656 r
Buy
Orvis Immuno Spray for oral cavity lyophilisate for preparation of solution for topical use with solvent 10 ml 1 pc.
656 r
Buy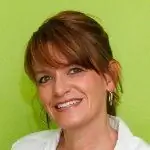 Maria Kulkes Medical journalist About the author
Education: First Moscow State Medical University named after I. M. Sechenov, specialty "General Medicine".
Information about the drug is generalized, provided for informational purposes only and does not replace the official instructions. Self-medication is hazardous to health!
Popular by topic