Table of contents: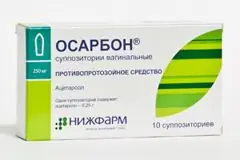 Video: Osarbon - Instructions For Use, Indications, Doses, Reviews
Osarbon
Instructions for use:
1. Release form
2. Analogs
3. Pharmacological action
4. Indications for use
5. Brief instructions for use
6. Contraindications
7. Side effects
8. Special instructions
9. Terms and conditions of storage
Prices in online pharmacies:
from 107 rub.
Buy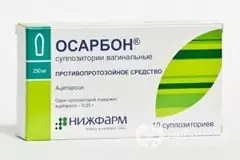 Osarbon (international non-proprietary name - acetarsol) is an antimicrobial and disinfectant used in gynecological practice (read: purely female half of the population). Osarbon can be called one of the "last of the Mohicans", because in modern medicine, the use of arsenic compounds (which is acetarsol) is minimized. But this fact should not alarm consumers - Osarbon reasonably occupies its narrow therapeutic niche in modern gynecology and still remains in demand.
Release form
Osarbon has only one dosage form and is available in the form of vaginal suppositories. One candle contains 250 mg of acetarsol and several auxiliary substances: glucose, boric acid and witepsol (the special role of glucose will be discussed below). Candles can have a slightly different color: from white to white with a cream or yellowish tint. Therefore, if the purchased candles differ somewhat in color from those purchased earlier, this does not mean that the drug does not meet quality requirements or is falsified.
Candles are packed in blisters of 5 pieces, in the secondary packaging (cardboard box) there can be one or two such blisters together with instructions for Osarbon for use.
Osarbon is produced at the facilities of the Russian pharmaceutical plant "Nizhpharm" in Nizhny Novgorod.
Osarbon's analogs
There are no complete chemical analogues of Osarbon in terms of the active substance. Several drugs can be cited that, from a therapeutic point of view, have a similar application to Osarbon. These include:
Betadin (Hungary);
Geksikon (RF);
McMiror (Italy);
Fluomisin (Germany);
Vagotil (Poland).
There is, however, another drug that contains acetarsol. By the way, it is produced by the same OJSC Nizhpharm. These are combined suppositories Osarcid, which, in addition to the aforementioned substance, also include sulfonamide.
pharmachologic effect
The mechanism of action of acetarsol is based on its ability to radically interfere with the metabolic processes of some protozoa (Trichomonas, amoeba, spirochetes) by completely blocking their sulfhydryl enzyme systems.
Many clinicians in their Osarbon reviews stress the importance of maintaining an acidic vaginal environment. Such conditions are necessary in order to avoid the absorption of acetarsol and the subsequent intoxication of the body against the background of its systemic action. It is for this purpose that glucose was introduced into the composition of the drug. The fact is that glucose (sometimes dextrose is added to the suppositories instead of it, which, in fact, is an equivalent substitute) is an excellent "appetizing" substrate for the vital activity of lactobacilli of the normal vaginal microflora. The latter create that sour "entourage" that prevents the resorption of acetarsol: they contribute to the process of glucose breakdown, resulting in the release of lactic acid. Another ingredient in Osarbon, boric acid, also serves to lower vaginal pH.
Indications for the use of Osarbon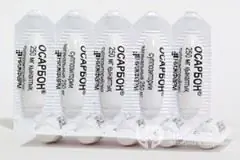 In the instructions to Osarbon, the only indication for the use of this drug is given: Trichomonas colpitis. Patients should not be confused by Osarbon's narrow specialization, as this disease is rightfully considered one of the most common form of inflammatory vaginal sexually transmitted infections. As the name implies, colpitis is caused by the pathogenic bacterium Trichomonas.
The only indication for the use of Osarbon only indicates that there are more effective drugs for other diseases. But Trichomonas colpitis can, with good reason, be called the fiefdom of Osarbon.
Brief instructions for use
Before using Osarbon for its intended purpose, you must give your body a recumbent position, remove the candle from the blister and insert it as deeply into the vagina as possible. Frequency rate of admission - 1 candle 1 time per day. The duration of treatment is 10 days.
Contraindications
Based on the reviews about Osarbon and the results of studies carried out before the registration of this drug, the following contraindications for taking it can be distinguished:
hypersensitivity to this drug;
failure of the kidneys and / or liver;
diabetes;
tuberculosis;
pregnancy;
hemorrhagic diathesis.
Side effect
As evidenced by reviews about Osarbon, the use of this drug does not entail a train of unwanted side effects. Allergic reactions sometimes occur. Extremely rare - hepatitis and polyneuritis (total lesions of nerve fibers).
Overdose when using Osarbon in medical practice has not been registered.
At the moment, studies on the interaction of Osarbon with other drugs have not been conducted.
special instructions
According to the instructions for Osarbon, this drug is sold from pharmacies with a doctor's prescription, which is easy to explain, because acetarsol (remember its arsenous nature) is a poisonous substance.
Osarbon does not affect attention and reaction speed when driving vehicles and working with dangerous machinery.
Storage term and conditions
Osarbon should be stored at a temperature not exceeding 25 ˚C in a place protected from direct sunlight.
Osarbon has a shelf life of 3 years from the date of issue.
Osarbon: prices in online pharmacies
Drug name
Price
Pharmacy
Osarbon vaginal suppositories 10 pcs.
107 RUB
Buy
Osarbon vaginal suppositories. 10 pieces.
RUB 137
Buy
Information about the drug is generalized, provided for informational purposes only and does not replace the official instructions. Self-medication is hazardous to health!
Popular by topic