Table of contents: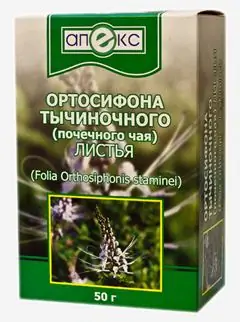 Video: Orthosiphon Staminate (kidney Tea) Leaves - Instructions For Use, Indications, Doses, Analogues
Orthosiphon staminate leaves
Instructions for use:
1. Release form and composition
2. Indications for use
3. Contraindications
4. Method of application and dosage
5. Side effects
6. Special instructions
7. Drug interactions
8. Analogs
9. Terms and conditions of storage
10. Terms of dispensing from pharmacies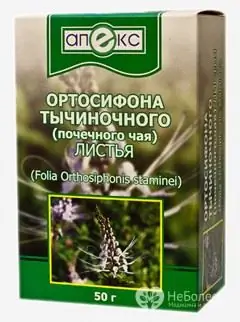 Ortosiphon staminate (kidney tea) leaves are a herbal medicine with moderate diuretic (accompanied by the excretion of uric acid and urea chlorides), antispasmodic, choleretic and increasing the secretory activity of the gastric mucosa.
Release form and composition
The drug is produced in the following dosage forms:
Tea (tea bags with raw materials): crushed pieces of stems and leaves of orthosiphon, green or grayish-green in color, with a weak characteristic odor, interspersed with brown, violet-brown and greenish-brown; the taste of aqueous extract is slightly astringent, bitter (in paper bags, 1.5 g of raw materials, 20 bags in a cardboard box);
Raw materials of leaves of staminate orthosiphon: dry crushed leaves of a plant (50 or 100 g in a cardboard box).
Active substances in Ortosiphon staminate (kidney tea) leaves: orthosyphonin glycoside, essential oil, saponins, other biologically active components.
Indications for use
The use of tea from the leaves of orthosiphon staminate is indicated for the prevention of edema as part of the complex therapy of the following diseases / conditions:
Urolithiasis disease;
Gallstones;
Cholecystitis;
Disruption of kidney function;
Gout;
Hypertonic disease;
Chronic heart failure.
Contraindications
Contraindications to the use of the drug are children under 12 years of age and hypersensitivity to orthosiphon.
Method of administration and dosage
Kidney tea is taken orally, shaken before use.
To prepare the infusion, take enamel or glassware, then:
1 filter bag (1.5 g): pour 100 ml (half a glass) of boiling water, cover with a lid and infuse for 15 minutes. Periodically, it is necessary to press on the bag with a spoon, and then squeeze it out, bring the volume of the resulting infusion to 100 ml with boiled water;
1.5 tablespoons of plant materials from dry leaves of orthosiphon: pour 400 ml of boiling water, boil for another 5 minutes, then insist for 4 hours. Drain the infusion, squeezing the thick into it and bring it to the original volume with boiled water (the prepared infusion is designed for 2 days).
It is recommended to take the infusion warm, 20-30 minutes before meals, 2 times a day (morning and evening), half a glass. The course of therapy is 2-3 weeks, repeated treatment is carried out in agreement with the doctor.
When treating cholecystitis, the infusion should be taken after meals.
Side effects
While taking renal tea, hypersensitivity reactions are possible.
special instructions
The use of Ortosiphon staminate (kidney tea) leaves during pregnancy and during lactation is allowed after a careful assessment of the ratio of the expected benefits to the mother with the potential risk to the fetus and the child.
Before starting therapy, you should consult your doctor.
Drug interactions
There is no information on interaction with other drugs / substances.
Analogs
There is no information about analogues of Ortosiphon staminate leaves.
Terms and conditions of storage
No special storage conditions are required.
Shelf life is 4 years.
Terms of dispensing from pharmacies
Available without a prescription.
Information about the drug is generalized, provided for informational purposes only and does not replace the official instructions. Self-medication is hazardous to health!
Popular by topic