Table of contents: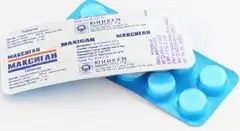 Video: Maxigan - Instructions For Use, Indications, Doses, Analogues
Maxigan
Instructions for use:
1. Release form and composition
2. Indications for use
3. Contraindications
4. Method of application and dosage
5. Side effects
6. Special instructions
7. Drug interactions
8. Analogs
9. Terms and conditions of storage
10. Terms of dispensing from pharmacies
Prices in online pharmacies:
from 94 rub.
Buy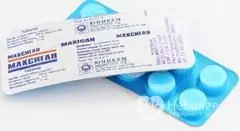 Maxigan is a combined drug with analgesic and antispasmodic effect.
Release form and composition
Dosage forms:
Tablets: round flat, white, with a dividing line and a chamfer (10 pcs. In blisters, in a cardboard box of 1, 2 or 10 blisters);
Solution for injection: light yellow transparent liquid (5 ml in dark glass ampoules, 5 ampoules in a blister strip, 1 package in a cardboard box).
Content of active ingredients of Maxigan in 1 tablet / 1 ml of solution:
Fenpiverinium bromide: 0.1 mg / 0.02 mg;
Pitofenone hydrochloride: 5 mg / 2 mg;
Metamizole sodium: 500 mg / 500 mg.
Auxiliary components:
Tablets: silicon dioxide, starch, lactose, magnesium stearate, talc;
Solution: hydrochloric acid, water for injection.
Indications for use
Moderate pain syndrome caused by spasm of smooth muscles of internal organs, for example, with colic (intestinal, renal, hepatic or biliary), algodismenorrhea, biliary dyskinesia;
Symptomatic (short-term) therapy for neuralgia, sciatica, myalgia, arthralgia;
The period after surgical interventions and diagnostic studies - as an analgesic drug for severe pain.
In addition, the use of tablets is indicated for infectious-inflammatory and catarrhal pathologies as an antipyretic agent.
Contraindications
Closed-angle glaucoma;
Severe renal and / or liver dysfunction;
Tachyarrhythmia;
Granulocytopenia;
Angina pectoris (stable and unstable);
Deficiency of glucose-6-phosphate dehydrogenase of genetic origin;
Megacolon;
Clinical form of prostatic hyperplasia;
Intestinal obstruction;
Oppression of bone marrow hematopoiesis;
Acute porphyria;
Chronic heart failure in the stage of decompensation;
Collapse;
I trimester and the last 6 weeks of pregnancy;
Breastfeeding period;
Hypersensitivity to drug components.
In addition, use is contraindicated:
Tablets: up to 5 years old;
Solution: up to 3 months of age or children weighing less than 5 kg.
Under the close supervision of a physician, it is necessary to use the drug in patients with impaired renal or liver function, a predisposition to bronchospasm and / or arterial hypotension (systolic pressure less than 100 mm Hg), with a history of aspirin triad, individual hypersensitivity to non-opioid analgesics or nonsteroidal anti-inflammatory drugs.
Method of administration and dosage
Tablets
Tablets are taken orally, preferably immediately after a meal.
The drug is prescribed for a period of not more than 5 days with a frequency of administration 2-3 times a day.
The recommended single dosage has age restrictions:
Patients over 15 years old: 1-2 tablets, but not more than 6 tablets per day;
Teenagers 13-15 years old: 1 tablet each;
Children aged 9-12 years: 3/4 tablets;
Children 6-8 years old: 1/2 tablet.
Solution for injection
The solution is intended for intramuscular (i / m) and intravenous (i / v) administration.
Before the introduction of the ampoule with the solution, you must hold it in your hand for some time so that the drug gets warm.
In case of acute colic in patients over the age of 15 years, it is recommended to intravenously slow (1 ml for 1 minute) introduction of 2 ml of Maxigan. To achieve a clinical effect, the injection can be repeated after 6-8 hours.
For intramuscular administration, patients over 15 years of age are administered 2 ml of the drug 2 times a day.
Do not exceed the maximum daily dose of 4 ml.
The duration of treatment is no more than 5 days.
The dosage regimen for children depends on the age, weight of the child and the route of administration (i / m or i / v):
12-15 years (46-53 kg) 0.8-1 ml i / m and i / v;
8-12 years old (31-45 kg) 0.6-0.7 ml or 0.5-0.6 ml;
5-7 years (24-30 kg), 0.4-0.5 ml or 0.3-0.4 ml;
3-4 years (16-23 kg) 0.3-0.4 ml or 0.2-0.3 ml;
1-2 years (9-15 kg) 0.2-0.3 ml or 0.1-0.2 ml.
Children aged 3-11 months (child weight 5-8 kg) are shown only in / m administration of the drug in a dose of 0.1-0.2 ml.
If necessary, re-introduction is possible at the initial dose.
Side effects
Digestive system: in isolated cases - dry mouth, burning sensation in the epigastric region;
Cardiovascular system: lowering blood pressure (BP), tachycardia;
Nervous system: in isolated cases - accommodation paresis, headache, dizziness;
Hematopoietic system: leukopenia, agranulocytosis (chills, fever, difficulty swallowing, sore throat, vaginitis, stomatitis, proctitis), thrombocytopenia;
Respiratory system: bronchospasm (more often in patients prone to it);
Urinary system: rarely (more often against the background of long-term therapy or taking high doses) - anuria, oliguria, proteinuria, urine staining red, interstitial nephritis; in isolated cases - difficulty urinating;
Allergic reactions: itching, rash; rarely - urticaria, anaphylactic shock, angioedema; in isolated cases - toxic epidermal necrolysis (Lyell's syndrome), malignant exudative erythema (Stevens-Johnson syndrome);
Others: in isolated cases - decreased sweating;
Local reactions: infiltrates may appear at the site of intramuscular injection.
special instructions
If the use of Maxigan lasts more than 7 days, treatment must be accompanied by regular monitoring of the functional state of the liver, the number of platelets and leukocytes in the blood. If symptoms of agranulocytosis or thrombocytopenia appear, the drug should be discontinued.
The simultaneous appointment of X-ray contrast agents and colloidal blood substitutes, as well as the use of alcohol during the treatment period, is contraindicated.
Until the cause of acute abdominal pain is clarified, the solution cannot be used.
Parenteral administration is recommended when it is impossible to take the drug orally and in emergency cases, such as renal or hepatic colic.
Due to the possible appearance of arterial hypotension, intravenous administration should be carried out carefully, very slowly, only with a horizontal position of the patient's body, controlling blood pressure, respiratory rate and heart rate.
During the period of treatment, the patient should refrain from driving vehicles and mechanisms.
Drug interactions
With the simultaneous use of Maxigan:
Non-opioid analgesics cause increased mutual toxic effects;
Oral contraceptives, allopurinol, tricyclic antidepressants, disrupting metabolic processes, increase the toxicity of the drug;
Barbiturates, inducers of liver microsomal enzymes (phenylbutazone) weaken the effect of sodium metamizole;
Cyclosporine lowers its blood levels;
Tranquilizers, sedatives activate the analgesic effect of metamizole sodium;
Phenothiazine derivatives, including chlorpromazine, can contribute to the development of severe hyperthermia;
Butyrophenones, amantadine, quinidine, phenothiazines, blockers of histamine H 1 receptors enhance the m-anticholinergic action of the drug;
Tiamazole, cytostatics increase the risk of developing leukopenia;
Ethanol leads to mutual amplification of the effects;
Oral hypoglycemic agents, indirect anticoagulants, indomethacin, glucocorticosteroids enhance their clinical effect.
When combined with codeine, blockers of histamine H 2 -receptors, propranolol slows down the processes of inactivation of sodium metamizole, which causes an increase in antipyretic, analgesic and anti-inflammatory action of Maxigan.
Pharmaceutical solution is incompatible with solutions of other drugs in one syringe.
Analogs
Analogues of Maxigan are: Analgin, Akofil, Andipal, Baralgin M, Antipyrin, Quatrox, Quintalgin, Benalgin, Pentabufen, Piralgin, Pentalgin, Sedal-M, Tempalgin, Sedalgin, Tetralgin, Baralgetas, Bralgin, Bioganoralgin, Spazmalin, Spazmalgon, Spazmoblock, Trinalgin.
Terms and conditions of storage
Keep out of the reach of children.
Store in a dark, dry place at temperatures up to 25 ° C.
The shelf life is 3 years.
Terms of dispensing from pharmacies
The tablets are dispensed without a prescription, and the injection is prescription.
Maxigan: prices in online pharmacies
Drug name
Price
Pharmacy
Maxigan tablets 20 pcs.
94 r
Buy
Information about the drug is generalized, provided for informational purposes only and does not replace the official instructions. Self-medication is hazardous to health!
Popular by topic