Table of contents:

Video: Exercises For Flat Feet
Exercises for flat feet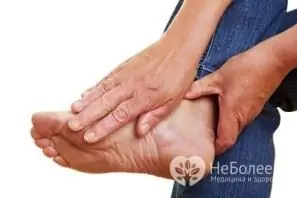 The fact that flat feet is the most unpleasant thing is not a secret to anyone. The legs hurt, they get tired quickly, the gait is heavy, the feet become ugly, with protruding bones and deformed toes. However, few people know that this serious problem can be corrected with a set of exercises for flat feet, provided that you show discipline and perseverance. There are several sets of exercises for flat feet, they all include a different number of exercises, but there are basic ones, those that are included in all of them.
So, basic exercises for flat feet:
Sit on a chair, put your feet at an angle to each other so that they touch your toes and heels. Do this first while sitting, then standing, 10 times;
Stand alternately on the inside and on the outside of the feet. First sitting, then standing, 10 times;
Rotate the feet in different directions, placing their heels on the floor. First, sitting, then standing, hold the support. Perform 10 times;
First, from a sitting position, then from a prone position, rise to your feet, using only the outer arch of the foot. Perform sitting 10 times, lying 5;
Standing, feet shoulder-width apart, rise on toes, then transfer the weight to the heels. Do this exercise in three versions - first, the feet are parallel to each other, then turned towards each other with the toes, then the heels. 10 times in each position;
Stand up, lunges alternately with one leg, then the other, 10 times;
Sitting on a chair, raise alternately one leg, then the other, then both together 10 times;
Walk five steps on toes, on heels, on the inside, on the outside of the feet;
Walk about, rolling from heel to toe, do so 40 steps;
Use a smooth, rounded stick with a diameter of 3-5cm and a length of at least 1m. Put the stick on the floor, walk along it like a rope, then sideways so that the stick is located under the arch of the foot;
Sitting, then standing, roll the stick alternately with each leg. 1-2 minutes per leg;

Take a tennis ball (or any other suitable in size) and roll each leg alternately, sitting and standing, for 1-2 minutes per leg.

Image
In order to get rid of the problem completely, exercises for flat feet must be done every other day, or even better every day, regularly, for 3-6 months. The term depends on how far the process of flat feet has gone. In the future, even when the normal position of the foot has recovered, exercises with flat feet do not need to be stopped, you can simply do them in a less intense mode, once or twice a week.
Found a mistake in the text? Select it and press Ctrl + Enter.
Popular by topic