Table of contents: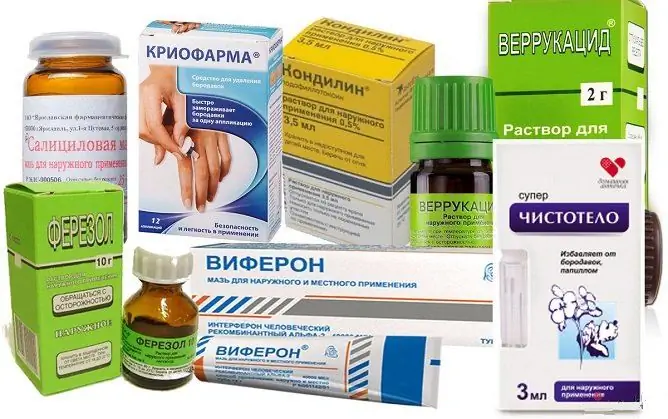 Video: Remedies For Warts In A Pharmacy: An Overview Of The Most Effective, Doctor's Advice
Remedies for warts
The content of the article:
Anti-warts
Treatment regimen
Drug groups

Topical preparations

Solkoderm
Cryopharma
Verrukacid
Supercleaner
Salipod
Podophyllotoxin (Condilin)
Other local remedies

General action means

Immunomax
Isoprinosine (inosine pranobex)
Interferon
Gepon

Doctor's advice
Video
Warts are benign neoplasms of the skin and mucous membranes that are infectious in nature. It occurs in both an adult and a child. Some of them are included in the group of precancerous conditions due to their high carcinogenicity (caused by oncogenic strains of the papillomavirus). Remedies for warts have different directions of action (suppression of a viral agent, modulation of the immune system, removal of skin growth).
Features of the use of medications for warts:
a positive effect can be achieved in 70-80% of cases;
long-term treatment is required;
some drugs have a large number of side effects (immunomodulators, cytotoxic drugs);
strictly individual selection is necessary for drawing up a treatment regimen;
in order to effectively remove warts, it is permissible to combine various methods (medication, surgical and folk).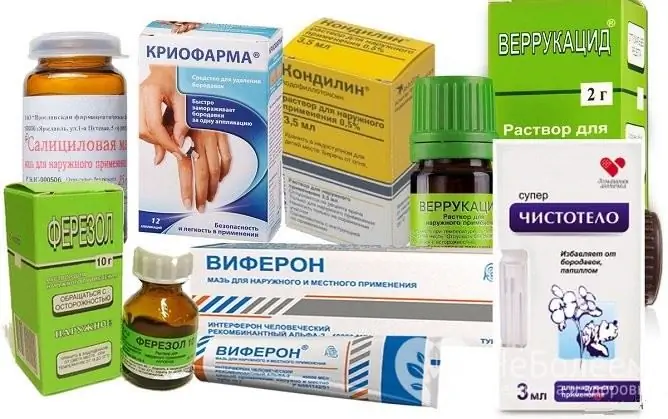 There is a large selection of drugs for removing warts, the specific remedy should be chosen in consultation with your doctor
Anti-warts
Medicines for the treatment of warts, adopted in the European Community, are presented in the table.
Focus
Group
Sample drugs

Topical preparations

Keratolytics and cauterizers

Salicylic acid, lactic acid, acetic acid, hydrogen peroxide.

Preparations:

Feresol;

· Cryopharm;

· Super cleaners.

Cytotoxic drugs

· Podophyllin;

· Podophyllotoxin.

Systemic therapy

Systemic and local retinoids (cell modifier drugs)

Isotretinoin

· Tretinoin;

· Adapalen.

Antiviral drugs

· Immunomax;

· Vartek;

· Interferon.

Immune response modulators

· Interferon;

· Imichimod;

Isoprinosine

· Viferon.
Treatment regimen
All forms of the disease, regardless of external differences and the affected area, have a single treatment regimen, since the main cause of their occurrence is due to the human papillomavirus (HPV). This is a DNA-containing widespread virus (more than 100 s of taxonomic types are known, of which the most dangerous due to oncogenicity are 16, 18, 31, 35, 39).
Drug groups
In the pharmacy, remedies for warts are available in several forms:
for local use (creams, ointments, gels, solutions);
for systemic use (tablets, injections).
Often, a combination of the above methods is required to eliminate neoplasms and suppress the action of the pathogen. The choice of a specific drug or their combination should be based on the localization of the process (for example, for plantar warts, due to constant pressure, a medicinal patch will be the best choice).
Topical preparations
Pharmaceutical preparations with good local action include:
Solkoderm
It is an aqueous solution, the main active ingredients of which are organic acids (acetic, oxalic and lactic). The mechanism of action is based on local redox reactions, which result in mummification of the pathologically altered tissue (local necrosis of the skin as a result of burning with acid solutions). After the death of pathological cells, a wound surface appears, which, as a rule, heals by primary intention. When using a means to enhance the action and depth of penetration of the solution, additional mechanical action with a spatula is required.
It is required to process the skin once until the wart appears yellow on the skin or white on the mucous membranes. The complete dying off of the build-up occurs after a few hours, and the scab forms within 5-14 days. After 3-5 days, the result is assessed (in rare cases, repeated application is required).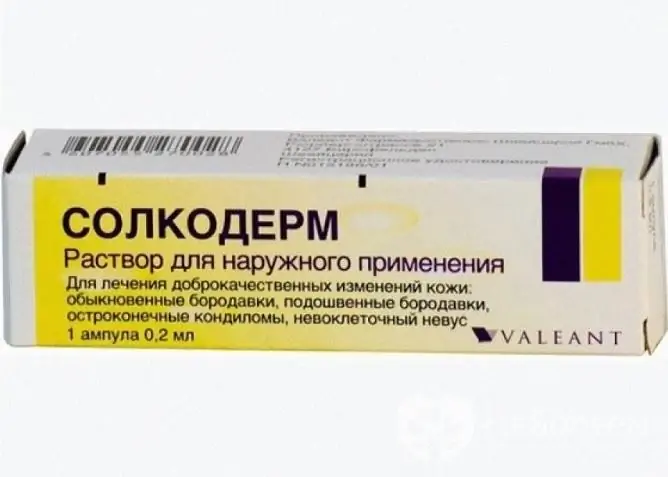 Solkoderm - aqueous solution of organic acids
At the moment, one of the best remedies is the removal of warts occurs in 80% of cases. Relapses rarely occur and this explains the positive reviews of this drug. It is not recommended to use it on the mucous membranes alone, as there is a risk of chemical burns.
Cryopharma
It contains propane and dimethyl ether. It exposes the tissue to necrosis by deep freezing (liquid nitrogen is used as a refrigerant). As with acidic preparations, in most cases one use is sufficient to completely remove a small neoplasm. Evaluation of treatment results is carried out after 5-10 days. To get rid of growths is required with great care, since there is a risk of necrosis of healthy tissues.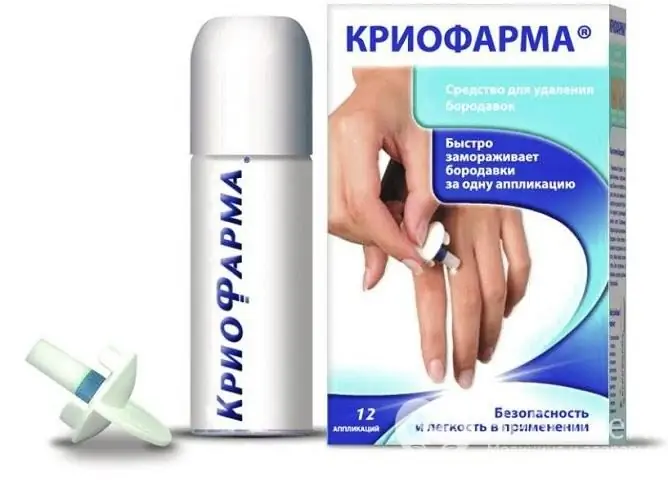 Cryopharma is a product with a freezing effect
Verrukacid
The composition of the drug includes phenol and methacrysol, which are capable of burning out the neoplasm. Partially have an antiseptic effect. More commonly used against plantar warts. It is applied once pointwise using a specially designed spatula. May cause burns.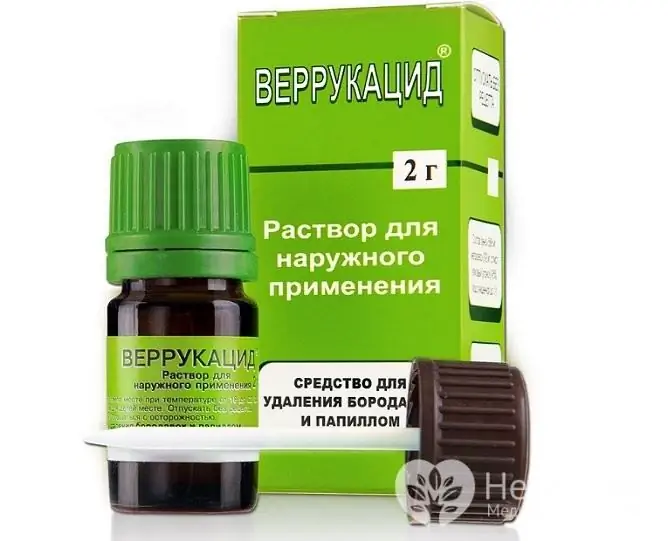 Verrukacid has a cauterizing effect
Supercleaner
Available in the form of a liquid containing potassium and sodium hydroxide. Refers to strong irritants. For the treatment of warts, it is required to apply the drug 1-2 times a day for 5 days. It is unacceptable to use it to remove formations on the skin of the face.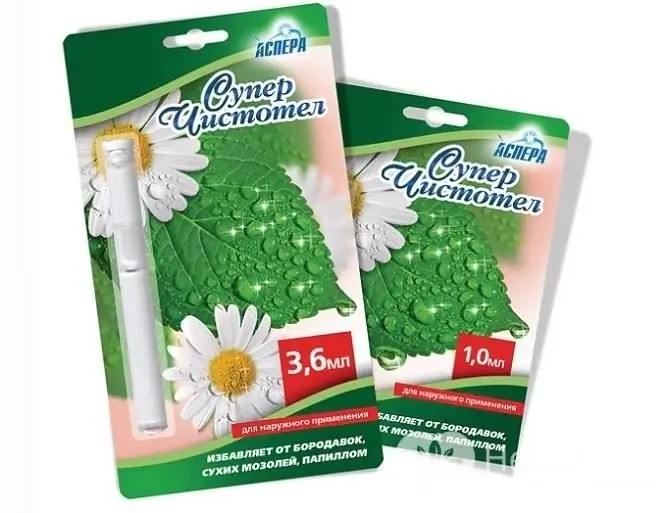 Super Cleaner is not applied to the face
Salipod
This is a specific medicinal product produced in the form of a patch and containing salicylic acid and sulfur. The best option for the treatment of plantar warts. Each patch is glued for 6-8 hours to the formation. The entire course of therapy is 14 days. As a rule, 2-3 plasters are enough to completely die off the wart. The resulting wound surface heals within 20 days. Rarely used in childhood.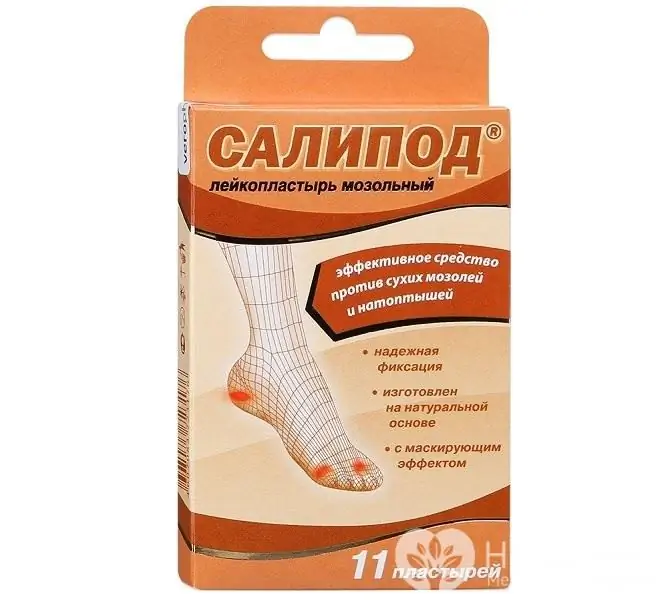 Salipod - a plaster for removing warts
Podophyllotoxin (Condilin)
It is produced in the form of a solution and has a pronounced cytotactic effect. Apply 2 times a day for 3 days, then a break for 4 days. The duration of treatment is no more than 5 weeks. The best option for independent use by patients (it has a minimum of side effects). It is more often used in the presence of formations in the anogenital region.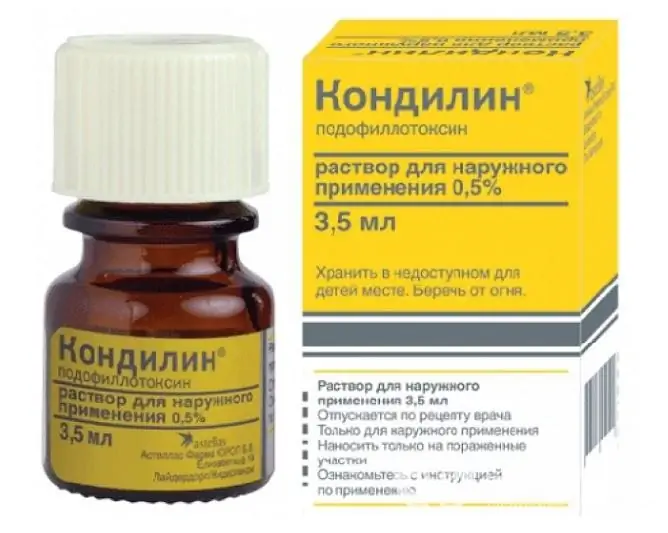 Condilin is effective against anogenital warts
Other local remedies
This category deals with drugs that do not have keratolytic properties and belong to other groups of drugs, but have a local effect.
| | |
| --- | --- |
| Name | Act |
| Viferon | Immunomodulator. It is produced in the form of an ointment for external use and has an immunostimulating and anti-inflammatory effect. It does not directly cause cauterization of the formation, unlike acids, but it is able to inhibit the multiplication of the virus in the focus. It is required to apply 3-4 times a day for 2-3 weeks. Virtually no side effects. |
| Panavir | It is produced in the form of a gel and has a pronounced local antiviral effect. It is based on herbal ingredients, so the drug is inferior in strength to a number of synthetic drugs. However, the drug has practically no side reactions and is permissible for use on any area (legs, arms, fingers, trunk, face). Apply 2-3 times a day for 7-10 days. |
| Imichimod | Refers to interferon inducers and is available in the form of a 5% cream. It is required to lubricate the affected area 3 times a week for 14-24 days (the entire course should not exceed 4 months). |
General action means
Some representatives of systemic drugs:
Immunomax
It is an activator of antiviral immunity, belongs to herbal medicines. It is produced in the form of a powder of 200 units in injection vials. Sometimes this drug is combined with one of the local ones to enhance the effect of the treatment (for example, with Solkoderm). It is prescribed 1 bottle 1 time per day for 1, 2, 3, 8, 9 and 10 days. Rarely, after a course of therapy, there is a relapse of the disease (positive effect in 90%).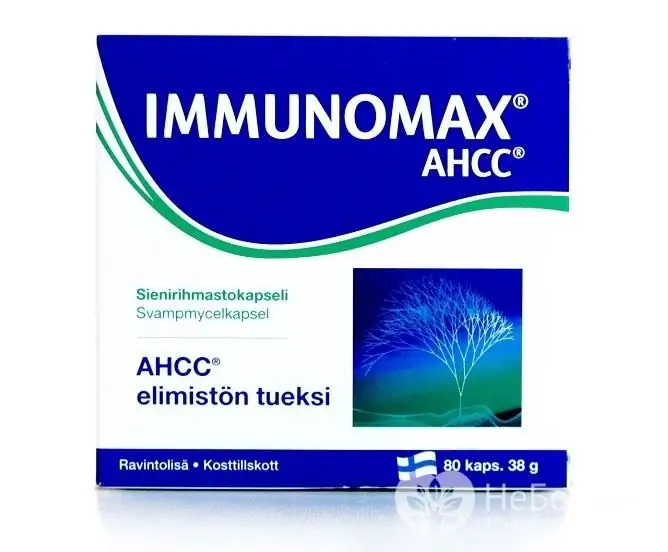 Immunomax is a drug that activates antiviral immunity
Isoprinosine (inosine pranobex)
It is an immunomodulator, stimulates the antiviral defense of the body, affecting cellular immunity, and also has a partial antiviral effect. It is prescribed 2 tablets 3 times a day in combination with local therapy. The course is on average 28 days.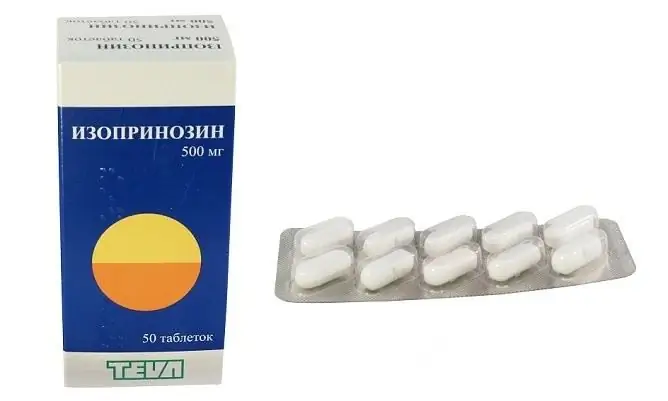 Isoprinosine - an immunity stimulant
Interferon
Consists of a group of proteins (alpha interferons) synthesized by leukocytes of healthy donors in response to the effect of the interferon inducer virus. It is more often used in the treatment of other, more dangerous viral infections (hepatitis C and B, HIV infection), but sometimes it is used as an immunomodulator to treat warts. Available in ampoules for subcutaneous, intramuscular or intravenous administration. For the treatment of warts, it is used in a dose of 1.5 to 3 million IU intramuscularly or subcutaneously for 4 weeks. Has pronounced side effects with prolonged use.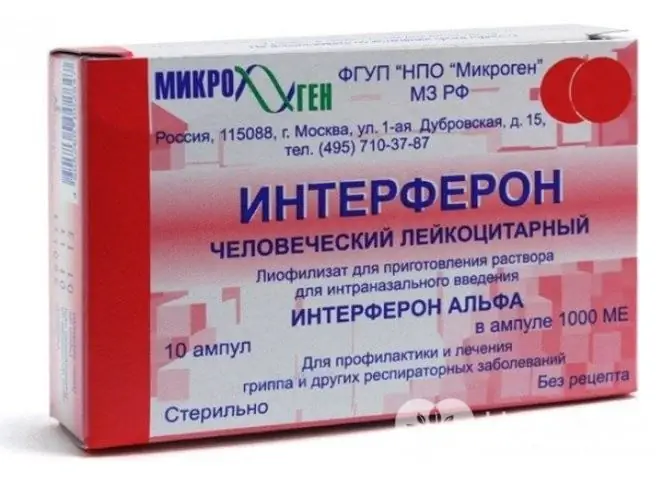 Interferon should be used strictly under medical supervision
Gepon
Refers to immunomodulators, is a synthetic oligopeptide. Used to strengthen the immune system (activates macrophages, cytokines). In addition, it is capable of suppressing viral replication. Often used in combination with topical agents or after surgical excision of a mass. It is prescribed systemically at a dose of 10 mg orally once a day or 0.02-0.04% solution for local skin treatment once a day.
Doctor's advice
For effective treatment of warts, compliance with some general recommendations is shown:
An integrated approach to treatment. The simultaneous use of external and internal methods of treatment can effectively remove unwanted neoplasms from the skin and reduce the concentration of the virus in the bloodstream.
Compliance with the full course of treatment established by a specialist with final control at the end of treatment.
Mandatory impact on the immune system in order to strengthen it. Following this recommendation will reduce the risk of relapse. This recommendation is of particular importance during periods associated with a large number of colds (autumn-winter season), which lead to depletion and weakening of the immune system.
Periodic monitoring by a specialist, since the disease has a tendency to chronicity and transition to a long-term asymptomatic carriage (it is difficult to treat and completely eliminate from the body even with the use of modern methods of treatment). A laboratory and physical examination is required at least once a year in order to control the virus strains (specialists are a gynecologist and dermatovenerologist). Examination is especially relevant for condylomas and papillomas located on the mucous membranes (in particular, on the cervix). This is due to the high carcinogenic risk of the pathogen and the high probability of developing cancer without proper and timely treatment.
Compliance with the rules of a healthy lifestyle, which include proper nutrition, moderate exercise and normalization of the sleep-wake regime.
Careful adherence to hygiene rules. This factor is of particular importance in public places, where there is the greatest risk of infection (baths, swimming pools).
Compliance with these rules will reduce the risk of recurrence of formations and will somewhat stabilize the immune system.
The only reliable method against oncogenic HPV strains is preventive vaccination. At the moment there are two approved drugs: vaccines "Gardasil" and "Cervarix". This prophylaxis reduces the risk of contracting the 16 and 18 strains of the virus that have the highest cancer risk.
Video
We offer for viewing a video on the topic of the article.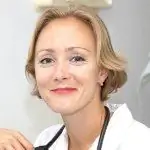 Anna Kozlova Medical journalist About the author
Education: Rostov State Medical University, specialty "General Medicine".
Found a mistake in the text? Select it and press Ctrl + Enter.
Popular by topic