Table of contents: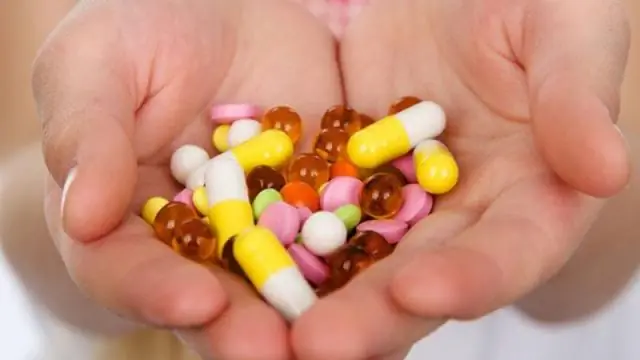 Video: Nazol Kids - Instructions For Using The Spray, Price, Reviews, Analogues
Nazol Kids
Nazol Kids: instructions for use and reviews
1. Release form and composition
2. Pharmacological properties
3. Indications for use
4. Contraindications
5. Method of application and dosage
6. Side effects
7. Overdose
8. Special instructions
9. Application during pregnancy and lactation
10. Use in childhood
11. Drug interactions
12. Analogs
13. Terms and conditions of storage
14. Terms of dispensing from pharmacies
15. Reviews
16. Price in pharmacies
Latin name: Nazol Kids
ATX code: R01AA04
Active ingredient: phenylephrine (phenylephrine)
Producer: Instituto De Angeli (Italy)
Description and photo updated: 22.11.2018
Prices in pharmacies: from 145 rubles.
Buy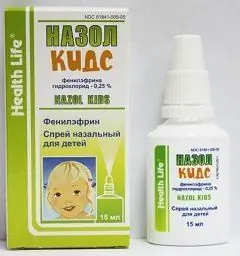 Nazol Kids is a decongestant agent for symptomatic local treatment of rhinitis; alpha adrenergic agonist.
Release form and composition
The drug is produced in the form of a nasal spray (for children): a clear liquid from colorless to pale yellow with a faint smell of eucalyptus (15 or 30 ml in a polyethylene bottle with a spray device mounted in its upper part, closed with a polypropylene cap; in a cardboard box 1 bottle).
1 ml of spray contains:
active substance: phenylephrine hydrochloride - 2.5 mg;
additional components: eucalyptol (cineol), sodium hydrogen phosphate dihydrate, glycerol, benzalkonium chloride, macrogol 1500, disodium edetate dihydrate, potassium dihydrogen phosphate, purified water.
Pharmacological properties
Pharmacodynamics
Nazol Kids is a vasoconstrictor (vasoconstrictor) for topical use in ENT practice. Phenylephrine hydrochloride, the active substance of the drug, being an agonist of alpha 1 -adrenergic receptors (sympathomimetic), exhibits a vasoconstrictor effect due to the activation of alpha 1 -receptors in the nasal mucosa. The agent reduces tissue hyperemia and swelling of the mucous membranes, reduces congestion in the nasal mucosa, improves the patency of the nasal airways, thereby reducing the risk of developing possible complications associated with stagnation of muconasal secretions.
Pharmacokinetics
Systemic absorption of the drug when applied topically is negligible.
Indications for use
According to the instructions, Nazol Kids is recommended for use to improve nasal breathing in the following diseases:
flu, colds;
hay fever or other allergic diseases of the upper respiratory tract, occurring with acute rhinitis or sinusitis.
Contraindications
age up to 4 years;
arterial hypertension, angina pectoris, severe atherosclerosis, tachycardia and other diseases of the cardiovascular system (CVS);
diabetes;
thyrotoxicosis;
combined administration with monoamine oxidase (MAO) inhibitors, including a two-week period after the withdrawal of these funds (due to the possible aggravation of the severity of the adrenergic effects of sympathomimetic drugs and an increased risk of developing CVS disorders);
hypersensitivity to any of the ingredients of the drug.
Nazol Kids Spray should be used with caution in children aged 4 to 6 years.
Instructions for use of Nazola Kids: method and dosage
Spray Nazol Kids is used intranasally.
Children 6-12 years old are recommended to inject the spray 2-3 injections into each nasal passage with an interval of at least 4 hours.
The duration of treatment without the agreement of the doctor should not exceed three days.
Side effects
systemic reactions: pallor, sweating, dizziness, sleep disturbance, headache, tremors, palpitations, increased blood pressure, arrhythmia;
local effects: sometimes - a tingling sensation, tingling, burning in the nose.
Overdose
Symptoms of an overdose of a vasoconstrictor may be agitation, increased blood pressure, and heart rhythm disturbances. If you suspect an overdose, you should consult a doctor, symptomatic treatment is recommended.
special instructions
The duration of drug therapy should not be more than three days. In the case when during this period it is not possible to alleviate difficult nasal breathing, further use of the drug must be agreed with the doctor.
To prevent the spread of infection, do not share the same spray bottle with multiple patients.
If you squeeze the bottle in an upright position with the spray upwards, then the solution will be released from it in the form of a spray, if squeezed in an inverted position - in the form of drops.
Influence on the ability to drive vehicles and complex mechanisms
There are no data on the negative effect of Nazola Kids on concentration or the speed of psychomotor reactions. However, if side effects of the drug appear, it is recommended to refrain from driving and other complex equipment.
Application during pregnancy and lactation
Pregnant and breastfeeding women are not recommended to use the drug.
Pediatric use
Systemic absorption of phenylephrine, as well as the resulting risk of adverse reactions in children, is higher than in adults.
For children under 4 years of age, treatment with Nazolom Kids is contraindicated; children from 4 to 6 years old should use the drug with caution.
Drug interactions
thyroid hormones - against the background of systemic absorption of phenylephrine, the threat of coronary insufficiency increases (especially in the presence of coronary atherosclerosis);
tricyclic antidepressants, MAO inhibitors (selegiline, procarbazine), guanethidine, guanedrel, maprotiline - with systemic absorption of phenylephrine, the pressor effect and heart rhythm disturbances increase.
Analogs
The analogues of Nazola Kids are: Bebifrin, Nazol Baby, Vizofrin, Irifrin, Mezaton, Irifrin BK, Relief, Neosinephrine-POS, Phenylephrine-SOLOpharm.
Terms and conditions of storage
Store out of the reach of children, protected from moisture and light, at a temperature not exceeding 25 ° C.
Shelf life is 2 years.
Terms of dispensing from pharmacies
Available without a prescription.
Reviews about Nazole Kids
Reviews of Nazole Kids are mostly positive. Parents who used the drug to treat children characterize it as an effective and easy-to-use agent that removes swelling of the mucous membrane and nasal congestion, facilitates nasal breathing and does not dry out the nasopharyngeal mucosa.
To the disadvantages of the remedy, many parents of young patients attribute the inconvenience in using the bottle, since in inverted form it is not possible to correctly dose the remedy due to the fact that the solution flows out arbitrarily. Some reviews indicate a very weak and short-term effect of the drug or a complete lack of effect.
Price for Nazol Kids in pharmacies
The price of Nazol Kids can average 160 rubles per bottle containing 30 ml of spray.
Nazol Kids: prices in online pharmacies
Drug name
Price
Pharmacy
Nazol Kids 0.25% 0.125mg / dose (150 doses) nasal spray for children 10 ml 1 pc.
RUB 145
Buy
Nazol Kids 0.25% nasal spray for children 15 ml 1 pc.
189 r
Buy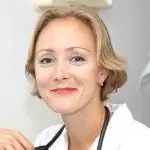 Anna Kozlova Medical journalist About the author
Education: Rostov State Medical University, specialty "General Medicine".
Information about the drug is generalized, provided for informational purposes only and does not replace the official instructions. Self-medication is hazardous to health!
Popular by topic