Table of contents: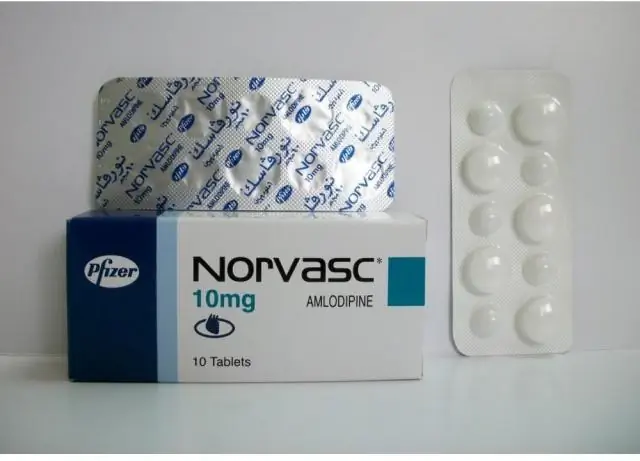 Video: Clenbuterol - Instructions For The Use Of Syrup, Reviews, Price, Analogues
Clenbuterol
Clenbuterol: instructions for use and reviews
1. Release form and composition
2. Pharmacological properties
3. Indications for use
4. Contraindications
5. Method of application and dosage
6. Side effects
7. Overdose
8. Special instructions
9. Application during pregnancy and lactation
10. Use in childhood
11. In case of impaired renal function
12. For violations of liver function
13. Drug interactions
14. Analogs
15. Terms and conditions of storage
16. Terms of dispensing from pharmacies
17. Reviews
18. Price in pharmacies
Latin name: Clenbuterol
ATX code: R03CC13
Active ingredient: clenbuterol (clenbuterol)
Manufacturer: Balkanpharma-Troyan AD (Bulgaria), Sopharma AD (Bulgaria)
Description and photo update: 2019-20-08
Prices in pharmacies: from 35 rubles.
Buy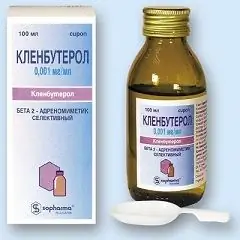 Clenbuterol is a drug with adrenomimetic, bronchodilator action.
Release form and composition
Clenbuterol is produced in the form of a syrup: a colorless transparent liquid with a characteristic raspberry smell (100 ml in dark glass bottles, 1 bottle in a cardboard box with a measuring spoon included).
The composition of 1 ml of syrup includes:
Active ingredient: Clenbuterol - 0.001 mg (in the form of hydrochloride);
Auxiliary components: propyl parahydroxybenzoate - 0.05 mg, sorbitol - 280 mg, citric acid monohydrate - 7 mg, glycerol - 200 mg, propylene glycol - 100 mg, sodium citrate dihydrate - 5.8 mg, sodium benzoate - 1.2 mg, methyl parahydroxybenzoate - 0.45 mg, butyl parahydroxybenzoate - 0.05 mg, ethanol 96% - 5 mg, raspberry essence - 0.45 mg, purified water - up to 1 ml.
Pharmacological properties
Pharmacodynamics
Clenbuterol is one of the selective β2-adrenergic agonists. Has a rapid bronchodilator effect.
The mechanism of influence is due to the specific stimulation of β2 - adrenergic receptors of smooth muscles. Binding to them activates the enzyme adenylate cyclase, which results in an increase in the intracellular concentration of cyclic adenosine monophosphate and activation of protein kinase A. Thus, myosin loses its ability to bind with actin, which causes bronchial relaxation.
Clenbuterol, stimulating the cells of the bronchial mucosa, increases expectoration. When used in therapeutic doses, the drug has no effect on blood pressure and heart rate.
Pharmacokinetics
Clenbuterol is absorbed relatively quickly in the gastrointestinal tract.
Binds to plasma proteins at 89–98%.
Biological T 1/2 (half-life) - 3.5 hours. It is excreted mainly in the form of sulfoconjugated derivatives by the kidneys.
Indications for use
According to the instructions, Clenbuterol is prescribed for the treatment of bronchial asthma and chronic obstructive pulmonary disease (COPD).
Contraindications
Myocardial infarction (in the acute period);
Tachyarrhythmia;
Hypertrophic obstructive cardiomyopathy;
Thyrotoxicosis;
Pheochromocytoma;
Closed-angle glaucoma;
Pregnancy (I and III trimester) and the period of breastfeeding (lactation);
Age up to 6 years;
Hypersensitivity to drug components.
Clenbuterol is prescribed with caution immediately after a myocardial infarction, as well as to patients with cardiac arrhythmias, renal and hepatic insufficiency, myocarditis, hypokalemia, mitral valve defects, unstable or uncompensated diabetes.
Instructions for the use of Clenbuterol: method and dosage
Clenbuterol syrup is taken orally.
The daily dose is determined by age:
Children 6-12 years old (weighing 22-35 kg) - 0.015 mg;
Adults and children over 12 years old: 0.02-0.04 mg.
Frequency rate of admission - 2 times a day.
The maintenance dose is 0.01 mg 2 times a day.
On average, Clenbuterol is used for 2-3 days (before the removal of acute symptoms of the disease).
The duration of maintenance treatment is up to 7 days. Longer therapy is possible after consulting a doctor.
Side effects
When using Clenbuterol, the following side effects may develop:
Cardiovascular system: increase or decrease in blood pressure, angina pain, tachycardia, ventricular premature beats;
Central nervous system: headache, anxiety;
Muscular system: minor muscle tremors;
Genitourinary system: urination disorder;
Circulatory system: hypoglycemia, thrombocytopenia;
Gastrointestinal tract: diarrhea, gastritis, nausea, dry mouth;
Mucous membranes and skin: facial swelling, skin rash, urticaria.
These side reactions usually resolve within 7-14 days without stopping therapy.
Overdose
The main symptoms: tachycardia, headache, increased sweating, tremors of the fingers; in severe cases - convulsions, collapse and coma.
Therapy: cancellation of Clenbuterol (for any degree of overdose), gastric lavage, intake of activated charcoal, forced diuresis, symptomatic treatment. The use of the drug in excess of the recommended doses may worsen the course of bronchial asthma, which requires immediate medical attention, and, if necessary, hospitalization.
special instructions
The composition of the Clenbuterol syrup as auxiliary components includes the so-called parabens: propyl parahydroxybenzoate and methyl parahydroxybenzoate, which can lead to the development of urticaria and contact dermatitis (delayed-type allergic reactions). In rare cases, immediate allergic reactions (bronchospasm) may occur.
High doses of glycerol in the syrup can cause stomach irritation, diarrhea, and headache.
1 ml of Clenbuterol contains 5 mg of ethanol 96%, which is dangerous for patients with alcoholism, liver diseases, epilepsy, diseases or brain damage, as well as for children and pregnant women.
Due to the presence of sorbitol in the drug, it should not be taken by patients with congenital fructose intolerance.
Clenbuterol can enhance the effects of other medicines.
Influence on the ability to drive vehicles and complex mechanisms
In the early days of therapy, the drug can cause anxiety and slight tremors, which requires increased caution when driving and working with equipment.
Application during pregnancy and lactation
Clenbuterol in the I and III trimester of pregnancy, and during lactation is not prescribed.
In the second trimester of pregnancy, the use of the drug is allowed, but it is recommended to give preference to the inhalation form.
If it is necessary to use the drug during lactation, you should interrupt breastfeeding or use clenbuterol in the form of inhalation.
Pediatric use
Clenbuterol therapy is contraindicated in patients under 6 years of age.
With impaired renal function
Clenbuterol for renal failure should be used under medical supervision.
For violations of liver function
Clenbuterol for liver failure should be used under medical supervision.
Drug interactions
With the simultaneous use of Clenbuterol with certain drugs, undesirable effects may occur:
Beta-blockers: suppression of the action of Clenbuterol, the risk of developing bronchospasm;
Beta-adrenomimetics, theophylline and anticholinergics: enhancement of their action and side effects;
Hypoglycemic drugs: reducing their action;
Halogenated hydrocarbons for anesthesia (during manipulations and interventions): increased risk of arrhythmias;
Monoamine oxidase inhibitors (tricyclic antidepressants): Heart rhythm disturbances.
Simultaneous use of Clenbuterol with cardiac glycosides and diuretics is possible, but with periodic monitoring of serum electrolytes.
Analogs
Clenbuterol analogues are: Clenbuterol Sopharma, Saltos, Stanozolol.
Terms and conditions of storage
Keep out of reach of children at temperatures up to 25 ° C.
The shelf life is 3 years.
Terms of dispensing from pharmacies
Dispensed by prescription.
Reviews about Clenbuterol
According to reviews, Clenbuterol is an inexpensive, fast-acting drug. Of the shortcomings, they point to a large list of contraindications and the possibility of developing side effects. Also, as a disadvantage, it is noted that the syrup after opening the package can be taken no more than a month.
Price for Clenbuterol in pharmacies
The approximate price for Clenbuterol (1 bottle of 100 ml) is 65–85 rubles.
Clenbuterol: prices in online pharmacies
Drug name
Price
Pharmacy
Clenbuterol 0.1% syrup 100 ml 1 pc.
35 RUB
Buy
Clenbuterol Sopharma syrup 0.001mg / ml 100ml
RUB 78
Buy
Clenbuterol Sopharma 0.02 mg tablets 50 pcs.
252 RUB
Buy
Clenbuterol Sopharma tablets 0.02mg 50 pcs.
375 RUB
Buy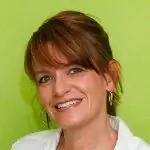 Maria Kulkes Medical journalist About the author
Education: First Moscow State Medical University named after I. M. Sechenov, specialty "General Medicine".
Information about the drug is generalized, provided for informational purposes only and does not replace the official instructions. Self-medication is hazardous to health!
Popular by topic