Table of contents: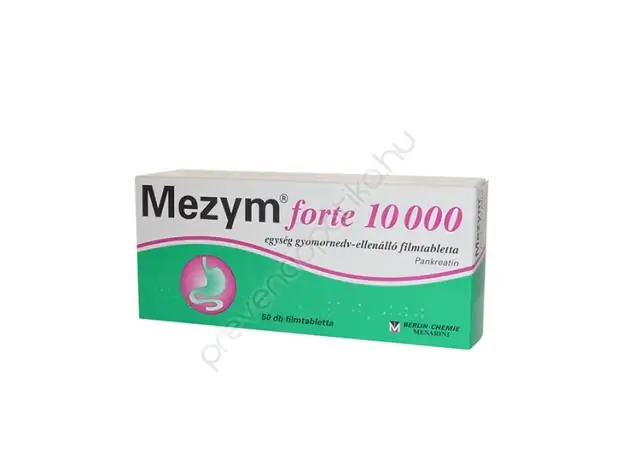 Video: Mezim Forte 10 000 - Instructions For Use, Price, Reviews, Analogues
Mezim forte 10 000
Latin name: Mezym forte 10 000
ATX code: A09AA02
Active ingredient: pancreatin (Pancreatin)
Producer: Berlin-Chemie, AG (Berlin-Chemie, AG) (Germany)
Description and photo update: 2019-08-10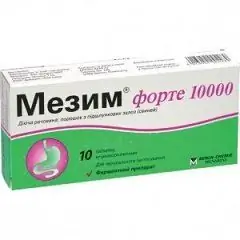 Mezim forte 10,000 is a digestive enzyme remedy for replenishing the deficiency of pancreatic enzymes.
Release form and composition
The drug is produced in the form of enteric-coated tablets, flat-cylindrical, with beveled edges and almost plane-parallel surfaces, pink, sometimes with brown splashes (10 pcs. In blisters, in a cardboard box 1 or 2 blisters and instructions for use Mezima forte 10,000).
Composition for 1 enteric-coated tablet:
active substance: pancreatin powder - 137.5 mg (with an amylase activity of 7,500 U Ph. Eur., lipase 10,000 U Ph. Eur. and protease 375 U Ph. Eur.);
auxiliary components of the tablet core: colloidal silicon dioxide, magnesium stearate, microcrystalline cellulose, crospovidone, lactose monohydrate;
enteric coating: titanium dioxide, sodium carmellose, 30% dispersion of methacrylic acid and ethyl acrylate copolymer (1 ÷ 1), 30% simethicone emulsion, sodium hydroxide, hypromellose, triethyl citrate, talc, macrogol 6000, azorubin varnish, polysorbate 80.
Pharmacological properties
Pharmacodynamics
Mezim forte 10,000 helps to improve digestion.
Pancreatin, which is part of the tablets, is obtained from the pancreas of pigs. In addition to exocrine pancreatic enzymes (protease, amylase, lipase, trypsin and chymotrypsin), it contains a number of other digestive enzymes.
Pancreatic enzymes of the drug facilitate the breakdown of carbohydrates, proteins and fats, as a result of which their absorption in the small intestine becomes more complete and efficient. Trypsin has an analgesic effect by suppressing the stimulation of pancreatic secretion.
In 30–45 minutes after taking the tablets, the enzymatic activity of Mezima forte 10,000 reaches its maximum.
Pharmacokinetics
Thanks to a special coating resistant to acids (including hydrochloric acid produced in the stomach), the tablet enzymes are protected from premature inactivation. The enteric coat disintegrates at neutral or slightly alkaline pH, followed by the release of enzymes.
Indications for use
chronic diseases of the liver, gallbladder, stomach and / or intestines of an inflammatory-dystrophic nature;
functional disorders of the gastrointestinal tract (for example, with irritable bowel syndrome and intestinal infectious diseases);
exocrine pancreatic insufficiency, including cystic fibrosis and chronic pancreatitis (as replacement therapy);
inaccuracies in nutrition in people with normal function of the gastrointestinal tract (to improve the digestion process);
conditions after irradiation or partial / complete resection of the gastrointestinal tract, accompanied by diarrhea, flatulence and problems with food digestion (as part of complex treatment);
preparation for an ultrasound or x-ray of the abdominal organs.
Contraindications
pancreatitis in the acute stage or exacerbation of the chronic form of pancreatitis;
children under 3 years of age (for this dosage form);
lactase deficiency, hereditary galactose intolerance, glucose-galactose malabsorption;
hypersensitivity to any component of the drug.
Mezim forte 10 000, instructions for use: method and dosage
Mezim forte 10,000 tablets are intended for oral administration.
To determine the daily dose, it is necessary to clarify the severity of the disease, as well as the composition of the patient's food.
The average single dose of the drug for adults is 2–4 tablets per meal. A third or half of a single dose is taken at the beginning of a meal, the rest of the dose is taken with meals. The tablets must not be chewed, they must be swallowed whole and washed down with a sufficient amount of water or other liquid. Under the supervision of a physician, it is possible to increase a single dose, while focusing on weakening existing symptoms, for example, reducing abdominal pain or the amount of fat in the feces. The maximum dose is 15,000–20,000 Ph. Eur. lipase per kg of body weight per day.
The course of treatment is set individually. The duration of therapy ranges from several days to several months, and sometimes years. In case of errors in the diet or digestive disorders, 2-3 days of treatment are sufficient, and in case of insufficiency of the exocrine function of the pancreas, Mezim forte 10,000 is used for a long time (up to several years).
Side effects
In patients with impaired pancreatic function, there were no complications or adverse reactions to Mezim forte 10,000 even with regular and prolonged use of the drug.
Very rarely, patients taking pancreatin developed nausea, constipation, diarrhea, and epigastric discomfort. In some cases, allergic reactions were recorded. In patients with cystic fibrosis with long-term treatment with large doses, isolated cases of hyperuricosuria and the formation of strictures in the ascending colon and ileocecal region were noted.
Overdose
There are no data on an overdose of Mezima forte 10,000. Possible symptoms of pancreatin intoxication include hyperuricemia and hyperuricosuria, and constipation in childhood.
In case of an overdose, the drug should be canceled and symptomatic therapy should be prescribed.
special instructions
The appointment of Mezim forte 10,000 tablets is advisable during the period of restorative dietary nutrition, as well as at the stage of acute pancreatitis or with a fading exacerbation of chronic pancreatitis (since there is insufficient pancreatic function, the enzyme deficiency of which remains in the future).
Influence on the ability to drive vehicles and complex mechanisms
Mezim forte 10,000 does not affect the speed of psychomotor reactions and the ability to concentrate, adequately assess or perceive a situation.
Application during pregnancy and lactation
During pregnancy and lactation, Mezim forte 10,000 can be used after assessing the expected benefit to the mother and the possible risk to the fetus or infant. Data on the use of pancreatic enzymes in pregnant and lactating women are limited.
Pediatric use
Tablets are contraindicated in children under 3 years of age, since this dosage form of pancreatin is indivisible and does not allow choosing the appropriate dosage regimen for a child under 3 years of age.
Drug interactions
Pancreatin-containing drugs can inhibit the absorption of folic acid and iron, as well as reduce the effectiveness of hypoglycemic drugs (miglitol and acarbose).
Antacids containing magnesium hydroxide and / or calcium carbonate can inhibit the therapeutic effect of pancreatic enzymes.
Analogs
Analogs of Mezim forte 10,000 are Creon 10,000, Creon 25,000, Creon 40,000, Micrasim, Mezim 20,000, Mezim forte, Panzim forte, Creon Micro, Penzital, Gastenorm forte, Gastenorm forte 10,000, PanziKam, Pancreatin, Pancreatin-LekT, Pancreatin forte, Pangrol 25 000, Pancreasim, Hermital, Enzistal-P.
Terms and conditions of storage
Store out of the reach of children at a temperature not exceeding 25 ° C.
The shelf life of the tablets is 3 years.
Terms of dispensing from pharmacies
Available without a prescription.
Reviews about Mezima Fort 10 000
In general, the reviews about Mezima Fort 10,000 are good. The drug is recommended for use by more than 90% of users. It helps to get rid of the effects of overeating, is effective for gastritis, pancreatitis and gastroduodenitis. Improves digestion and relieves the feeling of heaviness and discomfort in the stomach, time-tested, has almost no contraindications and side effects, is often recommended by doctors.
Some patients complain about the cost of the enzyme, while others say that the price is quite acceptable. In very rare cases, the drug was ineffective, caused unwanted side effects or worsened the patient's condition. Form start
Price for Mezim forte 10 000 in pharmacies
The price of Mezim forte 10,000 in the form of enteric-coated tablets (20 pcs per pack) ranges on average from 160 to 190 rubles.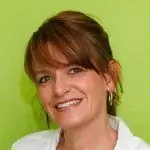 Maria Kulkes Medical journalist About the author
Education: First Moscow State Medical University named after I. M. Sechenov, specialty "General Medicine".
Information about the drug is generalized, provided for informational purposes only and does not replace the official instructions. Self-medication is hazardous to health!
Popular by topic