Table of contents: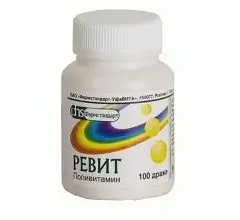 Video: Revit - Instructions For Use, Indications, Contraindications, Reviews
Revit
Instructions for use:
1. Pharmacological action
2. Release form
3. Indications for use
4. Method of application
5. Side effects
6. Contraindications
Prices in online pharmacies:
from 24 rubles.
Buy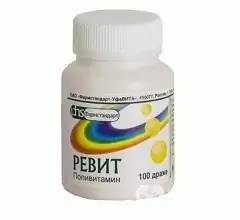 Revit is a multivitamin complex.
pharmachologic effect
Revit is intended to strengthen the body, improve the state of immunity. The complex includes vitamins A, B1 and B2, and vitamin C, therefore, the effect of the drug is due to the beneficial properties of these substances.
Vitamin A stimulates carbohydrate and protein metabolism, helps with liver diseases, impaired metabolism, and has a positive effect on skin condition.
Vitamin B1 is essential for the normal functioning of the digestive, cardiovascular and nervous systems.
Vitamin B2, as well as vitamin A, supports protein and carbohydrate metabolism, is responsible for visual function, skin condition.
Vitamin C stimulates the immune system, promotes tissue healing, assimilation of vitamins from group B, takes part in the metabolism of carbohydrates, the process of blood clotting.
Release form
Dragee.
Indications for use of Revita
Revit is an effective therapeutic and prophylactic agent. Vitamins are useful for severe physical and mental stress, malnutrition, and poor ecology.
The use of Revita is recommended for patients who are in rehabilitation after an operation or a serious illness.
Good reviews about Revita as a means of preventing seasonal infections that occur in the fall or spring.
Mode of application
Take vitamins Revit 15 minutes after eating.
For prophylaxis, adults are recommended to take 2 pills per day. For medicinal purposes, it is necessary to take 6 Revita tablets a day in three doses.
Children over 11 yrs. for the prevention of deficiency of vitamins A, B, C, colds, it is recommended to give 1 Revita tablet a day. For medicinal purposes, a child of 3-10 liters. you can give 2 pills a day; 11-14 liters. - 3 pills.
There are positive reviews about Revita from pregnant women who took it. The permissible dosage for them is 1 tablet per day in the first trimester and no more than 2 tablets per day in the second and third trimesters.
The indicated dosages of Revita, if necessary, for all groups of patients, except for pregnant women, can be increased.
In the instructions of Revita it is indicated that it is advisable to take vitamins for 1-2 months every day.
Side effects
After using Revita in people with individual intolerance to the vitamins that make up the complex, an allergic reaction may begin: a skin rash, bronchospasm.
There are reviews about Revita, indicating that during the use of vitamins, nausea, headache, irritability and sweating, reddening of the skin, diarrhea, and impaired vision may appear.
High doses of vitamins Revit with prolonged use can provoke irritation of the gastrointestinal tract, impaired renal function, arrhythmia, hyperglycemia, hair loss, dandruff, cracks in the skin of the feet and palms.
A normal side effect of Revita is a bright yellow color of urine - this is how vitamin B2 works.
Contraindications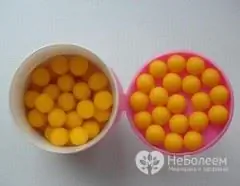 Revitis according to the instructions is contraindicated in case of an excess of vitamin A, fructose intolerance, chronic glomerulonephritis, impaired metabolism of copper and iron, nephrolithiasis, glucose and galactose malabsorption syndrome, and hypersensitivity.
Revit is not recommended for patients previously diagnosed with sarcoidosis.
Revit is not prescribed for children under 3 years old.
Patients with acute nephritis, decompensated cardiac activity, chronic pancreatitis, cholelithiasis, diabetes mellitus, allergic diseases, celiac disease should take Revit vitamins under supervision (among the auxiliary substances of vitamins is wheat flour).
A woman who has taken high doses of vitamin A (retinol) - more than 10 thousand IU, can plan a pregnancy only six months or a year after the end of the vitamin intake. Large amounts of retinol can adversely affect fetal development.
It is undesirable to combine Revit with other multivitamin preparations, as well as with cholestyramine, nitrites, retinoids, streptomycin, sulfonamides.
In addition, when using Revit, it should be borne in mind that the drug reduces the effectiveness of glucocorticoids, lincomycin, oxytetracycline, erythromycin, doxycycline, tetracycline, indirect anticoagulants, heparin.
The absorption of vitamin C is reduced by oral contraceptives.
Revit: prices in online pharmacies
Drug name
Price
Pharmacy
Revit dragee 100 pcs.
RUB 24
Buy
Revit dragee 100 pcs.
RUB 25
Buy
Revit dragee 100 pcs.
RUB 25
Buy
Revit dragee 100 pcs.
28 RUB
Buy
Revit dragee 100 pcs.
RUB 30
Buy
Revit dragee 100 pcs. Ufa Vitam. Factory
RUB 30
Buy
Information about the drug is generalized, provided for informational purposes only and does not replace the official instructions. Self-medication is hazardous to health!
Popular by topic