Table of contents: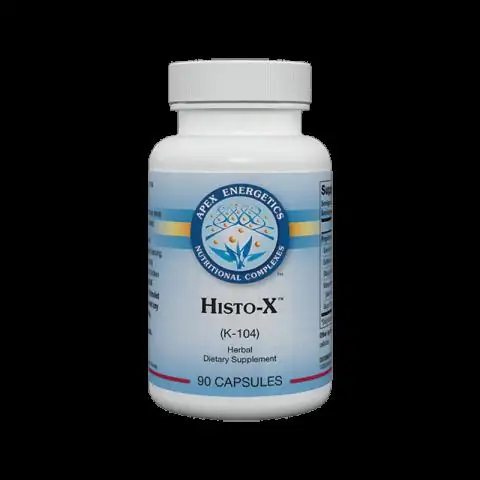 Video: Quercetin - Instructions For Use Of The Drug, Price, Reviews, Analogues
Quercetin
Quercetin: instructions for use and reviews
1. Release form and composition
2. Pharmacological properties
3. Indications for use
4. Contraindications
5. Method of application and dosage
6. Side effects
7. Overdose
8. Special instructions
9. Application during pregnancy and lactation
10. Use in childhood
11. Drug interactions
12. Analogs
13. Terms and conditions of storage
14. Terms of dispensing from pharmacies
15. Reviews
16. Price in pharmacies
Latin name: Quercetinum
ATX code: C05CX
Active ingredient: quercetin (quercetinum)
Producer: Borschagovskiy KhFZ (Ukraine)
Description and photo update: 2019-14-08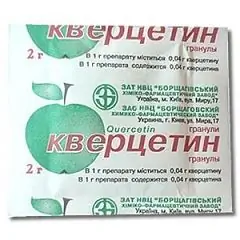 Quercetin is a drug that mainly affects the processes of tissue metabolism.
Release form and composition
Quercetin is available in the form of granules (in bags of 2 g).
The composition of 100 g of granules includes:
Active substance: quercetin - 4 g;
Auxiliary components: glucose, apple pectin, sugar.
Pharmacological properties
Pharmacodynamics
Quercetin (chemical formula - C 15 H 10 O 7) is a flavonol from the group of vitamins P, an aglycone of some natural flavonoid glycosides, for example, rutin. Due to its antioxidant and membrane stabilizing properties, it has a capillary stabilizing effect, reduces capillary permeability. Quercetin blocks some pathways of arachidonic acid metabolism and provides an anti-inflammatory effect, as well as inhibits the synthesis of leukotrienes, serotonin, and other inflammatory mediators.
This substance is distinguished by its antiulcerogenic effect (in the case of the use of anti-inflammatory drugs) and radioprotective activity (in relation to gamma radiation and X-rays).
The cardioprotective effect is manifested in stimulating the energy supply of the myocardium (due to antioxidant activity and increased tissue perfusion).
The regenerative effect of the drug is manifested in the acceleration of wound healing. Affects the mechanism of bone remodeling, provides a confident immunomodulatory effect.
In the course of experimental studies, the following beneficial properties of Quercetin were determined: antispasmodic, anti-sclerotic, diuretic. The drug regulates blood pressure, accelerates insulin secretion, activates platelet aggregation, inhibits thromboxane biosynthesis.
Quercetin binds to estrogen receptors and exhibits proosteoclastic effects (due to its estrogen-like action).
Quercetin is contained in the following products: buckwheat, onion, garlic, apples, tea, pepper, citrus fruits, red grapes, lingonberries, tomatoes, blueberries, broccoli, cranberries, raspberries, chokeberry, rowan berries, cauliflower, sea buckthorn, red wine, nuts.
Pharmacokinetics
The features of the pharmacokinetics of the drug have not been studied.
Indications for use
Local radiation injuries after X-ray and gamma-radiation therapy (treatment and prevention);
Erosive and ulcerative diseases of the oral mucosa, periodontal disease;
Purulent-inflammatory diseases of soft tissues;
Menopause, vertebral pain syndrome (along with other drugs);
Neuroreflex manifestations of spinal osteochondrosis;
Chronic glomerulonephritis;
Erosive and ulcerative lesions of the upper alimentary canal caused by the use of non-steroidal anti-inflammatory drugs (prevention);
Neurocirculatory dystonia, ischemic heart disease, exertional angina of II-III functional class.
Contraindications
Age up to 12 years (due to the lack of sufficient data on the safety and efficacy of the drug in this age group of patients);
Hypersensitivity to drug components.
It is not recommended for lactating and pregnant women (especially in the first trimester) to use Quercetin.
Instructions for the use of Quercetin: method and dosage
When applied topically, 2 g of granules of Quercetin should be dissolved in 10 ml of hot water and stirred until a gel is obtained. In case of erosive and ulcerative diseases of the oral mucosa and periodontal disease, 1 application of gel applied to sterile wipes is prescribed daily.
For patients living in areas contaminated with radionuclides, Quercetin should be taken orally 2 times a day, 1 g (1/2 teaspoon). Inside the drug is taken 30 minutes before meals. The duration of therapy is determined by the doctor individually. As part of the complex treatment of purulent-inflammatory diseases of soft tissues, Quercetin is used orally and locally in the same doses.
In the treatment and prevention of local lesions in radiation sickness, Quercetin is prescribed:
Inside: 1 g 3-4 times a day (1/2 glass of water is added to 1 g of granules, insisted and taken 30 minutes before meals);
Topically: application of gel (1 g of granules per 5 ml of water) on damaged parts of the body, the frequency of application is 2-3 times a day.
The duration of the course is determined by the doctor individually.
With neuroreflex manifestations of osteochondrosis of the spine, chronic glomerulonephritis, ischemic heart disease, climacteric, vertebral pain syndrome, as well as to prevent the development of ulcerogenic action of non-steroidal anti-inflammatory drugs, Quercetin is prescribed orally, 3 g per day. When used simultaneously with non-steroidal anti-inflammatory drugs to prevent the development of gastric ulcer, you can take 6 g per day in 3 divided doses.
Adolescents with neurocirculatory dystonia should take 2 g of Quercetin 2 times a day, the duration of therapy is 30 days.
Side effects
During the use of the drug Quercetin, reactions of increased individual sensitivity (in the form of a rash or itching) may develop.
If any abnormal symptoms appear, it is recommended to interrupt treatment and seek medical advice.
Overdose
There is no information on drug overdose. In case of overdose, symptomatic treatment is recommended.
special instructions
In the absence of improvement or deterioration of the condition, or in the development of adverse events, therapy should be interrupted.
Application during pregnancy and lactation
According to the instructions, Quercetin is prohibited for use during pregnancy and lactation.
Pediatric use
It is forbidden to use the drug Quercetin for the treatment of patients under the age of 12 years.
Drug interactions
With the simultaneous use of Quercetin with certain drugs, undesirable effects may occur:
Ascorbic acid preparations: enhancement of effects;
Non-steroidal anti-inflammatory drugs: enhancing their anti-inflammatory action.
Analogs
Quercetin analogs are: Meletin, Quercetol, Quvertin, Saforetin, Vitamin P, Flavin.
Terms and conditions of storage
Store in a dark, dry place out of reach of children at temperatures up to 25 ° C.
Shelf life is 2 years.
Terms of dispensing from pharmacies
Available without a prescription.
Reviews of Quercetin
Reviews of Quercetin are quite rare. Users do not report the development of side effects, however, there is also no information about rapid and effective improvement. Often, the drug is used as a dietary supplement in combination with generally recognized means of treatment.
Price for Quercetin in pharmacies
The approximate price for Quercetin is 26 rubles for a package of granules 2 g.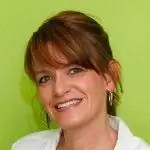 Maria Kulkes Medical journalist About the author
Education: First Moscow State Medical University named after I. M. Sechenov, specialty "General Medicine".
Information about the drug is generalized, provided for informational purposes only and does not replace the official instructions. Self-medication is hazardous to health!
Popular by topic