Table of contents: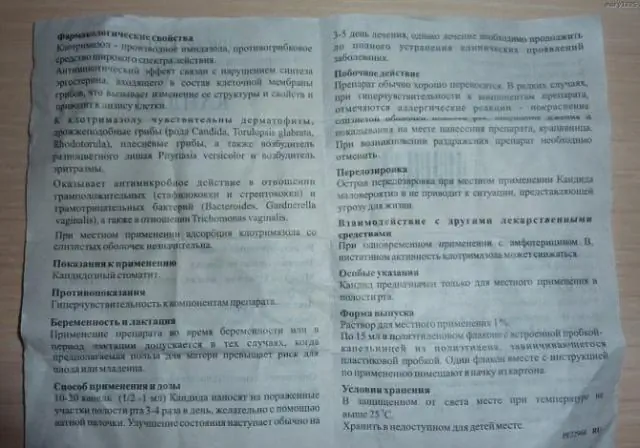 Video: Candid-B6 - Instructions For The Use Of Tablets, Price, Reviews, Analogues
Candide-B6
Candid-B6: instructions for use and reviews
1. Release form and composition
2. Pharmacological properties
3. Indications for use
4. Contraindications
5. Method of application and dosage
6. Side effects
7. Overdose
8. Special instructions
9. Application during pregnancy and lactation
10. Use in childhood
11. In case of impaired liver function
12. Drug interactions
13. Analogs
14. Terms and conditions of storage
15. Terms of dispensing from pharmacies
16. Reviews
17. Price in pharmacies
Latin name: Candid-V6
ATX code: G01AF02
Active ingredient: clotrimazole (clotrimazole)
Manufacturer: Glenmark Pharmaceuticals Ltd. (India)
Description and photo update: 2018-22-10
Prices in pharmacies: from 58 rubles.
Buy
Candide-B6 is an antifungal drug for topical use in gynecology.
Release form and composition
Dosage form Candida-B6 - vaginal tablets: without a shell, white, biconvex oval, truncated on one side, the letter "G" is applied on one side, on the other - the sign "V6" (6 pcs. In a strip, in a cardboard pack 1 strip complete with applicator).
1 tablet contains:
active substance: clotrimazole - 0.1 g;
auxiliary components: lactose monohydrate, adipic acid, magnesium stearate, corn starch, methyl parahydroxybenzoate, povidone K-30, colloidal silicon dioxide, sodium bicarbonate, propyl parahydroxybenzoate, sodium carboxymethyl starch, talc.
Pharmacological properties
Pharmacodynamics
Candide-B6 has antifungal, antibacterial, trichomonacid, antiprotozoal local action. A wide range of drug activity is due to the effectiveness of the active substance.
Clotrimazole is an imidazole derivative. The mechanism of its action is associated with a violation of the synthesis of a component of the cell membrane of fungi - ergosterol. As a result of changes in the structure and properties of the membrane, cell lysis occurs.
The following pathogens are susceptible to clotrimazole: Candida speciales (spp.), Cryptococcus neoformans (Torula histolytica), Blastomyces dermatitidis, Coccidioides immitis, Histoplasma capsulatum, Dermatophytes., Paracoccidioides brasiliensis.
In addition, clotrimazole is active against gram-positive (Streptococcus spp., Staphylococcus spp., Corynebacterium minutissimum) and gram-negative (Bacteroides, Gardnerella vaginalis) bacteria. In high concentration, it acts on Trichomonas vaginalis.
Pharmacokinetics
With intravaginal administration, the absorption of clotrimazole is 3–10%. Its high concentration is retained in vaginal secretions for 48–72 hours at a low blood level. As a result of rapid metabolism in the liver, inactive metabolites are formed.
Indications for use
genital superinfections caused by microorganisms sensitive to clotrimazole;
genital infections caused by yeast-like fungi of the genus Candida (vulvovaginal candidiasis) and (or) Trichomonas vaginalis (trichomoniasis);
rehabilitation before childbirth of the birth canal.
Contraindications
I trimester of pregnancy;
individual intolerance to the components of the drug.
According to the instructions, Candide-B6 should be used with caution during breastfeeding.
Instructions for use Candid-B6: method and dosage
Candide-B6 tablets are intended for intravaginal use only.
To carry out the procedure, you must take the applicator supplied in the package, pushing the plunger all the way out and place one tablet inside it. Then lie on your back, bend your knees slightly and gently insert the applicator into the vagina. After slowly pressing the plunger until it stops, the tablet is deep into the vagina. After the procedure, the applicator should be pulled out, disassembled and thoroughly washed in warm soapy water each part (piston and cylinder) separately and wiped dry.
Recommended dosage:
treatment: 1 pc. 1 time per day (in the evening before bedtime). Course duration - 6 days;
rehabilitation of the birth canal: before childbirth - 1 pc. once.
If necessary, a second course of treatment should be consulted with a doctor.
Side effects
Against the background of the use of Candida-B6, there may be a sensation of itching and burning, edema of the vaginal mucosa, vaginal discharge, headache, the development of gastralgia, frequent urination, intercurrent cystitis. A sexual partner may experience a burning sensation or pain in the penis during intercourse.
Overdose
Symptoms: after an accidental ingestion of Candida-B6 inside - nausea, vomiting, anorexia, liver dysfunction, gastralgia may develop. In rare cases - allergic skin reactions, drowsiness, pollakiuria, hallucinations.
Treatment: there is no specific antidote. It is necessary to take activated carbon. Symptomatic therapy.
special instructions
Before each use, the parts of the applicator should be washed in warm soapy water and wiped dry.
To avoid the development of urogenital infection, treatment of sexual partners should be carried out simultaneously.
To achieve a clinical effect in the treatment of trichomoniasis, additional prescription of drugs for oral administration with a systemic effect, such as metronidazole, is required.
If irritation or symptoms of hypersensitivity appear, the drug should be discontinued.
Do not use Candide-B6 tablets during menstrual bleeding.
In the absence of a therapeutic effect after a 6-day course of therapy, you should consult a doctor to clarify the diagnosis.
Application during pregnancy and lactation
The use of Candida-B6 in the first trimester of pregnancy is contraindicated.
It is possible to use the drug in the II – III trimester of gestation. The decision on the appropriateness of the use is made by the doctor individually after a careful assessment of the ratio of the expected effect of therapy for the mother and the risk for the fetus. The introduction of vaginal tablets during pregnancy should be done without an applicator.
Since the degree of penetration of clotrimazole into breast milk is unknown, it is recommended to use Candide-B6 with caution during breastfeeding.
Pediatric use
It is possible to use Candida-B6 for the treatment of children over the age of 12 only as directed by a doctor.
If liver function is impaired
With liver failure, it is necessary to monitor the functional state of the liver.
Drug interactions
With simultaneous intravaginal use, the therapeutic effect of polyene antibiotics, including amphotericin B, decreases. Nystatin may reduce the activity of clotrimazole.
Analogs
Analogs of Candida-B6 are Clotrimazole-Akrikhin, Clotrimazole-Acri, Lotrimin, Fungitsip, Factodin.
Terms and conditions of storage
Keep out of the reach of children.
Store at 2–25 ° C, protected from light and moisture.
Shelf life is 4 years.
Terms of dispensing from pharmacies
Available without a prescription.
Reviews about Candide-B6
Reviews of Candida-B6 are only positive. Women point to the rapid and effective action of the drug, its good tolerance. Elimination of unpleasant symptoms of the disease (itching, vaginal discharge) occurs after several days of using the tablets. At the same time, it is recommended not to stop treatment prematurely, so as not to cause a relapse.
Some patients attribute its form (tablets) to the disadvantages of the drug, since they encountered unpleasant sensations when inserted into the vagina and burning when dissolved.
Price for Candide-B6 in pharmacies
The price of Candide-B6 for a pack containing 6 tablets is about 69 rubles.
Candid-B6: prices in online pharmacies
Drug name
Price
Pharmacy
Candid-B6 100 mg vaginal tablets 6 pcs.
RUB 58
Buy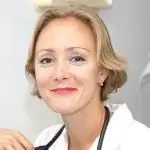 Anna Kozlova Medical journalist About the author
Education: Rostov State Medical University, specialty "General Medicine".
Information about the drug is generalized, provided for informational purposes only and does not replace the official instructions. Self-medication is hazardous to health!
Popular by topic