Table of contents: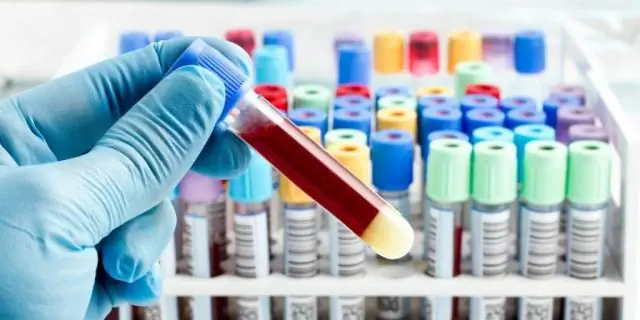 Video: Rutacid - Instructions For Use, Price, Reviews, Tablet Analogs
Rutacid
Rutacid: instructions for use and reviews
1. Release form and composition
2. Pharmacological properties
3. Indications for use
4. Contraindications
5. Method of application and dosage
6. Side effects
7. Overdose
8. Special instructions
9. Application during pregnancy and lactation
10. Use in childhood
11. In case of impaired renal function
12. Drug interactions
13. Analogs
14. Terms and conditions of storage
15. Terms of dispensing from pharmacies
16. Reviews
17. Price in pharmacies
Latin name: Rutacid
ATX code: A02AD04
Active ingredient: hydrotalcite (hydrotalcite)
Manufacturer: KRKA (Slovenia)
Description and photo update: 2019-16-08
Prices in pharmacies: from 162 rubles.
Buy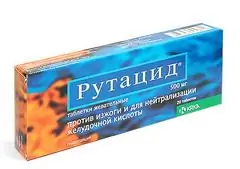 Rutacid is a drug with an antacid effect.
Release form and composition
Dosage form of release - chewable tablets: with a beveled edge, almost white or white, have a slight mint odor (in blisters of 10 pcs., In a cardboard box 2 or 6 packages).
Composition of 1 tablet:
active substance: hydrotalcite - 500 mg;
additional components: talc - 35 mg, mannitol - 836 mg, sodium saccharinate - 0.6 mg, sodium carboxymethyl starch - 12 mg, mint flavor - 2.4 mg, magnesium stearate - 14 mg.
Pharmacological properties
Pharmacodynamics
Hydrotalcite has a layered network structure and contains small amounts of magnesium and aluminum. The release of magnesium and aluminum ions occurs gradually and depends on the pH of the gastric juice. The preparation provides fast and long-term neutralization of hydrochloric acid, which allows maintaining the pH at a level close to normal. Protects the gastric mucosa, reduces the proteolytic activity of pepsin and binds bile acids.
Pharmacokinetics
Magnesium and aluminum ions in the stomach are released gradually (this process depends on the pH value). Hydrotalcite is absorbed in the small intestine. The concentration of aluminum and magnesium ions in the blood plasma as a result of taking the drug inside temporarily increases, however, with normal renal function, penetration into bone and nerve tissue does not occur. The absorbed part of hydrotalcite is excreted by the kidneys.
Indications for use
reflux esophagitis;
hyperacidity of gastric juice;
gastritis;
peptic ulcer of the stomach and duodenum;
heartburn.
Contraindications
Absolute:
pregnancy;
age up to 6 years;
hypersensitivity to the components of the drug.
Relative (Rutacid is prescribed with caution in the following diseases / conditions):
hypophosphatemia;
chronic renal failure.
Instructions for the use of Rutacid: method and dosage
Rutacid is taken orally, the tablet must be chewed thoroughly before swallowing.
Recommended dosage regimen:
children over 12 years old and adults: 3-4 times a day (1 hour after meals and in the evening before bedtime) 1-2 tablets;
children 6-12 years old: 2 times a day, 1 tablet.
The duration of the course is 1 month.
Side effects
In cases of using Rutacid in compliance with the recommended dosage regimen, adverse reactions rarely develop.
Possible violations: belching, diarrhea, allergic reactions.
Overdose
There are no data on intoxication as a result of overdose.
special instructions
Mannitol, which is part of Rutacid, can lead to the development of diarrhea.
Between taking Rutacid and other medicines, a break of at least 1-2 hours must be observed.
Combined use with acidic drinks (wine, juices) is not recommended.
Application during pregnancy and lactation
There are no confirmed data on the adverse effects of hydrotalcite during pregnancy and breastfeeding.
According to the instructions, Rutacid during pregnancy can be used only in cases where the likely benefit to the mother is greater than the potential risk to the fetus.
Hydrotalcite does not penetrate into breast milk, so it can be used without canceling breastfeeding.
Pediatric use
It is forbidden to use Rutacid to treat patients under the age of 6 years.
With impaired renal function
In chronic renal failure, the drug should be used with caution.
Drug interactions
In cases of combined use with tetracyclines, quinolones (ciprofloxacin, ofloxacin), iron preparations and coumarins, antibiotics, Rutacid can reduce their absorption.
Analogs
Analogues of Rutacid are: Gastal, Talcid, Hydrotalcite, Tisacid.
Terms and conditions of storage
Keep out of reach of children at temperatures up to 30 ° C.
The shelf life is 5 years.
Terms of dispensing from pharmacies
Available without a prescription.
Reviews of Rutacid
Reviews of Rutacid are predominantly positive: users note that when taking the drug, heartburn and pain disappear quickly, and the action of the drug lasts long enough (up to 2.5 hours). Also, hydrotalcite is often used in pancreatitis to reduce the stimulating effect of hydrochloric acid on the pancreas.
There are almost no reports of allergic reactions or side effects, but some users report constipation.
Price for Rutacid in pharmacies
The approximate price for Rutacid is: 20 chewable tablets - 170 rubles, 60 chewable tablets - 375 rubles.
Rutacid: prices in online pharmacies
Drug name
Price
Pharmacy
Rutacid 500 mg chewable tablets 20 pcs.
162 RUB
Buy
Rutacid 500 mg chewable tablets 60 pcs.
359 r
Buy
Rutacid tablets chewable. 500mg 60 pcs.
414 RUB
Buy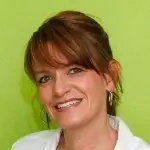 Maria Kulkes Medical journalist About the author
Education: First Moscow State Medical University named after I. M. Sechenov, specialty "General Medicine".
Information about the drug is generalized, provided for informational purposes only and does not replace the official instructions. Self-medication is hazardous to health!
Popular by topic