Table of contents: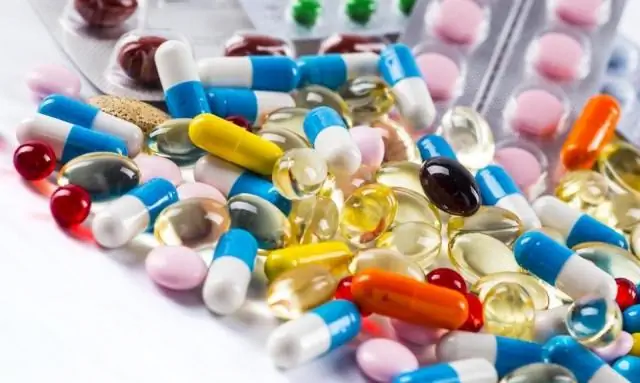 Video: Ketonal Active - Instructions For The Use Of Granules, Price, Reviews, Analogues
Ketonal Active
Ketonal Active: instructions for use and reviews
1. Release form and composition
2. Pharmacological properties
3. Indications for use
4. Contraindications
5. Method of application and dosage
6. Side effects
7. Overdose
8. Special instructions
9. Application during pregnancy and lactation
10. Use in childhood
11. In case of impaired renal function
12. For violations of liver function
13. Use in the elderly
14. Drug interactions
15. Analogs
16. Terms and conditions of storage
17. Terms of dispensing from pharmacies
18. Reviews
19. Price in pharmacies
Latin name: Ketonal Activ
ATX code: M01AE03
Active ingredient: Ketoprofen lysine salt (Ketoprofen lysine salt)
Manufacturer: Fine Foods & Pharmaceuticals N. T. M. S.p. A. (Fine Foods & Pharmaceuticals NTM, SpA) (Italy)
Description and photo update: 2020-28-07
Prices in pharmacies: from 146 rubles.
Buy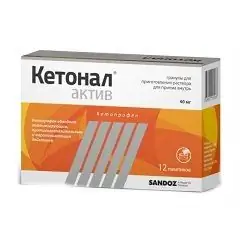 Ketonal Active is a non-steroidal anti-inflammatory drug (NSAID) for oral administration.
Release form and composition
The preparation is produced in the form of granules for the preparation of a solution for oral administration: a yellowish or white homogeneous granulate with a characteristic mint smell; the reconstituted solution is slightly opalescent, colorless, with a characteristic mint smell (1 g of granules in a sachet of combined material, in a cardboard box of 12, 15, 18 or 30 sachets and instructions for use of Ketonal Active).
1 g of granules contains:
active substance: ketoprofen lysine salt - 40 mg (equivalent to the content of ketoprofen - 25 mg);
additional components: sodium saccharinate, mannitol, sodium chloride, povidone (K30), colloidal silicon dioxide, mint flavor.
Pharmacological properties
Pharmacodynamics
Ketoprofen - NSAIDs, analgesic, anti-inflammatory and antipyretic action. The drug, blocking the enzyme COX (cyclooxygenase) types 1 and 2, inhibits the production of prostaglandins. Demonstrates anti-bradykinin activity, stabilizes lysosomal membranes and inhibits the release of enzymes from them that promote tissue destruction against the background of chronic inflammation. Ketonal Active lowers the release of cytokines, inhibits the activity of neutrophils. It helps to reduce morning stiffness and swelling of the joints, as well as increase the range of motion.
Unlike ketoprofen, the lysine salt of this substance is a rapidly dissolving molecule with a neutral pH and almost does not irritate the gastrointestinal tract (GIT).
Pharmacokinetics
When taken orally, ketoprofen is rapidly and in a sufficiently large volume absorbed from the gastrointestinal tract, its bioavailability is approximately 80%. After administration in the blood plasma, the maximum concentration of the drug is observed after 0.5–2 hours and increases linearly with an increase in the administered dose. The equilibrium concentration of the active substance is noted 24 hours after the start of regular use of Ketonal Active.
The substance binds to plasma proteins, mainly albumin, by almost 99%, the volume of distribution is 0.1–0.2 l / kg. Ketoprofen is quite easily distributed in organs and tissues, overcomes histohematogenous barriers. It passes well into connective tissues and synovial fluid. Despite the fact that the level in the latter is slightly lower than in the blood plasma, it is more stable (fixed up to 30 hours).
Basically, the process of metabolic transformation of ketoprofen takes place in the liver, where it undergoes glucuronization, as a result of which esters with glucuronic acid are formed. Metabolites are eliminated by the kidneys.
Ketoprofen does not accumulate in the body.
Indications for use
Ketonal Active is used for the following conditions / diseases:
inflammatory and degenerative lesions of the musculoskeletal system: seronegative arthritis - psoriatic arthritis, Bechterew's disease (ankylosing spondylitis), reactive arthritis (Reiter's disease); rheumatoid arthritis, osteoarthritis, gout, pseudogout, radiculitis, myalgia, tendonitis, bursitis, neuralgia;
pain syndrome of mild, moderate and severe degree: toothache, headache, postoperative and post-traumatic pain, algomenorrhea, pain syndrome in oncological lesions.
For children over 6 years old, Ketonal Active is recommended for short-term symptomatic therapy of inflammatory processes occurring with or without pain and fever, with lesions of the musculoskeletal system, otitis media.
Ketonal Active is intended for symptomatic treatment, relieving inflammation and pain at the time of use, and does not affect the progression of the disease.
Contraindications
Absolute:
decompensated heart failure;
stage of exacerbation of erosive and ulcerative lesions of the stomach and duodenum;
bleeding in the active phase, including gastrointestinal and cerebrovascular;
period of exacerbation of inflammatory bowel diseases (Crohn's disease, ulcerative colitis);
full or partial combination of recurrent polyposis rhinosinusitis, bronchial asthma and intolerance to acetylsalicylic acid or other NSAIDs (including indications in history);
the period after the operation of coronary artery bypass grafting;
bleeding disorders (including hemophilia);
confirmed hyperkalemia;
progressive kidney damage, severe renal failure, with creatinine clearance (CC) below 30 ml / min;
active liver disease or severe liver dysfunction;
III trimester of pregnancy, lactation period;
age up to 6 years;
hypersensitivity to any component of Ketonala Active, as well as to other NSAIDs.
Relative (use of the drug requires caution):
ischemic heart disease (CHD);
chronic heart failure (CHF), arterial hypertension (if there is a history of fluid retention and edema caused by taking NSAIDs, careful monitoring and specialist consultation are required);
a pronounced decrease in the volume of circulating blood, including after surgery;
cerebrovascular lesions;
chronic renal failure (CC 30-60 ml / min);
bronchial asthma (the threat of an attack of bronchial asthma is aggravated);
peptic ulcer and 12 duodenal ulcer, Crohn's disease, ulcerative colitis (including a history of indications);
presence of Helicobacter pylori infection;
hepatic porphyria, liver damage (history);
peripheral arterial pathology;
diabetes;
dyslipidemia / hyperlipidemia;
severe osteoporosis;
old age (including low body weight, weakened body and concomitant use of diuretics);
severe somatic diseases;
tuberculosis;
long-term NSAID therapy;
combined use with drugs such as antiplatelet agents (clopidogrel, acetylsalicylic acid), anticoagulants (warfarin), glucocorticosteroids (prednisolone), selective serotonin reuptake inhibitors (SSRIs) (fluoxetine, citalopram, paroxetine);
I and II trimesters of pregnancy;
alcoholism and smoking.
Ketonal Active, instructions for use: method and dosage
A solution prepared from Ketonal Active granules is taken orally with meals.
The required single dose should be dissolved in 100 ml (½ glass) of drinking water before taking; frequency of use - up to 3 times a day.
Recommended single doses:
children and adolescents from 6 to 14 years old: 40 mg (contents of 1 sachet);
adolescents over 14 years of age and adult patients: 80 mg (contents of 2 sachets).
To reduce the likelihood of adverse effects from the gastrointestinal tract, you need to use Ketonal Active in the shortest possible course in the minimum effective dose.
Side effects
immune system: with an unknown frequency - anaphylactic reactions, including anaphylactic shock;
blood and lymphatic system: rarely - hemorrhagic anemia; with an unknown frequency - inflammation of the lymphatic vessels, thrombocytopenic purpura, thrombocytopenia, bone marrow dysfunction, agranulocytosis, leukocytopenia, leukocytosis, vasculitis;
nervous system and sensory organs: infrequently - drowsiness, dizziness, headache; rarely - tinnitus, blurred vision, paresthesia; with an unknown frequency - irritability, mood lability, insomnia, dysgeusia, convulsions;
liver and biliary tract: rarely - an increase in the activity of hepatic transaminases and serum bilirubin concentration in the blood, associated with impaired liver activity; hepatitis;
Gastrointestinal tract: often - dyspepsia, abdominal pain, nausea, vomiting; infrequently - bloating, constipation / diarrhea, gastritis; rarely - stomatitis, duodenal ulcer, stomach ulcer; with an unknown frequency - heartburn, exacerbation of Crohn's disease and ulcerative colitis, perforation of the gastrointestinal tract, gastrointestinal bleeding;
kidneys and urinary tract: with an unknown frequency - abnormal indicators of renal function, nephritic syndrome and tubulointerstitial nephritis, acute renal failure;
respiratory system: rarely - bronchial asthma; with an unknown frequency - rhinitis, shortness of breath, bronchospasm (mainly in individuals with identified hypersensitivity to other NSAIDs, including acetylsalicylic acid), spasm and laryngeal edema;
cardiovascular system: with unknown frequency - heart palpitations, hypotension, vasodilation, tachycardia, hypertension, heart failure;
skin and subcutaneous tissues: infrequently - rash, itching; with an unknown frequency - dermatitis, urticaria, erythema and exanthema, alopecia, photosensitivity reactions, maculopapular rash, bullous reactions on the part of the skin, including toxic epidermal necrolysis and Stevens-Johnson syndrome, angioedema;
others: infrequently - fatigue, swelling; with an unknown frequency - periorbital edema, edema of the oral mucosa, anaphylactoid and allergic reactions.
Overdose
Cases of an overdose of ketoprofen were recorded when used in a dose of up to 2.5 g. The main symptoms were predominantly drowsiness, lethargy, epigastric pain, nausea, and vomiting.
In such cases, in order to normalize breathing, stabilize blood circulation and eliminate acidosis, procedures and drugs are prescribed that reduce resorption and enhance the elimination of ketoprofen, such as ingestion of medical activated carbon and forced diuresis.
special instructions
At the beginning of the course of therapy with Ketonal Active, it is required to monitor the peripheral blood picture, renal and hepatic functions.
After a 14-day course of treatment, the level of hepatic transaminases should be determined.
Although Ketonal Active is able to change the properties of platelets, against the background of cardiovascular diseases, it cannot replace the preventive effect of acetylsalicylic acid.
When determining the content of 17-ketosteroids, the drug should be discontinued 48 hours before the study.
Therapy with Ketonal Active can mask the signs of infectious lesions.
Patients with a history of gastric ulcer and duodenal ulcer, the elderly, patients receiving acetylsalicylic acid in low doses or other drugs that aggravate the risk of gastrointestinal reactions are recommended to use gastroprotective agents in combination with ketonal - proton inhibitors. pumps or misoprostol.
In case of uncontrolled arterial hypertension, heart failure diagnosed with coronary artery disease, peripheral arterial lesions and / or cerebrovascular diseases, ketoprofen lysine salt should be used only after a thorough medical examination. Before starting a long course of treatment, patients with diabetes mellitus, hyperlipidemia, arterial hypertension and other risk factors for cardiovascular diseases (including smoking) also need examination.
According to epidemiological data and the results of clinical studies, the use of some NSAIDs, mainly used for a long course in high doses, may be associated with a slight increase in the threat of arterial thrombotic events (including stroke, myocardial infarction). For the lysine salt of ketoprofen, such a threat also cannot be ruled out due to insufficient data.
Since Ketonal Active granules do not contain gluten and aspartame, they can be used in patients with celiac disease or phenylketonuria.
Influence on the ability to drive vehicles and complex mechanisms
During treatment with the drug, the development of drowsiness and dizziness may be observed. In the case when, after taking ketoprofen, adverse events occur on the part of the nervous system, you should refuse to drive a car and control other complex mechanisms.
Application during pregnancy and lactation
In the III trimester of pregnancy, the use of ketoprofen is contraindicated, in the I – II trimesters, therapy with Ketonal Active is carried out only when the expected benefit for the woman exceeds the possible threat to the fetus.
During lactation, the use of the drug is contraindicated.
Treatment with Ketonal Active can negatively affect female fertility, therefore it is not recommended for patients planning a pregnancy. If women have problems with reproductive function or if it is necessary to conduct a study of this ability in them, the drug must be discontinued.
Pediatric use
Children under 6 years of age are not prescribed Ketonal Active.
With impaired renal function
In the presence of progressive kidney disease or severe renal failure (CC below 30 ml / min), the use of Ketonal Active is contraindicated.
Patients with chronic renal failure (CC 30-60 ml / min) should take the drug with caution.
For violations of liver function
In the presence of active liver diseases or severe hepatic dysfunction, treatment with Ketonal Active is contraindicated.
Patients with a history of liver disease or hepatic porphyria should be careful when using the drug.
Use in the elderly
For the elderly, the doctor sets the dose of Ketonal Active individually. For patients of this age group, it is desirable to reduce the dose recommended for adults by 2 times.
Drug interactions
Medicinal substances / preparations which should be avoided in combination with ketoprofen:
anticoagulants - parenteral heparin, warfarin; antiplatelet agents - ticlopidine, clopidogrel; SSRIs - fluoxetine, citalopram, paroxetine, sertraline: the threat of bleeding increases due to suppression of platelet function and ulceration of the gastrointestinal mucosa; if this combination is necessary, the patient needs medical supervision;
warfarin: it is possible to enhance the effects of this substance;
corticosteroids, other NSAIDs including salicylates in high doses (≥ 3 g / day): the risk of ulcerative defects in the gastrointestinal mucosa and the development of bleeding increases;
sulfonamides and hydantoin: the risk of increased toxic effects of these substances increases;
methotrexate: its hematotoxicity is aggravated when used in doses above 15 mg per week, since renal excretion decreases; when using methotrexate at doses below 15 mg per week, a complete blood count is required weekly for the first few weeks of combination treatment; in elderly patients, as well as with deterioration of renal function, more frequent monitoring of the condition is necessary;
lithium: the elimination of this substance by the kidneys decreases, due to which its plasma level increases and toxicity may increase; it is necessary to control the content of lithium in the plasma at the beginning of joint treatment, when changing the dose and after the end of taking ketoprofen.
Medicines with which ketoprofen should be combined with extreme caution:
pentoxifylline: the threat of bleeding increases; it is necessary to control the time of blood coagulation and the clinical condition of the patient;
diuretics, angiotensin II receptor antagonists, angiotensin-converting enzyme inhibitors: the effectiveness of these drugs may decrease; in the elderly or in patients with dehydration, the risk of impaired renal function is aggravated, including the possible occurrence of acute renal failure, which is usually reversible; before the start of combination therapy, patients should be adequately hydrated, after the start of the combination therapy, it is necessary to monitor renal function;
zidovudine: the risk of toxicity to erythrocytes increases, due to the effect on reticulocytes with the onset of severe anemia 7 days after starting NSAID therapy; after the start of taking ketoprofen, it is required to control the number of reticulocytes 1–2 times a week and evaluate the clinical blood test;
tacrolimus and cyclosporine: increased risk of worsening nephrotoxicity as a result of the effects of renal prostaglandins, monitoring of renal function is required;
β-blockers: it is possible to weaken the hypotensive effect of these drugs due to blocking the production of prostaglandins;
probenecid: clearance decreases and the plasma level of ketoprofen in the blood increases, the dose of the latter may need to be adjusted;
thrombolytics: the risk of bleeding is aggravated.
Analogs
Analogs of Ketonal Active are Ketopropel, Ketonal UNO, Artrozilen, OKI, Artrum, Bystrumcaps, Ketonal, Flamax, Flexen, Ketoprofen, etc.
Terms and conditions of storage
Store out of the reach of children at temperatures up to 25 ° C.
Shelf life is 2 years.
Terms of dispensing from pharmacies
Dispensed by prescription.
Reviews about Ketonal Active
Currently, on specialized sites there are no reviews left by patients about Ketonal Active, as a result of which it is not possible to objectively assess the shortcomings and effectiveness of the drug.
Price for Ketonal Active in pharmacies
The approximate price for Ketonal Active, in the form of granules for the preparation of a solution for oral administration (40 mg), is 160-190 rubles. for 12 sachets of 1 g.
Ketonal Active: prices in online pharmacies
Drug name
Price
Pharmacy
Ketonal Active 40 mg granules for preparation of oral solution 12 pcs.
146 r
Buy
Ketonal active granules for preparation of oral solution 40mg Pak. 1g 12 pcs.
RUB 165
Buy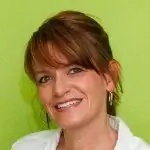 Maria Kulkes Medical journalist About the author
Education: First Moscow State Medical University named after I. M. Sechenov, specialty "General Medicine".
Information about the drug is generalized, provided for informational purposes only and does not replace the official instructions. Self-medication is hazardous to health!
Popular by topic