Table of contents:
Video: Ketilept - Instructions For Use, Reviews, Indications
Ketilept
Instructions for use:
1. Pharmacological action
2. Release form
3. Indications for use
4. Contraindications
5. Method of application
6. Drug interactions
7. Side effects
8. Storage conditions
Prices in online pharmacies:
from 1320 rub.
Buy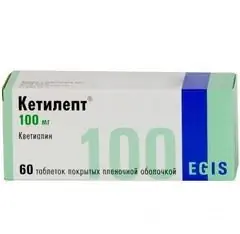 Ketilept is a synthetic antipsychotic agent used in the treatment of psychosis and depression.
Pharmacological action of Ketilept
The active component of Ketilept exhibits antipsychotic activity without causing a prolonged increase in the concentration of prolactin in the blood plasma.
As a result of many studies, Ketilept has shown high efficacy in the treatment of both positive and negative symptoms of schizophrenia.
According to reviews, Ketilept's action continues for 12 hours after taking the medication.
Release form
Ketilept is produced in the form of white, film-coated tablets containing the active substance (quetiapine) in the amount of:
100 mg - engraved with "202";
150 mg - engraved with "203";
200 mg - engraved with "204";
300 mg - engraved with "204".
10 pieces in a blister.
The following medicines are analogs of Ketilept:
By the active ingredient - Hedonin, Ketiap, Seroquel, Viktoel, Lakwell, Nantarid, Kventiax, Servitel, Kutipin;
According to the mode of action - Azaleptin, Zalasta, Clozasten, Olanzapine, Leponex, Olanzapine-Teva, Olanex, Safris, Azaleprol, Zyprexa Adera, Normiton.
Indications for the use of Ketilept
According to the instructions, Ketilept is prescribed for the treatment of:
Acute and chronic psychoses, including schizophrenia;
Depressive and manic episodes in the structure of bipolar disorder (from moderate to severe severity).
Contraindications
Ketilept is contraindicated for use:
During pregnancy;
In pediatrics;
During breastfeeding;
With hypersensitivity to the components of Ketilept.
In addition, Ketilept is recommended to be taken with caution in the following cases:
With cardiovascular and cerebrovascular diseases or other conditions that predispose to arterial hypotension;
Against the background of liver failure;
In old age;
With a history of seizures.
Method of using Ketilept
According to the instructions, ketilept can be taken with or without food.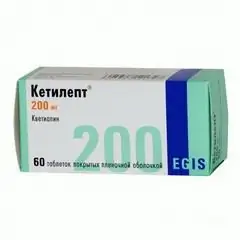 In chronic and acute psychoses, as well as in schizophrenia, Ketilept is prescribed for adults twice a day. The dosage in the first 4 days is increased gradually - from 50 mg on the first day to 300 mg on the fourth day of treatment, after which Ketilept is taken at 300-450 mg per day. Depending on the course of the disease and the clinical effect of the therapy, the daily dose can vary from 150 to 750 mg per day.
In the treatment of acute manic episodes, the daily dose is slightly higher and ranges from 200 to 800 mg. Elderly people should take reduced doses of Ketilept.
Ketilept is usually taken in minimal doses to maintain remission.
When taking Ketilept in high doses, the following symptoms may occur:
Excessive sedation;
Drowsiness;
Decrease in blood pressure;
Tachycardia.
Ketilept drug interactions
It is recommended to be especially careful when using Ketilept with other drugs that affect the central nervous system.
Side effects
Most often, according to the instructions, Ketilept causes:
Dizziness;
Drowsiness;
Orthostatic hypotension;
Dyspepsia;
Moderate asthenia;
Dry mouth;
Tachycardia;
Constipation.
Also, quite often Ketilept, according to reviews, contributes to the development of:
Pharyngitis;
Subfebrile condition;
Mild asthenia;
Leukopenia;
Decreased visual acuity;
Myalgia;
Peripheral edema;
Dry skin;
Rhinitis;
Back pain and chest pain
Increase in body weight (most often in the first weeks of treatment).
Much less often Ketilept, according to reviews, leads to the development of:
Eosinophilia;
Priapism;
Hyperglycemia;
Neutropenia;
Malignant neuroleptic syndrome;
Diabetes mellitus;
Allergic reactions.
From the side of the nervous system, when taking Ketilept, according to reviews, psychomotor agitation, anxiety, headache, fainting, tremors, and in rare cases - epileptic seizures are possible.
Storage conditions
Ketilept according to the instructions refers to a number of antipsychotics, dispensing from pharmacies is possible only as prescribed by a doctor. The shelf life of tablets is up to 4 years at a temperature of no more than 25 ° C.
Ketilept: prices in online pharmacies
Drug name
Price
Pharmacy
Ketilept 100 mg film-coated tablets 60 pcs.
1320 RUB
Buy
Ketilept tablets p.o. 100mg 60 pcs.
1540 RUB
Buy
Ketilept 200 mg film-coated tablets 60 pcs.
2471 RUB
Buy
Ketilept 300 mg film-coated tablets 60 pcs.
RUB 3198
Buy
Information about the drug is generalized, provided for informational purposes only and does not replace the official instructions. Self-medication is hazardous to health!
Popular by topic