Table of contents: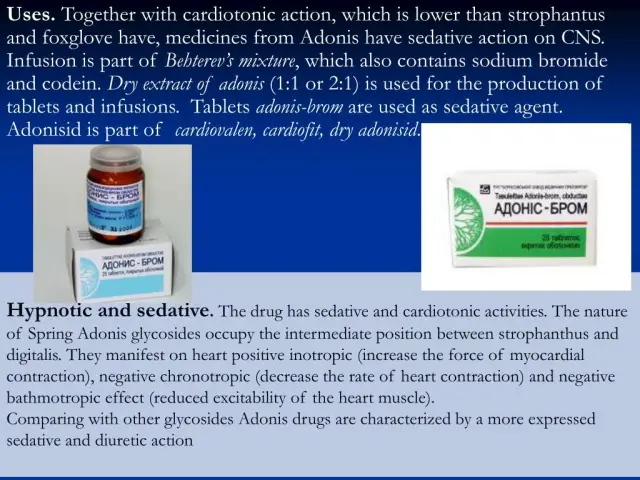 Video: Cardiovalen - Instructions For Use, Reviews, Price, Analogues
Cardiovalen
Cardiovalen: instructions for use and reviews
1. Release form and composition
2. Pharmacological properties
3. Indications for use
4. Contraindications
5. Method of application and dosage
6. Side effects
7. Overdose
8. Special instructions
9. Application during pregnancy and lactation
10. Use in childhood
11. For violations of liver function
12. Drug interactions
13. Analogs
14. Terms and conditions of storage
15. Terms of dispensing from pharmacies
16. Reviews
17. Price in pharmacies
Latin name: Cardiovalen
ATX code: N05CM
Active ingredient: adonizide (adonisidum) + valerian tincture (tinctura valerianae) + liquid hawthorn extract (extractum crataegi fluidum) + sodium bromide (natrii bromidum) + liquid jaundice herb extract (erýsimum diffusum)
Manufacturer: VIFITECH (Russia)
Description and photo update: 2018-21-11
Prices in pharmacies: from 127 rubles.
Buy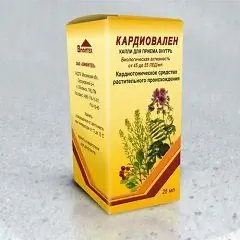 Cardiovalen is a combined drug that has a cardiotonic and sedative effect.
Release form and composition
Dosage form - drops for oral administration: from light brown to brown, have a characteristic odor (in a cardboard box 1 dark glass dropper bottle of 15, 25 or 50 ml).
Active substances in 100 ml drops:
liquid extract of sprawling jaundice - 17.2 ml;
concentrated adoniside - 30.3 ml;
fresh tinctures of rhizomes with valerian roots - 48.6 ml;
liquid extract of hawthorn - 2.2 ml;
synthetic camphor - 0.4 g;
sodium bromide - 2 g.
Additional component: ethanol (95% ethyl alcohol) - 1.9 ml.
Pharmacological properties
Pharmacodynamics
Cardiovalene is one of the combined drugs that have a cardiotonic and sedative effect, which is due to its active components.
Indications for use
cardiopsychoneurosis;
chronic heart failure (along with other drugs).
Contraindications
Absolute:
myocarditis;
endocarditis;
age up to 18 years;
pregnancy and lactation;
individual intolerance to the components of the drug.
Relative (Cardiovalen is prescribed under medical supervision):
epilepsy;
liver disease;
traumatic brain injury;
alcoholism;
diseases of the brain.
Instructions for the use of Cardiovalena: method and dosage
Cardiovalen is intended for oral administration.
Recommended dosage regimen: 1–2 times a day (preferably 30–40 minutes before meals), 15–20 drops in a small volume of water.
The duration of the course is 20-30 days. The doctor may increase the duration of admission or prescribe a second course.
Side effects
Possible side reactions: drowsiness, muscle weakness, headache, allergic reactions.
Overdose
The main symptoms are: increased dose-dependent adverse reactions.
Therapy: symptomatic.
special instructions
Before taking Cardiovalen, you should consult your doctor.
The preparation contains cardiac glycosides. In case of an overdose, the following symptoms may develop: polytopic extrasystole, severe bradycardia, trigeminia / bigeminia, slowing of ventricular conduction; in severe cases, ventricular flutter occurs. In case of intoxication associated with an overdose of cardiac glycoside preparations, a break in their use is indicated, if necessary, antiarrhythmic drugs and potassium preparations can be prescribed.
Influence on the ability to drive vehicles and complex mechanisms
While taking Cardiovalen, patients are advised to refrain from driving vehicles, since the drug contains ethanol (at least 28%).
Application during pregnancy and lactation
According to the instructions, Cardiovalen is not prescribed to women during pregnancy / lactation.
Pediatric use
Drug therapy for patients under 18 years of age is contraindicated.
For violations of liver function
In case of liver diseases, treatment should be carried out under medical supervision.
Drug interactions
With the simultaneous use of sedatives, hypnotics and other drugs that depress the central nervous system, an increase in their action is observed.
Analogs
The analogues of Cardiovalena are Valemidin, Bromenval, Valerianakhel, Dobrokam, Corvalol, Sedoflor, Lotosonik, Sympatil, Passidorm, Persen, Motherwort tincture, Peony evading tincture, Soothing collection No. 1–2 and others.
Terms and conditions of storage
Store in a place protected from light at a temperature of 15-25 ° C. Keep out of the reach of children.
Expiration date - 1 year.
Terms of dispensing from pharmacies
Available without a prescription.
Reviews about Cardiovalena
According to reviews, Cardiovalen is an effective drug, which in many cases allows avoiding the use of more potent drugs. Its availability and safety are also noted.
Price for Cardiovalen in pharmacies
The approximate price for Cardiovalen (1 dropper bottle of 25 ml) is 147–172 rubles.
Cardiovalen: prices in online pharmacies
Drug name
Price
Pharmacy
Cardiovalen oral drops 25 ml 1 pc.
127 RUB
Buy
Cardiovalen drops for internal approx. vial drip 25ml
188 r
Buy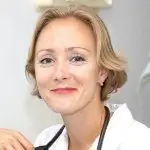 Anna Kozlova Medical journalist About the author
Education: Rostov State Medical University, specialty "General Medicine".
Information about the drug is generalized, provided for informational purposes only and does not replace the official instructions. Self-medication is hazardous to health!
Popular by topic