Table of contents: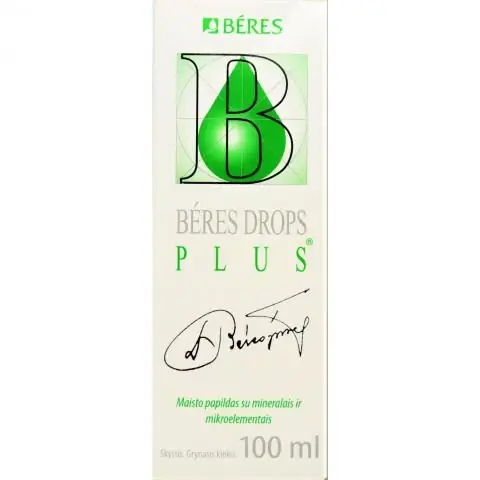 Video: Drops Beres Plus - Instructions For Use, Reviews, Price, Composition
Drops Beres Plus
Drops Beres Plus: instructions for use and reviews
1. Release form and composition
2. Indications for use
3. Contraindications
4. Method of application and dosage
5. Side effects
6. Overdose
7. Special instructions
8. Application for and lactation
9. Use in childhood
10. In case of impaired renal function
11. Drug interactions
12. Analogs
13. Terms and conditions of storage
14. Terms of dispensing from pharmacies
15. Reviews
16. Price in pharmacies
Latin name: Beres Drops Plus
ATX code: A12CX
Active ingredient: multivitamins (Multivitamins) + minerals (Multimineral)
Manufacturer: Beres Pharmaceuticals Co. Ltd. (Beres Pharmaceuticals, Co. Ltd.) (Hungary)
Description and photo update: 2019-09-09
Prices in pharmacies: from 156 rubles.
Buy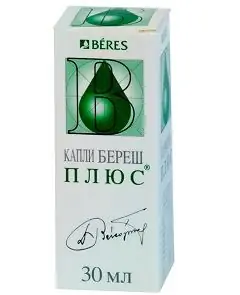 Drops Beres Plus is a drug that replenishes the deficiency of macro- and microelements in the body.
Release form and composition
The drug is produced in the form of yellowish drops for oral administration (in vials with a dropper of 30 ml and 100 ml, in a cardboard box 1 bottle and instructions for use of Beres Plus Drops).
1 ml (18 drops) contains:
Zinc - 1.1 mg;
Molybdenum - 0.19 mg;
Copper - 0.25 mg;
Iron - 2 mg;
Boron - 0.1 mg;
Manganese - 0.31 mg;
Magnesium - 0.4 mg;
Nickel - 0.11 mg;
Cobalt - 0.025 mg;
Fluorine - 0.09 mg;
Vanadium - 0.12 mg.
Excipients: ascorbic acid, sodium edetate, succinic, boric and aminoacetic acids, glycerol, acidity corrector and purified water.
Pharmacological properties
Pharmacodynamics
The micro- and macroelements included in the Beres Plus Drops help to regulate metabolic processes in the body and fill the existing deficit:
Fluoride - essential for the mineralization of bones and teeth;
Copper and manganese - are involved in hematopoiesis, bone development, tissue respiration and immune reactions;
Vanadium and nickel - contribute to the maintenance of a stable state of hemoglobin, growth processes and reproductive function;
Zinc - is an important component of a number of enzymes, has antioxidant and immunostimulating activity;
Iron - provides oxygen transport to the tissue;
Molybdenum is essential in redox reactions.
Indications for use
Beresh Plus drops are used for conditions and diseases that are accompanied by an increased need for trace elements:
Malnutrition, including special diets (including diabetes mellitus), vegetarian food;
Lack of appetite, increased fatigue, insomnia and general weakness;
Increased physical activity and intense sports.
In addition, the drug is recommended to be taken during menstruation, as well as after infectious and inflammatory diseases or operations.
Contraindications
Severe renal impairment;
Diseases associated with metabolic disorders of iron and copper, including hemosiderosis, hemochromatosis, Westphal-Wilson-Konovalov disease;
Children under 2 years of age, the weight of the child is less than 10 kg;
Hypersensitivity to the components that make up Beres Plus Drops.
Drops Beres Plus, instructions for use: method and dosage
The drug is taken with a meal together with 50-100 mg of vitamin C and 50 ml of water, fruit juice, syrup or fruit tea. You should not drink the drug with coffee or milk, as this slows down the absorption of its components.
Drops of Beres Plus for prophylactic purposes are prescribed at the rate of 1 drop per 2 kg of body weight per day, divided into 2 doses. For therapeutic purposes, the daily dose must be doubled and divided into 3 doses. The duration of treatment depends on the therapeutic effect of taking the drug. Usually drops have an optimal effect after 1.5 months of continuous use.
The drug can be taken according to indications during pregnancy and lactation. It is indicated for use in children weighing more than 10 kg.
Side effects
Beres Plus Drops can cause side effects, especially if the medicine is taken with less fluid than recommended or on an empty stomach.
More often than not, all adverse symptoms manifest as abdominal pain, allergic reactions and nausea.
Overdose
Reception of extremely high doses of the drug, exceeding the recommended ones by several orders of magnitude, can cause nausea, a feeling of a metallic taste in the mouth and abdominal discomfort, characterized by flatulence, rumbling in the abdomen, an imperative urge to defecate, and a feeling of insufficient bowel movement.
In this case, it is recommended to stop taking Beres Plus Drops and carry out symptomatic therapy as needed.
To date, no overdose has been reported.
special instructions
It is not recommended to take Beres Plus Drops at the same time as other medicines containing trace elements; taking other drugs, you must observe the interval between doses of at least an hour.
The medicine does not contain preservatives, carbohydrates and artificial colors.
Do not take drops at the same time as products that impair absorption, such as coffee or milk.
It is necessary to carry out medical supervision when prescribing medication for children weighing 10 to 20 kg.
Application during pregnancy and lactation
For the treatment of pregnant and lactating women, the drug is used according to the recommended dosage regimen for indications. No dose adjustment is required.
Pediatric use
Age up to 2 years, weight up to 10 kg: Beres Plus drops are not prescribed;
Age over 2 years, weight 10–20 kg: medical supervision is required when using the drug.
With impaired renal function
In severe renal failure, Beres Drops Plus is contraindicated.
Drug interactions
It is necessary to maintain the interval between taking Beres Plus Drops and other medications for at least one hour.
In order to avoid the ingestion of excessive doses of macro- and microelements or their antagonistic interactions, the simultaneous use of other vitamin-mineral complexes must be avoided.
Antacids, medicinal products containing bisphosphonates, penicillamine, fluoroquinolone, tetracycline should be used no earlier than two hours after and no later than two hours before taking Beres Plus Drops, since as a result of physicochemical interaction, their absorption may change.
Analogs
Analogues of Beresh Plus Drops are: Asparkam, Panangin, Aspangin, Potassium and magnesium asparaginate.
Terms and conditions of storage
Store at 15-25 ° C.
Shelf life is 4 years. After opening the bottle, the medicine should be used within six months.
Terms of dispensing from pharmacies
Available without a prescription.
Reviews of Beres Plus Drops
Reviews of Beres Plus Drops are mostly positive. Patients recommend a complex of micro and macro elements as a tool that quickly strengthens the immune system and improves overall well-being. At the same time, taking the drug does not lead to the development of side effects. Its cost is most often assessed as affordable.
Price for Drops Beres Plus in pharmacies
The approximate price for Beres Plus Drops is 188 rubles for 1 bottle of 30 ml; for 1 bottle of 100 ml - 519 rubles.
Drops Beres Plus: prices in online pharmacies
Drug name
Price
Pharmacy
Drops Beresh Plus drops for oral administration 30 ml 1 pc.
156 r
Buy
Drops Beresh Plus drops for oral administration 100 ml 1 pc.
RUB 300
Buy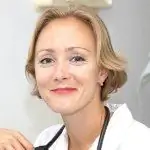 Anna Kozlova Medical journalist About the author
Education: Rostov State Medical University, specialty "General Medicine".
Information about the drug is generalized, provided for informational purposes only and does not replace the official instructions. Self-medication is hazardous to health!
Popular by topic