Table of contents: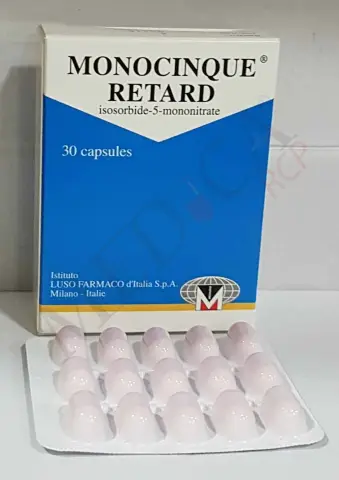 Video: Monocinque Retard - Instructions For Use, 50 Mg, Price, Analogues, Reviews
Monocinque retard
Monocinque retard: instructions for use and reviews
1. Release form and composition
2. Pharmacological properties
3. Indications for use
4. Contraindications
5. Method of application and dosage
6. Side effects
7. Overdose
8. Special instructions
9. Application during pregnancy and lactation
10. Use in childhood
11. In case of impaired renal function
12. For violations of liver function
13. Use in the elderly
14. Drug interactions
15. Analogs
16. Terms and conditions of storage
17. Terms of dispensing from pharmacies
18. Reviews
19. Price in pharmacies
Latin name: Monocinque retard
ATX code: C01DA14
Active ingredient: isosorbide mononitrate (Isosorbide mononitrate)
Manufacturer: A. Menarini Manufacturing Logistics and Services S.r. L. (A. Menarini Manufacturing Logistics and Services SrL) (Italy)
Description and photo update: 09.10.2019
Prices in pharmacies: from 280 rubles.
Buy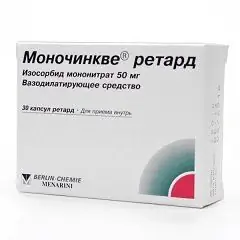 Monocinque retard - antianginal, vasodilator; organic nitrate.
Release form and composition
Dosage form - retard capsules: hard gelatinous, pinkish-orange, inside the capsules - medium-sized white granules (in a cardboard box there are 2 blisters, each of which contains 15 capsules, and instructions for use of Monochinque retard).
Composition of one retard capsule:
active ingredient: isosorbide-5-mononitrate - 50 mg;
additional ingredients: corn starch, stearic acid, titanium dioxide, sucrose, ethyl cellulose, talc, gelatin, quinoline yellow (E104), Ponso 4R red dye (E124).
Pharmacological properties
Pharmacodynamics
The active substance of Monocinque retard is isosorbide-5-mononitrate, which has vasodilating and antianginal effects. The mechanism of action of the drug is due to the formation of NO (nitric oxide) and cGMP (cyclic guanosine monophosphate), a decrease in the calcium content in smooth muscle cells.
Pharmacological properties of isosorbide-5-mononitrate:
decrease in preload (due to the expansion of peripheral veins) and afterload [due to a decrease in OPSS (total peripheral vascular resistance)];
decrease in myocardial oxygen demand;
expansion of coronary arteries and improvement of coronary blood flow, its redistribution to ischemic areas;
a decrease in the end diastolic volume of the left ventricle and a decrease in the systolic tension of its walls;
increased exercise tolerance in patients with ischemic heart disease (coronary heart disease);
decrease in pressure in the pulmonary circulation.
A one-time intake of a daily dose of Monocinque retard capsules with a sustained release of the active substance provides the necessary plasma concentration of isosorbide-5-mononitrate for a therapeutic effect throughout the day. The drug is especially effective in the long-term therapy of coronary heart disease.
Pharmacokinetics
After oral administration, the substance is rapidly and completely absorbed in the intestine. Bioavailability varies between 90-100%. It does not have the effect of the first passage through the liver. Plasma concentrations of isosorbide mononitrate after oral and parenteral administration are approximately the same. The maximum concentration of the substance can be reached within an hour and a half after ingestion.
The half-life is about 5 hours, which is about 8 times higher than that of isosorbide dinitrate. Isosorbide-5-mononitrate is excreted by the kidneys exclusively as metabolites. ~ 2% of the dose taken is excreted unchanged.
Indications for use
rehabilitation treatment after myocardial infarction;
treatment of CHF (chronic heart failure) - as part of combination therapy;
long-term therapy and prevention of angina pectoris III-IV functional class.
Contraindications
Absolute:
acute stage of myocardial infarction;
acute circulatory disorders (vascular collapse, shock), hemorrhagic stroke;
severe arterial hypotension [systolic blood pressure (blood pressure) less than 90 mm Hg. Art., diastolic blood pressure less than 60 mm Hg. Art.];
angle-closure glaucoma;
conditions after traumatic brain injury;
deficiency of glucose-6-phosphate dehydrogenase;
children up to age 18;
lactation;
concomitant use of the phosphodiesterase inhibitor sildenafil (Viagra), since sildenafil potentiates the hypotensive effect of nitrates;
hypersensitivity to isosorbides (mono-, dinitrate and other organic nitrates).
With caution and only if the intended benefit to the mother exceeds the potential risks to the fetus, the use of Monocinque retard in women carrying a child is allowed.
Monocinque retard, instructions for use: method and dosage
Monocinque retard 50 mg capsules are intended for oral administration.
If there are no other prescriptions, the drug is taken after meals, 1 time per day (in the morning), 1 pc., Without chewing and drinking a small amount of liquid.
Depending on the patient's clinical condition, the attending physician may adjust the dose.
Side effects
Reliable side effects when taking the drug at the recommended dose have not been described. However, as with other nitrates, a nitrate headache is likely to appear at the beginning of therapy. With continued treatment, it usually decreases after a few days.
The first intake or increase in the dose of the drug can provoke a decrease in blood pressure and / or the development of orthostatic hypotension, which may be accompanied by dizziness, tachycardia, and general weakness.
It is possible (extremely rare) the appearance of skin allergic reactions, as well as nausea, vomiting, and facial redness.
Overdose
Overdose cases have not been reported.
If you suspect an overdose of the drug, it is recommended to take the following measures: induce vomiting and rinse the stomach. It is important to find out if the patient has taken other medications at the same time as the drug. It is necessary to monitor the parameters of hemodynamics.
special instructions
Patients with arterial hypertension should take the drug under medical supervision.
The drug is not intended to relieve angina attacks.
Monocinque retard can be used as a means of monotherapy and in combination with calcium channel blockers, β-blockers, ACE (angiotensin-converting enzyme) inhibitors, diuretics or cardiac glycosides.
Influence on the ability to drive vehicles and complex mechanisms
Taking Monocinque retard can negatively affect the speed of psychomotor reactions and the ability to concentrate, and therefore it is recommended to abandon driving vehicles and engaging in other potentially hazardous activities during therapy.
Application during pregnancy and lactation
For women carrying a child, Monocinque retard can be prescribed in case of emergency, when the intended benefits of therapy to the mother are guaranteed to outweigh the potential risks to the fetus.
If it is necessary to use the drug during lactation, the issue of transferring the child to artificial feeding should be resolved.
Pediatric use
Monocinque retard capsules are not used for the treatment of children under the age of 18.
With impaired renal function
There are no special conditions for using Monocinque retard in patients with renal dysfunction.
For violations of liver function
There are no special conditions for using Monocinque retard in patients with hepatic dysfunction.
Use in the elderly
The dosage regimen for the elderly is similar to that for other age groups.
Drug interactions
When used with the following drugs, the antihypertensive effect of Monocinque retard may be enhanced: other vasodilators and antihypertensive agents; beta-blockers, calcium channel blockers; antipsychotic drugs, tricyclic antidepressants; a phosphodiesterase inhibitor sildenafil (Viagra); ethanol.
Analogs
Monocinque retard analogs are Isosorbide mononitrate, Isosorbide mononitrate retard, Monizol, Mono Mac, Mono Rom retard, Monolong, Monosan, Monocinque, Olikard 40 retard, Olikard 60 retard, Efoks 20, Efoks long, etc.
Terms and conditions of storage
Store in a dark place, out of the reach of children, at a temperature not exceeding 25 ° C.
The shelf life is 3 years.
Terms of dispensing from pharmacies
Dispensed by prescription.
Reviews about Monocinque retard
There are few reviews about Monocinque retard, but they are mostly positive. The drug, due to its prolonged action, more pronouncedly lowers blood pressure, in contrast to dosage forms with the usual release of the active substance. Also, patients note a decrease in the frequency of angina attacks during therapy with the agent.
Few user complaints are related to acute migraine-like headache, difficult to treat, and a feeling of heaviness in the head.
Price for Monocinque retard in pharmacies
The approximate price for Monocinque retard 50 mg is 300–397 rubles. (in a package of 30 capsules of prolonged action).
Monocinque retard: prices in online pharmacies
Drug name
Price
Pharmacy
Monocinque retard 50 mg capsule retard 30 pcs.
280 RUB
Buy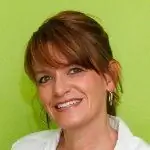 Maria Kulkes Medical journalist About the author
Education: First Moscow State Medical University named after I. M. Sechenov, specialty "General Medicine".
Information about the drug is generalized, provided for informational purposes only and does not replace the official instructions. Self-medication is hazardous to health!
Popular by topic