Table of contents: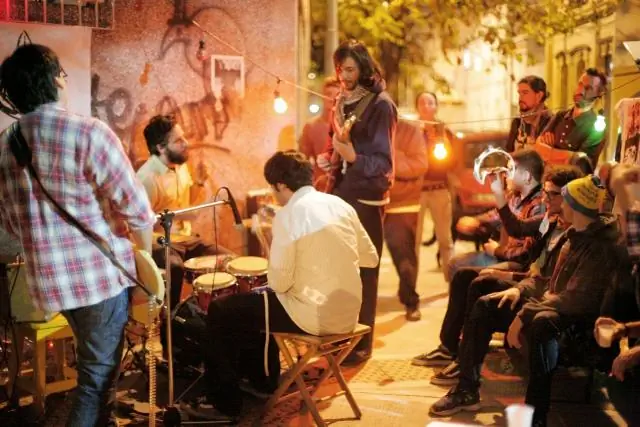 Video: Lorotox - Instructions For The Use Of Ear Drops, Price, Reviews, Analogues
Lorotox
Lorotox: instructions for use and reviews
1. Release form and composition
2. Pharmacological properties
3. Indications for use
4. Contraindications
5. Method of application and dosage
6. Side effects
7. Overdose
8. Special instructions
9. Application during pregnancy and lactation
10. Use in childhood
11. Drug interactions
12. Analogs
13. Terms and conditions of storage
14. Terms of dispensing from pharmacies
15. Reviews
16. Price in pharmacies
Latin name: Lorotoks
ATX code: S02DA30
Active ingredients: lidocaine (Lidocaine) + phenazone (Phenazone)
Manufacturer: LLC "Grotex" (Russia)
Description and photo update: 2020-17-08
Prices in pharmacies: from 251 rubles.
Buy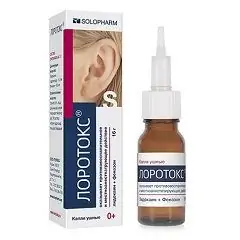 Lorotox is a combined anti-inflammatory drug for topical use in otiatrics.
Release form and composition
Dosage form - ear drops 1% + 4%: transparent, colorless or slightly colored, with a specific smell of ethyl alcohol [8 or 16 g each in glass bottles sealed with a screw cap; in a cardboard box 1 bottle and a screw-on polymer dropper in a blister made of polymer film with paper (or without a blister), packed together with instructions for use of Lorotox].
Composition per 1000 mg of the drug:
active ingredients: lidocaine - 10 mg (in the form of lidocaine hydrochloride monohydrate - 10.7 mg) and phenazone - 40 mg;
auxiliary components: ethanol 95% - 221.8 mg; sodium thiosulfate pentahydrate - 1 mg; 1 M sodium hydroxide solution - up to pH 5–7.5; water for injection - 18.2 mg; glycerol anhydrous - up to 1000 mg.
Pharmacological properties
Pharmacodynamics
Lorotox, in accordance with clinical guidelines for the treatment of otitis media, quickly and effectively relieves pain and inflammation.
The therapeutic effect of the drug is due to the pharmacological effect of the active and auxiliary components that make up the drops:
phenazone: an antipyretic analgesic from the pyrazolone group, has an anti-inflammatory and analgesic effect;
lidocaine: local anesthetic, has a local anesthetic effect;
ethanol: ethyl alcohol, antiseptic;
glycerol (glycerin): organic compound, dermatoprotectant that protects and softens the skin.
Pharmacokinetics
Lorotox drops in patients with an intact tympanic membrane do not enter the systemic circulation.
Indications for use
Lorotox is used for local symptomatic treatment and pain relief for otitis media with intact tympanic membrane in adult patients and children from birth, including the following cases:
acute exudative otitis media;
otitis media due to complications after influenza, exudative viral otitis media;
barotraumatic otitis media.
Before using the medicinal product, if necessary, consult a doctor.
Contraindications
Absolute:
violation of the integrity (perforation) of the tympanic membrane, including infectious or traumatic;
hypersensitivity to pyrazolone derivatives (drugs containing metamizole sodium or phenylbutazone);
increased individual sensitivity to any substances that make up the drops.
When prescribing Lorotox ear drops, you should first make sure that the patient does not have a perforation of the tympanic membrane. When treating patients with violation of the integrity of the tympanic membrane, the instilled solution can penetrate into the middle ear, come into contact with its organs and lead to the appearance of labyrinthine disorders and complications from the organ of hearing.
Lorotox, instructions for use: method and dosage
Ear drops Lorotox are intended for topical application by instillation into the external auditory canal on the affected side.
From birth, adults and children are instilled 4 drops 2-3 times a day. The duration of therapy should not be more than 10 days.
Before the start of instillation, it is recommended to hold the bottle in your hand for some time to warm it, in order to avoid discomfort when cold liquid gets into the ear.
Lorotox is instilled when the patient lies with the affected ear up. The patient should remain in this position for several minutes after the completion of the procedure.
In the case when after 2-3 days of therapy there is no improvement, or symptoms of deterioration are observed, you should consult a doctor.
If at the end of treatment there is no improvement or new symptoms of the disease appear, specialist advice is required.
It is important to use Lorotox according to the method of application and dosing regimen specified in the instructions.
Side effects
With instillation of ear drops, it is possible to develop local reactions of hypersensitivity, hyperemia and / or irritation of the ear canal.
The appearance or aggravation of any side effects listed in the instructions, or the development of negative actions not specified in it, must be immediately reported to the doctor.
Overdose
Until now, no cases of overdose of Lorotox have been reported.
special instructions
The course of application of Lorotox ear drops should not exceed 10 days, after which it is required to verify the diagnosis and revise the prescribed therapy.
It is necessary to use Lorotox in combination with other ear drops with a minimum of 30-minute break between instillations into the external auditory canal.
Due to the fact that one of the active components of drops during doping testing is capable of giving a positive reaction, they are not recommended for athletes to use before passing control samples.
Before starting treatment, you must carefully read the instructions, and then save, as it may be needed again. If you have any questions, you should consult a doctor.
Influence on the ability to drive vehicles and complex mechanisms
Lorotox therapy does not affect the psychophysical abilities of a person.
Application during pregnancy and lactation
Instillations of Lorotox to patients with an intact tympanic membrane and adherence to the prescribed dosage regimen reduce the likelihood of its active substances entering the systemic circulation to an extremely low level. Therefore, in the absence of other contraindications, it is allowed to use the drug for pregnant and breastfeeding women.
Pregnant women, pregnant women or women who are breastfeeding should seek the advice of a doctor before starting therapy.
Pediatric use
In pediatrics, there are no age restrictions on the use of Lorotox, the drug can be used to treat children from birth.
Drug interactions
Currently, there is no information on the pharmacological interaction of Lorotox with other drugs.
Analogs
Lorotox analogs are Maxicold Ototita, Lidocaine + Fenazone, Otyrelax, Folicap, etc.
Terms and conditions of storage
Store at a temperature not exceeding 25 ° C. Keep out of the reach of children.
The shelf life is 3 years.
After opening the bottle should be used no longer than 6 months.
Terms of dispensing from pharmacies
Available without a prescription.
Reviews about Lorotox
Most patients leave reviews about Lorotox of an exclusively positive nature. Ear drops are recommended by 9 out of 10 people who use them for ear pain. The drug quickly relieves the pain syndrome, because in addition to the anti-inflammatory, it also exhibits a local anesthetic and analgesic effect. In addition, the drug has such advantages as affordability, ease of use, and budgetary cost. It is important that Lorotox can be buried in babies from birth, pregnant and lactating women. Many people think that the drug should be in any emergency medicine cabinet, especially in families with children.
In isolated cases, it is noted that the drug quickly helped, but caused the development of allergic reactions after instillation, in the form of sore throat and coughing. Many are unhappy with the short shelf life after opening the bottle.
The price of Lorotox in pharmacies
The approximate price of Lorotox, ear drops 1% + 4%, for 1 bottle (bottle) of insulin 16 g is from 278 to 360 rubles.
Lorotox: prices in online pharmacies
Drug name
Price
Pharmacy
Lorotox 1% + 4% ear drops 16 g 1 pc.
251 RUB
Buy
Lorotox ear drops 1% + 4% fl. 16g No. 1
278 r
Buy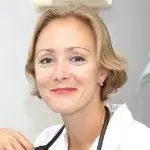 Anna Kozlova Medical journalist About the author
Education: Rostov State Medical University, specialty "General Medicine".
Information about the drug is generalized, provided for informational purposes only and does not replace the official instructions. Self-medication is hazardous to health!
Popular by topic