Table of contents:
Video: Treatment In A Pressure Chamber - Basic Principles, Indications, Advantages
Treatment in a pressure chamber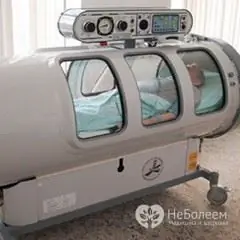 In order to understand what treatment in a pressure chamber gives, or, as it is also called, the method of hyperbaric oxygenation, let's recall some basic information from the field of medicine. It is known that the majority of chronic inflammatory diseases are due to the fact that oxygen supply to the inflammatory focus is impaired. Edema compresses the blood vessels, blood supply deteriorates, in conditions of a lack of oxygen, defense mechanisms work poorly, as a result, the inflammation turns into a chronic stage - sluggish, but not disappearing. This is how you can schematically represent any chronic disease, including long-term non-healing wounds of any origin.
The method of treatment in a pressure chamber is the supply of an oxygen-enriched gas mixture under pressure to the chamber where the patient is. Dosage and residence time are calculated individually. This method allows oxygen to penetrate into tissues experiencing hypoxia - oxygen starvation, and eliminate this problem.
I must say that the scope of treatment in a pressure chamber is extremely wide. These are not only chronic inflammatory diseases, but also diseases associated with impaired blood circulation: post-stroke and post-infarction conditions, other types of ischemia, multiple sclerosis, extensive fungal lesions, diabetes mellitus.
In recent years, pressure chamber treatment has become very popular in the treatment of obesity. Oxygen is required to burn fat, which is why people who are overweight are advised to spend as much time in movement in the fresh air as possible. However, not always an obese person can actively move, because obesity creates an increased load on the musculoskeletal system, and the cardiovascular system in such patients, and under normal load, works for wear and tear. Treatment sessions in a pressure chamber allow you to create a concentration of oxygen in the blood that allows you to experience the effect of jogging in the fresh air, avoiding additional stress on the joints and heart. Of course, for effective weight loss, diet is also necessary, but provided that dietary restrictions are in place, the process of losing weight with the participation of the pressure chamber goes much faster.and the patient's well-being is better.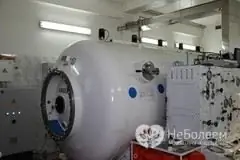 Treatment in a pressure chamber is also used as part of detoxification measures for various poisonings, for example, for carbon monoxide poisoning - oxygen under pressure helps to expel toxic compounds from the blood. One of the significant advantages of the method is its safety and good patient tolerance. In addition, treatment in a pressure chamber allows you to reduce the amount of potent drugs, and hence the possibility of developing allergic reactions, which often accompany the therapy of chronic diseases.
Found a mistake in the text? Select it and press Ctrl + Enter.
Popular by topic