Table of contents: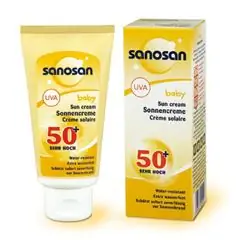 Video: Sanosan - Instructions For Use, Reviews, Indications
Sanosan
Instructions for use:
1. Description and method of application of funds
2. Remedies for stretch marks
Prices in online pharmacies:
from 230 rubles.
Buy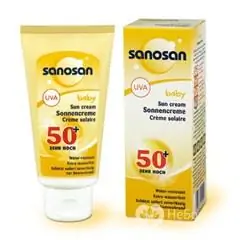 Sanosan is a series of skin care products for babies, nursing mothers, pregnant women.
Description and method of application of Sanosan products
Sanosan is a German brand owned by the manufacturer Mann & Schroeder. The company produces various cosmetic products for the care of the skin of children from the first days of their life and special products for pregnant and lactating women.
The main series of Sanosan "Baby" includes:
foam and cream-gel for washing. The products do not contain paraffin oil, are convenient to use, do not irritate the mucous membranes of the eyes;
universal remedy Sanosan for washing hair and body. Also does not contain paraffin oil, does not irritate the eyes, suitable for sensitive baby skin;
shampoo for babies. Reviews of Sanosan shampoo confirm that it is suitable for fine hair of a child, prevents dryness of the scalp;
wet wipes soaked in lotion. Designed for wiping hands, face and body;
special wet wipes Sanosan, impregnated with olive oil and milk protein. Designed to relieve inflammation and irritation, quickly cleanse the skin when changing a diaper;
Sanosan cleansing oil, designed to cleanse the skin when changing a diaper. The oil contains bisabolol, calendula extract, vitamin E;
baby soap for daily use. Judging by the reviews about Sanosan soap, even with frequent use it does not dry out the skin, it is suitable for newborn children;
body milk Sanosan with a moisturizing effect, applied after bathing the child. Contains panthenol, chamomile extract, shea butter, promotes the healing of microtraumas and irritations on the skin. The tool is recommended to be applied to the skin of a child after a long stay in the sun;
Sanosan oil. Recommended for massage and cleansing the skin of children in the panties area. The product has a soothing effect on the skin, relieves irritation, contains soy, olive, almond oil, vitamin E, calendula extract, bisabolol;
cream Sanosan with panthenol protective. It is used to relieve redness, irritation, diaper rash. To achieve the maximum effect, the cream is recommended to be applied at least 4 times a day. The same remedy can be used by nursing mothers to treat and prevent the appearance of inflammation and cracks in the nipples;
powder for skin Sanosan. Contains milk protein, olive oil, allantoin and zinc oxide, protects the baby's skin from chafing, removes excess moisture, prevents irritation, dries the skin;
diaper rash cream Sanosan. It is applied under a diaper, contains d-panthenol, zinc, talc, soothes the skin, prevents irritation;
protective cream Sanosan against bad weather and wind. The agent is used before going out for a walk - it protects baby skin from chapping and exposure to sunlight. Contains avocado oil and almond oil;
bath foam and Sanosan moisturizing lotion containing lavender oil. These are special products with a calming effect, recommended for use at bedtime. Foam Sanosan is added to the bath (about 15 ml) or used instead of a bathing gel, and the lotion is applied to the skin of children after washing.
The Mama Sanosan series, developed for pregnant and breastfeeding women, includes the following special products:
cooling cream Sanosan for the prevention of edema on the legs during pregnancy. Contains menthol, arnica extract, shea butter. The cream relieves the feeling of heaviness, puffiness, cools the skin. Apply it 1-2 times a day, massaging the legs from the bottom up;
cream shower gel Sanosan with a moisturizing effect. Contains panthenol and olive oil;
Sanosan gel for intimate hygiene for a pregnant woman. The product does not disturb the natural pH balance of the vaginal microflora, contains lactic acid. Reviews of Sanosan gel indicate that its regular use makes it possible to avoid irritation and discomfort in the vaginal area;
balm Sanosan for nipple skin care with lanolin. Used for the prevention, treatment of cracks in the nipples of nursing women. Apply the remedy in between feedings. You do not need to wash it off;
hand washing gel with antibacterial action. The antiseptic additionally contains moisturizing jojoba oil, suitable for disinfecting the skin of the hands in conditions when it is not possible to use water or soap;
Sanosan breast pads for nursing mothers that are inserted into the bra after breastfeeding. Two types of gaskets have been developed - conventional and Bio. Ordinary pads absorb moisture well and are made of natural materials. Bio-pads differ in that they are created for sensitive skin prone to frequent irritation - they contain cotton, produced in environmentally friendly conditions, bleached using a special technology without the use of chlorine.
Sanosan remedies for stretch marks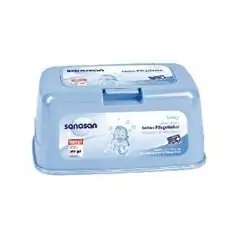 The appearance of stretch marks on the skin is one of the most common cosmetic problems that bother a woman during pregnancy, so the manufacturer paid special attention to this problem: the Sanosan "Mama" series includes three means for preventing the appearance of stretch marks:
cream Sanosan for stretch marks. Contains chitosan, jojoba oil, hibiscus seed extract. The product improves skin tone, elasticity, prevents the formation of scars and stretch marks on the skin. The cream is recommended to be applied, starting from the third month of pregnancy, on the thighs, breasts, abdomen 2 times a day;
Sanosan oil for stretch marks. The product contains jojoba oil, almond and sunflower oils, vitamin A. The product can be used from the first month of pregnancy, it is suitable for the care of sensitive, dry skin, with regular use prevents the appearance of stretch marks. Apply oil with light massage movements on the chest, buttocks, abdomen, thighs;
spray lotion Sanosan for stretch marks. Contains vitamin B3 and special components that affect connective tissue. It is recommended to apply the lotion regularly, using the pinch massage method. Judging by the reviews about Sanosan lotion, after it there is no oily sheen, it is well absorbed and easy to apply.
According to the manufacturer, all Sanosan products for children and adults are dermatologically tested in a clinical setting.
Sanosan: prices in online pharmacies
Drug name
Price
Pharmacy
Sanosan bath and shampoo for babies 200 ml (985026)
230 RUB
Buy
Sanosan moisturizing milk with panthenol fl. 200ml
267 r
Buy
Sanosan baby diaper rash cream (under a diaper) 150 ml (985309)
288 r
Buy
Sanosan baby oil with enriched formula 200ml (985126)
295 RUB
Buy
Sanosan cream-gel for bathing 200ml with dispenser (089141/985263)
330 RUB
Buy
Sanosan pure + sensitive baby cream for baby skin care 100ml (089441)
442 r
Buy
Sanosan pure + sensitive baby bath oil 200ml (089445)
RUB 536
Buy
Sanosan pure + sensitive baby oil for baby skin care 200ml (089447)
579 r
Buy
See all offers from pharmacies
Information about the drug is generalized, provided for informational purposes only and does not replace the official instructions. Self-medication is hazardous to health!
Popular by topic