Table of contents: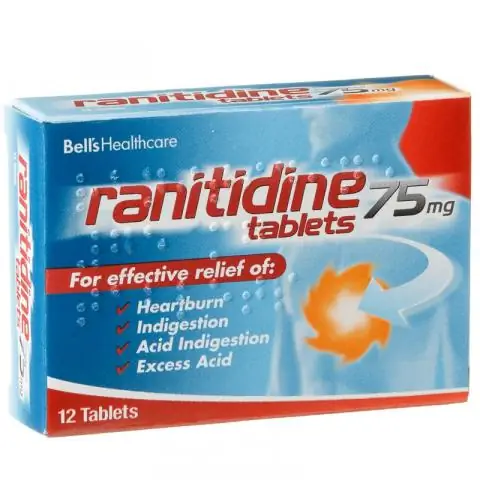 Video: Ranitidine - Instructions For The Use Of Tablets, Price, Analogs, Reviews
Ranitidine
Ranitidine: instructions for use and reviews
1. Release form and composition
2. Pharmacological properties
3. Indications for use
4. Contraindications
5. Method of application and dosage
6. Side effects
7. Overdose
8. Special instructions
9. Drug interactions
10. Analogs
11. Terms and conditions of storage
12. Terms of dispensing from pharmacies
13. Reviews
14. Price in pharmacies
Latin name: Ranitidin
ATX code: A02BA02
Active ingredient: ranitidine (ranitidine)
Producer: Tyumen Chemical-Pharmaceutical Plant (Russia), Severnaya Zvezda CJSC (Russia), Ozon LLC (Russia), AVEXIMA OJSC (Russia), Sopharma (Bulgaria), Hemofarm (Serbia), Shreya Life Sciences (India), Panacea Biotec (India), JAKA-80 (Macedonia), FC "Health" (Ukraine), Mapichem (Switzerland) and others
Description and photo update: 2019-14-08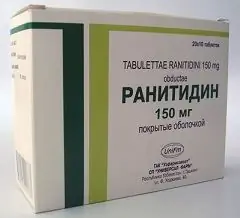 Ranitidine is an antiulcer drug that blocks H 2 -histamine receptors.
Release form and composition
Dosage form - film-coated tablets: round, biconvex, light orange (in blisters of 10 tablets, 2 blisters in a cardboard box).
Active ingredient: ranitidine (in the form of hydrochloride) - 150 or 300 mg in 1 tablet.
Auxiliary components: Kollidon VA-64, corn starch, colloidal silicon dioxide, propylene glycol, polyethylene glycol 6000, sodium lauryl sulfate, hypromellose, magnesium stearate, ethyl cellulose, microcrystalline cellulose, titanium dioxide, sunset yellow dye.
Pharmacological properties
Pharmacodynamics
Ranitidine is a blocker of histamine H 2 receptors of parietal cells that make up the gastric mucosa. It suppresses basal and stimulated production of hydrochloric acid caused by food stress, irritation of baroreceptors and the effects characteristic of biogenic stimulants (pentagastrin, gastrin, histamine) and hormones. Ranitidine helps to reduce the volume of gastric juice and the concentration of hydrochloric acid in it and increases the pH of the stomach contents. This explains the decreased activity of pepsin during drug treatment. The duration of its action after a single dose is about 12 hours.
Pharmacokinetics
When taken orally, the bioavailability of ranitidine is approximately 50%. The substance binds to plasma proteins by no more than 15% and partially participates in the metabolic processes occurring in the liver. Its maximum plasma content is reached 2 hours after taking the tablets. The half-life of ranitidine is 2–3 hours. Approximately 30% of the taken dose of the drug is excreted through the kidneys unchanged, a small amount of ranitidine through the intestines. The substance crosses the placental barrier and is determined in breast milk.
Indications for use
Exacerbation of gastric ulcer and 12 duodenal ulcer (treatment and prevention);
Zollinger-Ellison syndrome;
Erosive esophagitis and reflux esophagitis;
Stomach ulcer and 12 duodenal ulcer, developed as a result of taking non-steroidal anti-inflammatory drugs (NSAIDs);
Postoperative and stress ulcers of the upper gastrointestinal tract (treatment and prevention);
Prevention of Mendelssohn's syndrome (aspiration of gastric juice) during operations using general anesthesia;
Prevention of recurrent bleeding from the upper gastrointestinal tract.
Contraindications
Absolute:
Children under 12 years of age;
Pregnancy and lactation period;
Individual hypersensitivity to the components of Ranitidine.
Relative:
Liver cirrhosis with a history of portosystemic encephalopathy;
Hepatic and / or renal failure;
Acute porphyria, including a history of.
Instructions for use of Ranitidine: method and dosage
Ranitidine tablets should be taken orally: swallow whole and drink plenty of liquid. Food intake does not affect the effectiveness of the drug.
Recommended dosages for adults and children over 12 years old, depending on the indications:
Peptic ulcer and 12 duodenal ulcer: treatment of exacerbations - 150 mg in the morning and evening or 300 mg at night, in some cases it is possible to increase the dose to 300 mg 2 times a day, the course of treatment is from 4 to 8 weeks; prevention of exacerbations - 150 mg 1 time per day at night, smoking patients - 300 mg at night;
Peptic ulcer due to NSAID intake: treatment - 150 mg in the morning and evening or 300 mg at night for 8-12 weeks; prevention - 150 mg each morning and evening;
Postoperative and stress ulcers: 150 mg 2 times a day for 4-8 weeks;
Zollinger-Ellison syndrome: 150 mg 3 times a day, if necessary, increase the dose;
Erosive reflux esophagitis: 150 mg in the morning and in the evening or 300 mg at night, in some cases the doctor may increase the dose to 150 mg 4 times a day, the duration of therapy is 8-12 weeks. If necessary, long-term preventive therapy is prescribed at 150 mg 2 times a day;
Prevention of recurrent bleeding from the upper gastrointestinal tract: 150 mg 2 times a day;
Prevention of Mendelssohn's syndrome: 150 mg the evening before surgery, then 150 mg 2 hours before anesthesia.
In renal failure (creatinine clearance less than 50 ml / minute), the daily dose should not exceed 150 mg.
Patients with concomitant liver dysfunction may also need to reduce the daily dose.
Side effects
Allergic reactions: bronchospasm, skin rash, urticaria, anaphylactic shock, Quincke's edema, erythema multiforme;
From the side of the cardiovascular system: atrioventricular block, bradycardia, decreased blood pressure, arrhythmia;
From the musculoskeletal system: myalgia, arthralgia;
From the nervous system: headache, drowsiness, dizziness, fatigue; rarely - tinnitus, involuntary movements, irritability, confusion, hallucinations (more often in the elderly and seriously ill patients);
From the side of hematopoiesis: bone marrow hypo- and aplasia, agranulocytosis, immune hemolytic anemia, thrombocytopenia, leukopenia, pancytopenia;
From the digestive system: dry mouth, abdominal pain, diarrhea / constipation, nausea and / or vomiting; rarely - acute pancreatitis, cholestatic, hepatocellular or mixed hepatitis;
From the endocrine system: amenorrhea, gynecomastia, decreased libido, hyperprolactinemia, impotence;
From the senses: paresis of accommodation, blurred visual perception;
Others: hypercreatininemia, alopecia.
Overdose
In case of an overdose of Ranitidine, the following symptoms may occur: ventricular arrhythmias, bradycardia, convulsive seizures. In this case, symptomatic therapy is recommended, as well as gastric lavage and / or induction of vomiting. When seizures occur, diazepam is given intravenously. For bradycardia, atropine is prescribed, and for ventricular arrhythmias, lidocaine. Hemodialysis is considered to be an effective procedure for removing ranitidine.
special instructions
Due to the fact that Ranitidine can mask the symptoms characteristic of gastric carcinoma, it is necessary to exclude the presence of oncology before its appointment.
During the period of therapy, it is recommended to refrain from consuming drinks, food and drugs that can irritate the gastric mucosa, as well as from driving a car and performing potentially hazardous work that require speed of psychophysical reactions and increased attention.
In debilitated patients, with prolonged use of the drug under stress, bacterial gastric lesions are possible, followed by the spread of infection.
Like all H 2 -histaminoblockers, Ranitidine should not be canceled abruptly (there is a risk of "rebound" syndrome).
If necessary, the simultaneous use of blockers of histamine H 2 -receptors should be taken 2 hours after taking ketoconazole / itraconazole, otherwise a significant decrease in their absorption is possible.
According to the instructions, Ranitidine can increase the activity of glutamate transpeptidase.
There is some evidence that the drug can cause acute attacks of porphyria.
Blockers of histamine H 2 -receptors can counteract the effect of histamine and pentagastrin on the acid-forming function of the stomach, therefore, it is not recommended to use them within 24 hours before the test.
During treatment with Ranitidine, it is possible to obtain a false positive reaction when performing a test for the presence of protein in urine.
Because histamine H 2 receptor blockers can suppress the cutaneous reaction to histamine, they should be discontinued before diagnostic skin tests are performed to detect an immediate allergic skin reaction.
Drug interactions
It should be borne in mind that ranitidine:
Inhibits the metabolism in the liver of indirect anticoagulants, calcium antagonists, aminophenazone, glipizide, diazepam, lidocaine, metronidazole, propranolol, phenazone, theophylline, hexobarbital, buformin, aminophylline, phenytoin;
Increases serum concentration and half-life of metoprolol;
Reduces the absorption of ketoconazole and itraconazole.
Smoking reduces the effectiveness of ranitidine.
With the simultaneous use of drugs that have a depressing effect on the bone marrow, the risk of developing neutropenia increases.
Antacids and high doses of sucralfate can slow the absorption of ranitidine, so at least 2-hour intervals should be observed between doses.
Analogs
Analogues of Ranitidine are: Ranitidine Sopharma, Atsilok, Ranisan, Ranitidin-LekT, Zantak, Ranitidin-AKOS, Gistak, Zoran, Ranitidin-Ferein, Ulran.
Terms and conditions of storage
Store in a dry place, out of reach of children, at a temperature of 15-30 ° C.
The shelf life is 3 years.
Terms of dispensing from pharmacies
Available without a prescription.
Reviews of Ranitidine
The drug allows for a short period of time to stop the pain syndrome in the epigastric region with ulcerative lesions of the gastrointestinal tract and gastropathy, which is due to a decrease in the acidity of gastric juice. Mostly positive reviews about Ranitidine predominate, since it is well tolerated and does not cause adverse reactions when used in therapeutic doses. Many patients note such advantages of the remedy as low cost and quick elimination of an attack of heartburn.
Ranitidine tablets can be used in case of emergency if diet is not followed, which leads to exacerbations of gastritis or peptic ulcer disease. Some patients complain that it is strictly forbidden to take the drug during pregnancy and lactation.
The price of Ranitidine in pharmacies
The approximate price for Ranitidine with a dosage of 150 mg is 35-60 rubles (the package includes 30 tablets), 13-20 rubles (the package includes 20 tablets) or 50-70 rubles (the package includes 60 tablets), depending on the manufacturer. A drug with a dosage of 300 mg will cost about 29-42 rubles (the package contains 20 tablets).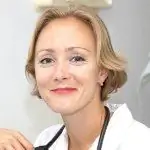 Anna Kozlova Medical journalist About the author
Education: Rostov State Medical University, specialty "General Medicine".
Information about the drug is generalized, provided for informational purposes only and does not replace the official instructions. Self-medication is hazardous to health!
Popular by topic