Table of contents: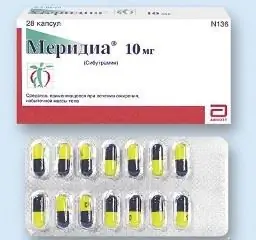 Video: Meridia - Instructions For Use, Indications, Doses, Analogues
Meridia
Instructions for use:
1. Release form and composition
2. Indications for use
3. Contraindications
4. Method of application and dosage
5. Side effects
6. Special instructions
7. Drug interactions
8. Analogs
9. Terms and conditions of storage
10. Terms of dispensing from pharmacies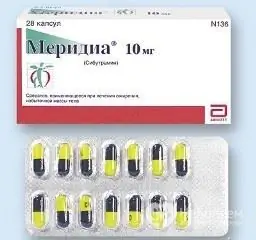 Meridia is a drug used for the maintenance treatment of patients with alimentary obesity.
Release form and composition
Meridia is available in the form of capsules: hard gelatinous, with a blue lid and a yellow (10 mg) or white (15 mg) body, with an inscription (depending on the dose) "10" or "15"; the contents of the capsules are an easily free-flowing powder of almost white or white color (10 mg each: 7 pcs. in blister packs, 2 packs in a cardboard box; 14 pcs. in blisters, 1.2 or 6 packs in a cardboard box) pack; 15 mg each - 14 pcs. in packs, 2 packs in a cardboard box).
1 capsule contains:
Active ingredient: sibutramine hydrochloride monohydrate - 10 mg;
Auxiliary components: sodium lauryl sulfate, microcrystalline cellulose, lactose monohydrate, colloidal silicon dioxide, magnesium stearate, gelatin, titanium dioxide (E171), indigotin (E132), gray ink, quinoline yellow (dye E104).
Indications for use
Meridia is prescribed for maintenance therapy in overweight patients with the following indications:
Alimentary obesity with a body mass index of 30 kg / m 2 and more;
Alimentary obesity with a body mass index of 27 kg / m 2 or more in the presence of other risk factors that are caused by overweight, such as lipid metabolism disorders (dyslipoproteinemia) or type 2 diabetes mellitus.
Contraindications
Obesity with organic causes;
Glaucoma;
Serious eating disorders (established and known) in the form of anorexia nervosa (exhaustion) or bulimia nervosa (excessive cravings for food);
Neurological pathology (Gilles de la Tourette's syndrome);
Diseases of a mental nature;
Established violations of the cardiovascular system: chronic heart failure in the stage of decompensation, ischemic heart disease, arrhythmia, congenital heart defects, tachycardia, occlusive peripheral arterial disease, cerebrovascular disease (transient cerebrovascular accident, stroke);
Severe functional disorders of the liver and kidneys;
Increased thyroid function (hyperthyroidism);
A hormonally active tumor of the adrenal gland (pheochromocytoma);
The presence of inadequately controlled arterial hypertension (blood pressure> 145/90 mm Hg);
Established pharmacological, alcohol and drug addiction;
Benign enlargement of the prostate with the formation of residual urine (benign prostatic hyperplasia);
Simultaneous use of monoamine oxidase inhibitors, as well as a period of 14 days after their cancellation (after taking Meridia, you should also maintain a two-week interval before taking MAO inhibitors);
Combination therapy with other drugs for weight loss or drugs acting on the central nervous system (antipsychotics, antidepressants), drugs used for sleep disorders (tryptophan) or mental disorders;
Pregnancy and lactation;
Age under 18;
Age from 65 years;
Hypersensitivity to drug components.
Women of childbearing age need to use contraception while taking Meridia.
Method of administration and dosage
Meridia is taken orally without chewing and drinking a sufficient amount of liquid (a glass of water), preferably in the morning. The capsules can be combined with meals or taken on an empty stomach.
At the beginning of therapy, 10 mg of Meridia is prescribed daily. In the absence of efficacy (the criterion is weight loss by less than 2 kg per month), if the drug is well tolerated, an increase in the daily dose to 15 mg is possible. In patients who are weakly responsive to taking 15 mg of Meridia (the criterion is weight loss of less than 4 kg per month), further therapy is inappropriate.
If you miss taking the drug, you should not take a double dose, changing the usual dosage regimen. In patients who do not respond well to therapy (weight loss is less than 5% of the initial level in 3 months of therapy), the course should not last longer than 3 months. Treatment should not be continued if, against the background of further admission after the achieved weight loss, the patient gains 3 kg or more in weight.
The duration of therapy (using 10 or 15 mg of Meridia) should not exceed 1 year (due to the lack of sufficient information about the safety and effectiveness of therapy over a period longer than the specified period).
During treatment, patients are advised to change their habits and lifestyle so that, after completing the course of therapy, the achieved weight loss is maintained (if these requirements are not observed, a repeated increase in body weight is inevitable).
The doctor can change the dosage regimen recommended in the instructions.
Side effects
Most often, side effects develop during the first month of therapy. Their frequency and severity diminish over time. In general, violations are reversible and mild (> 10% - often, 1-10% - sometimes, <1% - rarely):
Digestive system: often - constipation, loss of appetite; sometimes - exacerbation of hemorrhoids, nausea;
Cardiovascular system and blood (hemostasis, hematopoiesis): sometimes - palpitations, tachycardia, increased blood pressure, vasodilation (redness of the skin with a feeling of warmth), a moderate increase in heart rate (by 3-7 beats per minute) and a moderate rise in blood pressure at rest (by 1-3 mm Hg); in some cases, a more pronounced increase in blood pressure and an increase in heart rate (clinically significant changes in pulse and blood pressure are recorded mainly at the beginning of treatment (in the first 1-2 months));
Skin: sometimes sweating;
Nervous system and sensory organs: often - insomnia, dry mouth; sometimes - anxiety, headache, dizziness, change in taste, paresthesia (skin sensitivity disorders).
In isolated cases, when using Meridia, the following clinically significant disorders are described:
Kidney disease in the form of acute interstitial nephritis, mesangiocapillary glomerulonephritis;
Transient increase in the activity of liver enzymes;
Purpura Shenlein-Genoch;
Thrombocytopenia;
Seizures;
Acute psychosis (in one patient with schizoaffective disorder, presumably existing before the start of the drug).
special instructions
Meridia should only be taken with well-defined conditions and special precautions. Before starting therapy, you should consult a specialist.
Meridia is recommended to be taken in cases where all weight loss measures are ineffective (the criterion is a decrease in body weight by less than 5 kg over 3 months).
Therapy should be carried out only in a comprehensive manner (including changes in lifestyle and diet necessary to maintain the achieved weight loss after drug treatment is canceled), following the recommendations of a specialist with practical experience in treating obesity.
Patients taking Meridia need to monitor their blood pressure and heart rate. During the first 2 months of treatment, these parameters should be monitored every 14 days, then once a month. In case of arterial hypertension (blood pressure above 145/90 mm Hg), control of these parameters, if necessary, should be carried out more often and especially carefully. Therapy should be interrupted if the blood pressure twice exceeds 145/90 mm Hg upon repeated measurement.
Caution must be observed in combination therapy with drugs that increase the QT interval (sertindole, terfenadine, astemizole, amiodarone, quinidine, flecainide, propafenone, mexiletine, sotalol, pimozide, cisapride, tricyclic antidepressants), and in conditions that can lead to an increase in the interval QT (for example, with hypokalemia and hypomagnesemia).
When carrying out regular medical monitoring of the patient's condition taking Meridia, special attention should be paid to chest pain, progressive dyspnea and edema in the legs (the relationship between taking the drug and the development of primary pulmonary hypertension has not been established).
Also, care must be taken in the presence of the following diseases / conditions:
Epilepsy;
Functional disorders of the liver of moderate and mild severity (due to a possible increase in the concentration of sibutramine in the blood plasma);
Functional disorders of the kidneys of moderate and mild severity (due to the excretion of inactive metabolites of the drug by the kidneys);
Anamnestic data on motor or verbal tics (uncontrolled spontaneous muscle contractions, as well as articulation disorders);
Simultaneous use with drugs that increase blood pressure and heart rate (including drugs used for coughs, allergies and colds).
With the cancellation of Meridia, in rare cases, the development of disorders in the form of headaches and increased appetite is possible; there is no information on the development of withdrawal symptoms, mood disorders or withdrawal symptoms.
Due to the need to follow the diet, it is not recommended to consume alcohol during therapy.
Drugs acting on the central nervous system can limit memory, mental activity, and the speed of reactions. In this regard, care must be taken when prescribing Meridia to vehicle drivers and patients whose profession is associated with increased concentration.
Drug interactions
When combined therapy of Meridia with certain drugs, the following effects may occur:
Medicines that inhibit the activity of the CYP3A4 enzyme (troleandomycin, ketoconazole, erythromycin, cyclosporin): an increase in the plasma concentration of sibutramine metabolites, a clinically insignificant lengthening of the QT interval (by 9.5 ms), an increase in heart rate (by 2.5 beats per minute);
Rifampicin, dexamethasone, phenytoin, phenobarbital, carbamazepine, macrolide antibiotics: accelerating the metabolism of sibutramine;
Drugs that increase the level of the neurotransmitter serotonin in the blood plasma (dihydroergotamine, sumatriptan, selective serotonin reuptake inhibitors, potent pain relievers (pethidine, pentazocine, fentanyl), antitussives (including dextromethorphan)): an increase in the risk of serotroma syndrome.
Meridia has no effect on hormonal contraceptive drugs.
The information given on drug interactions refers to drugs used for a short period.
With the simultaneous administration of Meridia with alcohol, an increase in the negative effect of the latter was not noted. However, alcohol is not combined with the dietary measures recommended when using the drug.
Analogs
Analogs of the drug Meridia are: Goldline, Zelix, Lindaxa, Slimia, Thalia.
Terms and conditions of storage
Store in a dry place out of reach of children at temperatures up to 25 ° C.
The shelf life is 3 years.
Terms of dispensing from pharmacies
Dispensed by prescription.
Information about the drug is generalized, provided for informational purposes only and does not replace the official instructions. Self-medication is hazardous to health!
Popular by topic