Table of contents:
Video: Nitroxoline-UBF - Instructions For Use, Reviews, Price, Analogues
Nitroxoline-UBF
Nitroxoline-UBF: instructions for use and reviews
1. Release form and composition
2. Pharmacological properties
3. Indications for use
4. Contraindications
5. Method of application and dosage
6. Side effects
7. Overdose
8. Special instructions
9. Application during pregnancy and lactation
10. In case of impaired renal function
11. For violations of liver function
12. Drug interactions
13. Analogs
14. Terms and conditions of storage
15. Terms of dispensing from pharmacies
16. Reviews
17. Price in pharmacies
Latin name: Nitroxoline-UBF
ATX code: J01XX07
Active ingredient: nitroxoline (nitroxoline)
Producer: Uralbiofarm, JSC (Russia)
Description and photo updated: 2018-23-11
Prices in pharmacies: from 69 rubles.
Buy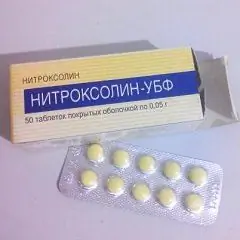 Nitroxoline-UBF is a broad-spectrum antimicrobial drug used mainly in the treatment of urinary tract diseases.
Release form and composition
Dosage form of Nitroxoline-UBF - coated tablets: round biconvex, yellow or yellow with a greenish tint; the core is yellow or gray-yellow in cross section, a slight green tint is allowed (in a cardboard box 1–3 or 5 blisters of 10 tablets each or 1 polymer can of 25, 30, 40, 50, 60 or 100 tablets).
Composition of 1 tablet:
active substance: nitroxoline - 50 mg;
auxiliary components: colloidal silicon dioxide - 3 mg; lactose monohydrate - 22 mg; talc - 3 mg; potato starch - 21 mg; calcium stearate - 1 mg to obtain a 100 mg tablet (uncoated);
shell: magnesium hydroxycarbonate - 17.17 mg; sucrose - 78.66 mg; titanium dioxide - 1.27 mg; povidone - 0.93 mg; colloidal silicon dioxide - 1.23 mg; talc - 0.15 mg; yellow quinoline dye - 0.54 mg; wax - 0.5 mg to obtain a tablet weighing 200 mg (with a shell).
Pharmacological properties
Pharmacodynamics
Nitroxoline-UBF is one of the broad-spectrum antimicrobial drugs. Its active component, nitroxoline, selectively inhibits the synthesis of bacterial DNA (deoxyribonucleic acid), forming complexes with metal-containing enzymes of the microbial cell.
Nitroxoline acts on gram-positive and gram-negative microorganisms: Staphylococcus spp. (including Staphylococcus aureus), Streptococcus spp. (including Streptococcus pneumoniae, beta-hemolytic streptococci, Enterococcus faecalis), Bacillus spp. (including Bacillus subtilis), Corynebacterium diphtheriae, Proteus spp., Neisseria gonorrhoeae, Enterobacter spp., Escherichia coli, Klebsiella spp., Shigella spp., Salmonella spp.
Shows activity against Mycobacterium tuberculosis, Trichomonas vaginalis, as well as certain types of fungi (including Candida spp., Molds, dermatophytes, some of the causative agents of deep mycoses).
Pharmacokinetics
After oral administration, nitroxoline is absorbed from the gastrointestinal tract to a high degree. It is excreted unchanged by the kidneys. A high concentration of the substance (from 100 mg / ml) is noted in the urine.
Indications for use
infectious and inflammatory diseases caused by microorganisms sensitive to the action of nitroxoline, mainly of the urinary tract, including epididymitis, pyelonephritis, urethritis, cystitis, infected prostate adenoma / carcinoma (therapy);
diagnostic / therapeutic manipulations (catheterization, cystoscopy), the postoperative period after surgical interventions on the kidneys and urinary tract (prevention of infectious complications).
Contraindications
Absolute:
liver failure;
chronic renal failure (a- and oligonuria);
cataract;
neuritis, polyneuritis;
fructose intolerance, congenital galactose intolerance, Lapp lactase deficiency or glucose-galactose malabsorption syndrome or sucrase-isomaltase deficiency;
deficiency of glucose-6-phosphate dehydrogenase;
pregnancy and lactation;
individual intolerance to the components of the drug, as well as to drugs of the quinoline series.
A relative contraindication is renal failure, which is associated with the possibility of cumulation (Nitroxoline-UBF is prescribed under medical supervision).
Instructions for the use of Nitroxoline-UBF: method and dosage
Nitroxoline-UBF is taken orally, preferably during meals or after meals.
The recommended daily intake for adults is 400 to 800 mg (maximum). The frequency of administration is 3-4 times a day, the intervals between single doses should be 6-8 hours.
The duration of the therapeutic course is 2-3 weeks.
In the treatment of chronic urinary tract infections, Nitroxoline-UBF can be re-prescribed for 2 weeks with a two-week break.
Average daily dose for children (divided into 4 doses):
3-5 years: 200 mg;
from 5 years: 200-400 mg.
A single dose of Nitroxoline-UBF when used prophylactically is 100 mg, the frequency of administration is 4 times a day, the duration of administration is 2-3 weeks.
Side effects
Possible side reactions: headache, polyneuropathy, paresthesia, loss of appetite, vomiting, nausea, allergic skin reactions, ataxia, tachycardia, hepatic dysfunction.
Overdose
Overdose information is not provided.
special instructions
The urine turns saffron yellow during treatment.
Application during pregnancy and lactation
According to the instructions, Nitroxoline-UBF is not prescribed during pregnancy / lactation.
With impaired renal function
chronic renal failure: therapy is contraindicated;
renal impairment: Nitroxoline-UBF should be used under medical supervision.
For violations of liver function
Therapy with Nitroxoline-UBF is contraindicated in patients with hepatic insufficiency.
Drug interactions
The simultaneous use of antacids containing magnesium and nitroxoline reduces the effectiveness of the latter.
Nitroxoline-UBF impairs the absorption of nalidixic acid.
Analogs
Analogs of Nitroxoline-UBF are: 5-NOK, Nitroxoline.
Terms and conditions of storage
Store in a place protected from light and moisture at temperatures up to 25 ° C. Keep out of the reach of children.
Shelf life is 4 years.
Terms of dispensing from pharmacies
Dispensed by prescription.
Reviews about Nitroxoline-UBF
According to reviews, Nitroxoline-UBF is effective in treating urinary tract infections. They note its low cost, availability in pharmacies, rapid relief of pain. In some cases, they indicate an insufficient therapeutic effect and the need for use in combination with other drugs. Adverse reactions may develop, most often in the form of nausea.
Price for Nitroxoline-UBF in pharmacies
The approximate price for Nitroxoline-UBF (50 tablets per pack) is 82-118 rubles.
Nitroxoline-UBF: prices in online pharmacies
Drug name
Price
Pharmacy
Nitroxoline-UBF 50 mg film-coated tablets 50 pcs.
RUB 69
Buy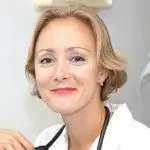 Anna Kozlova Medical journalist About the author
Education: Rostov State Medical University, specialty "General Medicine".
Information about the drug is generalized, provided for informational purposes only and does not replace the official instructions. Self-medication is hazardous to health!
Popular by topic