Table of contents: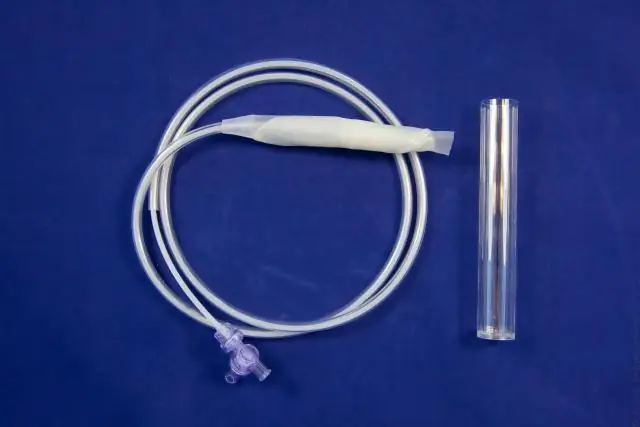 Video: Kosilon - Instructions For Use For Hair, Reviews, Price, Spray
Kosilon
Kosilon: instructions for use and reviews
1. Release form and composition
2. Pharmacological properties
3. Indications for use
4. Contraindications
5. Method of application and dosage
6. Side effects
7. Overdose
8. Special instructions
9. Application during pregnancy and lactation
10. Use in childhood
11. In case of impaired renal function
12. For violations of liver function
13. Use in the elderly
14. Drug interactions
15. Analogs
16. Terms and conditions of storage
17. Terms of dispensing from pharmacies
18. Reviews
19. Price in pharmacies
Latin name: Kosilon
ATX code: D11AX01
Active ingredient: minoxidil (Minoxidil)
Manufacturer: Bosnalijek, JSC (Bosnia and Herzegovina)
Description and photo updated: 2018-29-11
Prices in pharmacies: from 400 rubles.
Buy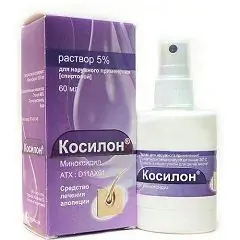 Kosilon is a drug that stimulates hair growth in androgenic alopecia.
Release form and composition
Cosilon dosage form:
spray for external use: transparent liquid from orange to pale yellow (in a cardboard box 1 polyethylene spray bottle containing 60 ml of solution);
solution for external use: transparent, from orange to light yellow (in a cardboard box 1 polyethylene bottle with a spray bottle or 1 glass bottle complete with a syringe or syringes containing 60 ml of solution).
Each pack also contains instructions for the use of Kosilon.
Composition of 1 ml spray:
active substance: minoxidil - 20 mg;
auxiliary components: 96% ethanol - 600 mg; propylene glycol - 200 mg; purified water - up to 1 ml.
Composition of 1 ml of alcohol solution:
active substance: minoxidil - 50 mg;
auxiliary components: 96% ethanol - 200 mg; propylene glycol - 700 mg; purified water - up to 1 ml.
Pharmacological properties
Pharmacodynamics
When applied topically, Minoxidil promotes hair growth in individuals with androgenic alopecia (baldness, thinning hair).
Main effects of minoxidil:
improving the microcirculation of the scalp, stimulating the transition of hair follicles to the active growing phase, changing the effect of androgens on the hair follicles;
a decrease in the formation of 5-α-dehydrosterone (possibly indirectly), which has a significant effect on the formation of baldness.
The therapeutic effect is better when the drug is used under the following concomitant circumstances:
young age;
short duration of the disease (no longer than 10 years);
the presence of more than 100 terminal and vellus hairs in the center of the bald spot;
the size of the bald spot in the region of the crown does not exceed 10 cm.
The manifestation of signs of hair growth is usually observed after 4 or more months of using Kosilon.
The beginning of the development of the effect and the degree of its severity in different patients may vary. The growth of new hair after stopping the use of minoxidil stops, and in 3-4 months the original appearance can be restored.
The exact mechanism of action of Kosilon in androgenic alopecia is unknown. In case of baldness associated with taking medications, improper diet (in patients with a deficiency of iron, vitamin A) or styling hair in tight hairstyles, Kosilon is ineffective.
Pharmacokinetics
When applied externally, Minoxidil is poorly absorbed through normal intact skin: 0.3–4.5% (on average, 1.5%) of the total applied dose enters the systemic circulation. The effect of concomitant skin diseases on the absorption of the substance is unknown.
After discontinuation of Kosilon, about 95% of the minoxidil that has entered the systemic circulation is excreted in 4 days. With external use of minoxidil, its profile of metabolic biological transformation has not yet been fully studied.
Minoxidil does not bind to plasma proteins; the substance is excreted by the kidneys by glomerular filtration. Minoxidil does not penetrate the blood-brain barrier. It is excreted mainly in the urine. It is possible to eliminate minoxidil and its metabolites by hemodialysis.
Indications for use
Cosilon is recommended for the treatment of androgenic alopecia in men and women in order to restore the hairline and to stabilize the hair loss process.
Contraindications
Absolute:
dermatoses of the scalp, violation of the integrity of the skin;
combined use with other drugs on the scalp;
age under 18 and over 65;
pregnancy and lactation;
individual intolerance to the components of the drug.
Relative (Hair mower is prescribed under medical supervision):
cardiovascular disease and arrhythmia;
renal / hepatic impairment.
Kosilon, instructions for use: method and dosage
Cosilon solution and spray are intended only for external use in the scalp area.
Regardless of the size of the treated area, the drug must be applied 2 times a day, 1 ml using a spray bottle (8 clicks). The tool is applied to the affected areas of the scalp, starting from the center. Wash your hands after application.
The maximum daily dose is 2 ml (the dose does not depend on the size of the affected area). In the absence of satisfactory hair growth as a result of using a spray for external use of 2%, as well as if it is necessary to obtain a faster effect, a solution for external use of 5% Kosilon can be used.
The drug is most effective in hair loss: men - on the crown, women - in the middle part.
The product should only be applied to dry scalp (not hair). Washing off the solution is not required. Cosilon is not intended for use on other parts of the body.
The first signs of stopping hair loss and restoring hair growth usually appear within 2-4 months of therapy. To maintain the achieved result, Kosilon must be applied continuously.
With an increase in the dose of the drug or its more frequent use, the results of therapy do not improve. If there is no improvement, after 16 weeks of treatment, Kosilon is canceled.
At the beginning of therapy, increased hair loss may be observed, which is associated with the influence of minoxidil. When using the drug, the transition of hair from the resting phase (telogen) to the growth phase (anagen) is stimulated, this is manifested by the loss of old hair and the growth of new ones in their place. Usually, a temporary increase in hair loss is noted within 2-6 weeks from the start of therapy, and then within 2 weeks the severity of this process decreases. If the patient continues to have increased hair loss, Kosilon should be discontinued and a doctor should be consulted.
After clinical improvement, the dose should be reduced to 1 ml of solution 1-2 times a week. If after 4 months a satisfactory result is not achieved, it is recommended to consult a dermatologist who, if necessary, can extend the treatment.
Before using Kosilon for the first time, spray the solution 2-3 times (until a uniform spray is achieved). In the future, the spray can be used immediately.
Side effects
When using Kosilon, there may be an increase in hair loss (associated with the transition from the resting phase to the growth phase, usually within 2-6 weeks).
Possible systemic side reactions:
respiratory system: allergic rhinitis, shortness of breath;
cardiovascular system: chest pain, fluctuations in blood pressure, changes in heart rate, heart palpitations, edema;
nervous system: dizziness, headache, neuritis, vertigo;
dermatological diseases: nonspecific allergic reactions (in the form of skin rash, urticaria), swelling of the face;
skin and subcutaneous fat: scalp itching, folliculitis, allergic contact dermatitis, seborrhea, hypertrichosis (manifested by unwanted hair growth on the body, including in women on the face).
Overdose
If Kosilon solution or spray is accidentally swallowed, or if the drug is used in excess of the recommended doses, or if it is applied to larger areas of the body / body areas, in addition to the scalp, systemic absorption of minoxidil may increase, which leads to the appearance of undesirable phenomena.
The main symptoms are: dizziness, decreased blood pressure, fluid retention, tachycardia.
Therapy:
diuretics: to eliminate fluid retention;
β-blockers: with tachycardia;
0.9% sodium chloride solution: in order to normalize blood pressure.
Sympathomimetic agents (eg, epinephrine and norepinephrine, which have excessive cardiac stimulating activity) should not be prescribed.
special instructions
Before starting therapy, you need to consult a doctor.
Cosilon should only be used on dry scalp, preferably after bathing. The break between application of the product and subsequent bathing should not be less than 4 hours.
Do not apply the product to other areas of the body, except for those indicated in the instructions.
During the therapy period, special hair care is not required, it is possible to use hairspray and other hair care products. Before using them, you need to wait until the applied solution is completely dry. There is no evidence that perm, hair coloring, or the use of hair softeners can reduce the effectiveness of the drug. However, to prevent possible irritation, make sure that Cosilon has been completely rinsed from the hair and scalp before using these chemicals.
A small amount of minoxidil can be absorbed through the skin, therefore there is a certain risk of developing systemic adverse reactions, which can manifest itself as water and salt retention, generalized / local edema, pericardial effusion, pericarditis, pericardial tamponade, tachycardia, angina pectoris, increased orthostatic hypotension, associated with some antihypertensive drugs, in particular guanethidine and its derivatives.
Patients with arterial hypertension receiving guanethidine or its derivatives should be prescribed Kosilon only under medical supervision. Patients should be monitored periodically to identify possible symptoms of systemic side effects of minoxidil. In the event of systemic adverse reactions, the drug is canceled.
With edema and fluid retention in the body, it is possible to use diuretics, with angina pectoris and tachycardia - β-blockers. Patients with a history of cardiovascular disease should take into account that during Cosilon therapy, these diseases may worsen.
Before using the drug, you should undergo a general examination, including collection and study of anamnesis. The doctor needs to be sure that the scalp is healthy.
In case of development of systemic side effects or severe skin reactions, you should stop using Kosilon and consult a doctor.
The solution contains ethyl alcohol, which can irritate and inflame the eyes. If the drug comes into contact with sensitive surfaces (mucous membranes, irritated skin, eyes), rinse the area with plenty of cold water.
When spraying Kosilon, avoid inhaling it. Wash hands thoroughly after use.
The effectiveness of therapy is significantly reduced (practically absent) in the following cases:
using a hair dryer after applying Kosilon to the scalp;
the use of hair care products that can lead to scarring, as well as deep burns to the scalp;
using hair care methods that require a strong pull of hair from the scalp (in particular, a ponytail or braiding tight braids).
Do not use Kosilon for pain, irritation, inflammation, infection of the skin, as well as in combination with other drugs that are applied to the scalp.
Influence on the ability to drive vehicles and complex mechanisms
During the period of Cosilon therapy, patients should take into account the likelihood of developing such disorders as headache, dizziness, eye irritation. In the event of the occurrence of these side effects, it is recommended to refrain from driving.
Application during pregnancy and lactation
Cosilon is not prescribed during pregnancy / lactation.
Pediatric use
Cosilon is contraindicated for patients under 18 years of age.
With impaired renal function
Treatment for renal failure should be performed with caution.
For violations of liver function
Treatment with hepatic failure should be carried out with caution.
Use in the elderly
It is contraindicated to use Kosilon for hair in patients over 65 years of age.
Drug interactions
peripheral vasodilators: patients with orthostatic hypotension have a theoretical risk of worsening the disease (no clinical confirmation);
minoxidil (oral administration): in patients with arterial hypertension, a very slight increase in the level of minoxidil in the blood is possible (there is no clinical confirmation);
some external medicines for use on the scalp: interactions may develop;
cream with betamethasone content (0.05%): decrease in systemic absorption of minoxidil;
external drugs that lead to a change in the protective functions of the skin (tretinoin, dithranol): increased absorption of minoxidil.
Analogs
Kosilon's analogs are Alerana, Generolon, Regein, Revasil, Alopeksi, etc.
Terms and conditions of storage
Store at temperatures up to 30 ° C. Keep out of the reach of children.
The shelf life is 3 years.
Terms of dispensing from pharmacies
Available without a prescription.
Reviews about Kosilon
In reviews of Cosilone, many users recommend the drug as effective and well-tolerated. In other cases, insufficient therapeutic effect and / or the development of side effects, including itching and facial hair growth in women, are indicated.
Cosilon price in pharmacies
The approximate price for Kosilon (1 bottle of 60 ml) is:
spray for external use 2% - 670 rubles;
solution for external use 5% - 1020 rubles.
Cosilon: prices in online pharmacies
Drug name
Price
Pharmacy
Kosilon 2% spray for external use 60 ml 1 pc.
RUB 400
Buy
Kosilon 5% solution for external use 60 ml 1 pc.
755 RUB
Buy
Kosilon solution outside. approx. 5% 60ml
765 RUB
Buy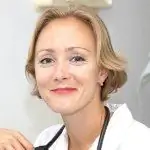 Anna Kozlova Medical journalist About the author
Education: Rostov State Medical University, specialty "General Medicine".
Information about the drug is generalized, provided for informational purposes only and does not replace the official instructions. Self-medication is hazardous to health!
Popular by topic