Table of contents: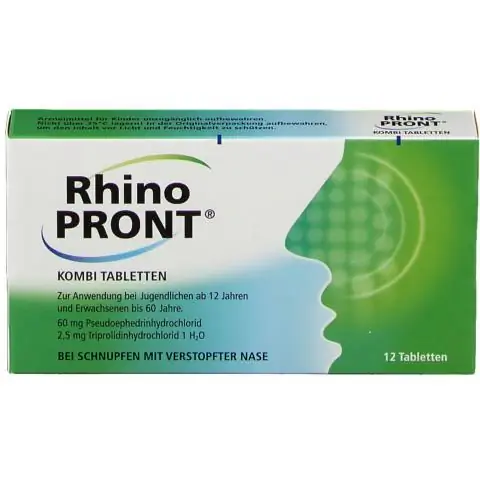 Video: Rinopront - Instructions For Use, Reviews, Price, Analogues
Rhinopront
Rinopront: instructions for use and reviews
1. Release form and composition
2. Pharmacological properties
3. Indications for use
4. Contraindications
5. Method of application and dosage
6. Side effects
7. Overdose
8. Special instructions
9. Application during pregnancy and lactation
10. Use in childhood
11. Drug interactions
12. Analogs
13. Terms and conditions of storage
14. Terms of dispensing from pharmacies
15. Reviews
16. Price in pharmacies
Latin name: Rhinopront
ATX code: R01AB01
Active ingredient: carbinoxamine + phenylephrine (carbinoxamine + phenylephrine)
Producer: OCTOBER PHARMA, SAE (Egypt)
Description and photo updated: 22.11.2018
Prices in pharmacies: from 75 rubles.
Buy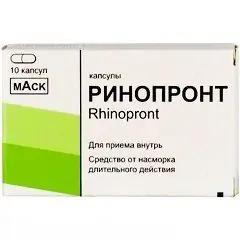 Rinopront is a complex antiallergic drug (H1-histamine receptor blocker + alpha-adrenergic agonist).
Release form and composition
Dosage forms:
capsules (in blisters of 10 pcs., in a cardboard box 1 blister);
syrup (in bottles of 90 ml with a measuring spoon included, in a cardboard box 1 set).
Active ingredients in 1 capsule:
phenylephrine hydrochloride - 0.02 g;
carbinoxamine hydrogenmaleate - 0.004 g.
Active ingredients in 5 ml syrup:
DL-norephedrine-poly (styrene) sulfonate - 1.7 g (corresponds to the content of DL-norephedrine - 0.3 g);
carbinoxamine-poly (styrene) sulfonate - 0.064 g (corresponds to the content of carbinoxamine - 0.024 g).
Pharmacological properties
Pharmacodynamics
Rinopront is a combined agent with antihistamine, local anti-inflammatory and vasoconstrictor action. The drug reduces the permeability of the capillaries of the nasal mucosa and the severity of local exudative manifestations.
Thanks to phenylephrine, which is part of it, the agent reduces swelling of the nasal mucosa and narrows the blood vessels. At 10-12 hours, Rinopront eliminates the feeling of heaviness in the head, rhinitis and burning eyes.
Indications for use
hay fever;
sinusitis;
acute rhinitis of various origins (infectious and inflammatory, allergic, vasomotor).
Contraindications
hypertension;
angle-closure glaucoma;
pheochromocytoma;
prostate adenoma;
thyrotoxicosis;
arterial hypertension;
children under 1 year old;
period of breastfeeding;
individual intolerance to the components contained in the preparation.
With caution, according to strict indications, Rinopront is used during pregnancy.
Instructions for use of Rinopront: method and dosage
According to the instructions, Rinopront is taken orally; the capsules are not chewed and washed down with 1 glass of water.
Daily dose - 2 capsules (1 pc. In the morning and evening) or 3 scoops of syrup.
Children aged 1 to 5 years are prescribed 1 scoop of syrup per day; at the age of 6 to 12 years - 2 scoops per day.
Side effects
During the period of therapy, it is possible to develop allergic skin reactions, pain in the heart, palpitations, insomnia, nervousness, lethargy, headache, dizziness, visual impairment, dyspeptic disorders, lack of appetite, dry mouth, increased blood pressure, change in blood count.
Overdose
The main symptoms: excitation of the central nervous system in children and elderly patients is possible.
special instructions
With angina pectoris, trimetazidine from the 15th day of therapy reduces the consumption of nitrates, reduces the frequency of angina attacks, limits the changes in blood pressure during exercise without changing the heart rate, increases the coronary reserve (the time until the onset of ischemic disorders during exercise).
Application during pregnancy and lactation
The drug is contraindicated for use during lactation.
During pregnancy, Rinopront is used according to strict indications, taking into account the potential risk.
Pediatric use
The drug is contraindicated for children under 1 year of age.
Drug interactions
When used in combination with Rinopront of other drugs / substances:
sedatives, alcohol: their effectiveness increases;
guanethidine, isobarine: their sympathomimetic action is potentiated;
monoamine oxidase inhibitors: combined use is contraindicated due to incompatibility;
halothane: possible development of arrhythmia.
Analogs
Rinopront analogues are: Orinol Plus, Vibrocil, Adrianol, etc.
Terms and conditions of storage
Store in a place protected from light and moisture at temperatures up to 25 ° C. Keep out of the reach of children.
The shelf life is 5 years.
Terms of dispensing from pharmacies
Available without a prescription.
Reviews about Rinopront
According to reviews, Rinopront is an easy-to-use, affordable and effective drug. Among the disadvantages are the development of side effects in the form of increased blood pressure, dry mouth and headache.
Rinopront price in pharmacies
The approximate price of Rinopront capsules (10 pcs per package) is 175 rubles.
Rinopront: prices in online pharmacies
Drug name
Price
Pharmacy
Rinopront capsules 10 pcs.
RUB 75
Buy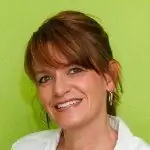 Maria Kulkes Medical journalist About the author
Education: First Moscow State Medical University named after I. M. Sechenov, specialty "General Medicine".
Information about the drug is generalized, provided for informational purposes only and does not replace the official instructions. Self-medication is hazardous to health!
Popular by topic