Table of contents: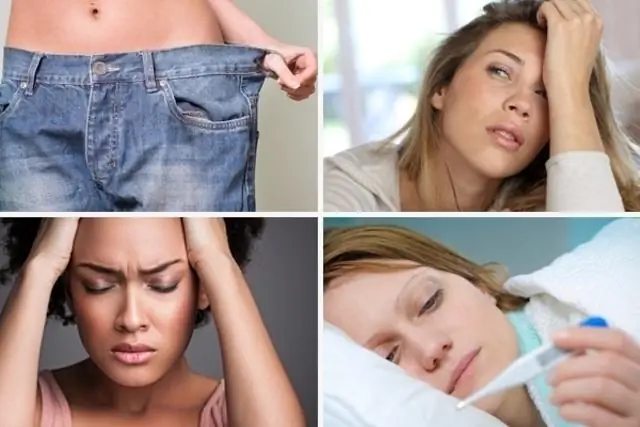 Video: Comfoderm M2 - Instructions For Using The Cream, Price, Reviews, Analogues
Comfoderm M2
Comfoderm M2: instructions for use and reviews
1. Release form and composition
2. Pharmacological properties
3. Indications for use
4. Contraindications
5. Method of application and dosage
6. Side effects
7. Overdose
8. Special instructions
9. Application during pregnancy and lactation
10. Drug interactions
11. Analogs
12. Terms and conditions of storage
13. Terms of dispensing from pharmacies
14. Reviews
15. Price in pharmacies
Latin name: Komfoderm-m2
ATX code: D07XC
Active ingredient: methylprednisolone aceponate + urea (methylprednisolone aceponate + urea)
Manufacturer: JSC "Akrikhin" (Russia)
Description and photo updated: 2018-11-07
Prices in pharmacies: from 283 rubles.
Buy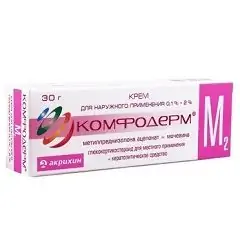 Comfoderm M2 is a topical glucocorticosteroid + keratolytic agent.
Release form and composition
Dosage form Comfoderma M2 - cream for external use 0.1% + 2%: white or almost white, with a faint odor (30 g in a tube, 1 tube in a cardboard box).
Composition of 100 g cream:
active substances: methylprednisolone aceponate (in terms of 100% substance) - 0.1 g, urea (in terms of 100% substance) - 2 g;
auxiliary components: vaseline oil, propylene glycol, polysorbate-80, carbomer interpolymer (type A), trometamol, methyl parahydroxybenzoate, purified water.
Pharmacological properties
Pharmacodynamics
Comfoderm M2 is a combined preparation, the action of which is due to the properties of its constituent components.
Methylprednisolone aceponate is a non-halogenated synthetic steroid that, when applied externally, has anti-inflammatory and anti-allergic effects, and also suppresses reactions associated with increased proliferation, reducing the symptoms of inflammation.
Systemic exposure when applied externally is minimal. Dysfunction of the adrenal glands is not observed with repeated use of the drug on extensive surfaces and under occlusive dressings.
Urea has a moisturizing and keratolytic effect. Also has proteolytic activity.
Pharmacokinetics
Methylprednisolone aceponate, when applied topically, is hydrolyzed in the epidermis and dermis. The main metabolite of the substance, 6α-methylprednisolone-17-propionate, has an affinity for the glucocorticosteroid receptors of the skin.
Absorption of the drug when applied topically in healthy people is 0.5-1.5%, in patients with psoriasis and atopic dermatitis - no more than 2.5%.
When it enters the systemic circulation, the active metabolite of methylprednisolone aceponate is inactivated by conjugating with glucuronic acid.
The half-life is 16 hours. The drug is excreted mainly by the kidneys, it does not accumulate in the body.
Urea absorption when applied topically is small and does not cause systemic reactions.
Indications for use
Comfoderm M2 cream is used for inflammatory skin lesions that are sensitive to topical glucocorticosteroids, accompanied by impaired keratinization:
neurodermatitis;
atopic dermatitis;
true eczema;
microbial eczema;
simple and allergic contact dermatitis;
dyshidrotic eczema.
Contraindications
cutaneous manifestations of syphilis or tuberculosis;
viral skin lesions such as chickenpox, shingles, etc.;
rosacea, perioral dermatitis;
skin reaction to vaccination;
age up to 18 years;
increased sensitivity to the components of the drug.
Instructions for use Comfoderma M2: method and dosage
Comfoderm M2 cream is applied externally, applying a thin layer once a day. The duration of treatment with the drug should not exceed 12 weeks, and when applied to the skin of the face - 5 days.
Side effects
Comfoderm M2 in rare cases can cause the development of the following undesirable effects: perioral dermatitis, folliculitis, hypertrichosis, skin depigmentation, allergic reactions, local reactions (itching, burning, erythema, vesicular rash).
With prolonged (more than 4 weeks) treatment with the drug and / or applying cream on more than 10% of the body surface, the following reactions may develop: telangiectasia, skin atrophy (especially when applied to the skin of the face), striae, acneform skin changes, systemic effects of corticosteroids.
Overdose
The use of Comfoderma M2 for a long time in high doses can cause skin atrophy, in this case it is recommended to cancel the drug.
special instructions
When treating dermatomycosis and bacterial complications, it is advisable, along with Comfoderm M2, to use antibacterial drugs or antimycotics.
Avoid getting the drug in the eyes. Long-term treatment, applying the cream on large areas of the skin, using occlusive dressings, or applying it to the skin around the eyes can lead to glaucoma.
Influence on the ability to drive vehicles and complex mechanisms
According to the instructions, Comfoderm M2 does not affect the ability to drive vehicles and other complex mechanisms that require psychomotor speed.
Application during pregnancy and lactation
Prescribing the drug during pregnancy is permissible only if the expected benefit to the mother outweighs the possible risk to the child, and on small areas of the skin.
Women during lactation should not use the drug on the mammary glands.
Drug interactions
The combined use of Comfoderma M2 with other ointments or creams can enhance their resorption.
Analogs
There is no information about the Comfoderm M2 analogues.
Terms and conditions of storage
Store at a temperature not exceeding 25 ° C. Keep out of the reach of children.
Shelf life is 2 years.
Terms of dispensing from pharmacies
Available without a prescription.
Reviews Comfoderm M2
Reviews of Comfoderma M2 online show the effectiveness of the drug in the fight against skin inflammation. Also, among the pluses, the quick absorption of the cream is noted.
Price for Comfoderm M2 in pharmacies
The approximate price for Comfoderm M2 is 450 rubles.
Comfoderm M2: prices in online pharmacies
Drug name
Price
Pharmacy
Comfoderm M2 0.1% + 2% cream for external use 10 g 1 pc.
283 r
Buy
Comfoderm M2 cream for outside. approx. 0.1% + 2% tube 10g
RUB 291
Buy
Comfoderm M2 0.1% + 2% cream for external use 30 g 1 pc.
452 RUB
Buy
Comfoderm M2 cream 30g
521 RUB
Buy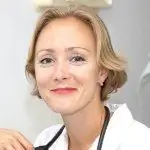 Anna Kozlova Medical journalist About the author
Education: Rostov State Medical University, specialty "General Medicine".
Information about the drug is generalized, provided for informational purposes only and does not replace the official instructions. Self-medication is hazardous to health!
Popular by topic