Table of contents: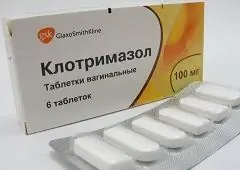 Video: Clotrimazole - Instructions, Application, Appointment
Clotrimazole
Instructions for use:
1. Pharmacological action
2. Release form
3. Indications for use
4. Contraindications
5. Instructions for use
6. Side effects
7. Storage conditions
Prices in online pharmacies:
from 23 rubles.
Buy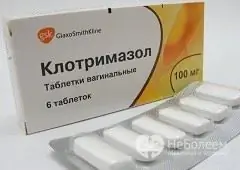 Clotrimazole is a widely used synthetic antifungal drug for external use.
pharmachologic effect
The active substance of Clotrimazole has an antifungal effect against:
Candidaalbicans;
Malasseziafurfur;
Cryptococcusneoformans;
Coccidioidesimmitis;
Trichophyton;
Blastomycesdermatitidis;
Sporothrix schenckii;
Epidermophyton;
Microsporum;
Aspergillus.
According to the instructions, Clotrimazole has a very high penetrating ability and also exhibits antichomonas, antibacterial (gram-positive microorganisms, in particular, staphylococci, streptococci, and less pronounced - corynebacteria) and anti-amebic (cysts of pathogenic nongleria) action.
Release form
Clotrimazole is available in various dosage forms:
White biconvex homogeneous, in the form of a parallelepiped with rounded edges of vaginal tablets Clotrimazole (Clotrimazole suppositories), containing 100 mg of the active ingredient - clotrimazole. 6 pieces in a blister;
White homogeneous antifungal ointment Clotrimazole for external use. 1 g of ointment contains 10 mg of active ingredient. Vtubah 30 g each;
1% cream Clotrimazole, applied externally, in tubes of 20 g;
2% clotrimazole vaginal cream, in tubes of 50 g;
1% solution for external use in orange bottles, 15 ml and 30 ml each.
Indications for the use of Clotrimazole
According to the instructions, Clotrimazole is used for fungal diseases of the skin, mucous membranes, mycoses of the skin folds and feet:
Epidermophytosis;
Erythrasme;
Dermatomycosis;
Genital infections and superinfections (vulvovaginal candidiasis, trichomoniasis);
Candidamycosis;
Superficial candidiasis caused by various types of fungi sensitive to clotrimazole;
Dermatophytosis;
Stomatitis;
Mycoses complicated by secondary pyoderma;
Pityriasis versicolor;
Microsporia.
Suppositories Clotrimazole (vaginal tablets Clotrimazole) are used to sanitize the birth canal before childbirth, as well as to prevent infection before surgery on the genitals.
Contraindications
Clotrimazole has a small list of contraindications.
The drug is not used in case of hypersensitivity to clotrimazole or other components of the drug, as well as in the first trimester of pregnancy.
In the second or third trimesters of pregnancy and during lactation, Clotrimazole tablets are used with caution, strictly according to indications.
Instructions for the use of Clotrimazole
Clotrimazole vaginal tablets are injected into the vagina usually in the evening, as deep as possible in the supine position. To do this, use the applicator included in the package. The course is - 1 suppository Clotrimazole daily for 6 days.
Repeated treatment with Clotrimazole is prescribed by a doctor.
For candidal vulvitis or candidal balanitis, suppositories are used simultaneously with Clotrimazole cream, which is applied externally several times a day to the affected areas for one to two weeks. In case of trichomoniasis, it is recommended to combine the use of Clotrimazole suppositories with chemotherapeutic drugs inside (metronidazole).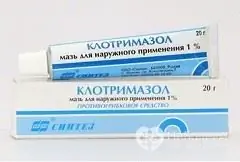 Ointment Clotrimazole for external use is applied to clean affected areas of the skin with a thin layer several times a day, rubbing gently. The duration of treatment depends on the location, severity of the disease and the effectiveness of therapy:
Dermatomycosis is treated for at least a month;
Pityriasis versicolor - up to three weeks;
Fungal diseases of the skin of the legs - therapy is continued for at least two weeks after the symptoms disappear.
Clotrimazole cream can also be used to treat these diseases.
After applying Clotrimazole ointment, do not apply sealed dressings.
Side effects
With external application of Clotrimazole ointment, edema may occur, as well as burning, peeling or irritation of the skin, itching, erythematous rashes, paresthesias, blistering or urticaria.
When using clotrimazole suppositories, burning, itching, swelling of the mucous membrane are possible. Also, sometimes when using clotrimazole suppositories, according to the instructions, vaginal discharge appears, urination becomes more frequent, intercurrent cystitis occurs, and there may also be pain during intercourse and a burning sensation in the penis of the partner.
According to reviews, with frequent use of Clotrimazole cream, headache and gastralgia may occur.
Storage conditions
Clotrimazole is available without a prescription.
Clotrimazole: prices in online pharmacies
Drug name
Price
Pharmacy
Clotrimazole 100 mg vaginal tablets 6 pcs.
RUB 23
Buy
Clotrimazole 100 mg vaginal tablets 6 pcs.
41 rbl.
Buy
Clotrimazole 1% ointment for external use 15 g 1 pc.
RUB 55
Buy
Clotrimazole 1% cream for external use 20 g 1 pc.
RUB 57
Buy
Clotrimazole 1% cream for external use 20 g 1 pc.
RUB 75
Buy
Clotrimazole Mikospray solution for external use 15 ml 1 pc.
RUB 78
Buy
Clotrimazole 1% cream for external use 20 g 1 pc.
79 RUB
Buy
Clotrimazole 1% cream for external use 20 g 1 pc.
79 RUB
Buy
Clotrimazole nail lotion. and skin mycospray fl. 15 ml
83 rbl.
Buy
Clotrimazole 1% ointment for external use 20 g 1 pc.
RUB 86
Buy
Clotrimazole cream 1% 20g
RUB 97
Buy
Clotrimazole 1% cream for external use 20 g 1 pc.
154 RUB
Buy
Clotrimazole cream 1% 20g
169 RUB
Buy
Clotrimazole 2% vaginal cream 20 g 1 pc.
187 r
Buy
Clotrimazole cream 1% 20g
204 RUB
Buy
Clotrimazole vaginal. cream 2% tube 20g
225 RUB
Buy
See all offers from pharmacies
Information about the drug is generalized, provided for informational purposes only and does not replace the official instructions. Self-medication is hazardous to health!
Popular by topic