Table of contents: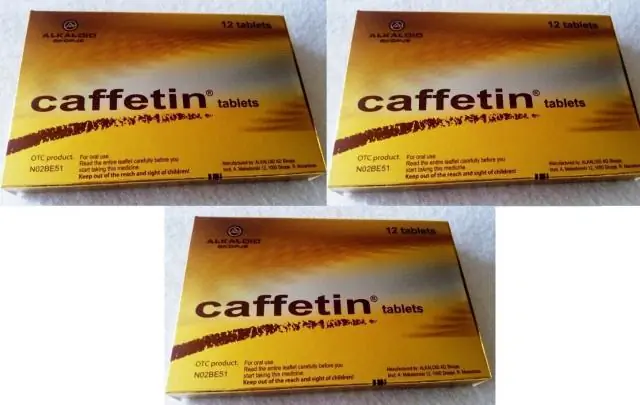 Video: Kaffetin Cold - Instructions For Use, Composition Of Tablets, Reviews, Price
Caffetin Cold
Kaffetin Cold: instructions for use and reviews
1. Release form and composition
2. Pharmacological properties
3. Indications for use
4. Contraindications
5. Method of application and dosage
6. Side effects
7. Overdose
8. Special instructions
9. Application during pregnancy and lactation
10. Use in childhood
11. In case of impaired renal function
12. For violations of liver function
13. Drug interactions
14. Analogs
15. Terms and conditions of storage
16. Terms of dispensing from pharmacies
17. Reviews
18. Price in pharmacies
Latin name: Caffetin Cold
ATX code: R01BA52
Active ingredient: dextromethorphan + paracetamol + pseudoephedrine + ascorbic acid (Dextromethorphan + Paracetamol + Pseudoephedrine + Ascorbic acid)
Manufacturer: SOTEKS Pharmaceutical Company, CJSC (Russia); Alkaloid AD Skopje (Republic of Macedonia)
Description and photo update: 2019-12-07
Prices in pharmacies: from 191 rubles.
Buy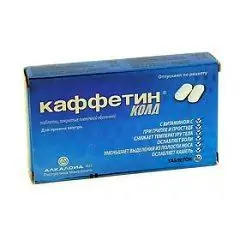 Kaffetin Cold is a drug for the symptomatic treatment of acute respiratory infections (acute respiratory diseases).
Release form and composition
The drug is available in the form of tablets, film-coated, biconvex, oblong, blue, on one side with a risk (10 pieces in blisters, one blister in a cardboard box and instructions for the use of Caffetin Cold).
Composition for 1 film-coated tablet:
active ingredients: ascorbic acid (in the form of granules) - 60 mg, dextromethorphan hydrobromide - 15 mg, paracetamol (in the form of granules) - 500 mg, pseudoephedrine hydrochloride - 30 mg;
auxiliary components of the tablet core: magnesium stearate, talc, colloidal silicon dioxide, microcrystalline cellulose, croscarmellose sodium;
auxiliary components of paracetamol granulate: stearic acid, povidone-K30, pregelatinized starch;
auxiliary components of ascorbic acid granulate: hypromellose;
film casing: Opadray II blue (macrogol, talc, indigo carmine, titanium dioxide, partially hydrolyzed polyvinyl alcohol).
Pharmacological properties
Pharmacodynamics
Caffetin Cold is a combined antitussive, antipyretic and analgesic drug. Its pharmacological effectiveness is due to the properties of the following active ingredients:
ascorbic acid: necessary for colds, as it compensates for the lack of vitamin C, which plays an important role in maintaining immunity;
dextromethorphan: affects the cough center, raising the cough threshold. As a result of this, dry cough decreases, which in case of colds is most often caused by irritation of the nasopharyngeal mucosa;
paracetamol: relieves pain and reduces fever. The mechanism of its action is associated with the effect on the centers of thermoregulation and pain and the blocking of cyclooxygenases. Paracetamol has almost no anti-inflammatory effect, unlike non-steroidal anti-inflammatory drugs. It does not irritate the intestinal and gastric mucosa, and does not affect water-salt metabolism;
pseudoephedrine: narrows the vessels of the mucous membrane of the pharynx and nose, eliminates puffiness, which ultimately reduces secretion in the nasal cavity and helps to facilitate nasal breathing.
Pharmacokinetics
ascorbic acid: complete absorption in the digestive tract. It is well distributed in tissues and organs. Ascorbic acid is oxidized to dehydroxyascorbic acid (reversibly) and partially converted to ascorbate-2-sulfate. Excretion is carried out in the urine;
dextromethorphan: after taking Caffetin Cold, it is well absorbed inside. Its maximum plasma concentration is observed 120 minutes after taking a therapeutic dose. Metabolism takes place in the liver. Dextromethorphan is excreted in the urine (in the form of metabolites and in unchanged form);
paracetamol: Absorbed mainly in the small intestine. In blood plasma, its maximum concentration is reached, as a rule, within 30–90 minutes after taking Caffetin Cold. The half-life is 90-150 minutes. Metabolism occurs in the liver; up to 80% of paracetamol conjugates with sulfates and glucuronic acid (inactive metabolites are formed); about 17% of the substance is hydroxylated with the formation of 8 active metabolites, which are then conjugated with glutathione and form inactive metabolites. If the body is deficient in glutathione, these metabolites are able to block the enzyme systems of liver cells and cause their necrosis. The CYP2E1 isoenzyme is involved in the metabolism of paracetamol. The half-life is 1 to 4 hours. The main part is excreted in the form of metabolites (by the kidneys) and only 3% of paracetamol is excreted unchanged. In elderly patients, the clearance of the drug decreases, and the half-life increases;
pseudoephedrine: good absorption after oral administration. In the blood plasma, the maximum concentration of the substance is observed after 90-120 minutes. The half-life is about 5.5 hours. Pseudoephedrine undergoes partial metabolism in the liver (an active metabolite is formed) and is excreted in the urine.
Indications for use
Caffetin Cold is used for the symptomatic treatment of colds and flu, to eliminate headache and muscle pain, fever, sore throat, runny nose, dry cough, nasal and sinus congestion.
Contraindications
Absolute:
cardiac ischemia;
high blood pressure (arterial hypertension);
angina pectoris;
hepatitis;
severe liver dysfunction;
severe renal dysfunction;
congenital deficiency of the enzyme glucose-6-phosphate dehydrogenase;
the period of pregnancy and breastfeeding;
children under 12 years of age;
co-administration with MAO (monoamine oxidase) inhibitors, as well as the use of MAO inhibitors less than 2 weeks before the start of drug treatment;
joint reception with antiparkinsonian drugs and antidepressants;
hypersensitivity to the main or auxiliary ingredients in the composition of Caffetin Cold.
Relative (the drug is used with caution):
arrhythmias;
chronic obstructive pulmonary disease;
bronchial asthma;
benign hyperbilirubinemia (including Gilbert's syndrome);
diabetes;
hyperplasia of the prostate, accompanied by urinary retention;
viral hepatitis;
hyperfunction of the thyroid gland;
alcoholism;
a state of exhaustion and weakness.
Kaffetin Cold, instructions for use: method and dosage
Caffetin Cold tablets are taken orally with water.
The recommended single dose for children over 12 years old and adults is one tablet, the frequency of use is 4 times a day. If necessary, you can increase the single dose to two tablets. The interval between doses of Kaffetin Cold is at least 4 hours. Maximum doses: single - two tablets, daily - eight tablets.
If signs of fever persist for more than three days from the start of therapy, and the cough does not disappear for more than five days, you should consult a doctor.
Side effects
digestive system: dry mouth, nausea; rarely - pain in the epigastric region; with long-term therapy in high doses - hepatotoxic effect;
cardiovascular system: increased heart rate, increased blood pressure;
central nervous system: agitation, irritability, drowsiness; rarely - dizziness;
urinary system: with long-term therapy in high doses - nephrotoxic effect (papillary necrosis, renal colic, acute or chronic inflammatory process in connective tissues and renal tubules);
hematopoietic system: rarely - thrombocytopenia, anemia, agranulocytosis; with long-term therapy in high doses - aplastic anemia, hemolytic anemia, a sharp decrease in the number of all cells of the blood system;
allergic reactions: nettle rash, itching, skin rash, Quincke's edema.
Overdose
Overdose symptoms are due to three active ingredients that make up Caffetin Cold:
paracetamol (especially for violations of liver and / or kidney function): nausea, vomiting, anorexia, pallor of the skin, liver dysfunction;
dextromethorphan: vomiting, nausea, lethargy, dizziness, difficulty breathing, impaired vision and coordination of movements, drowsiness;
pseudoephedrine: arrhythmias, anxiety, arterial hypertension, tremors, irritability, convulsions.
For the treatment of the condition, the patient should wash the stomach during the first 6 hours after an overdose, give activated charcoal. After 8-9 hours, it is recommended to introduce precursors of the synthesis of methionine and glutathione and donors of SH-groups, and after 12 hours - acetylcysteine. If necessary, symptomatic treatment is prescribed.
special instructions
During therapy with Caffetin Cold, you should refrain from drinking caffeine and ethanol (because of the risk of hepatotoxicity).
In the case of long-term treatment, it is necessary to periodically monitor the peripheral blood parameters and the functional state of the liver.
Influence on the ability to drive vehicles and complex mechanisms
At the time of therapy with Caffetin Cold, it is recommended to stop driving and engage in other potentially hazardous activities that require a quick reaction and high concentration of attention.
Application during pregnancy and lactation
Caffetin Cold is contraindicated in pregnant and lactating women.
Pediatric use
Caffetin Cold should not be given to children under the age of 12.
With impaired renal function
Severe renal dysfunction is a contraindication to the use of Kaffetin Cold.
For violations of liver function
Caffetin Cold tablets should not be prescribed to patients with severely impaired liver function.
Drug interactions
Paracetamol in large doses increases the effectiveness of anticoagulants.
Ethanol, rifampicin, tricyclic antidepressants, phenytoin, barbiturates, phenylbutazone and other inducers of microsomal oxidation in the liver, as well as hepatotoxic drugs increase the formation of hydroxylated paracetamol metabolites, which can cause severe intoxication even with a minor overdose.
Long-term therapy with barbiturates reduces the therapeutic effect of paracetamol.
The simultaneous use of salicylates and paracetamol in large doses increases the likelihood of developing cancer of the bladder and kidney.
With long-term joint use of paracetamol with nonsteroidal anti-inflammatory drugs, the risk of papillary necrosis of the kidneys and analgesic nephropathy increases, and the onset of the terminal stage of chronic renal failure also accelerates.
Diflunisal increases the concentration of paracetamol in the blood plasma by 50%, thereby increasing the risk of hepatotoxicity of Kaffetin Cold.
Quinidine, fluoxetine, and amiodarone inhibit the cytochrome P450 system, which can lead to an increase in the plasma concentration of dextromethorphan.
As a result of the combined use of pseudoephedrine with other sympathomimetic drugs, an additive effect may occur and its toxic effect is likely to manifest; with MAO inhibitors - there is a danger of a hypertensive crisis.
Pseudoephedrine is able to reduce the hypotensive effect of mecamylamine, methyldopa, hellebore alkaloids and reserpine; the pressor effect of pseudoephedrine can be enhanced when used together with propranolol.
Analogs
Analogues of Caffetin Cold are Antigrippin-Maximum, Aquacitramon, Askofen-P, Brustan, Grippostad C, Ibuklin, Coldrex, Coldakt Flu Plus, Caffetin Light, Migrenol, Nurofen MultiSymptom, Paracetamol-C-Hemofastl C, Fastera Solpadera and etc.
Terms and conditions of storage
Store at a temperature not exceeding 25 ° C. Keep out of the reach of children.
The shelf life is 2 years.
Terms of dispensing from pharmacies
Dispensed by prescription.
Reviews about Kaffetin Cold
To date, there are no reviews about Kaffetin Cold on the Internet. Perhaps this is due to the fact that the drug is prescription and is not always available in pharmacies. Reviews of similar medicines for the symptomatic treatment of colds are usually good.
The price of Caffetin Cold in pharmacies
The price of Caffetin Cold in the form of tablets, film-coated 500 mg + 30 mg + 15 mg + 60 mg (10 pieces per pack), ranges from 195 to 270 rubles.
Kaffetin Cold: prices in online pharmacies
Drug name
Price
Pharmacy
Caffetin Cold tablets p.o. 10 pieces.
191 r
Buy
Caffetin Cold 500 mg + 30 mg + 15 mg + 60 mg film-coated tablets 10 pcs.
191 r
Buy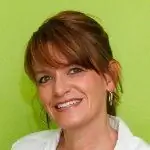 Maria Kulkes Medical journalist About the author
Education: First Moscow State Medical University named after I. M. Sechenov, specialty "General Medicine".
Information about the drug is generalized, provided for informational purposes only and does not replace the official instructions. Self-medication is hazardous to health!
Popular by topic