Table of contents: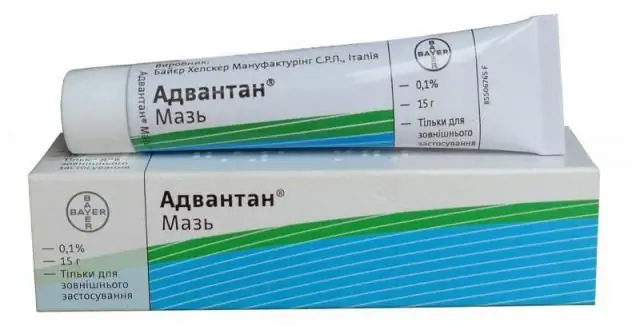 Video: Methylprednisolone Aceponate - Instructions For The Use Of Ointments, Analogues, Price
Methylprednisolone aceponate
Methylprednisolone aceponate: instructions for use and reviews
1. Release form and composition
2. Pharmacological properties
3. Indications for use
4. Contraindications
5. Method of application and dosage
6. Side effects
7. Overdose
8. Special instructions
9. Application during pregnancy and lactation
10. Use in childhood
11. Drug interactions
12. Analogs
13. Terms and conditions of storage
14. Terms of dispensing from pharmacies
15. Reviews
16. Price in pharmacies
Latin name: Methylprednisolone aceponate
ATX code: D07AC14
Active ingredient: methylprednisolone aceponate (Methylprednisolone aceponate)
Producer: Sintez, JSC (Russia)
Description and photo update: 2019-08-10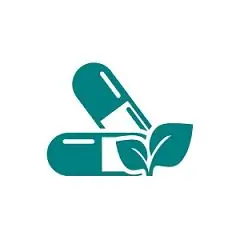 Methylprednisolone aceponate - GCS (glucocorticosteroid) for external use.
Release form and composition
The drug is produced in the form of an ointment for external use 0.1%: a uniform consistency, white or almost white (5, 10, 15, 20, 30 and 50 g each in laminate or aluminum tubes, 1 tube each in a cardboard box and instructions for use Methylprednisolone aceponate).
100 g of ointment contains:
active ingredient: methylprednisolone aceponate - 0.1 g;
additional components: cetomacrogol 1000 - 3 g, white beeswax - 3 g, emulsifier "Lanette SX" No. 1 - 7 g, vaseline oil (liquid paraffin) - 10 g, medical vaseline (vaseline) - 18 g, purified water - up to 100 g
Pharmacological properties
Pharmacodynamics
Methylprednisolone aceponate is a non-halogenated steroid. When applied externally, it inhibits allergic and inflammatory skin reactions along with reactions associated with increased proliferation. This reduces both objective symptoms of inflammation, such as erythema, weeping, edema, and subjective sensations, such as irritation, itching, pain.
With external use of the drug in the recommended dose, a minimal systemic effect was noted in both humans and animals. As a result of repeated application of methylprednisolone aceponate to large surfaces (up to 40–60% of the skin surface) and when applied under an occlusive dressing, adrenal dysfunction was not revealed.
Methylprednisolone aceponate (mainly its main metabolite - 6α-methylprednisolone-17-propionate) binds to intracellular GCS receptors. The resulting steroid-receptor complex binds to certain DNA regions (deoxyribonucleic acid) of the immune response cells, thereby initiating a series of biological effects, in particular the induction of macrocortin synthesis. Macrocortin inhibits the release of arachidonic acid, thereby reducing the formation of inflammatory mediators such as leukotrienes and prostaglandins.
GCS, inhibiting the synthesis of vasodilating prostaglandins and enhancing the vasoconstrictor effect of adrenaline, contribute to the vasoconstrictor effect.
Pharmacokinetics
Methylprednisolone aceponate is hydrolyzed in the epidermis and dermis. The main metabolite with high activity is 6α-methylprednisolone-17-propionate. It has the highest affinity for the GCS receptors of the skin, which indicates its bioactivation in the skin.
The degree of percutaneous absorption depends on the condition of the skin and on how the drug is applied (with or with an occlusive dressing).
In adults and children with psoriasis and atopic dermatitis (neurodermatitis), percutaneous absorption is less than 2.5%, which is insignificantly higher than in healthy volunteers (0.5-1.5%).
After entering the systemic circulation, 6α-methylprednisolone-17-propionate is rapidly conjugated with glucuronic acid and, converted into 6α-methylprednisolone-17-propionate glucuronide, becomes inactive.
Excretion of metabolites of methylprednisolone aceponate occurs mainly in the urine. The half-life (T 1/2) is about 16 hours. The accumulation of the active substance and its metabolites in the body does not occur.
Indications for use
contact dermatitis;
atopic dermatitis (neurodermatitis);
coin-shaped (plaque or nummular) eczema;
degenerative eczema.
Contraindications
Absolute:
fungal (mycosis, pyoderma), viral (shingles, chickenpox) and bacterial skin diseases;
lupus;
dermatitis of the eyelids;
perioral dermatitis;
syphilitic skin lesions;
skin tumors;
violation of the integrity of the skin (wounds / ulcers);
rosacea, acne vulgaris;
children's age up to 4 months;
first trimester of pregnancy;
period after vaccination;
hypersensitivity to methylprednisolone aceponate or additional components of the drug.
Relative (the remedy is used with caution and only after consulting a doctor): second and third trimesters of pregnancy; breast-feeding.
Methylprednisolone aceponate, instructions for use: method and dosage
Methylprednisolone aceponate ointment is intended for external use.
The recommended frequency of applying the ointment is 1 time per day.
For adults and children from 4 months of age, the product is applied in a thin layer to the affected skin. The duration of therapy in adults is no more than 6 weeks, in children - no more than 3 weeks.
Children do not need to adjust the dosage regimen. When using the ointment in patients aged 4 months to 18 years, measures leading to increased resorption and absorption (fixing, occlusive and warming dressings) should be excluded and the total duration of treatment should be limited.
Side effects
As a rule, the drug is well tolerated. In clinical trials, the most common reactions were at the site of application, such as burning and itching of the skin.
Adverse reactions that may occur when using Methylprednisolone aceponate ointment from systems and organs are classified according to the WHO recommendations [very often - (> 1/10); often - (from ≥ 1/100 to <1/10); infrequently - (from ≥ 1/1000 to <1/100); rarely - (from ≥ 1/10 000 to <1/1000); very rarely - (<1/10 000); with an unknown frequency - the frequency of occurrence cannot be estimated from the available data)]:
skin and subcutaneous tissues: infrequently - ecchymosis (bruise), skin atrophy, impetigo, increased skin oiliness; with an unknown frequency - telangiectasia, acne, striae, skin discoloration, allergic skin reactions, perioral dermatitis (inflammation of the skin around the mouth);
immune system: with unknown frequency - hypersensitivity reactions;
disorders and disorders at the site of application: often - burning, itching; infrequently - dry skin, the formation of a vesicular rash, erythema, irritation, dermatitis, peripheral edema; with an unknown frequency - folliculitis, hypertrichosis (increased hair growth).
In addition, there may be systemic effects due to the absorption of GCS (resorptive effects).
If any of the adverse reactions listed above aggravate, or if new side effects appear that are not listed in the instructions, you should immediately consult with your doctor.
Overdose
In the course of studying the acute toxicity of methylprednisolone aceponate after excessive single skin use (the drug was applied to a large surface area of the skin under conditions favorable for absorption) or unintentional ingestion, no risk of acute intoxication was identified.
With a very long and / or intensive use of GCS, the development of skin atrophy (telangiectasia, thinning of the skin, striae) is possible. If signs of atrophy occur, methylprednisolone aceponate should be canceled.
special instructions
Bacterial complications and / or dermatomycosis are the basis for specific antimycotic and / or antibacterial treatment in addition to drug therapy.
Do not allow the drug to come into contact with mucous membranes, open wounds and eyes. If this cannot be avoided, the affected area should be rinsed with plenty of water.
After external use of Methylprednisolone aceponate, as in the case of using systemic corticosteroids, glaucoma may develop (for example, with very long-term use of occlusive dressings, application to the skin around the eyes or when using large doses of the agent). To significantly reduce the risk of adverse reactions, you should not apply the ointment for a long time or on large areas of the skin, as well as under occlusive dressings. If the use of methylprednisolone aceponate on large areas of the skin is justified, the period of use should be as short as possible due to the possible development of systemic side effects.
Influence on the ability to drive vehicles and complex mechanisms
The drug has no effect on the ability to drive vehicles or engage in other potentially hazardous activities that require speed of psychomotor reactions and increased concentration of attention.
Application during pregnancy and lactation
The safety of using methylprednisolone aceponate during gestation and breastfeeding has not been studied.
Pregnant and breastfeeding women should not use GCS for a long time, in high doses, on large areas of the skin, as well as under occlusive dressings.
Adequate and strictly controlled studies of the use of methylprednisolone aceponate in pregnant women have not been conducted. In the course of animal studies, an adverse effect on the fetus (embryotoxic, teratogenic) was revealed. Therefore, in the first trimester of pregnancy, the use of the drug is not recommended, in the second and third trimesters, it is allowed only after consulting a specialist and only in cases where the intended benefit to the mother exceeds the potential risk to the fetus.
There are no data on the penetration of methylprednisolone aceponate into breast milk. Breastfeeding women can use the remedy if the intended benefits to the mother exceed the potential risks to the child. Before starting therapy, you should first consult with your doctor. It is not recommended for breastfeeding patients to apply ointment to the mammary glands.
Pediatric use
In pediatrics, methylprednisolone aceponate ointment can be used to treat children aged 4 months and older.
During treatment, it is important to take into account that in young children, skin folds, diapers and diapers can play the role of an occlusive dressing, increasing the systemic resorption of the active component of the drug. In addition, the coefficient of the ratio of skin surface area to body weight in young children is much higher, and the skin is insufficiently formed, therefore, systemic resorption can occur to a greater extent than in adults. In connection with the above, in children, the risk of suppression of the function of the hypothalamic-pituitary-adrenal system and the development of Itsenko-Cushing's syndrome is higher with the use of any external GCS. Long-term treatment of children with GCS can lead to impaired growth and development.
Pediatric patients should be prescribed the drug in a minimum dose sufficient to achieve a therapeutic effect, and use it strictly under the supervision of a physician.
Drug interactions
Studies on the interaction of the drug with other drugs have not been conducted.
Analogs
Methylprednisolone aceponate analogs are Advantan, Comfoderm, Comfoderm K, etc.
Terms and conditions of storage
Store out of the reach of children, protected from sunlight, at temperatures up to 25 ° C.
Shelf life is 2 years.
Terms of dispensing from pharmacies
Available without a prescription.
Reviews about Methylprednisolone aceponate
Methylprednisolone aceponate reviews are described as an effective remedy for eczema and dermatitis. Among the positive aspects, patients note the absence of adverse reactions when using the drug in the recommended doses.
Price for Methylprednisolone aceponate in pharmacies
The price of Methylprednisolone aceponate is unknown, as the drug is currently not available in pharmacies.
The cost of analogues containing methylprednisolone aceponate as an active substance:
Advantan, ointment 0.1%: tube 15 g - 500-832 rubles; tube 50 g RUB 1128-1658;
Comfoderm, ointment 0.1%: tube 15 g - 229-370 rubles; tube 30 g - 404-646 rubles.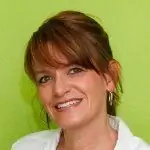 Maria Kulkes Medical journalist About the author
Education: First Moscow State Medical University named after I. M. Sechenov, specialty "General Medicine".
Information about the drug is generalized, provided for informational purposes only and does not replace the official instructions. Self-medication is hazardous to health!
Popular by topic