Table of contents: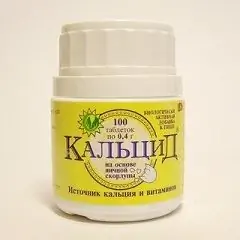 Video: Calcid - Instructions For Use, Indications, Doses
Calcid
Instructions for use:
1. Release form and composition
2. Indications for use
3. Contraindications
4. Method of application and dosage
5. Side effects
6. Special instructions
7. Drug interactions
8. Terms and conditions of storage
Prices in online pharmacies:
from 100 rubles.
Buy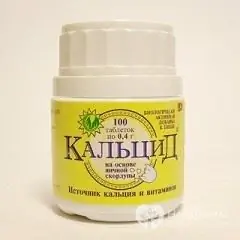 Calcid is a complex vitamin and mineral preparation that replenishes calcium deficiency.
Release form and composition
Dosage form - tablets of 400 mg (100, 30, 20 or 10 pieces in a package).
Calcide's active ingredients are calcium, eggshell, vitamins: A, B1, B2, B6, B12, C, D, E, PP.
Auxiliary components: microcrystalline cellulose.
Indications for use
Prevention of osteoporosis, including the postmenopausal period;
Providing the body of children with the necessary substances during the period of intensive growth;
Complex treatment and prevention of rickets, deficiency of vitamins B, C, D3 and calcium;
Inadequate and unbalanced nutrition;
The period of pregnancy and breastfeeding;
Significant physical, psychological and emotional stress;
Unfavorable ecological situation.
In addition, the use of Calcide is indicated as part of complex therapy for infectious diseases to strengthen the immune system.
Contraindications
Individual hypersensitivity to drug components.
Method of administration and dosage
The tablets are taken orally, 20-30 minutes before meals or during meals, with a sufficient amount of water.
The recommended daily dosage has age restrictions:
Up to 3 years - 1 tablet each;
From 3 to 6 years old - 2 tablets;
Patients over 6 years old - 3 tablets.
Side effects
The adverse effects of Calcide have not been established.
special instructions
It is recommended to start using the drug after consulting a doctor.
Do not violate the dosage regimen.
The drug contains iron, fluorine, copper, manganese, phosphorus, molybdenum, sulfur, silicon, zinc and other natural trace elements that make up the eggshell.
Drug interactions
Tablets are a biologically active food supplement, therefore, when used simultaneously with drugs, there is no mutual influence of drugs.
Terms and conditions of storage
Keep out of the reach of children, in a dry place at temperatures up to 25 ° C.
Shelf life is 2 years.
Calcid: prices in online pharmacies
Drug name
Price
Pharmacy
Calcid 0.4 g tablets 100 pcs.
RUB 100
Buy
Calcid + magnesium tablets 100 pcs.
119 RUB
Buy
Calcid tablets 400mg 100 pcs.
RUB 150
Buy
Information about the drug is generalized, provided for informational purposes only and does not replace the official instructions. Self-medication is hazardous to health!
Popular by topic