Table of contents: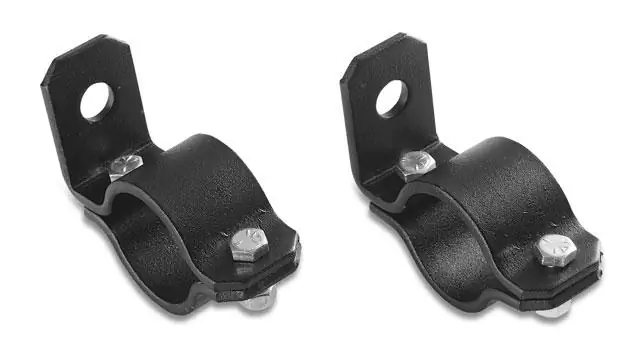 Video: Momat Rino Advance - Instructions For Use, Price, Reviews, Analogues
Momat Rino Advance
Momat Rino Advance: instructions for use and reviews
1. Release form and composition
2. Pharmacological properties
3. Indications for use
4. Contraindications
5. Method of application and dosage
6. Side effects
7. Overdose
8. Special instructions
9. Application during pregnancy and lactation
10. Use in childhood
11. Drug interactions
12. Analogs
13. Terms and conditions of storage
14. Terms of dispensing from pharmacies
15. Reviews
16. Price in pharmacies
Latin name: Momate Rhino Advance
ATX code: R01A
Active ingredient: Azelastine + Mometasone (Azelastine + Mometasone)
Manufacturer: GLENMARK PHARMACEUTICALS, Ltd. (India)
Description and photo update: 2018-15-05
Prices in pharmacies: from 346 rubles.
Buy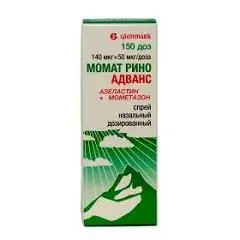 Momat Rino Advance is a combined antiallergic drug for topical use containing a blocker of H1-histamine receptors and a glucocorticosteroid (GCS).
Release form and composition
Dosage form of Momat Rino Advance - metered dose nasal spray: suspension of almost white or white color (150 doses in high density polyethylene vials, equipped with a dispenser and nasal adapter with a protective cap, in a cardboard box 1 bottle).
Spray composition:
active substances in 1 dose: azelastine hydrochloride - 140 mcg, mometasone furoate - 50 mcg;
additional components: avicel RC-591 (microcrystalline cellulose), sodium citrate, polysorbate-80, citric acid monohydrate, neotame, disodium edetate, dextrose, benzalkonium chloride, sodium carmellose, purified water.
Pharmacological properties
Pharmacodynamics
The therapeutic property of Momata Rino Advance is explained by the action of azelastine hydrochloride and mometasone furoate included in its composition as active components.
Azelastine hydrochloride is a phthalazinone derivative, a selective H 1 -histamine blocker, which has a membrane stabilizing, antiallergic and antihistamine effect. The mechanism of its action is due to the ability to reduce capillary permeability and exudation, stabilize the membranes of mast cells and prevent the release of biologically active substances from them (including histamine, leukotrienes, serotonin and a factor that activates platelets), which cause bronchospasm and promote the development of inflammation, early and late stages of allergic reactions.
Mometasone furoate is a synthetic GCS. When applied topically in doses that do not cause the development of systemic effects, it has antiallergic and anti-inflammatory effect. Increases the production of lipomodulin (an inhibitor of phospholipase A), due to which the release of arachidonic acid decreases and, as a result, the synthesis of its metabolic products - prostaglandins and cyclic endoperoxides - is inhibited. Prevents the marginal accumulation of neutrophil cells, due to which the inflammatory exudate decreases, the production of lymphokines decreases. Reduces the processes of infiltration and granulation by inhibiting the migration of microphages. Reduces the release of inflammatory mediators from mast cells, which, together with inhibition of the formation of metabolites of arachidonic acid, prevents the development of immediate allergies. By reducing the formation of chemotaxis substance, it reduces inflammation, influencing late allergic reactions.
Pharmacokinetics
Azelastine hydrochloride
The bioavailability of azelastine after intranasal administration is about 40%. The maximum concentration (Cmax) in the blood plasma is reached after 2-3 hours.
When used in a daily dose of 560 μg, the average equilibrium plasma concentration 2 hours after intranasal administration is 0.65 ng / ml. With an increase in the daily dose by 2 times, a stable average plasma concentration of 1.09 ng / ml is observed. Despite the relatively high absorption, the systemic effect with intranasal administration of the drug is approximately 8 times lower compared to oral administration of azelastine in a daily dose of 4400 μg (in a therapeutic dose prescribed for allergic rhinitis by mouth).
In patients with allergic rhinitis, the plasma level of azelastine is higher than in healthy volunteers.
Other pharmacokinetic data of azelastine have been studied with its oral administration. The connection with plasma proteins is high: 80-90%. The substance is metabolized with the participation of the cytochrome P450 system by oxidation in the liver, the active metabolite is desmethylazelastine. The drug is excreted mainly by the kidneys in the form of inactive metabolites. The T½ (half-life) of azelastine is 20 hours, desmethylazelastine is about 45 hours.
Mometasone furoate
The systemic bioavailability of mometasone with intranasal administration is <1%. As part of the suspension, the substance is very poorly absorbed in the gastrointestinal tract, while a small amount that gets there undergoes active primary metabolism even before being excreted in the urine or bile.
Indications for use
Momat Rhino Advance is used to treat seasonal allergic rhinitis in adults over 18 years of age.
Contraindications
age up to 18 years;
pregnancy and lactation;
nasal trauma with damage to the nasal mucosa or recent surgery in the nasal cavity (Momat Rino Advance is allowed to be used only after the wound has completely healed);
individual hypersensitivity to any component of the drug.
According to the instructions, Momat Rino Advance should be used with caution (after consultation with a doctor and under his close supervision) in the presence of an untreated infection affecting the nasal mucosa, active or latent tuberculosis infection of the respiratory tract, untreated bacterial, systemic viral or fungal infection or infection caused by Herpes simplex, with eye damage.
Instructions for the use of Momat Rino Advance: method and dosage
Momat Rhino Advance is used intranasally. Inhalation should be carried out using a nozzle specially provided for this on the bottle.
Adults are prescribed 1 dose of spray in each nostril 2 times a day - in the morning and in the evening, for a course of 2 weeks.
1 dose corresponds to the content of 140 μg of azelastine hydrochloride and 50 μg of mometasone furoate.
Before using the drug for the first time, you need to calibrate the dosing device by pressing it about 10 times in the air. Re-calibrations are necessary in cases where the spray is not used for 7 or more days in a row, in which case the dispenser must be pressed until splashes appear (usually two times is enough).
Guidelines for using Momata Rino Advance:
If possible, clear the nasal passages.
Remove the protective cap.
Place your middle and index fingers on the sides of the nasal adapter, your thumb on the bottom of the bottle.
Pinch one nostril.
Insert the end of the nasal adapter into the other nostril, holding the bottle vertically.
While inhaling through the nose, quickly and sharply press the dispenser. Do not spray the suspension onto the nasal septum.
Exhale through your mouth.
Repeat the described procedure for the second nostril.
Wipe the nasal adapter with a clean cloth and close it with a protective cap.
When spraying the drug, do not direct it into the eyes.
Instructions for cleaning the nasal adapter:
Remove the protective cap.
Pull up and carefully remove the nasal adapter.
Rinse the cap and the adapter with cold running water on both sides and dry (under no circumstances use sharp objects to clean the adapter to avoid damage).
Reinstall the adapter, making sure the stem of the vial is centered.
Calibrate by pressing the dispenser 2 times.
Put on the protective cap.
Side effects
on the part of the nervous system: often (1/100) - unpleasant taste (dysgeusia) and headache due to improper use of the drug (in case of excessive deviation of the head back during inhalation); very rarely (<1/10000) - dizziness (the connection with the use of the drug has not been precisely established, since this reaction may be caused by the disease itself);
from the gastrointestinal tract: rarely (1/10000) - irritation of the pharyngeal mucosa, nausea;
from the immune system: very rarely (1/1000) - hypersensitivity reactions, anaphylactoid reactions;
on the part of the respiratory system, chest and mediastinal organs: often - sneezing, ulceration of the nasal mucosa, discomfort in the nasal cavity (burning sensation, itching), nosebleeds, sinusitis, pharyngitis, upper respiratory tract infections;
from the skin and subcutaneous tissues: very rarely - itching of the skin, rash, urticaria;
others: very rarely - weakness, increased fatigue and drowsiness (these phenomena can be caused by the disease itself).
With long-term use of the drug in high doses, it is possible to develop systemic effects inherent in GCS (due to the content of mometasone), including cataracts and glaucoma.
Overdose
Until now, no cases of drug overdose have been reported.
Azelastine, as a result of accidental ingestion of a suspension inside, can cause disturbances in the nervous system (confusion, drowsiness), as well as hypotension and tachycardia. Treatment of these disorders is symptomatic.
In patients using Momat Rino Advance for a long time or in combination with other corticosteroids, depression of the hypothalamic-pituitary-adrenal system is possible. Given the low systemic absorption of mometasone in case of an overdose, only temporary discontinuation of the drug and monitoring of the patient's condition are usually required. After stabilization of the condition, therapy can be resumed at the dose recommended by the doctor.
special instructions
With long-term treatment (over several months or more), patients should undergo periodic check-ups with a doctor in order to timely identify possible changes in the nasal mucosa, perforation of the nasal septum and potentially probable systemic side effects.
Mometasone can contribute to the development of cataracts and (or) glaucoma, therefore, special observation is necessary for patients with visual changes and people with a history of increased intraocular pressure, cataract or glaucoma.
If Momat Rino Advance develops in the nasal cavity or pharynx, a local fungal infection should be canceled and appropriate treatment should be carried out. Discontinuation of therapy may be necessary if persistent irritation of the nasopharynx occurs.
It is necessary to immediately consult a doctor for advice if signs of the development of a severe bacterial infection appear - it can be fever, persistent and sharp toothache or pain on one side of the face, as well as swelling in the orbital and periorbital region.
Patients undergoing treatment with GCS belong to a group of potential risk of reduced immune reactivity, which should be warned about, as they are more susceptible to infection upon contact with a sick person with certain infectious diseases (for example, chicken pox or measles). If contact with the patient has taken place, you must consult a doctor.
Patients who switch to Momat Rino Advance with systemic GCS after long-term therapy require special attention, since after their cancellation, adrenal insufficiency may develop. When the first signs of this violation appear, it is recommended to resume taking systemic corticosteroids and, if necessary, take other appropriate measures.
During the transition from systemic corticosteroids to a nasal spray, in some cases, a withdrawal syndrome may occur, manifested by pain in muscles and / or joints, a feeling of fatigue, depression, etc. In this case, the patient should be convinced of the advisability of continuing therapy with the Momat Rino Advance spray.
Also, when switching to a spray from systemic corticosteroids, allergic diseases (eczema, allergic conjunctivitis) that existed before, but were masked by drugs of systemic action, can worsen.
In sensitive patients and patients who use intranasal steroids in doses higher than recommended, adrenal suppression and the development of systemic effects are possible. Momat Rino Advance in this case is gradually canceled, adhering to the recommendations for the abolition of oral GCS.
Influence on the ability to drive vehicles and complex mechanisms
During the period of drug therapy, such phenomena as weakness, increased fatigue, fatigue and dizziness were noted. These symptoms can be either signs of the disease itself or a consequence of the use of Momat Rino Advance. Patients who experience these effects are advised to refrain from work requiring attention and reactions, including driving.
Application during pregnancy and lactation
No controlled studies have been conducted in humans. According to animal studies, azelastine may cause intrauterine toxicity in rabbits, rats and mice. For this reason, Momat Rino Advance is contraindicated in women during pregnancy and breastfeeding.
Pediatric use
It is contraindicated to use Momat Rino Advance in children and adolescents under 18 years of age due to the lack of relevant data.
Drug interactions
There was no clinically significant interaction when using azelastine intranasally simultaneously with other drugs.
Mometasone works well with loratadine (a long-acting antihistamine).
Analogs
There is no information about the analogues of Momata Rino Advance.
Terms and conditions of storage
Store in a dark place, out of reach of children, with a temperature of 15-25 ° C. Avoid freezing.
Shelf life is 2 years.
Terms of dispensing from pharmacies
Dispensed by prescription.
Reviews about Momat Rino Advance
Reviews about Momat Rino Advance are mostly positive. Patients indicate that the drug quickly and effectively eliminates the symptoms of allergic rhinitis, practically does not cause side effects and, which is important, is relatively inexpensive.
Of the shortcomings, some note an unpleasant taste in the mouth after inhalation.
Price for Momat Rino Advance in pharmacies
The price of Momat Rino Advance is 445-680 rubles per bottle containing 150 doses.
Momat Rino Advance: prices in online pharmacies
Drug name
Price
Pharmacy
Momat Rino Advance 140 mcg + 50 mcg / dose 150 doses nasal spray dosed 1 pc.
346 r
Buy
Momat Rino Advance 140 mcg + 50 mcg / dose 75 doses nasal spray dosed 1 pc.
359 r
Buy
Momat Rino Advance ref. called dosage. 140 mcg + 50 mcg / dose vial 75 doses
441 r
Buy
Momat Reno Advance nasal spray. dosage. 140mcg + 50mcg / dose 150 doses
480 RUB
Buy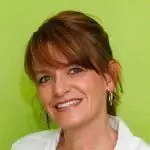 Maria Kulkes Medical journalist About the author
Education: First Moscow State Medical University named after I. M. Sechenov, specialty "General Medicine".
Information about the drug is generalized, provided for informational purposes only and does not replace the official instructions. Self-medication is hazardous to health!
Popular by topic