Table of contents: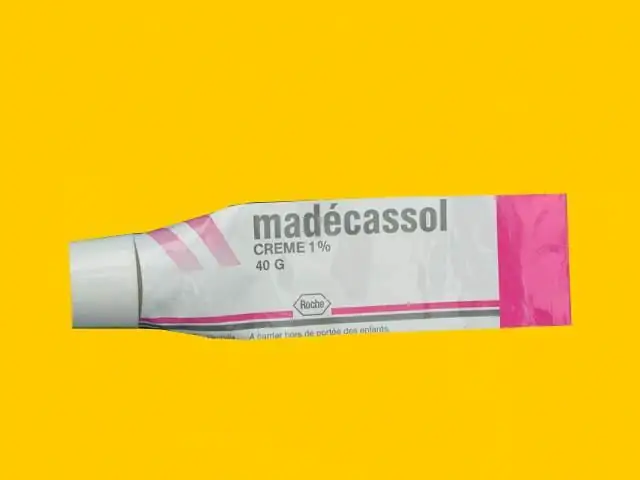 Video: Madecassol - Instructions For Use, Price, Cream, Ointment, Tablets, Analogues
Madecassol
Madecassol: instructions for use and reviews
1. Release form and composition
2. Pharmacological properties
3. Indications for use
4. Contraindications
5. Method of application and dosage
6. Side effects
7. Overdose
8. Special instructions
9. Application during pregnancy and lactation
10. Drug interactions
11. Analogs
12. Terms and conditions of storage
13. Terms of dispensing from pharmacies
14. Reviews
15. Price in pharmacies
Latin name: Madecassol
Active ingredient: Asian Centella extract (Centella asiatica extract)
Producer: Bayer Turkish Chemical Ind Co Ltd (Turkey)
Description and photo update: 2019-10-07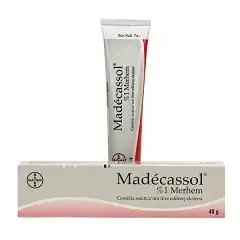 Madekassol is a herbal dermatoprotective drug.
Release form and composition
Dosage forms:
ointment for external use 1% (in a tube of 10 or 40 g);
cream for external use 1% (in a tube of 25 or 40 g);
tablets of 10 mg (25 pcs. in a package);
powder (2 g per package).
Each pack also contains instructions for the use of Madecassol.
Active ingredient: extract of Centella asiatica (Gotu kola).
Pharmacological properties
Pharmacodynamics
The active substance is an extract of Centella asiatica. The plant belongs to the Umbrella family, Apiaceae.
It has anti-inflammatory, anti-burn and antimicrobial effects, stimulates the process of repairing damaged cells. Improves blood microcirculation and helps to reduce venous hypertension. Regulates keratinization processes.
It inhibits the growth of fibroblasts and stabilizes the lysosomal membranes, thereby affecting the various stages of collagen synthesis by fibroblasts and increasing its amount. An increase in the amount of natural collagen contributes to the restoration of the collagen structure and the development of elastic tissue of the vein walls, which manifests itself in the form of cleansing of ulcers, followed by their marginal healing and a decrease in edema.
Indications for use
cicatricial changes in the skin (including keloid ones, after surgery, severe burns and injuries);
scleroderma;
varicose veins of the lower extremities (including those associated with the use of drugs containing progesterone and / or estrogen);
fistulas, trophic ulcers;
failure of the valve apparatus of the veins;
conditions after surgical treatment of lymphostasis (rehabilitation therapy);
tissue damage after obstetric and gynecological operations and childbirth (including diathermocoagulation, episiotomy);
condition after otolaryngological operations (including pharyngostomy, tympanoplasty);
hypertrophic and fibrous scars (for massage);
chronic otitis media;
minor burns and surgical wounds;
diaper dermatitis, diaper rash.
Contraindications
deep and weeping wounds (for topical application);
individual intolerance to the components of the drug.
Madekassol, instructions for use: method and dosage
Powder, ointment and cream Madecassol are applied to the skin 1-2 times a day in a thin layer. If necessary, antiseptic treatment is performed beforehand.
The drug is taken orally at 30-60 mg per day for 1-3 months.
Side effects
allergic skin rashes;
diarrhea.
Overdose
There is no information.
special instructions
Before use, you should consult your doctor.
Madecassol powder, ointment and cream are not intended for use in ophthalmology. Contact with the eyes should be avoided.
Application during pregnancy and lactation
The use of the drug during pregnancy and lactation should be coordinated with the attending physician.
Drug interactions
Development of interaction of Madecassol with other drugs / substances is unlikely. The drug can be used as part of a complex treatment.
Analogs
The analogues of Madekassol are: Gotu Kola, Gotu Kola Ji Pi, Gotu Kola NOW, Gotu Kola NSP, Gotu Kola Health Formula, Gotu Kola Extract Capsules.
Terms and conditions of storage
Store at temperatures up to 25 ° C. See the expiration date on the packaging.
Terms of dispensing from pharmacies
Available without a prescription.
Reviews of Madecassol
Reviews about Madecassol are mostly positive. The drug is used for various indications, more often - for burns, scars and scars, while users indicate its high effectiveness. Madecassol ointment has a pleasant smell, is easy to apply and is well absorbed. The main disadvantage is the inability to purchase a drug in pharmacies.
The price of Madecassol in pharmacies
The cost of the drug depends on the dosage form and pharmacy chain. The approximate price of Madecassol tablets (25 pcs. 10 mg each) is 1550 rubles. Madecassol ointment (1 tube of 40 g) can be bought for an average of 1,480 rubles.
Anna Kozlova Medical journalist About the author
Education: Rostov State Medical University, specialty "General Medicine".
Information about the drug is generalized, provided for informational purposes only and does not replace the official instructions. Self-medication is hazardous to health!
Popular by topic