Table of contents:
Video: Libeksin - Instructions For The Use Of Tablets, Reviews, Price, Analogues
Libexin
Libeksin: instructions for use and reviews
1. Release form and composition
2. Pharmacological properties
3. Indications for use
4. Contraindications
5. Method of application and dosage
6. Side effects
7. Overdose
8. Special instructions
9. Application during pregnancy and lactation
10. Use in childhood
11. Drug interactions
12. Analogs
13. Terms and conditions of storage
14. Terms of dispensing from pharmacies
15. Reviews
16. Price in pharmacies
Latin name: Libexin
ATX code: R05DB18
Active ingredient: Prenoxdiazine (Prenoxdiazine)
Producer: Hinoin, ZFHP for Sanofi-Aventis Ukraine, LLC, Hungary / Ukraine
Description and photo update: 2019-07-08
Prices in pharmacies: from 316 rubles.
Buy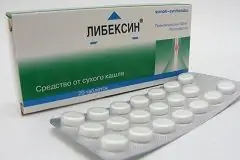 Libexin is an antitussive agent.
Release form and composition
Dosage form - tablets: flat, round, white, on both sides - chamfer, on one side - risk (allowing to divide the tablet into 4 parts), on the other - engraving "LIBEXIN" (20 pcs. In blisters, 1 blister in a cardboard box).
The active ingredient is prenoxdiazine hydrochloride, in 1 tablet - 100 mg.
Additional components: glycerol, corn starch, povidone, lactose monohydrate, talc, magnesium stearate.
Pharmacological properties
Pharmacodynamics
Prenoxdiazine is a peripheral antitussive agent. Blocks the cough reflex due to the following effects:
bronchodilatory action, which helps suppress stretch receptors, which are involved in the cough reflex;
local anesthetic effect, due to which the irritability of peripheral cough receptors is reduced;
slight suppression of the activity of the respiratory center (no respiratory depression occurs).
The antitussive effect of Libexin is approximately equal to that of codeine. The drug does not cause drug dependence and addiction. In patients with chronic bronchitis, prenoxdiazine has an anti-inflammatory effect.
The drug does not affect the functioning of the central nervous system, except for the possible indirect anti-anxiety action.
Pharmacokinetics
After oral administration, prenoxdiazine is rapidly absorbed from the gastrointestinal tract. Its maximum concentration in plasma is reached within 30 minutes after ingestion. The therapeutic concentration of prenoxdiazine is maintained for 6-8 hours. The drug is 55–59% bound to plasma proteins.
About 2/3 of the dose taken is metabolized in the liver, the rest is excreted unchanged. The half-life of prenoxdiazine is 2.6 hours. About 93% of the drug is excreted 24 hours after ingestion. After 72 hours, approximately 50–74% of prenoxdiazine is excreted in the feces, 26–50% is excreted in the urine.
Indications for use
Preparing the patient for bronchographic / bronchoscopic examination;
Nocturnal cough in patients with heart failure;
Unproductive cough of any etiology, including due to acute or chronic bronchitis, influenza, catarrh of the upper respiratory tract, emphysema, pneumonia.
Contraindications
Absolute:
Diseases accompanied by abundant bronchial secretion;
Malabsorption of glucose-galactose, lactase deficiency, galactose intolerance;
The period after inhalation anesthesia;
Hypersensitivity to the drug.
Libeksin should be used with extreme caution when treating children.
During pregnancy and lactation, the drug is prescribed only after a careful assessment of the intended benefits and possible risks.
Instructions for the use of Libeksin: method and dosage
Libeksin tablets are taken orally, swallowing whole (it is not recommended to chew the tablets in order to prevent anesthesia of the oral mucosa).
Adult patients are prescribed on average 100 mg (1 tablet) 3-4 times a day. In severe cases, the dose is increased to 200 mg (2 tablets) 3-4 times a day or up to 300 mg (3 tablets) 3 times a day.
For children, the dose of the drug is determined depending on age and body weight. As a rule, appoint 25-50 mg (1 / 4-1 / 2 tablets) 3-4 times a day.
Maximum allowable single / daily doses:
Children: 50 mg / 200 mg
Adults: 300 mg / 900 mg.
When using the drug during the period of preparation of the patient for bronchoscopy, 0.9-3.8 mg / kg is prescribed and the drug is combined with 0.5-1 mg of atropine, taken 1 hour before the procedure.
Side effects
Nervous system: when taking the drug in high doses - increased fatigue, slight sedation (they pass on their own within a few hours after Libexin is discontinued);
Gastrointestinal tract: rarely - temporary numbness and loss of sensitivity (anesthesia) of the oral mucosa, dry mouth / throat; rarely - stomach pain, nausea, tendency to constipation;
Allergic reactions: rarely - skin rash, angioedema.
Overdose
There are no data on overdose. In case of accidental intake of doses that significantly exceed the therapeutic ones, weakness and sedation may occur.
special instructions
Due to the content of lactose (0.38 mg in each tablet) in the Libexin tablets, the drug can cause undesirable reactions from the digestive system in patients with lactose intolerance.
When taking the drug in high doses, reactions may be slowed down. For this reason, the degree of restriction of patients who drive vehicles or are employed in potentially hazardous industries is determined individually.
Application during pregnancy and lactation
During pregnancy and breastfeeding, the use of the drug is possible only after the ratio of the expected benefits to the mother and the potential risk to the fetus or child.
Pediatric use
According to the instructions, Libeksin is used with caution in children and adolescents under the age of 18.
Drug interactions
Prenoxdiazine is not recommended to be taken simultaneously with drugs that have an expectorant and mucolytic effect, because when taking such a combination, it may be difficult to excrete sputum.
There are no preclinical and clinical data on the interaction of Libeksin with other drugs.
Analogs
The analogue of Libeksin is Glauvent.
Terms and conditions of storage
Store at temperatures up to 25 ° C. Keep out of the reach of children.
The shelf life is 5 years.
Terms of dispensing from pharmacies
Available without a prescription.
Reviews about Libeksin
On medical forums and portals, you can find conflicting reviews about Libexin. According to some patients, the drug is ineffective or ineffective. Other users report its high therapeutic effect on dry, irritating coughs.
The available reviews allow us to conclude that Libexin is effective precisely with dry cough, without phlegm. With a wet cough, with sputum that is difficult to separate, it is recommended to use other drugs, the action of which is aimed at thinning and passing sputum.
The price of Libexin in pharmacies
The price of Libexin in tablets of 100 mg (20 pcs. In a package) averages 420-500 rubles and varies slightly in different pharmacies.
Libeksin: prices in online pharmacies
Drug name
Price
Pharmacy
Libeksin Muko 20 mg / ml syrup for children 125 ml 1 pc.
316 RUB
Buy
Reviews Libexin Muko
316 RUB
Buy
Libexin Muko 50 mg / ml syrup 125 ml 1 pc.
382 r
Buy
Libeksin Muko syrup for children. 2% 125ml
418 RUB
Buy
Libeksin 100 mg tablets 20 pcs.
448 r
Buy
Libeksin tablets 100mg 20 pcs.
460 RUB
Buy
Libeksin Muko syrup 5% 125ml
467 r
Buy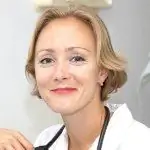 Anna Kozlova Medical journalist About the author
Education: Rostov State Medical University, specialty "General Medicine".
Information about the drug is generalized, provided for informational purposes only and does not replace the official instructions. Self-medication is hazardous to health!
Popular by topic