Table of contents: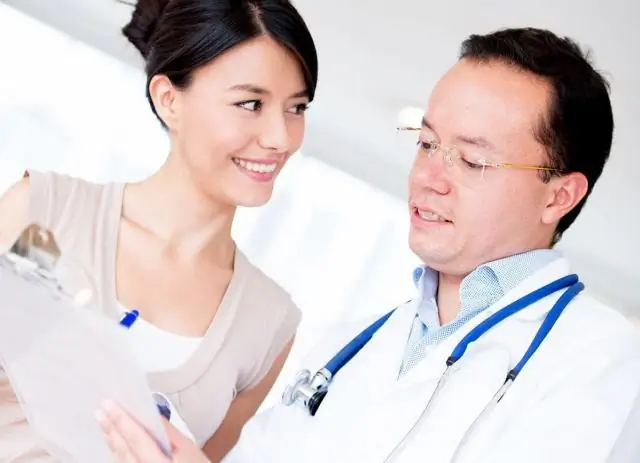 Video: Abaktal - Instructions For Use, Price, Reviews, Tablet Analogs
Abaktal
Abaktal: instructions for use and reviews
1. Release form and composition
2. Pharmacological properties
3. Indications for use
4. Contraindications
5. Method of application and dosage
6. Side effects
7. Overdose
8. Special instructions
9. Application during pregnancy and lactation
10. Use in childhood
11. In case of impaired renal function
12. For violations of liver function
13. Use in the elderly
14. Drug interactions
15. Analogs
16. Terms and conditions of storage
17. Terms of dispensing from pharmacies
18. Reviews
19. Price in pharmacies
Latin name: Abaktal
ATX code: J01MA03
Active ingredient: pefloxacin (pefloxacin)
Producer: Lek (Slovenia), Sotex PharmFirma (Russia)
Description and photo update: 2019-16-08
Prices in pharmacies: from 150 rubles.
Buy
Abaktal is a broad-spectrum antibiotic that has a bactericidal effect against gram-positive, gram-negative microorganisms and intracellular pathogens.
Release form and composition
Abaktal is available in the form of film-coated tablets for oral administration and liquid for infusion.
Tablets from white to yellowish biconvex oval shape, containing 558.5 mg of pefloxacin mesylate dihydrate corresponding to 400 mg of pefloxacin.
In addition, each tablet contains as auxiliary substances:
Lactose monohydrate - 79.5 mg;
Corn starch - 32 mg;
Povidone - 32 mg;
Sodium carboxymethyl starch - 32 mg;
Talc - 27 mg;
Colloidal anhydrous silicon dioxide - 2 mg;
Magnesium stearate - 7 mg
The shell contains:
Hypromellose - 13.166 mg;
Titanium dioxide - 2.09 mg;
Talc - 854 mcg;
Macrogol 400 - 1.79 mg;
Carnauba wax - 100 mcg.
Packed tablets Abaktal 10 pieces in blisters, which are packaged in individual cardboard boxes.
Concentrate, intended for the preparation of solution for intravenous administration, from yellow to light yellow, transparent. In one ampoule - 400 mg of pefloxacin, in 1 ml - 80 mg.
The solution contains as auxiliary substances:
Ascorbic acid;
Disodium edetate;
Sodium bicarbonate;
Sodium metabisulfite;
Benzyl alcohol;
Distilled water.
Packing of 10 ampoules, 5 ml volume, in plastic pallets, one pallet in a cardboard box.
Pharmacological properties
Pharmacodynamics
Pefloxacin is a synthetic antimicrobial drug from the group of fluoroquinolones. It has a bactericidal effect due to inhibition of the enzyme DNA gyrase and replication of bacterial DNA, replication of the A-subunit of RNA and protein synthesis by bacterial cells.
This substance of Abaktal acts on cells of gram-negative bacteria in the phases of division and rest, and on cells of gram-positive bacteria in the phase of mitotic division, and also has a po-antibiotic effect.
Pefloxacin has a broad spectrum of antimicrobial activity.
Effective against the following microorganisms: Campylobacter jejuni, Aeromonas hydrophila, Enterobacter spp., Citrobacter spp., Haemophilus influenzae, Haemophilus ducreyi, Escherichia coli, Legionella pneumophila, Klebsiella spp., Morganella morganii, Protehalisella catol. Pasteurella multocida, Providencia stuartii, Shigella spp., Serratia spp., Salmonella spp., Vibrio cholerae.
Moderate sensitivity to Abaktal is characteristic of Acinetobacter spp., Streptococcus spp. (excluding Streptococcus pneumonia), Neisseria meningitidis, Neisseria gonorrhoeae, Chlamydia trachomatis, Staphylococcus aureus.
Resistant are Gardnerella vaginalis, Enterococcus spp., Clostridium perfringens, gram-negative anaerobic microorganisms, Mycoplasma spp., Pseudomonas aeruginosa, Mycobacterium tuberculosis, Ureaplasma urealyticum, spirochetes (Borrelia spp., Spp.
Pharmacokinetics
With intravenous infusion of pefloxacin at a dose of 400 mg 1 or 2 times a day in healthy volunteers, the maximum plasma concentration immediately after administration was 5.8 μg / ml, and after 12 hours the residual concentration in the blood serum was 1.49 μg / ml. After the 10th dose was administered, the average maximum and average residual drug concentration in the blood serum were 9.55 and 4.22 μg / ml, respectively.
When taken orally, absorption is high: within 20 minutes, 90% of the drug is absorbed in the gastrointestinal tract. With a single oral administration of pefloxacin at a dose of 200 or 400 mg in healthy volunteers, the maximum concentration of the drug in the blood plasma for 1–1.5 h was 2.5 and 4.3 μg / ml, respectively. With repeated oral administration of pefloxacin at a dose of 400 mg 2 times a day, the maximum and residual concentrations are reached after 48 hours. In this case, the maximum concentration of pefloxacin in the blood serum is 7.9–10 μg / ml, and the residual concentration before taking the next dose is 3.8 μg / ml.
When taken orally and intravenously, the areas under the concentration-time pharmacokinetic curve are the same (29.5 mg / ml / h), which is a sign of complete absorption of the active substance.
Plasma proteins bind 20-30% of pefloxacin. The volume of distribution is 1.7 l / kg, which allows the drug to be evenly distributed over fluids, organs and tissues of the body.
The active substance is metabolized in the liver, with the formation of 5 metabolites (pefloxacin-N-oxide, N-dimethylpefloxacin, oxonorfloxacin, oxopefloxacin and pefloxacin-glucuronide), which are found in urine (with the exception of pefloxacin-glucuronide). The main metabolites are pefloxacin-N-oxide (with minimal antibacterial activity) and N-dimethylpefloxacin (with significant antibacterial activity). The concentration of N-dimethylpefloxacin in plasma is 2–3% of the total concentration of pefloxacin.
With normal liver and kidney function, about 59% of the dose is excreted unchanged or in the form of major metabolites. In general, 60% of the dose is excreted by the kidneys, 40% through the intestines (20–30% is excreted in the bile in the form of pefloxacin-glucuronide, as well as N-oxide derivatives). Approximately 16.2% of the dose is excreted in the form of pefloxacin-N-oxide, another 20% in the form of N-dimethylpefloxacin.
With a single infusion, the elimination half-life is from 7.2 to 13 hours, and with repeated administration - from 14 to 15 hours.
With a single oral administration, the half-life of the drug is 10.5 hours, with repeated administration - up to 12.3 hours. It should be noted that pefloxacin and metabolites are determined in urine within 48 hours after administration.
Pefloxacin is reabsorbed in the renal tubules. Depending on the dose taken, the renal clearance of pefloxacin is 0.11-0.21 ml / s.
Plasma concentration and half-life of pefloxacin practically do not change with impaired renal function, since hepatic clearance is the main way of excretion of the drug. It is practically not excreted during hemodialysis.
Plasma clearance of pefloxacin in liver dysfunction is significantly reduced, and the half-life, respectively, increases.
Indications for use
According to the instructions, Abaktal is used in the treatment and prevention of infectious diseases caused by bacteria sensitive to the action of pefloxacin.
These include:
Infectious diseases of the upper and lower respiratory tract ENT organs (bacterial pneumonia, chronic and recurrent bronchitis, bronchopulmonary infections, cystic fibrosis);
Otitis media, sinusitis, tonsillitis, frontal sinusitis, tonsillitis;
Infectious diseases of the genitourinary organs: urethritis, cystitis, pyelonephritis, vaginitis, prostatitis, tubular abscess, endometritis;
Gonorrhea and chlamydia;
Cholera, salmonellosis, typhoid fever, shigellosis, cholecystitis, empyema of the gallbladder; osteomyelitis and arthritis;
Infected burns, ulcers, abscesses, wounds;
Prevention and treatment of nosocomial infections;
Complications after gynecological and surgical interventions;
Intra-abdominal abscesses, endocarditis, peritonitis and bacterial meningitis;
Reduced immunity, in the prevention and treatment of infectious diseases.
Abaktal is used in combination with other antimicrobial drugs or as a monotherapy.
After oral administration, Abaktal is absorbed in the gastrointestinal tract. The maximum blood level is observed after 1.5 hours. The degree of connection with plasma proteins is no more than 30% of the dose taken. The drug is metabolized in the liver, excreted mostly in the urine and partly in the bile, both as metabolites and unchanged. After a single dose of Abaktal, the half-life is 8 hours, and after a second dose - 13 hours. It is possible to determine the presence of pefloxacin in urine within 3.5 days after the last use.
Contraindications
Abaktal is contraindicated:
Persons with hypersensitivity to the components of the drug;
Pregnant and breastfeeding women;
Children under 18.
According to the instructions, Abaktal is prescribed with caution to people with organic lesions of the central nervous system, severe hepatic failure, impaired liver and kidney function.
Instructions for use of Abaktal: method and dosage
Abaktal tablets should be taken orally during or after meals with plenty of water. They do not need to be shredded or divided. The use of Abaktal will be more effective if the daily dose is divided into two parts and the drug is taken at regular intervals.
According to the instructions for Abaktal, the required dose of the drug is:
For sexually transmitted diseases, gynecological infections and infectious diseases of the urinary system - 400 mg once a day;
With gonorrhea - 800 mg once a day;
Other infectious diseases involve taking Abaktal 2 times a day, 400 mg.
In case of impaired liver function, it is recommended to use Abaktal in the form of a solution for infusion, for which the contents of one ampoule are preliminarily diluted in 250 ml of 5% glucose. The resulting composition must be injected slowly by drip. In order for the therapeutic concentrations of Abaktal to be achieved faster, the introduction in the first dose of 800 mg is permissible. The maximum daily dose of the drug is 1.2 g.
In surgery, for the prevention of infectious complications, the introduction of Abaktal is carried out 1 hour before the operation at a dose of 400-800 mg. The frequency of drip infusion for patients with jaundice is 1 time per 24 hours, with ascites - 1 time per 36 hours, with jaundice and ascites - no more than 1 time per 48 hours. Elderly patients, especially those with impaired renal function, should take a reduced dose of the drug, as indicated in the instructions for Abaktal.
Side effects
A negative reaction to Abaktal is possible from the side:
Digestive system (diarrhea, vomiting, loss of appetite, change in taste, dyspepsia, rarely pseudomembranous colitis);
Central nervous system (dizziness, anxiety, headache, depression, blurred vision, insomnia, hallucinations, tremors, confusion, rarely - convulsions);
Urinary system (crystalluria, rarely - interstitial nephritis, hematuria);
Musculoskeletal system (arthralgia, tendonitis, myalgia).
It is also possible to develop phlebitis, skin rash, skin redness, itching.
Overdose
Symptoms: psychomotor agitation, confusion, nausea, vomiting, in severe cases, convulsions, loss of consciousness, prolongation of the QT interval.
Therapy: symptomatic. Hemodialysis is ineffective. Requires medical supervision and ensuring a sufficient intake of fluid in the body.
special instructions
When using Abaktal, it should be borne in mind that:
You can use the drug for droppers only in a hospital, under the supervision of a medical staff;
It is necessary to avoid ultraviolet radiation during the period of treatment and at least 6 days after the end of therapy;
Stop using Abaktal for any allergies, CNS reactions, suspected tendonitis;
It is important to take the drug with extreme caution after the age of 60;
An analysis to determine glucose in urine during the period of drug therapy should be done by enzymatic methods;
Beta-lactam antibiotics, vancomycin, metronidazole and rifampicin can be used in combination with Abaktal;
At the same time, prescribe pefloxacin with isoniazid with caution;
When doing activities that require increased attention, potentially hazardous types of work, driving a car, taking Abaktal, it is important to be careful.
Application during pregnancy and lactation
The use of the drug Abaktal in pregnant women is contraindicated.
Since pefloxacin is excreted in large quantities in breast milk (75% of serum concentration), breastfeeding should be discontinued while using the drug.
Pediatric use
It is forbidden to use Abaktal to treat patients under the age of 18.
With impaired renal function
In case of impaired renal function, Abaktal should be used with caution.
For violations of liver function
In case of impaired liver function, the drug should be prescribed with caution. In severe liver dysfunctions, Abaktal is contraindicated.
Use in the elderly
When treating elderly patients, Abaktal should be used with caution.
Drug interactions
With the combined use of pefloxacin and rifampicin, additive and synergistic effects are achieved. With a combination of these drugs, it is necessary to control the plasma concentration of pefloxacin in the blood serum, since rifampicin significantly increases the plasma clearance of pefloxacin.
When combined with beta-lactam antibiotics (in the case of treatment of staphylococcal infection), an additive and synergistic effect is also provided.
Pefloxacin lowers the metabolism of theophylline in the liver, causing an increase in the concentration of the latter in the blood plasma and the central nervous system. This effect can lead to an increase in the severity and / or frequency of side effects, which in rare cases can pose a threat to life or be fatal, therefore, if it is necessary to simultaneously use pefloxacin and theophylline, it is necessary to control the plasma concentration of the latter and adjust its dose accordingly.
Aminoglycosides, ceftazidime, azlocillin, piperacillin enhance the antibacterial effect (including cases of infection with Pseudomonas aeruginosa).
When taking oral (indirect) anticoagulants, pefloxacin can lower the prothrombin index. The degree of anticoagulant effect may vary depending on the age, general condition of the patient and the nature of the disease, therefore it is necessary to control the International Normalized Ratio during the period of joint therapy with pefloxacin and oral anticoagulants, as well as for some time after its completion.
When used together with ranitidine, cimetidine and other inhibitors of microsomal liver enzymes, the half-life of pefloxacin increases, and its toxicity increases.
Antacids (containing magnesium or aluminum) and preparations containing zinc and iron, as well as didanosine (dosage forms of didanosine in which magnesium or aluminum compounds are buffered) slow down the absorption of pefloxacin, therefore it is recommended to take it at least 2 hours before or after 4 –6 hours after taking these drugs.
No clinically significant interaction between calcium carbonate and pefloxacin has been identified.
With the combined use of cyclosporine and fluoroquinolones, an increase in the concentration of cyclosporine and creatinine in the blood plasma is possible.
Caution should be exercised when used together with isoniazid.
It is allowed to prescribe pefloxacin in combination with vancomycin and metronidazole.
In the case of combined use with chloramphenicol and tetracycline, antagonism is observed.
The combination of pefloxacin and glucocorticosteroids (especially in elderly patients over the age of 60 years, with impaired renal function or dyslipidemia) increases the likelihood of developing unwanted effects such as tendonitis, as well as damage to the Achilles tendon (very rare). As a result, it is recommended to avoid the combined use of glucocorticosteroids and pefloxacin.
Pefloxacin in combination with oral hypoglycemic drugs increases the concentration of the latter and lengthens the half-life, reducing the activity of the microsomal oxidation process in hepatocytes.
Pefloxacin can cause lengthening of the QT interval, which requires caution when taken simultaneously with drugs that prolong the QT interval: class IA and III antiarrhythmics, tricyclic antidepressants, antipsychotics (haloperidol, phenothiazine derivatives, pimozide), some antimicrobial agents (sp. moxifloxacin, macrolides, antimalarial drugs), some antihistamines (astemizole), since the likelihood of life-threatening arrhythmias increases.
Analogs
Analogs of Abaktal in terms of active ingredient: Pelox, Pefloxacin, Peflocin, Unicpef, etc.
Terms and conditions of storage
Shelf life of Abaktal is 3 years.
Keep out of the reach of children, avoiding light, while the temperature in the room should not exceed 25 ° C.
Terms of dispensing from pharmacies
Dispensed by prescription.
Reviews about Abaktal
Reviews about Abaktal indicate its effectiveness in the treatment of prostatitis, pyelonephritis, sinusitis and gynecological diseases.
Side effects when taking this drug are rare. So, the authors of some reviews report the appearance of headache, irritability, insomnia, anxiety, hallucinations. A small number of patients complain of heartburn, nausea, abdominal pain after taking Abaktal. There may also be an increase in transaminase levels, which disappears after discontinuation of therapy. Elderly people complain of joint pain, tendinitis, tendovaginitis.
The price of Abaktal in pharmacies
The approximate price for Abaktal is: 10 tablets of 400 mg - 275 rubles, 10 ampoules of 400 mg / 5ml - 580 rubles.
Abaktal: prices in online pharmacies
Drug name
Price
Pharmacy
Abaktal 400 mg film-coated tablets 10 pcs.
RUB 150
Buy
Abaktal tablets p.p. 400mg 10 pcs.
235 RUB
Buy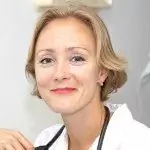 Anna Kozlova Medical journalist About the author
Education: Rostov State Medical University, specialty "General Medicine".
Information about the drug is generalized, provided for informational purposes only and does not replace the official instructions. Self-medication is hazardous to health!
Recommended: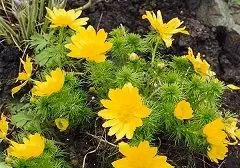 Adonis is a herbaceous plant from the genus of buttercups. The pharmaceutical industry produces on the basis of adonis tincture and tablets of Adonizid, which are prescribed for cardiac neurosis, vegetative vascular dystonia, etc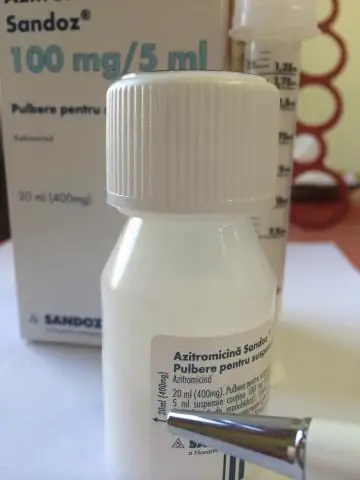 Instructions for use Azitrox suspension and capsules. Information on dosing for children, contraindications, reviews, analogues and the price of the drug in pharmacies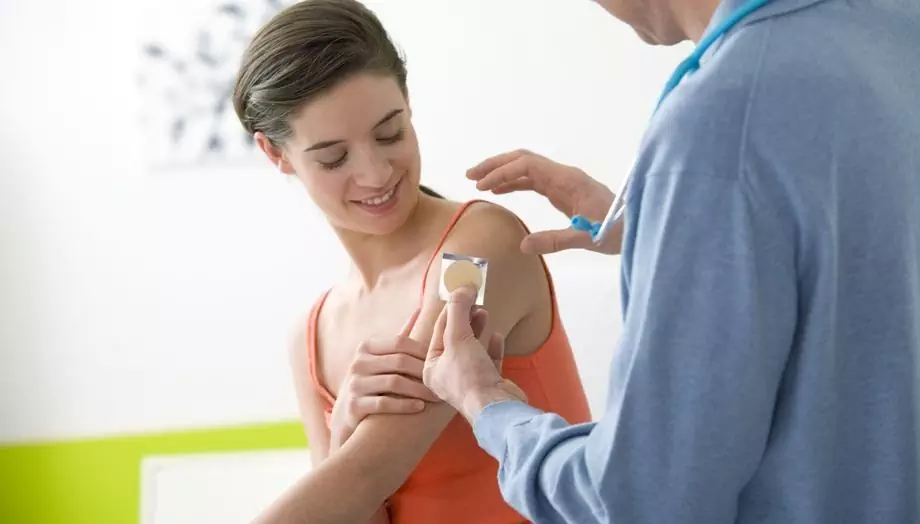 Nicotine patch is an effective remedy for weaning from nicotine addiction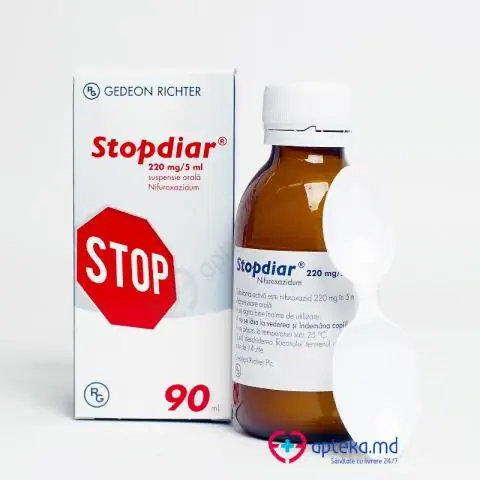 Instructions for use of Stopdiar in the form of a suspension, capsules and tablets. Information on doses for children, contraindications, reviews, analogues and the price of the drug in pharmacies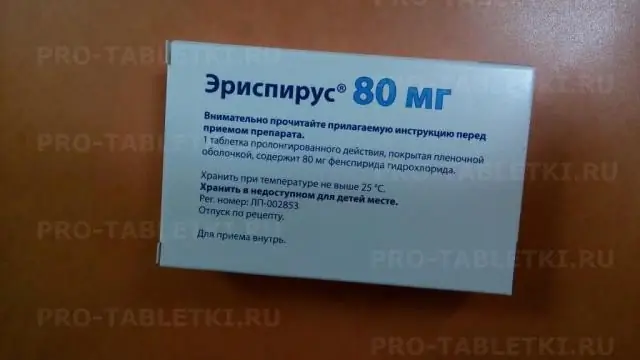 Instructions for use Erispirus tablets and syrup. Information on the dosage for children, contraindications, reviews, analogues and the price of the drug in pharmacies