Table of contents:

Video: Compression Hosiery For Varicose Veins
Compression hosiery for varicose veins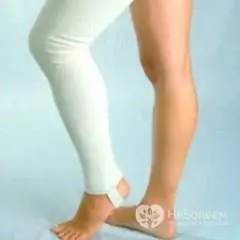 Varicose veins, or varicose veins, is the most common vascular disease. In many ways, its appearance depends on external factors - working conditions, rest, etc., but the main cause of varicose veins in the legs is hereditary pathology of connective tissue. It is this factor that affects the weakness of the vascular walls and the valve apparatus of the veins. As a result, they are less resilient and stiff than necessary, and therefore prone to overflowing with blood, due to poor outflow. Since the legs are farthest from the heart, varicose veins on the legs occur most often.
Varicose veins are among those diseases that are very difficult to cure, since the threat of the development of the disease always remains. Therefore, the issues of prevention in this disease are paramount. If among close relatives there are or have been cases of varicose veins, then the person with almost one hundred percent probability belongs to the risk group for this disease. The main thing against which preventive measures should be directed is stagnation of blood in the legs. This can be achieved by exercise and massage, but this is not always convenient. An ideal means of prevention and treatment is compression hosiery for varicose veins.
What does compression hosiery give for varicose veins? In essence, this is a passive, but therefore no less effective massage that occurs during the entire time that the medical underwear is worn on the body. By the way, if you hear about medical underwear and imagine the rough brown stockings that your grandmother, who suffered from pain in her legs, bought at the pharmacy, you are definitely not aware of current trends. Modern corrective underwear for women, and even for men, looks elegant and attractive, and outwardly differs from ordinary underwear only in its slightly denser structure. In fact, this is a high-tech product with amazing properties that make such underwear truly miraculous.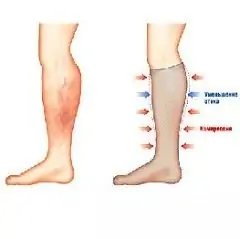 Wearing compression hosiery for varicose veins should ideally be permanent. This underwear provides, firstly, the compression of the superficial veins - not so powerful as to impede blood flow in them, but strong enough to serve as an external frame, thereby supporting the venous walls and preventing them from expanding. Secondly, the special structure of the tissue provides, as already mentioned above, constant micromassage, and its movements are not chaotic, but have a direction that coincides with the outflow of venous blood. As a result of wearing compression hosiery, such manifestations of varicose veins as heaviness in the legs, fatigue and evening pain cease to annoy the person, the process of vein damage stops, and in some cases even gets the opposite development.
Found a mistake in the text? Select it and press Ctrl + Enter.
Popular by topic