Table of contents:

Video: Vein Sclerotherapy Procedure
Vein sclerotherapy procedure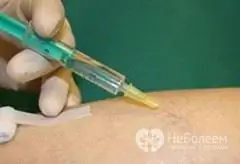 There are few people who have never heard of varicose veins. Alas, this disease is now so widespread that, starting from a certain age, it is almost commonplace. In addition to the well-known varicose veins on the legs, there are other manifestations of this disease, such as hemorrhoids, varicocele, and telangiectasia, or as they are often called by the people, spider veins, which are small cosmetic defects. Telangiectasias often appear on the legs and, alas, on the face. Vein sclerotherapy is a non-surgical method of treatment that helps with these pathologies.
As follows from the above, the need for vein sclerotherapy occurs in two cases. The first is when the veins cease to cope with their function and do not provide blood flow to the extent necessary. The consequence is stagnation of blood in the veins, impaired blood circulation in the venous bed, which in turn leads to many pathologies. The second case when vein sclerotherapy is effective is the elimination of a cosmetic defect. Telangiectasias can occur on any part of the body, but they are especially undesirable in open areas such as the face, legs, arms, neck.
What is a vein sclerotherapy procedure? The so-called sclerosant is injected into the affected vessel by injection - a substance that causes aseptic inflammation, that is, one in which there is no infection. The inflammation of the walls of blood vessels is so strong that they stick together, stick together, and blood circulation in this place stops. Since the bloodstream is represented by many vessels communicating with each other, the cessation of blood flow in one of them does not cause serious problems with the blood supply to this area, the blood simply bypasses.
The vein sclerotherapy procedure is safe and practically painless. It takes about half an hour, the effect comes quickly and lasts a lifetime. This means that once they have fallen asleep, the sclerosed veins are no longer restored. Depending on the individual characteristics and type of veins, to achieve the full effect may require more than one procedure, but several.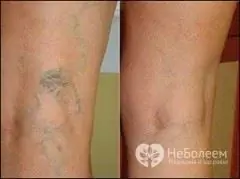 Is vein sclerotherapy effective? Definitely yes. But you need to understand that this method is not able to eliminate the cause of the disease, but only its consequence. That is, it is possible to remove a sick or ugly vessel with its help, but this procedure will not be able to prevent the appearance of a new similar problem. The cause of varicose veins is a genetic predisposition combined with an inappropriate lifestyle. Therefore, prescribing sclerotherapy of veins as a treatment for varicose veins, the doctor always supplements it with advice on correcting lifestyle. Only in such a complex is it possible to completely cure varicose veins.
Found a mistake in the text? Select it and press Ctrl + Enter.
Popular by topic