Table of contents: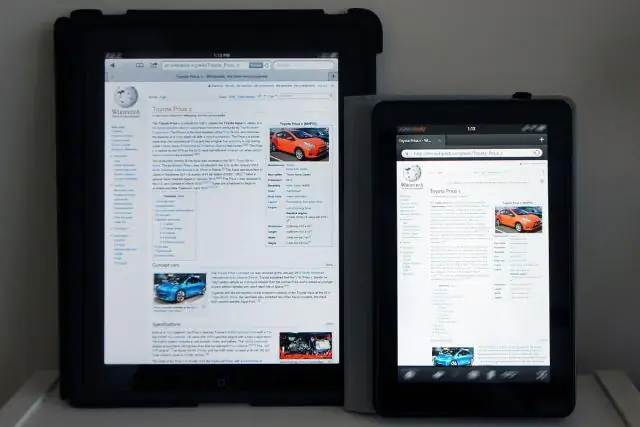 Video: Ranisan - Instructions For The Use Of Tablets, Price, Analogs, Reviews
Ranisan
Ranisan: instructions for use and reviews
1. Release form and composition
2. Pharmacological properties
3. Indications for use
4. Contraindications
5. Method of application and dosage
6. Side effects
7. Overdose
8. Special instructions
9. Application during pregnancy and lactation
10. Use in childhood
11. In case of impaired renal function
12. For violations of liver function
13. Drug interactions
14. Analogs
15. Terms and conditions of storage
16. Terms of dispensing from pharmacies
17. Reviews
18. Price in pharmacies
Latin name: Ranisan
ATX code: A02BA02
Active ingredient: ranitidine (Ranitidine)
Manufacturer: PRO. MED. TSS Praha a.o. (PRO. MED. CS Praha, as) (Czech Republic)
Description and photo updated: 30.11.2018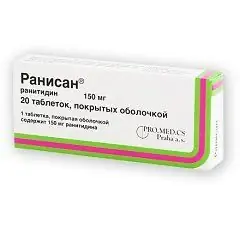 Ranisan is an agent that lowers the secretion of stomach glands.
Release form and composition
Dosage form - film-coated tablets: round, biconvex, light pink (at a dosage of 75 mg) or almost white (at a dosage of 150 mg), the top layer of the shell and the core of an almost white or white with a yellowish tinge are visible on the fracture; on 150 mg tablets, there is a risk on one side (10 pcs. in blisters, in a cardboard box 1 blister with 75 mg tablets or 1-2 blisters with 150 mg tablets and instructions for use of Ranisan).
Composition of 1 tablet:
active substance: ranitidine (in the form of ranitidine hydrochloride) - 75 or 150 mg;
auxiliary components: povidone 25, copovidone, magnesium stearate, corn starch, microcrystalline cellulose;
film shell: simethicone emulsion; 75 mg tablets - Opadray 06F23882 (titanium dioxide, magnesium stearate, titanium dioxide, hypromellose 5, hypromellose 15, iron dye yellow oxide, iron dye red oxide); tablets of 150 mg - Opadray 06F28325 (titanium dioxide, magnesium stearate, titanium dioxide, hypromellose 5, hypromellose 15).
Pharmacological properties
Pharmacodynamics
Ranitidine - the active ingredient of Ranisan - is a blocker of H2-histamine receptors of the second generation. The mechanism of its action is due to the ability to block the H2-histamine receptors of the membranes of the parietal cells of the gastric mucosa. The drug inhibits the basal and stimulated, day and night secretion of hydrochloric acid (HCl). Reduces the volume of gastric juice, increased due to stretching of the stomach with food load, the action of hormones or biogenic stimulants (acetylcholine, histamine, gastrin, pentagastrin, caffeine).
The process of reducing the amount of HCl in gastric juice is not accompanied by significant suppression of liver enzymes associated with the cytochrome P450 system.
Ranisan reduces the activity of pepsin. Does not affect mucus production, plasma gastrin concentration, serum calcium ion content and prolactin level. Does not affect the release of pituitary hormones (such as gonadotropins, growth hormone and thyroid-stimulating hormones), the concentration of estrogens, androgens and aldosterone. Does not alter sperm motility, composition and sperm count. It has no antiandrogenic effect.
Ranitidine may impair the release of vasopressin.
Ranisan increases the formation of gastric mucus and the amount of glycoproteins contained in it, stimulates the secretion of bicarbonate by the gastric mucosa, enhances the endogenous synthesis of prostaglandin (Pg) and the rate of regeneration. Thanks to these properties, it strengthens the defense mechanisms of the gastric mucosa and promotes the healing of its damage.
With a single application in a dose of 150 mg, ranitidine suppresses the secretion of gastric juice for 8-12 hours. Inhibits microsomal enzymes (weaker than cimetidine).
Pharmacokinetics
Ranitidine is rapidly absorbed from the gastrointestinal tract. Simultaneous food intake does not affect the degree of absorption, plasma concentration of the drug and its pharmacokinetic properties.
After a single dose of 150 mg, the maximum plasma concentration (Cmax) is 403-411 ng / ml. After repeated administration of a similar dose in an equilibrium state for 12 hours, the plasma concentration reaches 653 ng / ml.
Cmax is achieved within 2-3 hours after taking Ranisan. Bioavailability of ranitidine ~ 50%. Communication with plasma proteins - no more than 15%. The total clearance is 568–709 ml / min. Ranitidine penetrates well into fluids and tissues. The concentration in the central nervous system reaches 15–25% of the plasma level. The substance passes through the placental barrier, its concentration in breast milk is higher than in plasma.
The drug has the effect of the first passage through the liver. The hepatitis clearance of ranitidine is approximately 70%. It is metabolized in the liver with the formation of the following pharmacologically active metabolites: ranitidine-N oxide (3-5%), desmethyl-ranitidine (1.7-2.4%) and ranitidine-S oxide (1.1-1.7%). Metabolites have a higher level of hydrophilia than ranitidine, therefore they are excreted mainly by the kidneys - 60–70%. In unchanged form, approximately 35% of the drug is excreted through the kidneys and intestines by glomerular filtration and tubular secretion.
The half-life in patients with normal creatinine clearance (CC) is 2.5 hours, with CC 20-30 ml / min increases to 8-9 hours. The rate and degree of elimination are practically independent of liver function.
Indications for use
Ranisan is used for the symptomatic treatment of dyspeptic disorders associated with increased acidity of gastric juice, such as sour belching, heartburn and nausea.
Contraindications
Absolute:
the malignant nature of the stomach ulcer;
children under 3 years old;
lactation period;
hypersensitivity to any component of Ranisan.
Ranisan tablets are used with caution in the following cases:
children age 3–12 years;
suppression of immunity;
liver cirrhosis with a history of portosystemic encephalopathy;
liver failure;
renal failure;
acute porphyria (including a history);
period of pregnancy.
Ranisan, instructions for use: method and dosage
Ranisan is indicated for oral administration. The tablets should be swallowed whole and washed down with plenty of water.
The drug is taken as needed (in case of heartburn or other symptoms of dyspepsia), 1 tablet. No more than 2 tablets are allowed per day.
Unless otherwise prescribed by the doctor, the duration of therapy should not exceed 14 days.
Side effects
allergic reactions: itching, skin rash, urticaria, anaphylactic shock, angioedema, bronchospasm, exudative erythema multiforme (including Stevens-Johnson syndrome), toxic epidermal necrolysis, exfoliative dermatitis;
from the digestive system: abdominal pain, diarrhea, constipation, dry mouth, nausea, vomiting, increased activity of hepatic transaminases, jaundice; rarely - acute pancreatitis, cholestatic, hepatocellular or mixed hepatitis;
from the endocrine system: amenorrhea, gynecomastia, decreased potency and / or libido, hyperprolactinemia;
on the part of the cardiovascular system: tachycardia, bradycardia, lowering blood pressure, atrioventricular block, arrhythmia, vasculitis;
from the nervous system: involuntary movements, increased fatigue, dizziness, headache, emotional lability, drowsiness, insomnia, nervousness, anxiety, anxiety, hyperthermia, depression; rarely - tinnitus, confusion, irritability, hallucinations (mainly in seriously ill patients and the elderly);
on the part of the hematopoietic organs: hypo- and aplasia, aplastic and immune hemolytic anemia, agranulocytosis, thrombocytopenia, pancytopenia, leukopenia, neutropenia;
on the part of the musculoskeletal system: arthralgia, myalgia;
on the part of the senses: paresis of accommodation, blurred visual perception;
others: hypercreatinemia, alopecia.
Overdose
When taking an excessive dose of Ranisan, the following symptoms may develop: ventricular arrhythmia, bradycardia, convulsions.
It is recommended to induce vomiting and / or gastric lavage. Treatment is symptomatic. Hemodialysis is effective. For ventricular arrhythmias, lidocaine is prescribed, atropine is indicated to stop an attack of bradycardia, and diazepam is administered intravenously for convulsions.
special instructions
Yes, when you start taking Ranisan tablets, you should consult a doctor with a doctor who has a history of the following diseases / conditions: gastric ulcer, functional impairment of the kidneys or liver, cardiac arrhythmias, porphyria, unmotivated weight loss, as well as in case of concurrent use of other medicines.
Before Ranisan therapy, it is necessary to conduct an examination to exclude malignant diseases of the esophagus, stomach and duodenum.
During the period of treatment, it is recommended to refrain from drinking, food and drugs that can irritate the gastric mucosa.
With prolonged use of Ranisan in weakened patients under stress, there is a danger of bacterial damage to the stomach, followed by the spread of infection.
While taking ranitidine, it is possible to obtain a false-positive reaction when conducting a test for the presence of protein in the urine.
Ranisan increases serum creatinine, glutamyltranspeptidase and gamma-glutamyltransferase levels.
Ranitidine interferes with the action of histamine and pentagastrin on the acid-forming function of the stomach, so it is not recommended to use it within 24 hours before the test.
Blockers of H2-histamine receptors significantly reduce the absorption of ketoconazole and itraconazole. If necessary, their simultaneous use must be observed at intervals between doses of at least 2 hours.
Ranitidine can suppress the cutaneous reaction to histamine, leading to false positive results. It is recommended to stop taking Ranisan before carrying out diagnostic skin tests for the presence of an immediate allergic reaction.
Ranisan's effect in suppressing nocturnal gastric acid secretion may be reduced by smoking.
It is not recommended to abruptly cancel ranitidine, which is due to the risk of developing rebound syndrome.
Influence on the ability to drive vehicles and complex mechanisms
Patients whose work is associated with increased danger or requires quick reactions and increased concentration should be careful during the period of Ranisan therapy.
Application during pregnancy and lactation
Ranisan should be used with caution during pregnancy.
Penetrating into breast milk, ranitidine creates higher concentrations in it than in plasma. In this regard, Ranisan is contraindicated to take during lactation.
Pediatric use
contraindicated: up to 3 years;
caution required: 3–12 years.
With impaired renal function
In renal failure, Ranisan is contraindicated.
For violations of liver function
Ranisan is contraindicated in liver failure. Do not take the drug in patients with liver cirrhosis with a history of portosystemic encephalopathy.
Drug interactions
procainamide: its concentration in the blood increases;
theophylline: its content in plasma increases, which can lead to the development of tachycardia and the appearance of a feeling of depression;
itraconazole, ketoconazole: their absorption may decrease;
metoprolol: its maximum concentration (Cmax) and the area under the concentration-time curve (AUC) increase by 50 and 80%, respectively, the half-life (T 1/2) increases from 4.4 to 6.5 hours;
drugs that depress the bone marrow: the risk of developing neutropenia increases;
antacids, sucralfate: absorption of ranitidine slows down (at least 2-hour intervals should be observed between doses of drugs).
Ranitidine inhibits the metabolism in the liver of the following drugs: indirect anticoagulants, slow calcium channel blockers, lidocaine, diazepam, phenazone, buformin, aminophylline, glipizide, nifedipine, hexobarbital, aminophenazone, theophylline, metronidazole, warrolfarin.
Smoking reduces the effectiveness of ranitidine.
Analogs
Ranisan's analogues are Atsilok, Gistak, Zantak, Kvamatel, Ranitidine, Famotidine and others.
Terms and conditions of storage
Store at a temperature of 15-25 ° C in a dry, dark place, out of reach of children.
The shelf life is 3 years.
Terms of dispensing from pharmacies
Available without a prescription.
Reviews about Ranisana
According to reviews, Ranisan is a remedy that effectively helps with disorders of the gastrointestinal tract associated with increased acidity of gastric juice. According to patients, the drug is well tolerated and does not cause side effects, moreover, it is inexpensive. Many periodically take Ranisan for heartburn, so they always have the drug in their home medicine cabinet.
Price for Ranisan in pharmacies
The approximate price for Ranisan is 48–56 rubles. per pack of 20 film-coated tablets of 150 mg.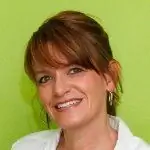 Maria Kulkes Medical journalist About the author
Education: First Moscow State Medical University named after I. M. Sechenov, specialty "General Medicine".
Information about the drug is generalized, provided for informational purposes only and does not replace the official instructions. Self-medication is hazardous to health!
Popular by topic