Table of contents: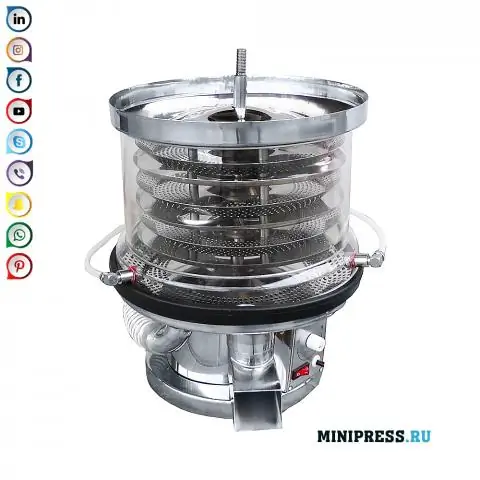 Video: Retinol - Instructions For The Use Of Capsules And Tablets, Reviews, Price
Retinol
Retinol: instructions for use and reviews
1. Release form and composition
2. Pharmacological properties
3. Indications for use
4. Contraindications
5. Method of application and dosage
6. Side effects
7. Overdose
8. Special instructions
9. Application during pregnancy and lactation
10. In case of impaired renal function
11. Drug interactions
12. Analogs
13. Terms and conditions of storage
14. Terms of dispensing from pharmacies
15. Reviews
16. Price in pharmacies
Latin name: Retinol
ATX code: A11CA01
Active ingredient: Retinol (Retinol)
Producer: Altayvitamins, JSC (Russia), Veropharm, JSC (Russia)
Description and photo update: 2018-24-10
Prices in pharmacies: from 37 rubles.
Buy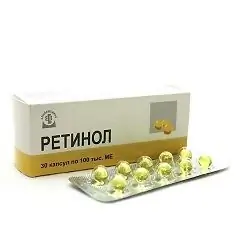 Retinol is a drug with a fortifying effect, replenishing vitamin A deficiency.
Release form and composition
Dosage forms of release:
capsules: gelatinous, from dark to light yellow, spherical; the capsules contain an oily liquid from dark to light yellow color (in polymer or glass jars of 25 pcs., in a cardboard bundle 1 can; in blisters of 10 pcs., in a cardboard bundle of 1–5 packs);
coated tablets (dragees): yellow, the core is white with a yellowish tinge (in polymer or glass jars / bottles of 20, 30, 40, 50 or 100 pcs., in a cardboard box 1 can / bottle; in blisters 10 pcs., in a cardboard box 2-5 packs).
Composition of 1 capsule Retinol:
active substance: 55% solution of retinol palmitate in oil - 0.1 ml;
additional component: refined corn oil - up to 200 mg;
capsule shell: glycerin (glycerol) - 7.2 mg; gelatin - 22.3 mg; nipagin - 0.01 mg; water - 0.49 mg.
Composition of 1 Retinol tablet:
active ingredient: retinol acetate granules - 11.35 mg [33 thousand IU (international units)];
auxiliary components: beeswax, talc, sugar, calcium stearate, potato starch, aerosil, gelatin, titanium dioxide, polyvinylpyrrolidone or povidone-8000, basic magnesium carbonate, methylcellulose, tropeolin 0 or a water-soluble yellow dye.
Pharmacological properties
Pharmacodynamics
Vitamin A normalizes tissue metabolism and has a tonic effect. It is necessary for redox processes (due to the large number of unsaturated bonds), the synthesis of mucopolysaccharides, lipids, proteins, mineral metabolism, and cholesterol formation processes.
Participates in the processes of photoreception (facilitates adaptation in the dark). Local action is due to the presence of specific retinol-binding receptors on the surface of epithelial cells.
Other effects of the drug:
increased production of trypsin and lipase;
a positive effect on the function of the sebaceous, sweat and lacrimal glands;
strengthening of myelopoiesis and cell division processes;
increasing resistance to diseases of the intestines, respiratory tract and mucous membranes;
activation of the interaction of immunocompetent cells between themselves and the cells of the epidermis;
increasing the body's resistance to infections;
increased division of skin epithelial cells and the synthesis of glycosaminoglycans;
rejuvenation of the cell population;
inhibition of keratinization processes.
Indications for use
According to the instructions, Retinol is prescribed for the treatment of hypo- and avitaminosis A.
As part of a complex treatment, the drug is used in the following cases:
diseases of infectious and inflammatory etiology: dysentery, measles, tracheitis, influenza, bronchitis, etc.;
skin diseases / lesions: hyperkeratosis, neurodermatitis, frostbite, cracks, burns, erosion, wounds, skin tuberculosis, ulcers, ichthyosis, seborrheic dermatitis, psoriasis, some forms of eczema;
eye diseases: eczematous lesions of the eyelids, keratomalacia, hemeralopia, retinitis pigmentosa, xerophthalmia;
cirrhosis of the liver;
gastrointestinal diseases: erosive gastroduodenitis, gastric ulcer and duodenal ulcer.
Retinol can also be prescribed to prevent the formation of calculi in the urinary / biliary tract.
Contraindications
Absolute:
hypervitaminosis A;
cholelithiasis;
chronic pancreatitis;
inflammatory skin diseases in acute course;
I / I – III trimesters of pregnancy (tablets / capsules);
individual intolerance to any component of the drug.
Relative (Retinol is prescribed under medical supervision):
nephritis;
heart failure II – III st.
Instructions for the use of Retinol: method and dosage
Retinol tablets and capsules are taken orally after meals, preferably early in the morning or late in the evening.
Therapy should be carried out under medical supervision.
Daily requirement for vitamin A:
adults and children from 7 years old: 5 thousand ME (1.5 mg);
pregnant / lactating women: 6.6 thousand IU (2 mg).
Recommended daily dose:
avitaminosis of mild / moderate severity: adults - up to 33 thousand IU;
eye diseases: adults - 50-100 thousand IU in combination with 20 mg of riboflavin;
skin diseases: adults - 50-100 thousand IU; children - 10-20 thousand IU.
The maximum adult single dose is 50 thousand IU, the daily dose is 100 thousand IU.
Side effects
Daily long-term use of vitamin A in doses of 100/200 thousand IU (children and adults, respectively) can lead to the appearance of intoxication and hypervitaminosis A.
The main symptoms of hypervitaminosis A:
adults: gait disorder, headache, lethargy, drowsiness, facial flushing, vomiting, nausea, soreness in the bones of the legs;
children: skin rashes, fever, sweating, drowsiness, vomiting, an increase in cerebrospinal fluid pressure is also possible (with the occurrence of protrusion of the fontanelle and hydrocephalus in infants).
Overdose
The main symptoms: intoxication and hypervitaminosis A.
special instructions
To avoid overdose, you should not take Retinol at the same time as other multivitamin complexes.
Application during pregnancy and lactation
I or I – III trimesters of pregnancy are a contraindication to taking Retinol in the form of tablets or capsules (respectively).
There is no data on the use of the drug during lactation.
With impaired renal function
The drug is used with caution in chronic and acute nephritis.
Drug interactions
The likelihood of adverse reactions decreases with simultaneous use with salicylates and glucocorticosteroids.
Due to the increased risk of intracranial hypertension, it is not recommended to prescribe vitamin A during long-term tetracyclines therapy.
Concomitant use of neomycin reduces the absorption of retinol.
Analogs
Retinol analogues are: Retinol acetate, Retinol palmitate, Videstim.
Terms and conditions of storage
Store in a place protected from moisture and light, at a temperature of 18–20 ° C. Keep out of the reach of children.
Shelf life is 2 years.
Terms of dispensing from pharmacies
Available without a prescription.
Reviews of Retinol
According to reviews, Retinol is an inexpensive and effective drug used to replenish vitamin A deficiency, as well as an adjunct in the treatment of various diseases. It is noted that in order to avoid overdose, the dose of the drug should be determined individually.
Retinol price in pharmacies
The approximate price for Retinol (10 or 30 capsules per pack) is 17 or 32–38 rubles.
Retinol: prices in online pharmacies
Drug name
Price
Pharmacy
Shark retinol Strawberry with cream eye mask 10 ml 1 pc.
RUB 37
Buy
Lekstore AE Vitamin alpha-tocopherol and retinol capsules 0.27 g 20 pcs.
42 RUB
Buy
Shark retinol Banana and vanilla face mask face mask night 10 ml 1 pc.
RUB 44
Buy
Shark retinol Cappuccino face mask face mask 10 ml 1 pc.
RUB 51
Buy
Shark retinol Chocolate orange mousse face mask face mask 10 ml 1 pc.
RUB 78
Buy
Retinol palmitate (vitamin A) oil solution 100 thousand IU / ml 10ml
129 RUB
Buy
Shark retinol Shea butter with fruit acids day cream for face 50 ml 1 pc.
164 RUB
Buy
Shark retinol Avocado and cucumber face cream face cream for dry and normal skin 50 ml 1 pc.
167 r
Buy
Shark retinol Peach and mango night face cream face night cream 50 ml 1 pc.
178 r
Buy
Shark retinol Sandalwood and wheat germ face cream for combination to oily skin 50 ml 1 pc.
RUB 180
Buy
Shark Retinol Ginseng Eye Cream Serum 50 ml 1 pc.
196 r
Buy
See all offers from pharmacies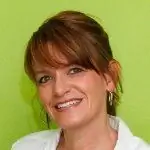 Maria Kulkes Medical journalist About the author
Education: First Moscow State Medical University named after I. M. Sechenov, specialty "General Medicine".
Information about the drug is generalized, provided for informational purposes only and does not replace the official instructions. Self-medication is hazardous to health!
Popular by topic