Table of contents: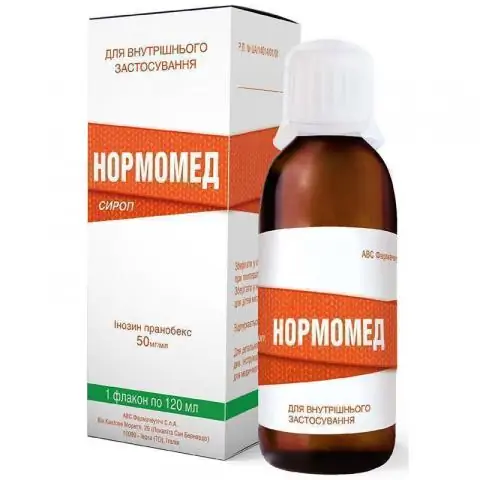 Video: Normomed - Instructions For The Use Of Syrup, Reviews, Price, Analogues
Normomed
Normomed: instructions for use and reviews
1. Release form and composition
2. Pharmacological properties
3. Indications for use
4. Contraindications
5. Method of application and dosage
6. Side effects
7. Overdose
8. Special instructions
9. Application during pregnancy and lactation
10. Use in childhood
11. In case of impaired renal function
12. For violations of liver function
13. Use in the elderly
14. Drug interactions
15. Analogs
16. Terms and conditions of storage
17. Terms of dispensing from pharmacies
18. Reviews
19. Price in pharmacies
Latin name: Normomed
ATX code: J05AX05
Active ingredient: inosine pranobex (Inosine Pranobex)
Manufacturer: ABC Pharmacy, S.p. A. (ABC Farmaceutici, SpA) (Italy)
Description and photo updated: 2018-29-11
Prices in pharmacies: from 443 rubles.
Buy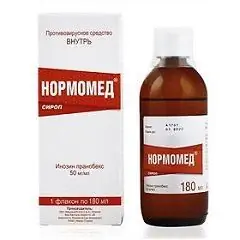 Normomed is an immunostimulating agent.
Release form and composition
Dosage form - syrup: a clear liquid with a slight yellowish tinge and a characteristic odor (120, 180 and 240 ml each in dark glass bottles with first opening control, 1 bottle in a cardboard box, a measuring cup and instructions for use of Normomed).
Composition of 1 ml of syrup:
active substance: inosine pranobex - 50 mg;
auxiliary components: sucrose, methyl parahydroxybenzoate, glycerol, propyl parahydroxybenzoate, purified water, citrus flavor.
Pharmacological properties
Pharmacodynamics
Normomed is an immunostimulating drug with antiviral activity.
The active substance is a complex containing inosine and a salt of para-acetamidobenzoic acid with N, N-dimethylamino-2-propanol in a molar ratio of 1 ÷ 3. The main effects of the complex are due to the presence of inosine. The second component enhances its availability for lymphocytes.
Normomed damages the genetic apparatus of viral particles, thereby blocking their reproduction. Stimulates the activity of macrophages, the formation of cytokines and the proliferation of lymphocytes. The second component of the complex, in addition to increasing the availability of inosine for lymphocytes, reduces the clinical manifestations of viral diseases, increases the body's resistance, and accelerates convalescence.
With the timely use of Normomed, the incidence of viral infections decreases, the severity and duration of the disease decreases.
Used as an adjuvant for infectious lesions of the skin and mucous membranes caused by the herpes simplex virus (Herpes simplex), Normomed promotes faster healing of affected surfaces compared to traditional treatment methods, and also reduces the incidence of new vesicles, edema, erosion and relapses disease.
Pharmacokinetics
Once in the gastrointestinal tract, inosine pranobex is absorbed quickly and almost completely (> 90%). It is characterized by high bioavailability. When taking a dose of 1500 mg, the maximum plasma concentration (C max) is 600 μg / ml and is reached after 1 hour. After 2 hours after administration, the drug is not detected in the blood.
Each of the components of the inosine pranobex complex is rapidly metabolized. Almost 100% of metabolites are found in urine after 8-24 hours from the moment of taking Normomed.
Inosine is metabolized in a cycle characteristic of purine nucleotides, resulting in the formation of uric acid. Because of this, it is possible to increase its concentration in the blood serum and the formation of crystals in the urinary tract. The increase in the concentration of uric acid is non-linear and can vary in the range of ± 10% for 1-3 hours after taking Normomed inside.
As a result of biotransformation of para-acetamidobenzoic acid, ortho-acylglucuronide is formed. N, N-dimethylamino-2-propanol is metabolized to N-oxide. The area under the concentration-time curve (AUC) of para-acetamidobenzoic acid -> 88%, N, N-dimethylamino-2-propanol -> 77%.
With repeated use, the drug does not accumulate in the body.
Inosine and its metabolites are excreted in the urine.
After reaching an equilibrium concentration with a daily dose of 4 g, the daily excretion of para-acetamidobenzoic acid and its metabolite in the urine is about 85% of the total. The half-life is 50 minutes, N, N-dimethylamino-2-propanol is 3-5 hours. The complete elimination of inosine pranobex and its metabolites from the body occurs within 48 hours.
Indications for use
acute respiratory viral infections and influenza;
immunodeficiency states caused by viral infections in patients with a normal and weakened immune system, including diseases caused by Herpes simplex (types I and II, genital herpes and herpes of other localization);
PSPE (subacute sclerosing panencephalitis).
Contraindications
Absolute:
arrhythmias;
gout;
chronic renal failure;
urolithiasis disease;
children under 3 years of age (body weight up to 15–20 kg);
period of pregnancy and lactation;
hypersensitivity to any component of Normomed.
Relative:
acute liver failure;
concomitant use of zidovudine, diuretics or xanthine oxidase inhibitors.
Normomed, instructions for use: method and dosage
Normomed syrup should be taken orally, after meals, with a little water.
The frequency of application of the drug can be from 1 to 3 times a day. Between receptions should be maintained at equal intervals of time - 6 or 8 hours.
The dosage regimen is determined by the doctor depending on the type of disease, its severity, as well as the age and body weight of the patient.
Adults and adolescents from 12 years old are prescribed 50 mg / kg, but not more than 4000 mg per day. The usual dose of syrup is 20 ml 3-4 times a day.
Children 3-12 years old are prescribed 50 mg / kg per day in 3-4 doses.
In severe infectious diseases, both adults and children may increase the dose to 100 mg / kg per day in 4–6 doses. However, the total daily dose for adults in this case should not exceed 3000-4000 mg, for children - 50 mg / kg.
Duration of treatment:
acute diseases - 5-14 days. After the symptoms disappear, Normomed should be continued for at least another 1-2 days;
chronic recurrent diseases: according to the doctor's prescription, several courses of 5-10 days are carried out at intervals of 8 days. Supportive treatment can last up to 30 days, while the daily dose can be reduced to 500-1000 mg;
infections caused by the herpes virus: as directed by a doctor, several courses are carried out for 5-10 days.
Side effects
Possible side effects (classified as follows: often -> 1/100 to 1/1000 to <1/100):
allergic reactions: infrequently - urticaria, maculopapular rash, angioedema;
from the gastrointestinal tract: often - epigastric pain, nausea, loss of appetite, vomiting; infrequently - constipation or diarrhea;
from the kidneys and urinary tract: infrequently - polyuria;
from the hepatobiliary system: often - increased activity of liver enzymes and alkaline phosphatase;
from the nervous system: often - feeling unwell, headache, fatigue, dizziness; infrequently - insomnia or drowsiness, nervousness;
on the part of the skin and subcutaneous fat: often - skin rashes, itching;
laboratory data: often - an increase in the concentration of blood urea nitrogen;
others: often - joint pain, exacerbation of gout.
Overdose
Overdose cases have not been registered.
When taking an excessive dose, gastric lavage and symptomatic therapy are indicated.
special instructions
Before starting treatment, a doctor's consultation is required.
Like other antiviral agents, for acute viral infections, Normomed is most effective if treatment is started as early as possible after the first signs of the disease appear (preferably from the first day).
With prolonged use of Normomed, you should regularly monitor the content of uric acid in blood serum and urine. In the case of a significant increase in concentration, it is possible to simultaneously prescribe drugs that lower the level of uric acid.
Serum uric acid concentration should also be monitored while concomitant medications that may impair renal function or increase uric acid levels.
Influence on the ability to drive vehicles and complex mechanisms
The influence of Normomed's components on cognitive and psychophysical functions of a person has not been studied. However, in some cases, the drug causes dizziness and drowsiness, which should be taken into account by persons employed in potentially hazardous industries and vehicle drivers.
Application during pregnancy and lactation
The safety of inosine pranobex has not been studied in pregnant and lactating women, therefore Normomed is contraindicated for use during these periods.
Pediatric use
Normomed syrup is contraindicated in children under 3 years of age.
With impaired renal function
contraindicated: chronic renal failure;
with caution: renal failure. Treatment should be closely monitored for urinary and serum uric acid levels.
For violations of liver function
Normomed should be used with caution in acute liver failure. With long courses of treatment, the activity of liver enzymes must be monitored every 4 weeks.
Use in the elderly
The dose of Normomed does not need to be adjusted, however, it should be borne in mind that in elderly patients, the concentration of uric acid in serum and urine more often increases than in middle-aged patients.
Drug interactions
With caution, Normomed should be used in patients receiving loop diuretics (ethacrynic acid, torasemide, furosemide) or xanthine oxidase inhibitors (allopurinol), since such combinations can increase the concentration of uric acid in the blood serum.
Immunosuppressants weaken the immunostimulating effect of the drug.
Normomed increases the plasma concentration of zidovudine and lengthens its half-life, which may require a dose adjustment of the latter.
Analogs
The analogues of Normomed are Akavia, Bestim, Glutoxim, Groprinosin, Isoprinosin, Imudon, Imunoriks, Ismigen, Likopid, Mozobail, Neovir, Poludan, Stimforte, Taktivin, Timalin, Timogen, Cycloferon, Tsitovir-3, etc.
Terms and conditions of storage
Store out of the reach of children, protected from light, at a temperature of 15-25 ° C.
The shelf life is 3 years.
Terms of dispensing from pharmacies
Dispensed by prescription.
Reviews about Normomed
According to reviews, Normomed is an effective immunostimulating and antiviral agent that allows you to quickly stop the symptoms of the disease in the early stages of manifestation. Its additional advantages include the pleasant taste of the syrup and the possibility of using it in children from 3 years old. The disadvantages are the small number of divisions on the measuring cup, which in some cases does not allow accurate dosage of the drug, and uneconomical use in adults.
Price for Normomed in pharmacies
Approximate prices for Normomed are: 532-570 rubles. per bottle of 120 ml, 576–755 rubles. for a bottle of 180 ml, 642-911 rubles. for a bottle of 240 ml.
Normomed: prices in online pharmacies
Drug name
Price
Pharmacy
Normomed 50 mg / ml syrup 120 ml 1 pc.
443 r
Buy
Normomed syrup fl. 120ml (with measuring cap)
489 r
Buy
Normomed 500 mg tablets 20 pcs.
521 RUB
Buy
Normomed 500 mg tablets 30 pcs.
725 RUB
Buy
Normomed tablets 500mg 30 pcs.
786 r
Buy
Normomed 50 mg / ml syrup 240 ml 1 pc.
846 RUB
Buy
Normomed syrup fl. 240ml (with measuring cap)
994 RUB
Buy
Normomed 500 mg tablets 50 pcs.
1103 RUB
Buy
Normomed tablets 500mg 50 pcs.
1227 RUB
Buy
See all offers from pharmacies
Maria Kulkes Medical journalist About the author
Education: First Moscow State Medical University named after I. M. Sechenov, specialty "General Medicine".
Information about the drug is generalized, provided for informational purposes only and does not replace the official instructions. Self-medication is hazardous to health!
Popular by topic